Trump International Hotel and Tower
1 Central Park West
New York, NY 10023
(212) 299-3900

Jean-Georges Vongerichten is a veritable institution in New York with 8 restaurants in the city serving a varied mix of cuisines from French to Thai. His restaurants have garnered a number of awards with 5 Michelin stars in New York City alone. Naturally we had to try his eponymous 3-star flagship Jean-Georges. The restaurant is located adjacent to Central Park in Trump International Hotel and Tower. The dining room reminded me very much of Tru in Chicago, with its spartan elegance and generous spacing between tables, offering each table a comfortable and private experience. Off to the side there actually another of Jean Georges restaurants, the more casual bar/café, Nougatine.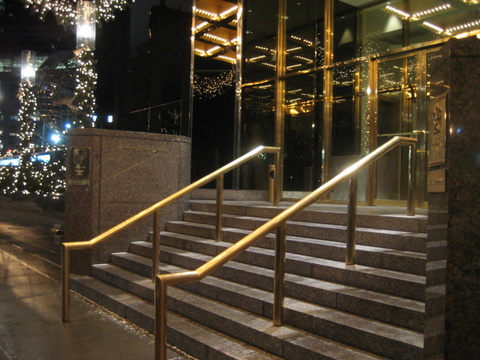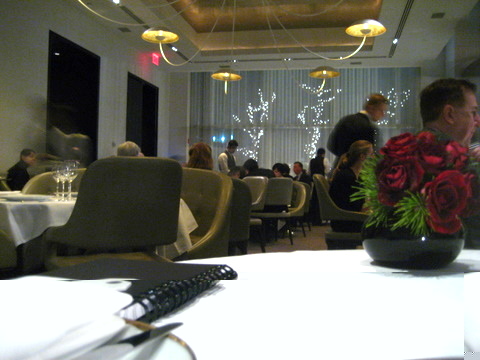 Still suffering from an upset stomach, I decided to go with soft drinks rather than wine. I started with the cherry-yuzu which was extremely good on its own but a bit too sweet for pairing with food. The passion fruit-lime was a bit more floral and tangy and more amenable to drinking with food.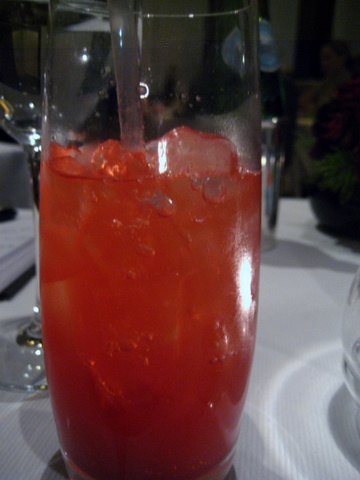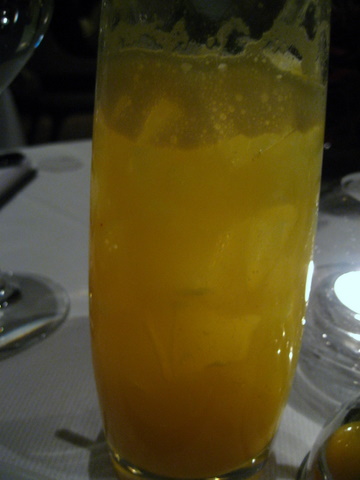 Amuse
Cauliflower Hibiscus Soup - There is an initial creaminess that gives way to the tartness of the hibiscus. The final flavor actually reminded me of taco sauce of all things.
Smoked Salmon with Cilantro Creme Fraiche - Very refreshing use of cilantro and creme fraiche, the fish itself is fairly light but left a lingering fishiness on the palate.
Clementine - Not really sure what this was supposed to be, looked like a slice of tangerine with a tart bitterness and an unidentified sphere on top, a very effective way to clear the lingering fishiness from my throat.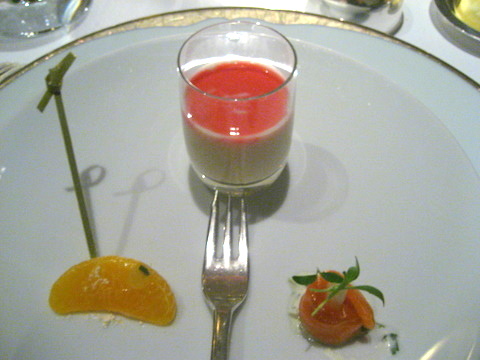 Bread - Sourdough, Rye, French Roll
A fairly typical selection of bread. Nothing particularly exciting or disappointing.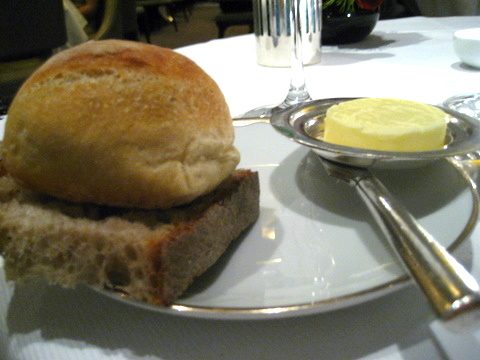 Jean-Georges Menu 01: Egg Caviar
I still haven't had a bad Oeuf a la Coque, I love the slightly cooked runny white and the warm liquid yolk especially when topped with salty caviar and creme fraiche. This was a fairly typically egg caviar but added a spicy kick to the creme fraiche for a nice tongue tingling warmth.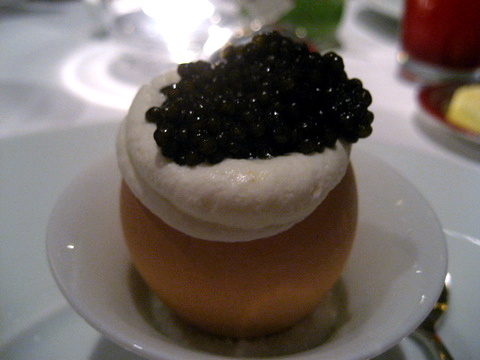 Autumn Menu 01: Egg Toast - Caviar and Dill
Similar ingredients yet a totally different course. The egg yolk was firm but yielded a nice creaminess. The milder caviar is apparent but still lets the egg yolk and dill contribute to the course as well.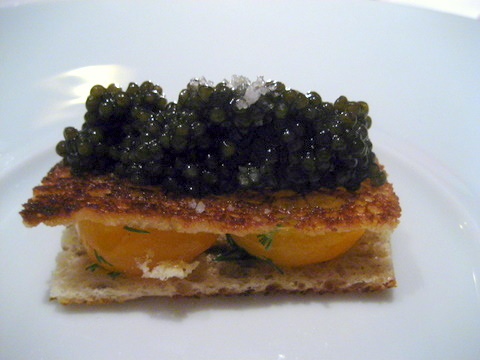 Jean-Georges Menu 02: Sea Scallops - Caramelized Cauliflower, Caper-Raisin Emulsion
Considering I am not a fan of capers or raisins this turned out far better than I had expected. The scallops were cooked to a meaty firmness and got a slight bitter kick from the cauliflower that went well with the tangy emulsion.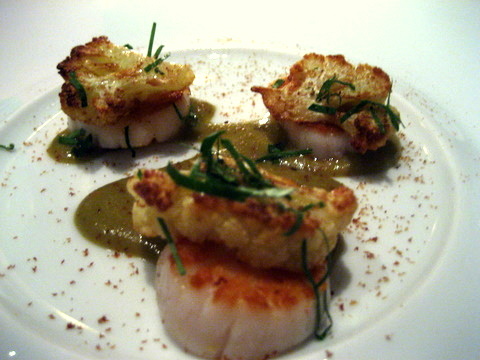 Autumn Menu 02: Kanpachi Sashimi - Sherry Vinaigrette and Toasted Pecans
The flavor of the kanpachi is totally lost in this dish, smothered by the powerful sherry and toasted pecans. The pecan powder gave an interesting texture almost dry and sandy initially, chewing created this kind of pasty gel texture, interesting but not particularly enjoyable.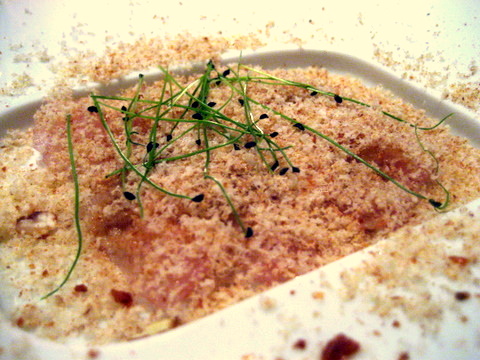 Jean-Georges Menu 03: Young Garlic Soup - with Thyme, Sautéed Frog Legs
The young garlic soup had a bold taste of garlic but not so powerful that the soup was one dimensional. My companion enjoyed the frog legs but I thought they were overdone, resulting in a tough and stringy texture with an apparent fishy character.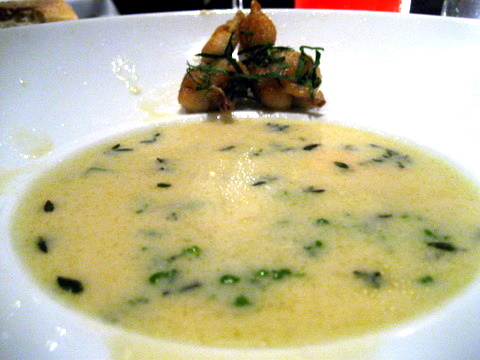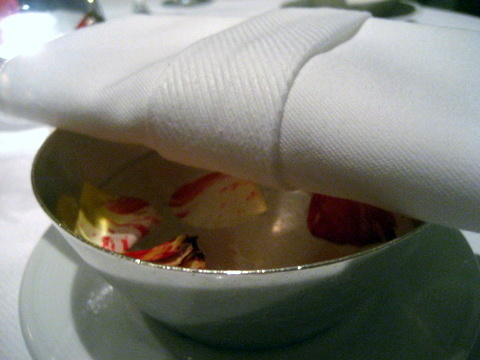 Autumn Menu 03: Nishiki Risotto - with Porcini Marmelade and Five Herbs
The risotto had a wonderful aromatic flavor from the blend of five herbs and a nice earthiness from the porcini too bad the texture didn't live up to the flavor. The rice itself is termed "medium-grain" and has a wide variety of uses from sake to sushi. I thought the cooking of the risotto was uneven, some of it was soft and sticky while other grains were hard and gritty almost as if they hadn't been thoroughly cooked.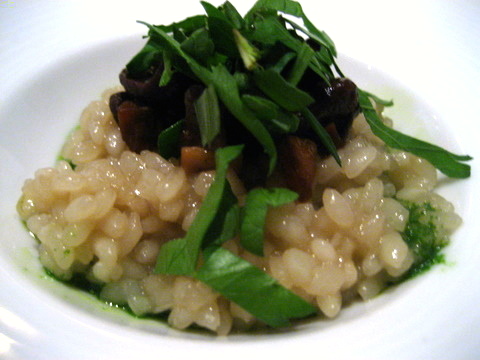 Jean-Georges Menu 04: Turbot - with Chateau Chalon Sauce
A very light course, the fish came topped with zucchini and tomatoes and served with a light wine sauce. I thought this dish was a bit bland and the sauce had an eggy note to it that I didn't really care for.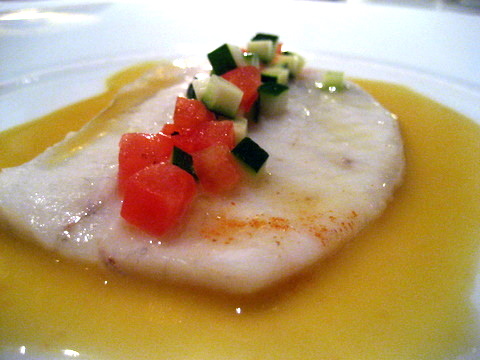 Autumn Menu 04: Crispy Black Bass - Roasted Brussel Sprouts and Spice Apple Jus
One of the most disappointing courses of the night. The bass looked like it would have crispy skin but it came out soft, sticky, and slightly fishy. The fish itself was bland but firm and really needed the sauce to give it flavor.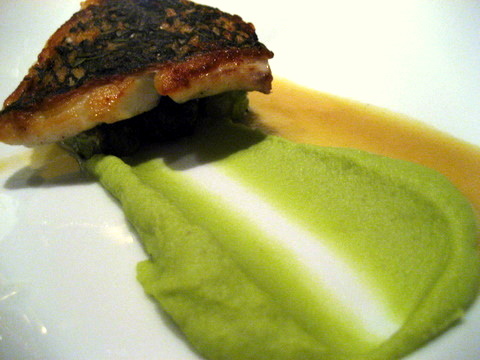 Jean-Georges Menu 05: Lobster Tartine - Lemongrass and Fenugreek Broth, Pea Shoots
The lobster had a nice supple crunch to it complimented by the light sweetness of the barely cooked pea shoots. The use of lemongrass and fenugreek gave the lobster a nice exotic spiciness.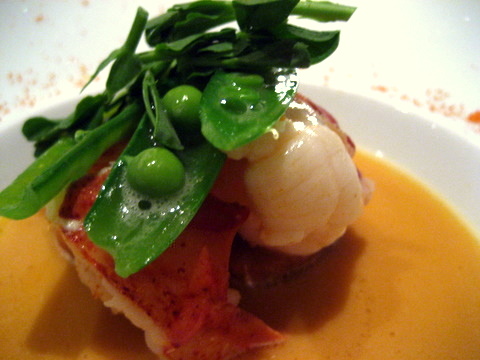 Autumn Menu 05: Maine Lobster - and Potato Gnocchi, Smoked Butter and Pickled Chilies
The lobster was a touch overdone but the spongy gnocchi served as a nice canvas soaking up the rich smoky butter. The pickled chilies were a bit too strong in my opinion overwhelming the natural flavor of the greens and the lobster.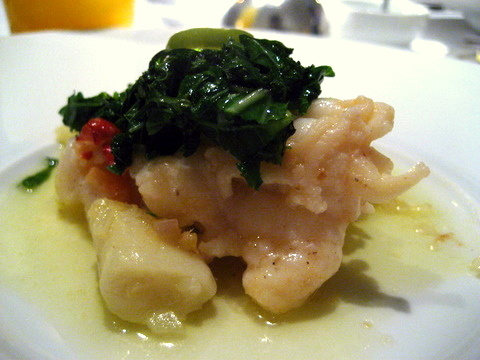 Supplement: Pan Roasted Sweetbreads - Glazed Chestnuts and Black Truffle Vinaigrette
I was looking forward to this dish but the sweetbreads were a touch to lean and gamy for my liking. I expected something more tender and more richness. The sweetness of the chestnuts was very apparent, overwhelming the gamy flavor of the sweetbreads. And the truffles, which were supposed to be a key element of the dish were only noticeable on the finish. The lack of balance and harmony really disappointed with this dish.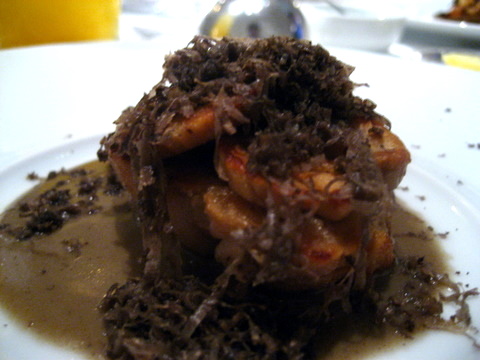 Jean-Georges Menu 06: Broiled Squab - Onion Compote, Corn Pancake with Foie Gras
The breast meat was fairly firm and moist but it was the dark meat that really stood out, tender and fatty the meat just oozed juice. I thought the pairing of foie gras would help season the breast but the foie was overdone resulting in a powerful burnt flavor that tended to obscure everything else.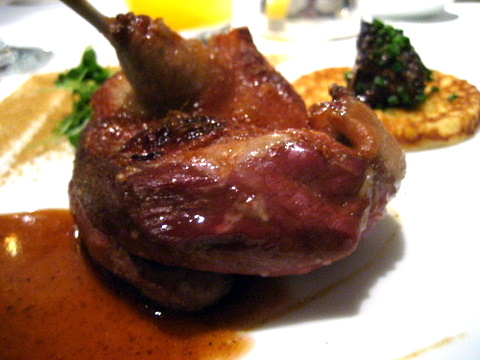 Autumn Menu 06: Roasted Venison - Quince-Madeira Condiment, Broccoli Raab and Cabrales Foam
The venison was a little overdone resulting in a slightly dry firm texture but the use of mixed greens and a variety of sauces provided contrasting flavors that accented the venison wonderfully.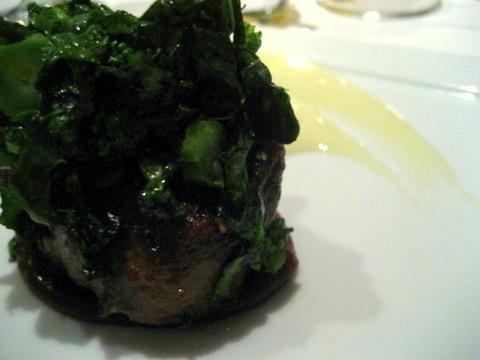 The desserts at Jean Georges are a bit different from other restaurants. You pick a theme (Autumn, Apple, Caramel, or Chocolate) and receive four small desserts focused on your selected theme.

Dessert: Caramel
Warm Caramel Tart, Crispy Olive-Hazelnut Praline, Caramelized Bacon: The buttery sweetness of the caramel worked very well with the savory elements like olive and bacon.
Caramel Curd, Dehydrated Sponge, Roasted Pineapple Sorbet: After the first dessert this seemed a bit muted but the tang of the pineapple and sweetness of the sponge were still somewhat apparent.
Frozen Chocolate Pop, Coffee-Cardamom Ice Cream: How can you go wrong with a chocolate lollipop filled with ice cream. The Not sure what the caramel element here was but the coffee-cardamom ice cream was a wonderful filling.
Vanilla Soda, Liquid Caramel Sphere: A fairly strong dessert ended on a whimper, the vanilla soda had a faintly medicinal or alcoholic flavor. I expected the liquid caramel sphere to be similar to the spherifications of Adrià or Andrés but the caramel turned out to be very weak and didn't add much to the dish.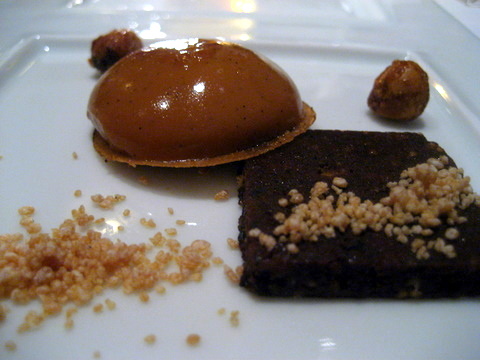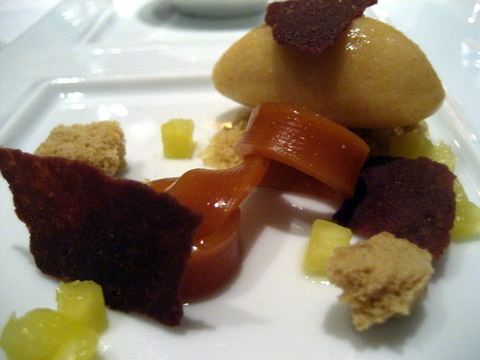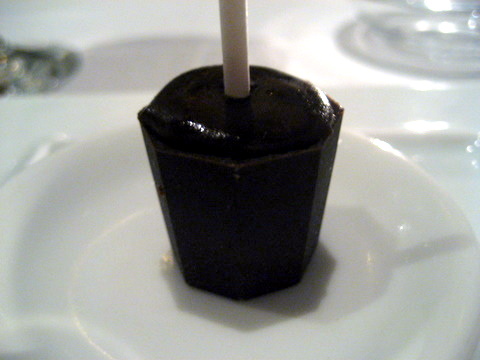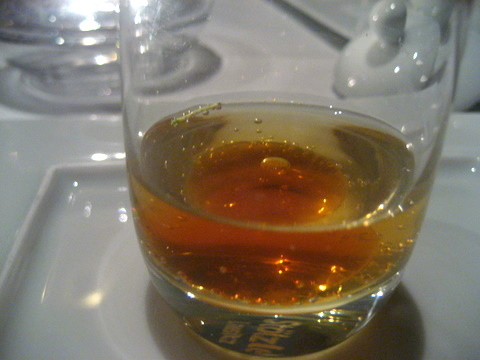 Dessert: Autumn
Warm Red Wine Tart, Cassis Poached Pear, Persimmon Ice Cream: I didn't care for this dessert, the tart was more like a muffin and the poached pear had a cloying overripe sweetness.
Cranberry Parfait, Walnut Nougatine, Soft Vanilla Meringue: A much better dessert, with the fruit, nut, and vanilla blending beautifully.
Cinnamon Doughnut, Prune-Armagnac Jam: A nice warm doughnut dusted with cinnamon, very much like a churro good with or without the jam, but not quite as distinctive as the beignet at Le Bernardin.
Concord Grape Snow Cone: I normally love the slick sweet flavor of concord grapes but after the intensity of the other desserts this tasted more like ice chips than grape.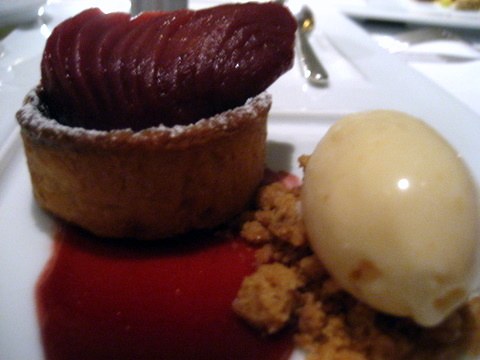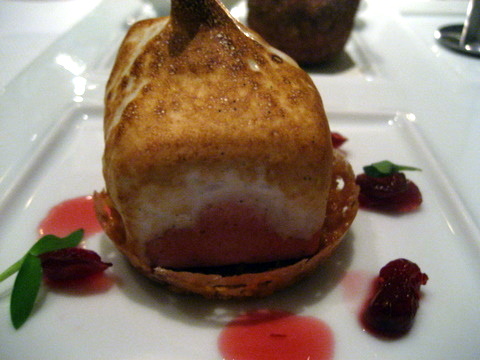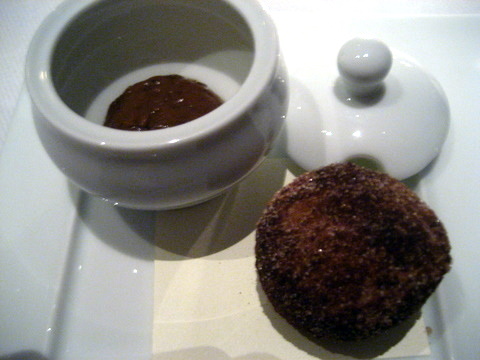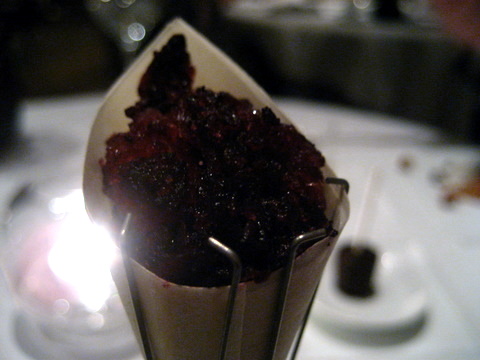 Mignardises
The restaurant provided a plethora of mignardises to nibble on after the meal but not one of them stood out. I would much rather have a few distinctive sweets similar to the ones provided by La Bernardin, much more innovative and memorable.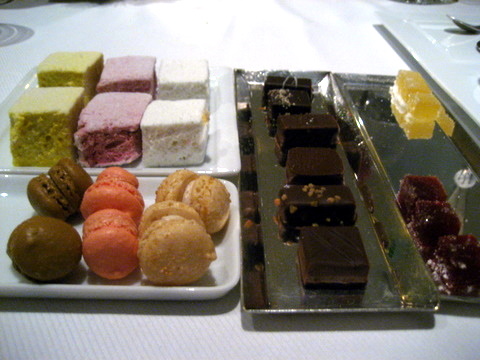 All things considered I was let down by my experience at Jean Georges. The staff can be a bit inattentive at times we had trouble getting the attention of the waitstaff on several occasions. The polite neglect can make the restaurant seem a bit cold and imposing. All this could be forgiven if the food were up to par. My past 3 star experiences have been revelations in dining, where I left the restaurant in utter awe of what I just ate. The food at Jean-Georges was good but did not leave me with any lasting impression.