3333 Bristol Street
Costa Mesa, CA 92626
(714) 434-7900

One of my coworkers has been taking cooking classes and her palate has grown by leaps and bounds as a result. Recently she asked for some more reasonably priced restaurant recommendations and I felt the 2-course Spontanée menu at Marché Moderne fit the bill perfectly.

Bread - Baguette, Multigrain
The baguette has been the restaurants signature bread as long as I have been coming here and is wonderful paired with the sweet creamy butter.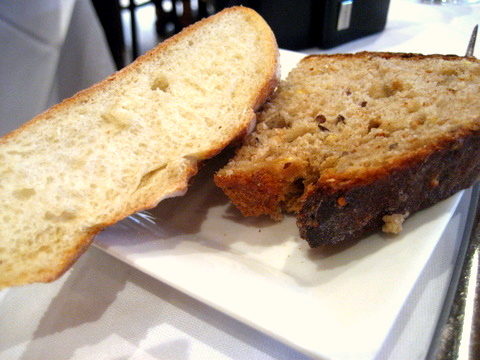 Endive & little gem salad, field green - Almond, Feta cheese, pickled onion vinaigrette, French Radish
The meal started with a superbly balanced salad, combining the bitterness of fresh greens with a lively vinaigrette and salty cheese then finished with slivers of toasted almonds.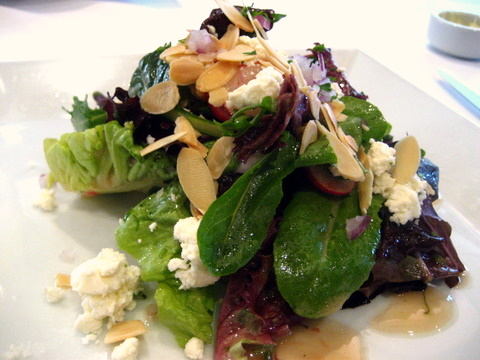 Truffle salt roasted Alaskan Halibut - Sautéed Boston Lettuce, Braised bacon, Pearl onion, English pea broth
The halibut was cooked beautifully, flaky and moist with just a subtle undercurrent of truffle. The pea broth and bacon provided a complex smoky sweetness that gave a satisfying meatiness to the fish without overpowering it.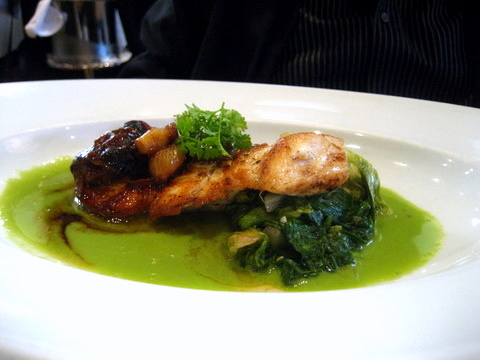 Roasted quail - Sautéed Boston Lettuce, Pearl onion, English pea broth
The roast quail was a spontaneous offering from the kitchen that could be substituted for either the halibut or the pork cheeks. My coworker had quail for the first time a week earlier during her class and chose to substitute it for the halibut. The quail was cooked nicely, the succulent meat separating easily from the bone. My coworker only eats fish and poultry, so she asked the dish to be prepared without bacon. The resultant flavor was heavily dependent on the pea broth and didn't pair quite right with the flavor of the bird.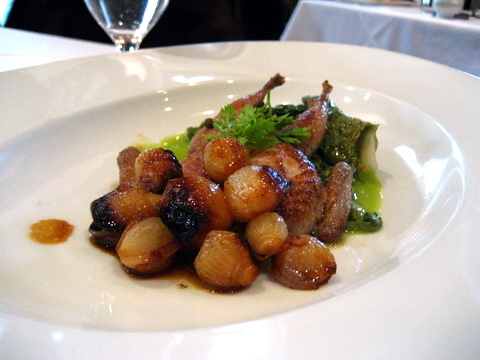 Blanquette of pork cheeks - Mustard pommes forchette, cremini mushrooms, Baby spinach salad
I decided to order the pork cheeks so we could try all three of the day's lunch options. The pork cheek was quite lean with a nice firmness and the potatoes provided a spicy backdrop, accentuating the bold flavor of the meat. The spinach was a brilliant addition; its herbaceous flavor moderating the richness of the dish.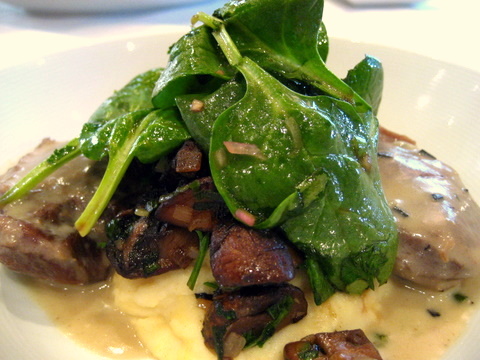 Apple tart tatin - créme fraiche Chantilly
Our three-course indulgence at lunch ended with a very well done apple tart. With an immediately apparent buttery aroma, the tart compliments the soft spicy apples and the mix is heightened deftly by the smooth tangy Chantilly cream.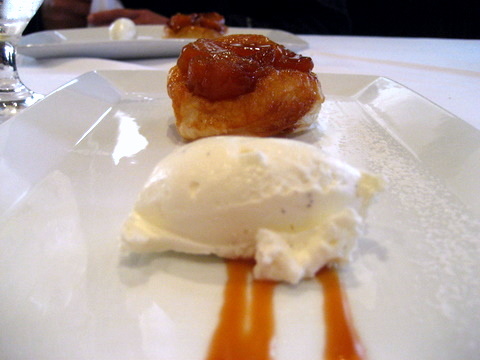 I still believe Marché Moderne's regular menu is far more enticing than the prix-fixe menu, but for $20, the Spontanée is an unparalleled bargain and a great way to sample one of Orange County's best restaurants.