435 N. Fairfax Ave.
Los Angeles, CA 90036
(323) 782-9225

Animal is the brainchild of Jon Shook and Vinny Dotolo and since opening in June 2008, has received massive critical and blogger acclaim as well as a James Beard Nomination for best new restaurant. The duo met in culinary school at the Art Institute of Fort Lauderdale and since then have worked in a variety of kitchens together. In addition to Animal, the two have their own Food Network Show, 2 Dudes Catering and recently published their first cookbook, 2 Dudes One Pan.

Sporting a dark exterior bereft of any signage, the restaurant seems to go out of its way to avoid calling attention to itself. Though this is less an intentional snub to the unwashed masses and more a function of how tight funding was at when the restaurant opened. The simplicity continues inside the restaurant, a spartan rectangular room with nearly bare walls, functional wooden tables and chairs, and a small bar running along the far wall.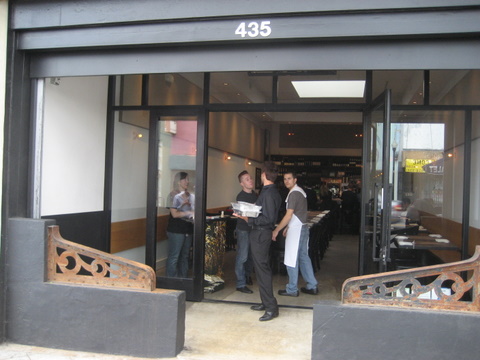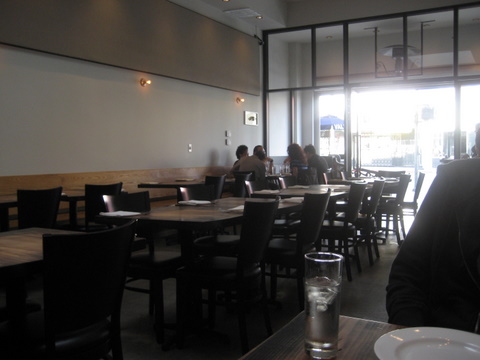 poutine, oxtail gravy, cheddar
When I asked our server what this was he described it as "what chili cheese fries would be if God cooked them." A crisp exterior blankets a light interior that serves as the perfect sponge, sopping up the rich fragrance of the oxtail gravy. The tender chunks of meat and sharp cheddar serve to drive the flavor to even dizzier heights. If only the exterior of the fries remained crisp while soaking up the gravy these truly would be God's own fries.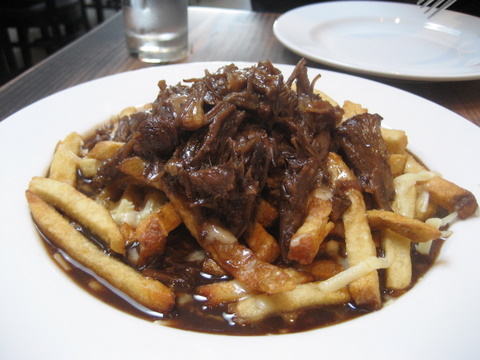 barbecue pork belly sandwiches, slaw
The appropriate dish to pair with the poutin is something equally as rich and decadent, pork belly. Served here on a sweetened bun, think Hawaiian Bread, that has been toasted to airy perfection. The pork belly is covered with a surprisingly restrained bbq sauce that gives a tinge of sweetness but allows the flavor of the pork to come through full-force. The topping of slaw is a nice touch as it breaks up the monotony of the pork with its pleasing crunch and light bitterness.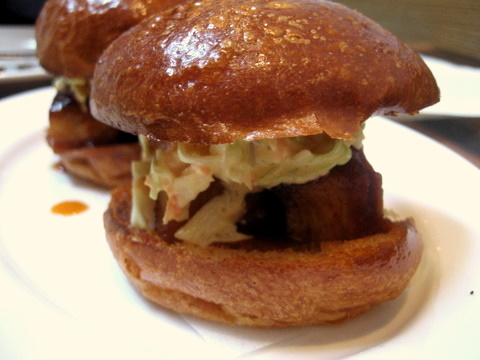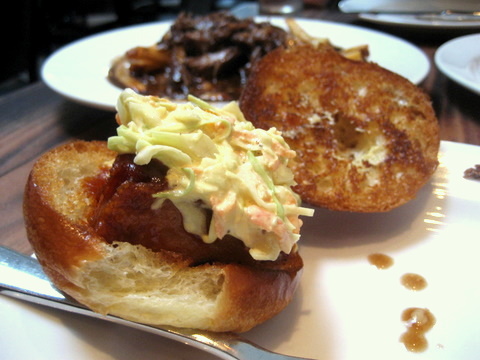 lamb tongue ravioli, artichoke, tomato, green garlic
The next course was a first for me, lamb tongue, having no other point of reference I expected it to taste like beef tongue. Even after eating the ravioli, I still don't really know what to think of lamb tongue as it was overpowered by the tomato, garlic, and artichoke. I wonder if part of my disappointment with this course comes from the fact my tastebuds were dulled by the intensity of the first two. This might have been more appropriate to open the meal.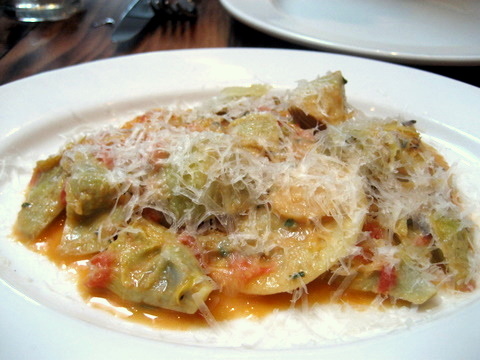 rabbit legs, peas, bacon, dijon, spring onion champ
I have to say this presentation of rabbit tasted a lot like chicken, albeit a much more tender and wild-tasting version of chicken. The addition of peas, bacon, onions, potato and a cream sauce reminded me of a chicken pot pie which only served to reinforce the similarity. A satisfying course, but again much lighter than the first two courses.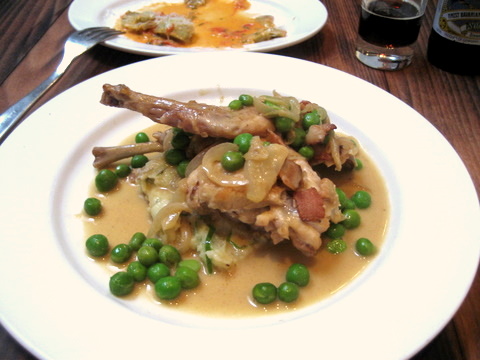 foie gras, biscuit, maple sausage gravy
When I first acquired a taste for foie gras it was for the seared preparation but my preferences have changed over time and I now favor terrines or torchons. This may be the best preparation of seared foie gras I have ever had and it quickly reminded me of the joys of seared foie gras. The luscious melting fat is combined with a delicate rich buttery biscuit and doused liberally with a savory sweet gravy. Fantastically delicious and borderline dangerous for your health, this course left my girlfriend alternating between ecstasy and wanting to see it banned as a public health risk.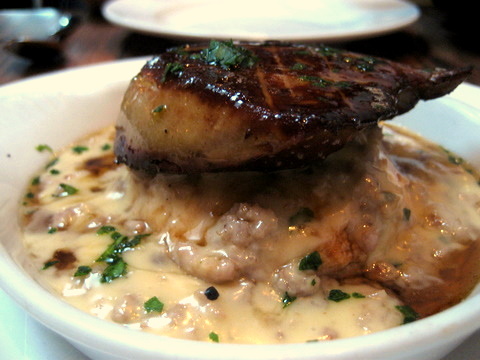 tres leches, dulce de leche
I never pass up an opportunity to get tres leches cake, a sponge or butter cake soaked in three types of milk: evaporated, condensed, and heavy cream. Animal's interpretation was intensely sweet though a touch soggier than expected. The dulce de leche was superfluous, its excessive sweetness blunting the subtler flavors of the tres leches cake.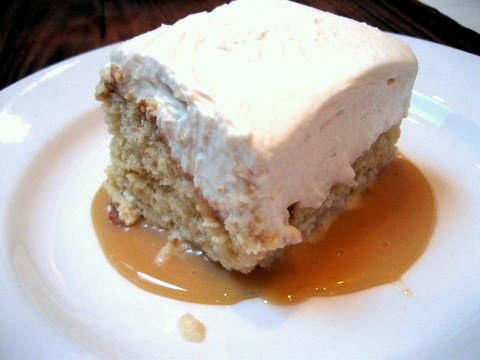 Animal seems to disdain pretension in everything it does, from its rough-hewn look and to its casually clad waiters (no uniforms here) to its straightforward goal of delivering the most flavorful food possible. The food at Animal runs a bit heavy and isn't the most complex; there is something satisfying in its directness. The staff recommends ordering family style and indulging in the social aspect of food while enjoying a good meal and I heartily agree.