419 Cold Canyon Road
Calabasas, CA 91302
(818) 222-3888

I first learned about Saddle Peak Lodge when I was just getting into food, though at the time, the idea of so much game seemed intimidating. My interest was further piqued when the restaurant was awarded a Michelin star, though with other equally interesting restaurants much closer, I just never got around to visiting Saddle Peak. I finally got the opportunity to try the restaurant when the head chef, Adam Horton, invited my friend Kevin of KevinEats to try the restaurant. Kevin was kind enough to invite me and Will of FoodDigger to join him as guests of the chef.

Saddle Peak Lodge has a surprisingly long and colorful history, having been a pony express stop, a roadhouse to the stars, and even perhaps a house of ill repute. The restaurant's architecture and decor can be summed up in one word, rustic. The exterior looks like an archetypal cabin while the interior's wood and stone structure is decorated with the trappings of a hunting lodge, mounted animal heads, antique weapons, and even a stuffed badger donated by a guest.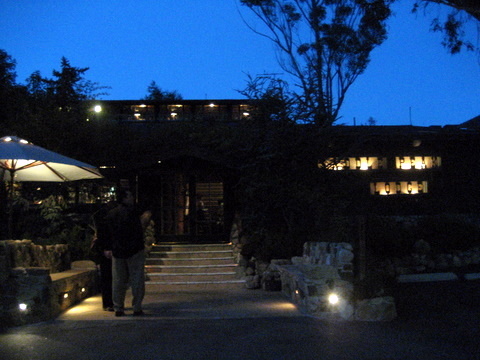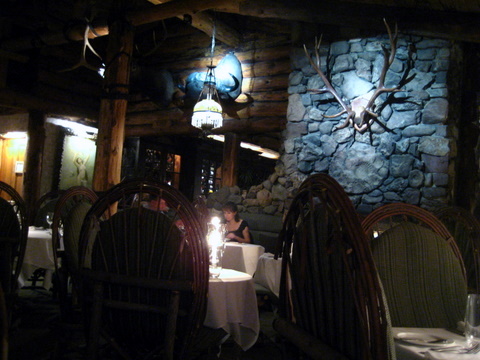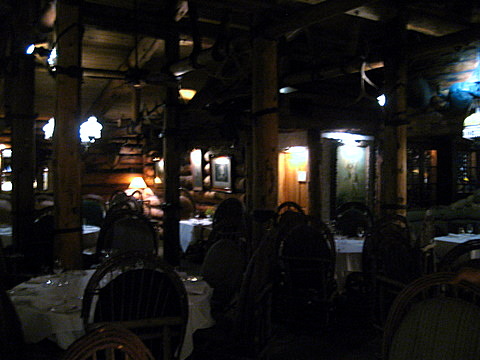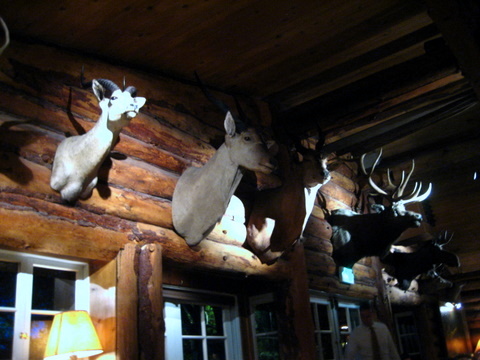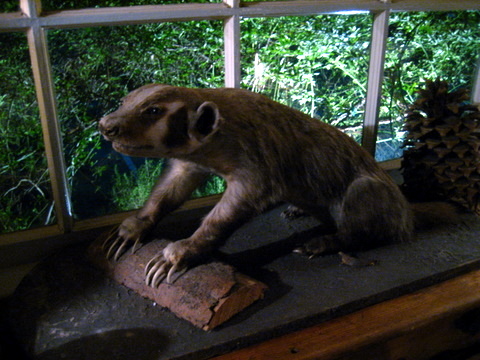 We opted for the tasting menu augmented with a couple of extra courses though the restaurant would throw us some very welcome curve balls before the night was done. The restaurant's wine list focuses on California producers and we ended up opting for the wine pairing, though the restaurant currently has a promotion, offering about 70 bottles at cost plus $10.

Bread - Sourdough and Anise
Very full flavored bread, the anise reminded me of licorice while the sourdough seemed a bit more intense than the typical offering.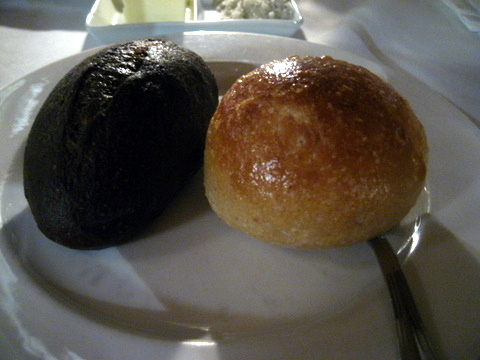 Amuse 01: Shrimp galentine - cucumber, red onion, nuoc mam vinaigrette
Jeio Prosecco, n.v.
The meal opened with shrimp galentine, which reminded us of a pate or terrine. Galentine which gets its name from the word galant is a deboned meat typically poached and served in aspic, which can be elaborately decorated though this was a relatively humble presentation focusing on the shrimp. The addition of nuoc mam, or Vietnamese fish sauce, was a bold choice but worked extremely well in the vinaigrette, imparting a hint of the pungency but also a tart refreshing flavor that was wholly appropriate for an amuse. The wine was a Jeio Prosecco, some lemon notes but mostly mineral driven, very refreshing alone or with the food.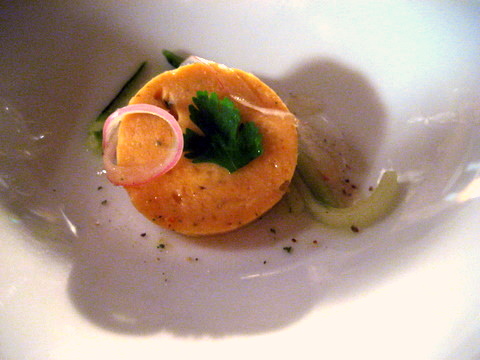 Amuse 02: Farmers market butternut squash soup - with peekytoe crab "hash"
Jeio Prosecco, n.v.
The soup had a cinnamon-sweet aroma with just a touch of brine from the crab. The taste on the palate was quite similar, with the sweetness even more pronounced. Enjoyable, but a bit too sweet for my tastes, especially when paired with the wine.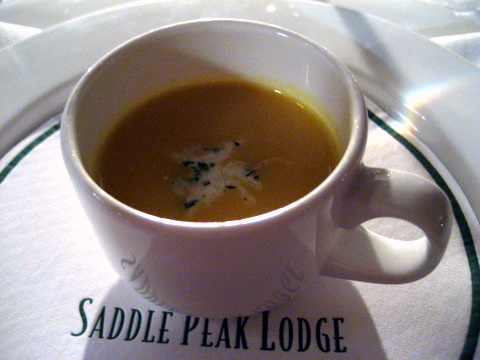 Amuse 03: Slow poached salmon - Yukon potato blini, American sturgeon caviar
2008 Semler, Sauvignon Blanc, Malibu
The third amuse was a classic pairing of salmon and caviar, served with a blini and créme fraiche. The caviar complimented the fish nicely drawing out the salmon's subtle natural flavors. While the blini provided an eggy sweetness that grounded the dish. Easily my favorite of the three amuses. I quite enjoyed this wine though I don't normally care for Sauvignon Blanc, as they typically have this tropical ripeness that doesn't agree with me. This was a bit more restrained, still demonstrating plenty of lemon but also exhibiting grassy character and some mineral.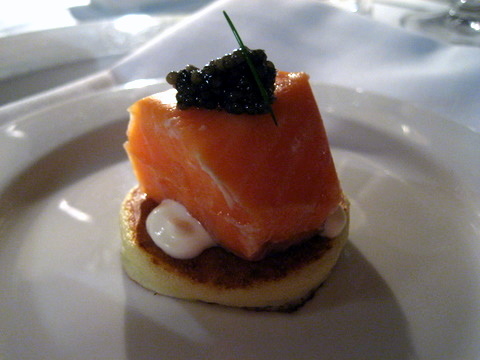 01: Smoked wild albacore crudo - with compressed heirloom tomato, cilantro, basil, white balsamic, garlic chips, and créme fraiche ice cream
2008 Palmina, Arneis, Santa Ynez
My first bite of this all I noted was the florid sweetness of the tomato, balsamic, and creme fraiche. The fish itself is intensely woody and smoky, almost ham-like in flavor. Discordant with the tomato though the addition of cilantro and basil helped to bridge the gap. The wine is from a grape known as Barolo Bianco and is grown in such small quantities in California that it doesn't even show up on acreage reports.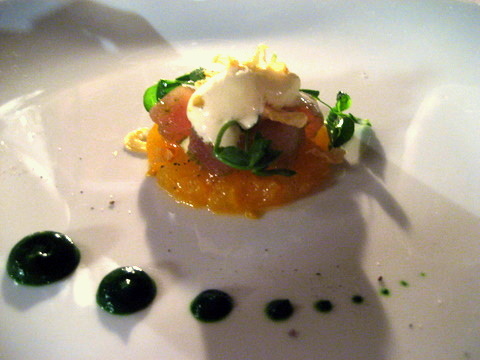 02: Seared diver scallops - with butternut squash, black garlic, braised swiss chard, and uni veloute
2008 Flying Goat Pinot Gris, Santa Maria
I have been having great luck with scallops of late and Saddle Peak Lodge keeps that trend going, the texture of the scallop was spectacularly tender with just enough browning on top to give it some flavor. The butternut squash and black garlic were bold pairings, their strong flavors sometimes distracting from the scallop, though I would have liked the uni to be a bit more apparent, as I think the complimentary flavor would have helped highlight the scallops natural sweetness. The wine proved to be an able compliment, with hints of apple and pear and an initial sweetness that would have been a bit heavy were it not for the mineral driven finish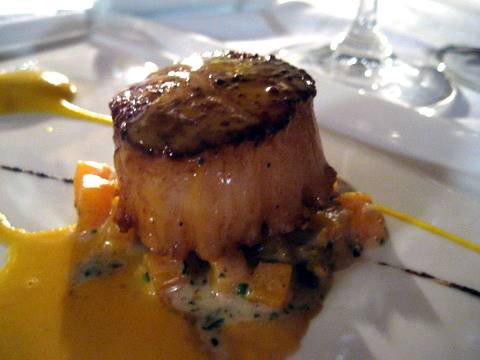 03: Duck Confit Agnolotti - shaved foie gras, duck consomme
2008 Joel Gott Riesling, California
Chef Horton decided to demo a brand a course he planned to add to the menu in place of the planned mushroom agnolotti. The pasta comes topped with shaved foie gras over which a hot consomme of duck is poured. The entire party came to the same conclusion, the soup reminded us all vividly of pho and when asked about it he confirmed the stock was indeed pho-inspired but with duck in place of the beef bone. The pasta itself was a joy to eat, perhaps a bit firm but the simple savoriness of the confit was direct and satisfying. I completely agreed with my companions who promptly wished for bigger bowls after finishing their tasting portions. I am not normally a fan of domestic Riesling but this was quite enjoyable, the fruit flavors weren't as sharp as I'd like but on the whole the wine was quite easy drinking a simple compliment to a straightforward dish.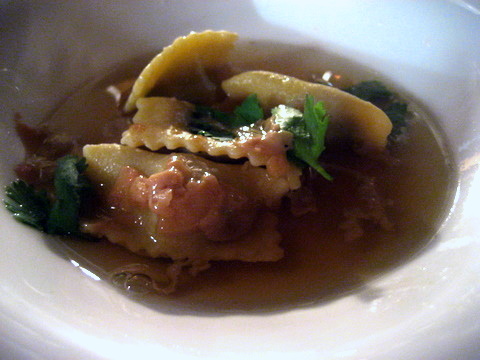 04: Crispy Berkshire pork belly - with heirloom tomato, pepadew, frisee, and sherry agri-doux
Delerium Tremens, Belgum
A very aggressive dish, the pork had a nice char and smoky-sweet sauce. The tomato accentuated the sweetness (much more pleasantly than with the albacore) while the frisee provided a bitter counterpoint. We were served Delerium Tremens in place of the Chimay that was supposed to be paired with this dish. Like the frisee, I thought the grassy bitterness of the DT effectively cut the sweet richness of the pork belly providing welcome relief between bites.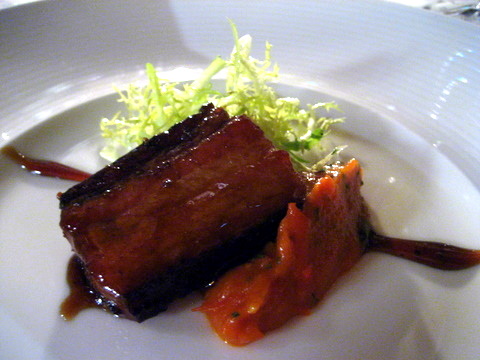 05: Tartare of prime beef tenderloin - with Medjool dates, sun dried tomatoes, arugula, quince mustard, toast, and quail egg
2007 Summerland Pinot Noir, Santa Maria
An interesting twist on the traditional preparation of beef tartare, definitely a bit on the sweet side thanks to the addition of dates and sun dried tomatoes. The beef was a little lost in all the sweetness but still provided a wonderful textural component when eaten with the egg, arugula and toast. The wine was a classic new world pinot, with bright notes of cherry and hints of earth and espresso.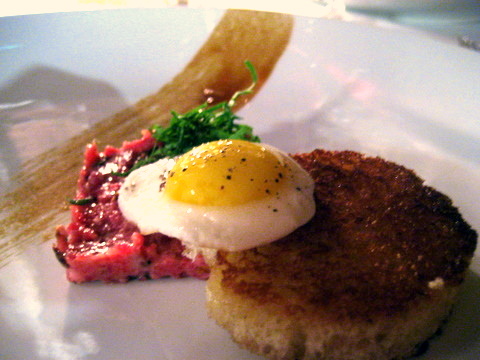 06: Seared foie gras - with a study of organic apples, brioche, and duck gastrique
Yalumba Muscat
I first learned to appreciate foie in the seared form which expreses the butteriness of the dish while muting the liver flavor. Since then I have come to prefer terrine and torchon, but this was a well done seared preparation, no gristle. The fruit was unnecessary but did interject another flavor profile to break up the monolithic richness of the foie.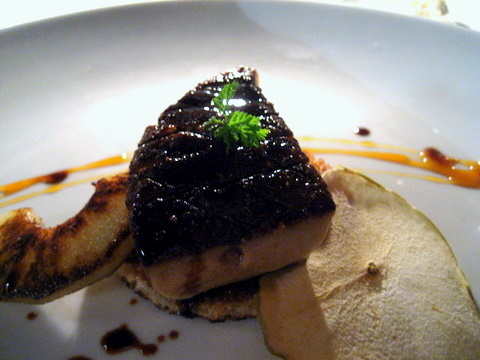 07: Grilled ostrich tenderloin "Rossini" - with pear, truffle, cauliflower, sunchokes, and foie gras
2007 Turley Zinfandel, Juvenile
This was originally ordered as a supplement, we didn't need more food but there was no way I was going to skip out on the opportunity to have my first experience with ostrich. The meat is surprisingly red, looking more like a cut of beef than bird. The ostrich itself was quite tender, and delicately flavored with truffle. I wouldn't have minded eating the meat alone but I actually welcomed the cauliflower and sunchokes which gave a starchy contrast to the meat. The foie gras on top was a bit overcooked but quite unnecessary as the dish was flavorful enough. Chef Horton explained the normal entree comes with a 2 ounce portion, but for our tastings he used smaller pieces which just don't stand up to the cooking. The wine was an expressive zin, powerfully fruit driven but with some pepper and oak to keep things interesting.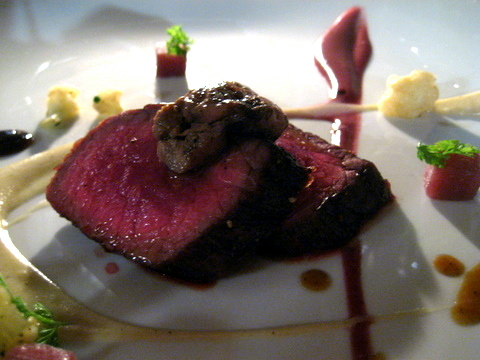 08: Wood grilled California squab - warm truffled wild mushroom salad, pea tendrils, and artichoke purée
2005 Faust, Cabernet Sauvignon, Napa
Perhaps my favorite course of the night, the squab was superb, with its slick succulent texture and harmonious blend of savory fat and smoky meat, under normal circumstances I would loathe pairing this with anything but the sides on this dish were perfectly suited to the meat. The earthy mushrooms and pea tendrils add a layer of complexity but never obscure the natural flavor of the bird. The Faust is a classic California Cab, exhibiting strong notes of dark cherry and blackberry, an herbaceous menthol element, cedar, and well balanced tannins.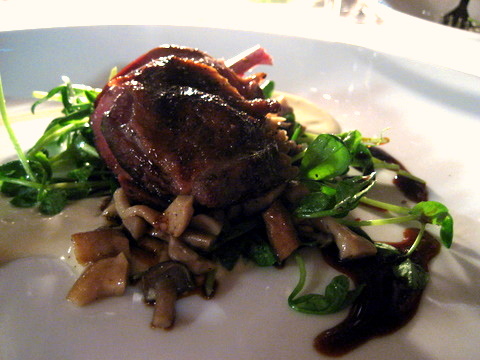 09: New Zealand elk tenderloin - with celery root, sweet potato, crispy bacon, arugula, currants, and sauce chasseur
2003 Cobblestone Estate Reserve Cabernet Sauvignon, Napa
Our last savory course was the elk from New Zealand. My one experience with elk was a dry iron flavored mess. This couldn't be more different, the meat was lean but still juicy and tender. The meat has some game but nothing approaching the metallic flavor of my first time. Of the wide variety of accouterments, the most apparent was the celery root, its strong flavor tempering the flavor of the meat.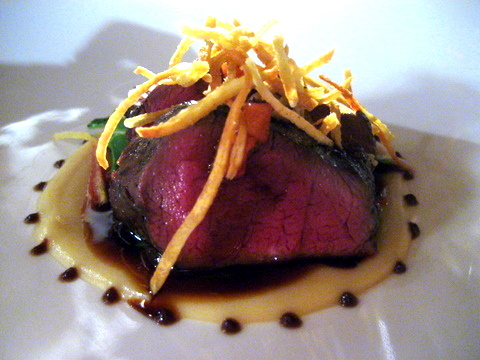 10: Deconstructed Black Forest Cake
1985 Warre's Vintage Port
A modern take on the classic German dessert Schwarzwälder Kirschtorte which combines chocolate cake, whipped cream, maraschino cherries and Kirschwasser. This preparation had all these elements though with each ingredient presented separately and given a chance to shine. My favorite part was the chocolate cake which reminded me of chocolate sheet cake, moist and decadent but not overly sweet. The cake is complimented by a simple ice cream and cherries tasting of spiced liqueur.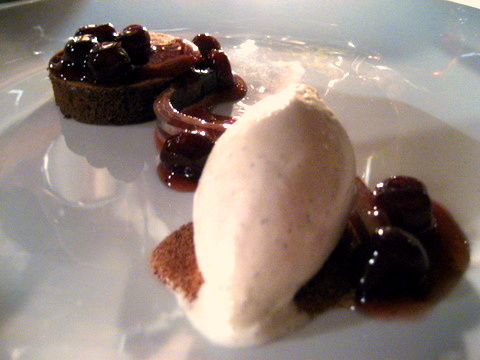 With the focus on game and strong tasting meats, I expected the kitchen might slack off on the sides and sauces, relying on the natural flavor of the meat to make the dishes. Instead the dishes were quite elaborate, using complimentary items that added complex flavor profiles yet still kept the focus on the key ingredient.

Chef Horton graduated from Le Cordon Bleu in 2004 and apprenticed at Saddle Peak Lodge. From there, he decided to gain practical experience with a stint in Europe. He originally headed out to London without a job in hand, and after going from restaurant to restaurant, ended up at Gordon Ramsay's flagship on Royal Hospital Road. From there he traveled throughout France working at a number of restaurants including Tallivent, once Paris' longest running Michelin 3-star, as well as the legendary Troisgros which has had 3 stars since 1968. Upon returning to the states, Horton worked at Melisse before returning as Sous Chef at Saddle Peak Lodge. Then at the tender age of 25 took over the top spot at Saddle Peak. After dinner Chef Horton came to talk with us and despite his relative youth and lofty position, he came across as humble and eager to listen to our opinions.

I was quite happy with my experience at Saddle Peak Lodge. It is too bad Michelin won't be rating Los Angeles in 2010; hopefully they return in 2011, Chef Horton deserves a chance to bring an etoile back to Saddle Peak.