3000 M Street NW
Washington, DC 20007
(202) 625-2150

Citronelle in Washington DC is the current incarnation of Chef Michel Richard's flagship restaurant. Though Citronelle and Central are fixtures of the DC culinary landscape, Chef Richard's first stop after France was California where he opened the legendary Citrus. Since then he has moved steadily eastward though he had a couple of abortive returns to the West Coast the latest being a revival of Citrus, the restaurant that helped built his reputation.

I have known about Citronelle for quite some time and I envisioned one day sitting down to the Grand Deugstation, but alas the menu proved to be a casualty of its own grandeur. Apparently it was rare for people to finish, and in the recessionary economy it seemed in poor taste to spend so lavishly.

The restaurant is nothing to look at hidden in the bowels of the Latham Hotel. The door to the restaurant is far too humble for an establishment of this caliber and the interior is in keeping with the understated decor. The one bright spot is the expansive kitchen, apparently a trademark fixture in Michel's restaurant. Still the blasé decor allows diners to focus their attention on the true star, the food.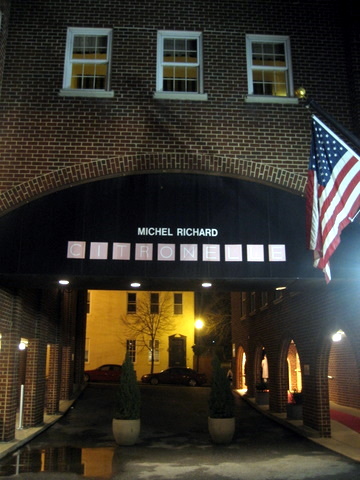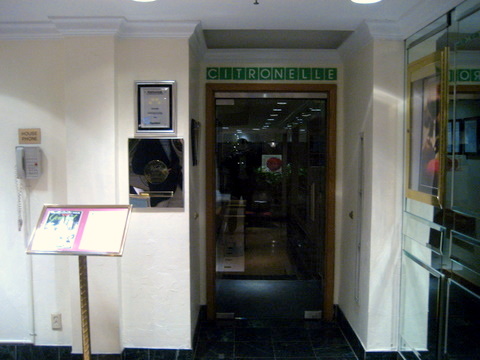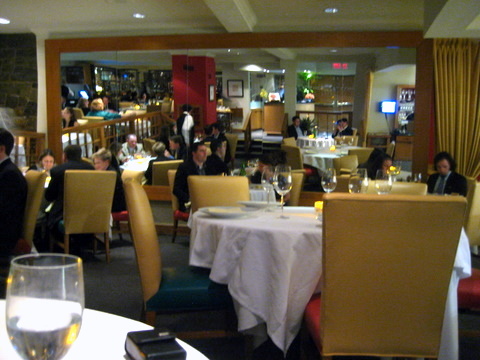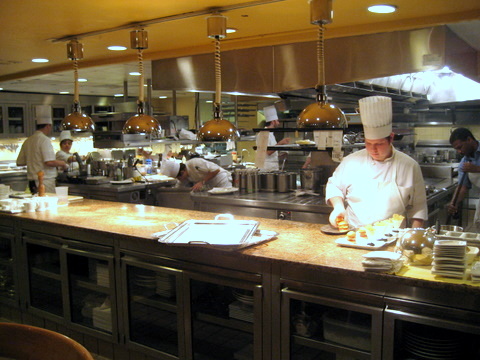 PARISIAN SIDECAR
I opted for an old classic to start a cocktail from 1922 made up of equal parts Hennessy VSOP, Cointreau, and fresh lemon juice. A simple refreshing drink with the orange and lemon almost totally masking the alcohol. Kevin referred to it as adult orange juice.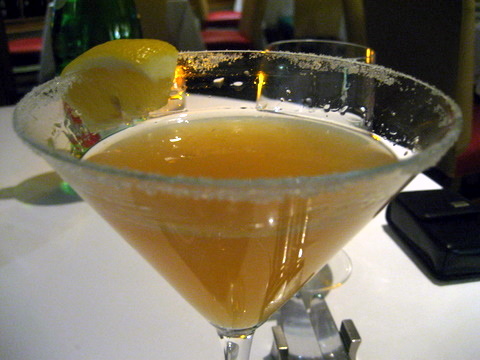 BUBBLY MOJITO
Though no longer his signature drink, Kevin still gets mojitos from time to time especially if there is something unique about them. The bubbles add a bit of excitement to what would otherwise be a very pedestrian mojito.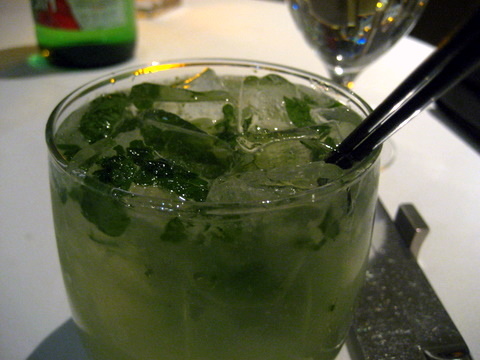 BREAD - Sourdough
A very sophisticated preparation of sourdough, the crust exhibited a pronounced rustic toastiness while the interior was almost oily in texture; buttery rich with only a hint of the characteristic tang of sourdough.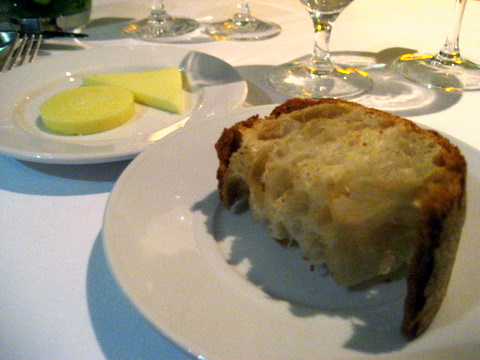 AMUSE BOUCHE
Champagne Moutardier Brut "Carte d'Or," France
The meal started with a quartet of single bite treats
Crab Cake - A simple bite of crab paired with a tangy aioli
Ratatouille Taco - A mix of refreshing vegetables wrapped in a mini-taco shell. The combination reminded me of chips with salsa
Smoked Salmon with Basil Oil - A pungently smoky preparation of salmon, the floral notes of the basil oil were critical to balancing the weight of the fish.
Jicama Crepe with Potato and Prosciutto - Perhaps the best of the amuses, the crispy jicama was followed up with a simple savoriness reminiscent of potato salad.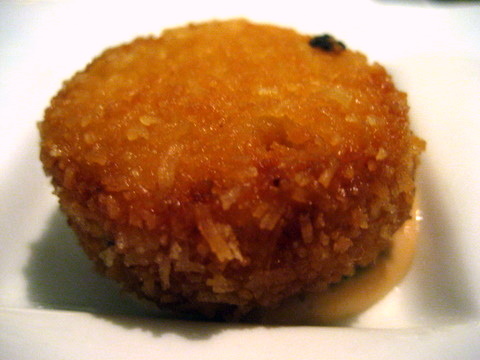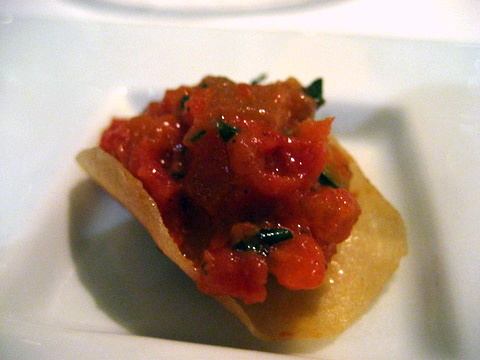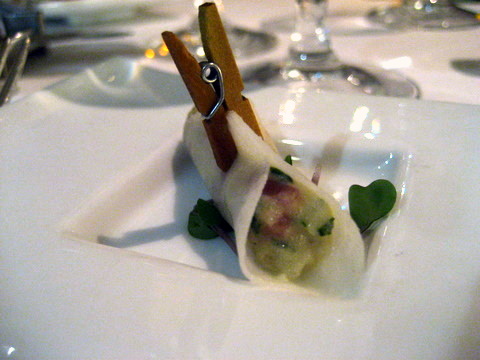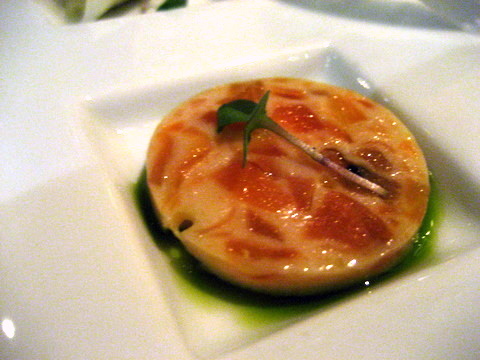 01: CHESTNUT SOUP
The simple moniker chestnut soup doesn't do this course justice. True the primary ingredient is chestnut, but that totally glosses over the mushrooms, sprouts, foie gras, and even peanut butter that make for a soup that delivers a hearty warmth as well as a complex flavor profile.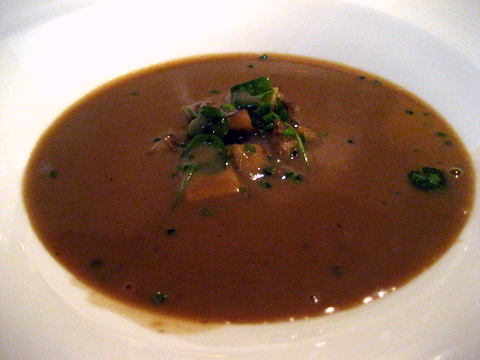 Supplement 01: FOIE GRAS ROULADE - sweet spices
The first supplement was an elegantly shaped disc of dense foie gras surrounded by a jammy layer of preserved fruit but I thought the ring of carrot ginger emulsion, which tempered the sweetness with a slight tang, was a far more intriguing and apt companion for the liver.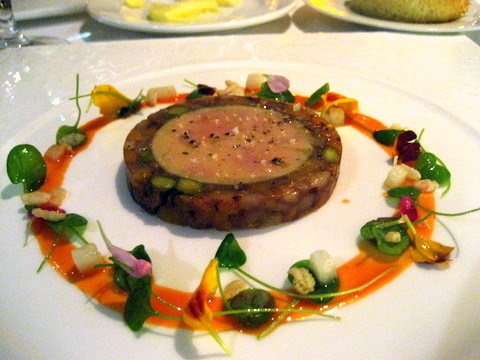 02: NANTUCKET BAY SCALLOPS - celery
Savennires, Domain Jo Pithon, France 2004
Periodically throughout the meal we caught intense aromas of butter wafting from the kitchen and when these came to the table I immediately knew the source. The tiny scallops came swimming in a rich overly powerful soup which I suspect is primarily clarified butter. A generous garnish of celery added a nice crispness but wasn't enough to level out the intensity of the butter.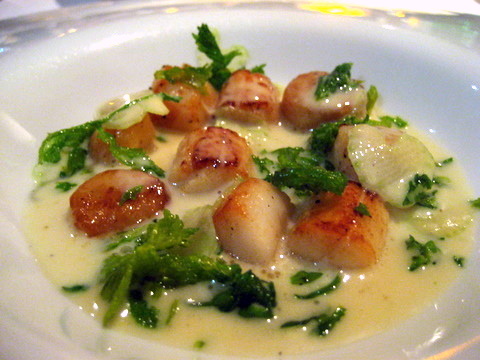 03: COBIA - vegetable tart, lobster-saffron broth
Vin de pays d'Herault, Mas de Daumas Gassac Blanc, France 2007
Only my second experience with Cobia with the other being at Sage only a month ago. I thought this was a far superior preparation, with a exterior reminiscent of crispy skin and a dense but tender interior. The naturally light flavor of the Cobia was heightened with the lobster-saffron broth which lent an appreciable fishiness.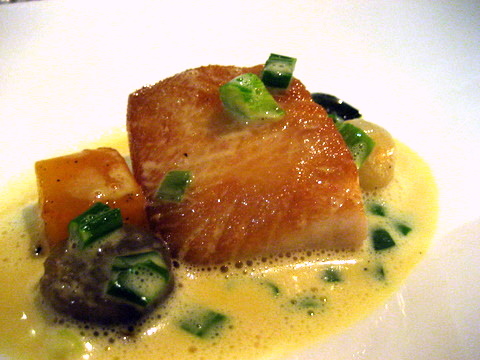 04: LOBSTER BURGER
Puligny-Montrachet, Domaine Patrick Miolane, France 2007
Despite Citronelle's reputation for fine dining, there is a concerted effort to keep the food lively and fun. The lounges burger offerings are a step in that direction. I expected something similar to a lobster roll but the flavor was a powerful almost pungent mix of lobster coral and butter. The lobster meat was a touch rougher than I'd have liked but the simple intense flavor made this quite enjoyable. The burger came with a side of the best potato chips, individually fried in clarified butter, with a delicious sweet-salty flavor.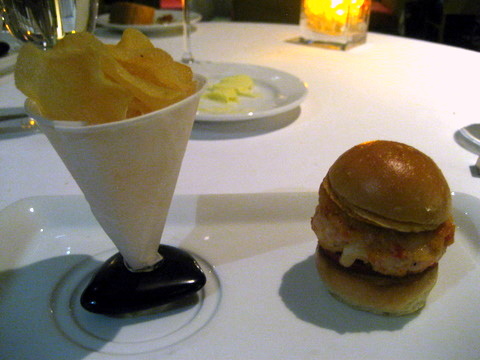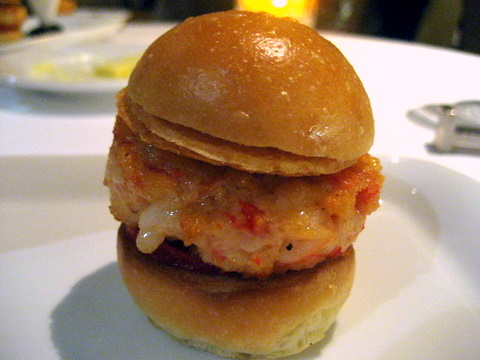 Supplement 02: LOBSTER "BEGULA" PASTA
The third course in a row involving lobster. The course is comprised of lobster and a squid ink pasta that is almost visually identical to Beluga caviar. The name is the result of a misprinting on the tin that the chef found humorous. As expected the crisp sweet shellfish is masterfully prepared, paired with a firm dense pasta that provided a nice balance to the lobster. As if this dish wasn't already delicious enough, it comes with a runny egg yolk to provide a slick coating for the mixture.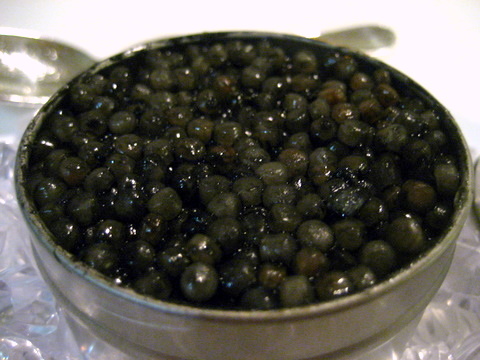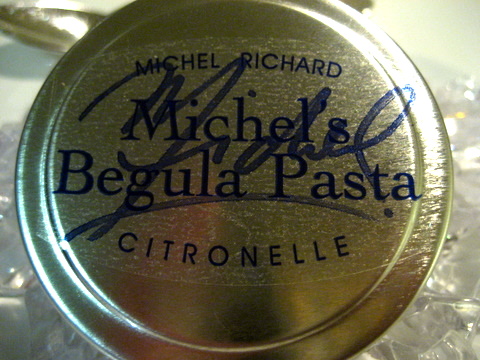 05: LAMB - rack, jalepeño-cumin sauce
Gevrey-Chambertin, Domaine Jean Michel Guillon, Fracne 2006
Wow. It's rare that a course puts me at a loss for words but the combination of the lamb and jalepeño-cumin is beyond compare. Eating this was like experiencing a culinary epiphany; of all the lamb's I have tasted this is probably the best preparation yet.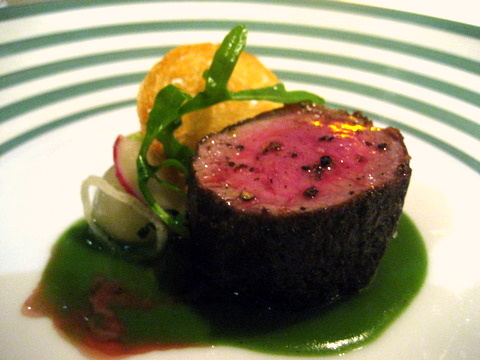 06: SHORT RIB - prime, braised 72h
Château Olivier, Grand Cru Classe, Pessac-Leognan, France 2003
I thought it would be impossible to finish stronger after that last course but that would be selling the staff short. Michel's signature dish is a short rib cooked sous-vide for 72 hours. Short rib is typically a fatty cut of meat but this was quite lean, still the long cook time gave the meat a remarkably even and tender texture. The meat itself had an incomparable flavor, a simple yet undeniably delicious beefiness and a "beef jerky-like tang on the finish. I could have eaten a full helping of this despite being stuffed.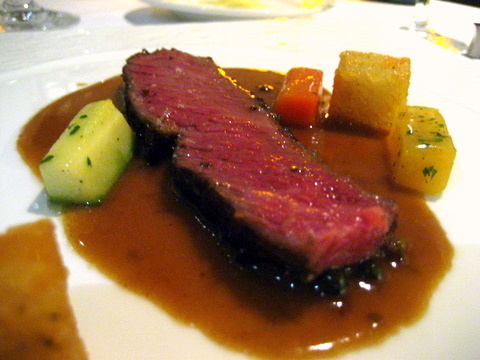 07: CHEESE - imported & domestic
Shiraz, "Laughing Magpie", d'Arenberg, Australia, 2007
The cheese selection was delicious but fairly tame, with several well known names: Gorgonzola, Camembert, Leonara, and Petit Basque.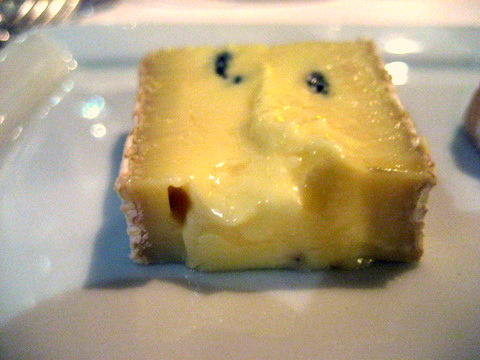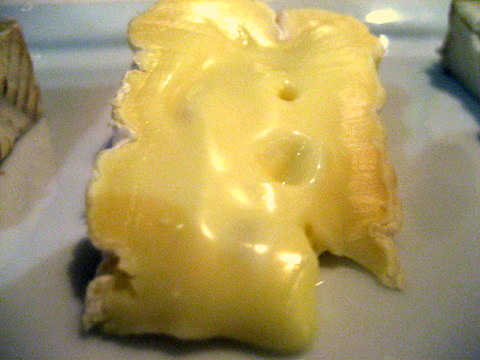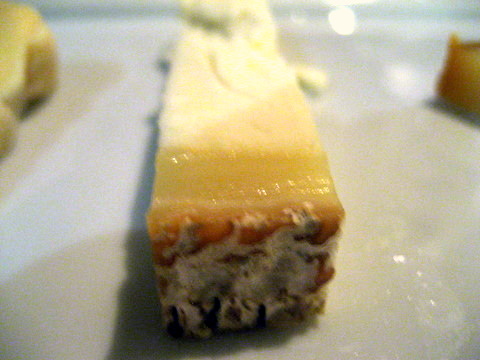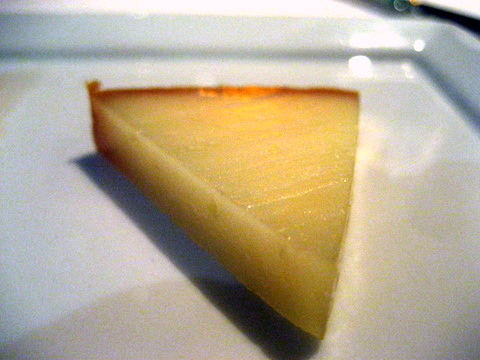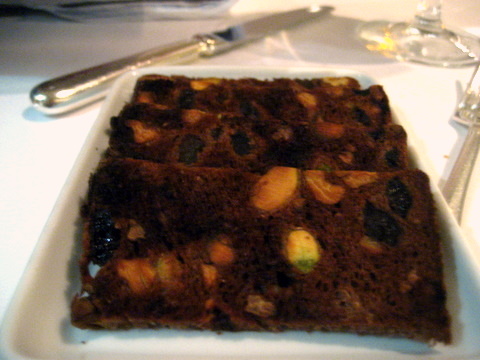 EGGS-CEPTIONAL LEMON MERINGUE
In keeping with the name, this dish was presented as a cracked egg. We were encouraged to mix the whole thing together and the resulting amalgam tasted exactly like a classic lemon meringue pie.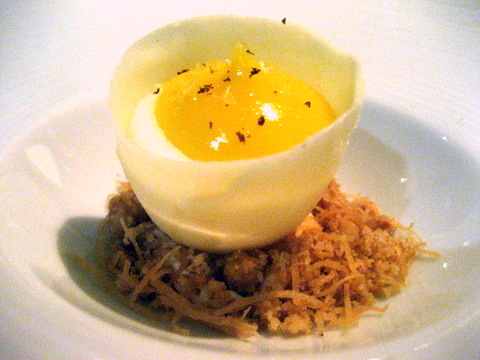 08: PEAR CHOCOLATE TART
Moscato d'Asti, "Sourgal", Elio Perrone, Italy 2007
Conceptually similar to the pear and chocolate dessert I had at Saam a couple weeks ago, but so much better in terms of execution. Chocolate tends to be a stronger flavor but this dish kept that intensity in check, ensuring that the fruit and other components had a chance to shine as well.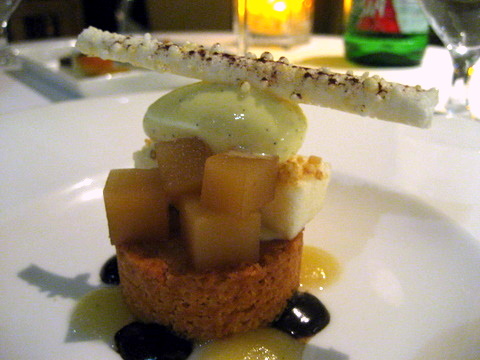 09: PETIT FOURS
We closed the meal with four little treats, a chocolate cookie, a chocolate covered grape, raisin madeline, and chocolate-hazelnut bar. The grape was the standout, combining a bright juicy burst of sweetness with the creamy body of the chocolate.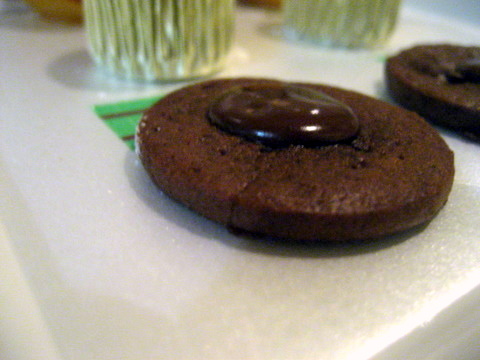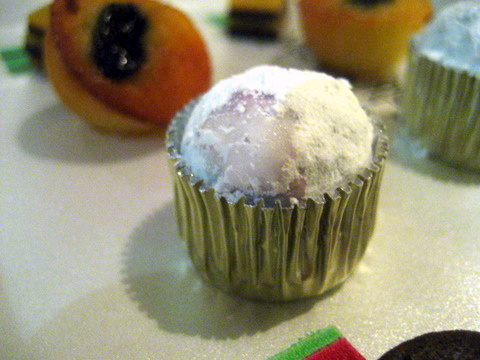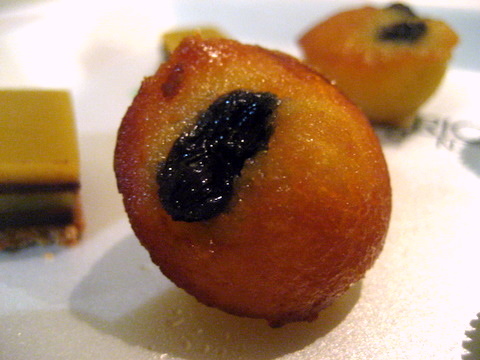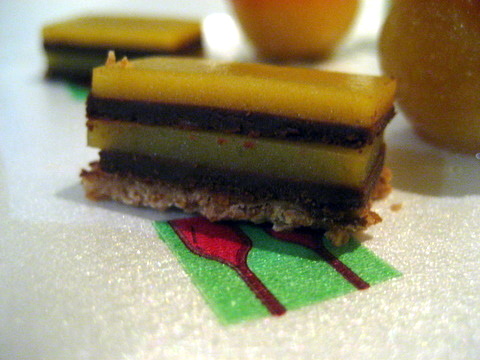 I am happy to say Citronelle lived up to my expectations and more. I know I have a tendency to be harsher on the later savory courses as I start to get full but the food here was exceptional from start to finish with some of the heavier protiens being among the best. I typically wait at least a few months before returning to a restaurant but with Citronelle I was eagerly imagining my next visit before I had even left the restaurant. In fact, the strength of our experience led us to make Central, Michel's other restaurant our destination for dinner the following night.