401 N La Cienega Blvd
Los Angeles, CA 90048
(310) 659-7708

Ah how the mighty have fallen. Successful people often have their share of detractors, but I don't know anybody so universally reviled as Chef David Myers. He has drawn a plethora of expletive-laden vitriol attacking everything from his integrity to his sexuality. A classmate of mine whose wife worked for Myers diplomatically described his leadership style as "strict" and "very old-school." Others have not been so kind, calling him an ego-maniacal iron-fisted tyrant, and attributing Sona's success to his Chefs de Cuisine.

Despite the current atmosphere of hate surrounding Chef Myers, there was a time it seemed he could do no wrong. Sona established a legitimate reputation as one of the top restaurants in LA. Comme Ca was a pioneer in a wave of French bistro/brasserie restaurants. Capitalizing on his initial success, Myers and his Food Art Group went on an expansionist blitzkrieg the likes of which I have never seen. It was around this time the momentum Myers built began to falter; it seemed that Myers was more interested in opening restaurants then actually running them and these newer undertakings never achieved the stability and quality that marked his earlier ventures.

The first cracks in Myers' empire showed up in Febuary of last year with the shuttering of Boule Atelier. It seemed that the house of cards was about to tumble with restaurants closing as quickly as they had opened. At the same time Myers continued to burn up the goodwill and credibility he had established. Numerous personnel changes and restructurings marked an organization in the midst of its death throes. Finally Myers announced the closing of Sona, the crown jewel of his empire, in May of this year albeit with a planned reopening sometime in 2011. Considering my memories of the restaurant it would be inexcusable not to see it through its final days.

My first visit to Sona came shortly after a food trip that included dinner at The French Laundry. I recall being very impressed and thinking that the meal compared favorably to even the vaunted Laundry. A return visit in 2009 told the story of a restaurant that had lost its way, neither Chef Myers nor Chef Yagi were present during service (away on a business trip) and the food, while passable, was a far cry from the exquisite meal I remember from years past.

Sona has always exhibited Asian influences, reflecting Myers' interest in Asian food culture. The rise of Chef Yagi seems to have pushed the restaurant even further in that direction. The restaurant is one of the few to offer a tandem tasting, where there are two options for each course. Of course nothing less than the 9-course tasting would suffice for a last meal but Chef Myers had something different in mind, free-styling a special menu consisting of whatever he felt like serving; a true omakase experience!

Amuse: Soy Milk Sorbet - with Pineapple Jelly, Coriander Flower
Intriguing choice to start with, the cool sweetness of the fruit and soymilk would have been a bit flat on their own, but the verdant bite of the cilantro and crispy savor of the rice cracker added a welcome depth to the mix.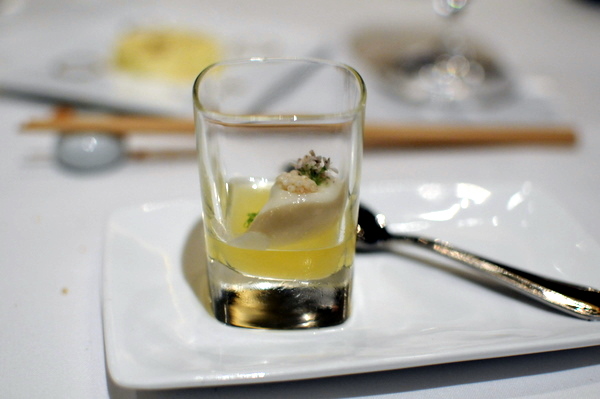 Bread - Grissini, Garlic Pepper, Ciabatta, Black Tea, Milk
The bread came in several waves, the first being a giant Parmesan bread stick that buckled under its own weight. Of the four subsequent breads the garlic pepper and black tea were both particularly noteworthy.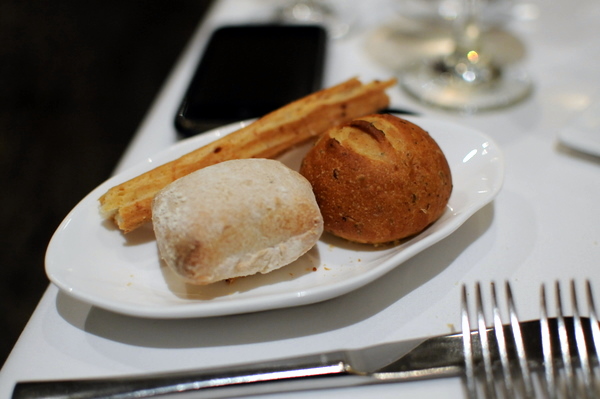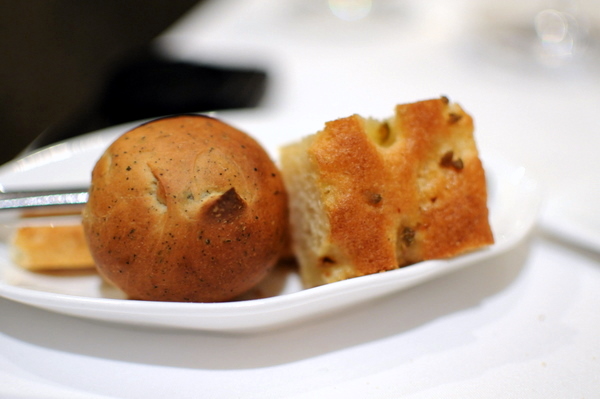 01: Dungeness Crab - with Mint-English Pea, Rice Tuile
La Rodeline Humagne Blanc "Raffort," Fully, Switzerland 2005
Inspired by the importance of the number 5 in Japanese culture and kaiseki tradition, this dish incorporates 5 colors and elements of all 5 tastes. Though the colors don't quite match the traditional black, white, red, green, and yellow the result is still a dish that is as visually appetizing as it is delicious. The mint and pea amalgam harmonizes nicely with the natural essence of the crab and the resulting flavor is both delicate and complex.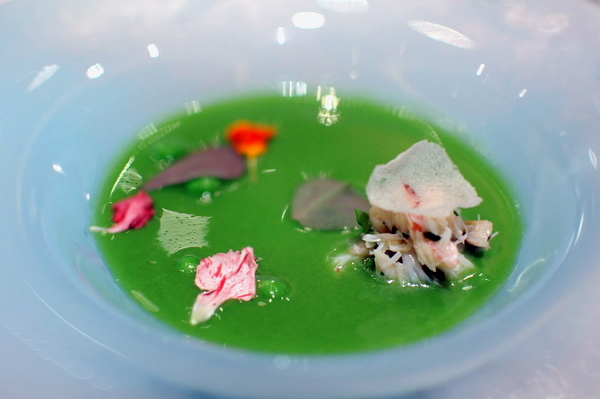 02: Rice Wine Marinated Shima Aji - with Cucumber-Shiso Maki, Ponzu Sabayon
The Shima Aji came loaded with thick veins of marbling and a fattiness reminiscent of a top-notch o-toro, quite different from the lithe character normally associated with the fish. The crisp vegetal counterpoint of the cucumber-shiso roll paired immeasurably well with the velvety richness of the fish.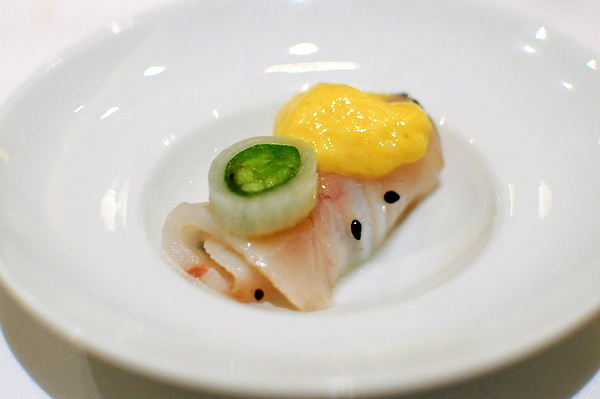 03: Crispy Soft Shell Crab - with Lime Pickle, Pak Choy, Pumpkin Seed
Turley "White Coat," San Luis Obispo County 2003
Strange serving two dishes where crab is the feature so close in proximity. Though some of my friends rave about soft shell crab I've never seen the appeal; finding the effect sort of like eating a shrimp with the shell on. The crab itself was almost painfully salty, to the point that it was nearly unpalatable on its own. Even with the vegetables, the too-forceful nature of the crab came through clearly.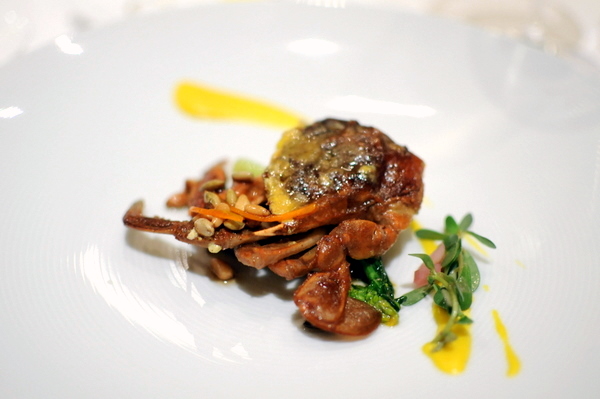 04: Slow Cooked Arctic Char - with Spring Garlic Purée, Fiddlehead Ferns, Sake Marinated Salmon Egg
Talley Chardonnay, Arroyo Grande Valley 2006
The trout was served nearly raw with but a thin seared layer that added a intensely smoky depth to the briny unctuousness of the fish. A smattering of herbs added a ringing vegetal component that completed the dish.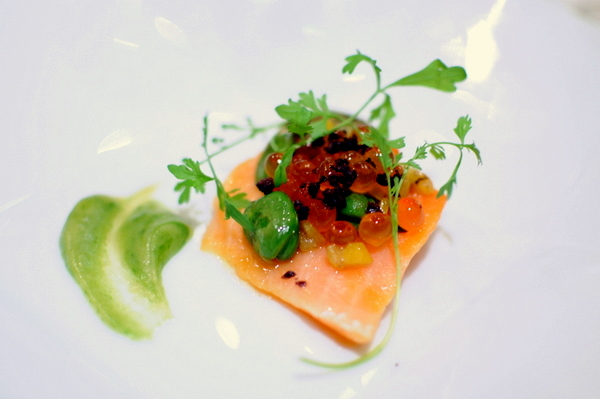 05: Seared Foie Gras - with Buckwheat Grains, Razor Clam, Mitsuba
Selbach-Oster Spätlese "Zeltinger Schlossberg," Mosel, Germay 1999
Next up was an audacious preparation of seared foie gras paired with razor clams and buckwheat. Sadly the clams were less of a factor than I would have liked, as their snappy texture and salinity would have contrasted nicely with the fatty liver. Still the remaining accompaniments were up to the task of countering the weight of the foie, with the pronounced peppery bite and twang of fresh citrus resulting in a pervasive sweet-umami essence.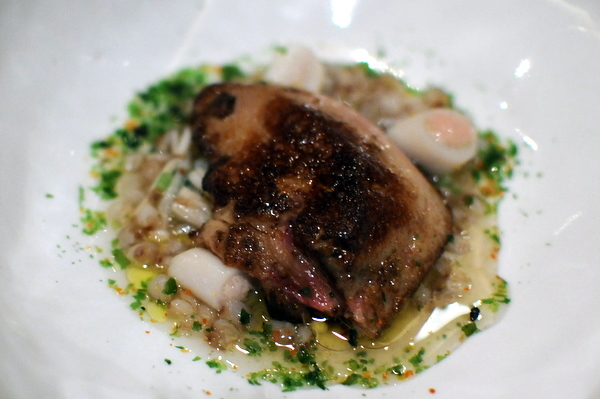 06: Whole Roasted Black Chicken - with Piquillo Pepper Purée, Fried Chicken, Stuffing
Domaine Dominique Laurent Nuits-St.-Georges "Les Cailles" 1er Cru 2000
I've often seen black chicken used in high-end Chinese soup stock, but rarely have I had the bird on its own. We were served a piece of the thigh which was substantially more muscular and flavorful than your typical supermarket bird. The stronger flavor stood the bird in good stead when paired with the potent flavor of the licorice and piquillo pureé. Absolutely superb and something more chefs should consider working with.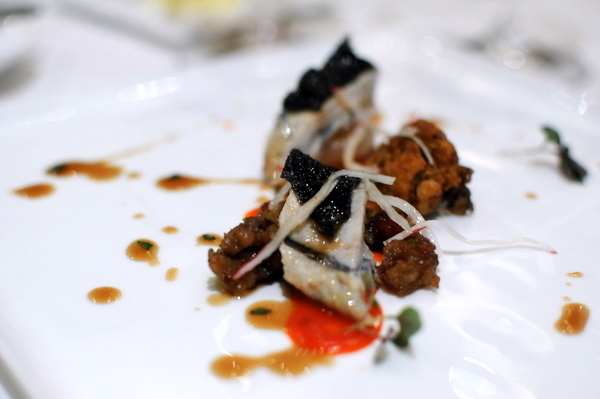 07: Veal Loin & Veal Cheek - with Green Curry Potato Pavé, Preserved Papaya Purée
Cantrina "Nepomuceno" IGT, Lombardy, Italy 2004
Veal is a dicey proposition at many restaurants; vaunted for its tenderness, I often find the meat bland and dry. Thankfully this was not the case here and we were given two delightfully contrasting preparations. The loin was immensely flavorful and moist but with some firmness to it; a true showcase of the best aspects of veal. The braised cheek was utterly decadent and all but dissolved on the tongue.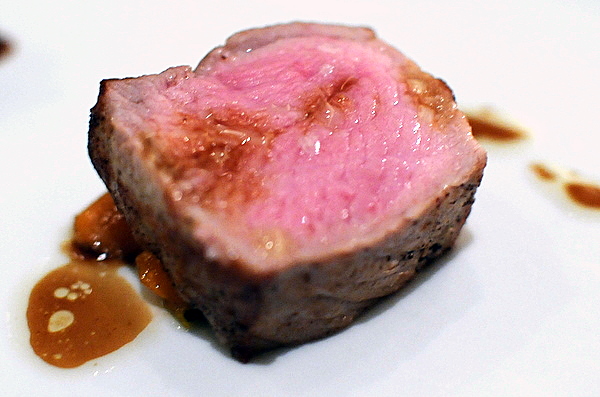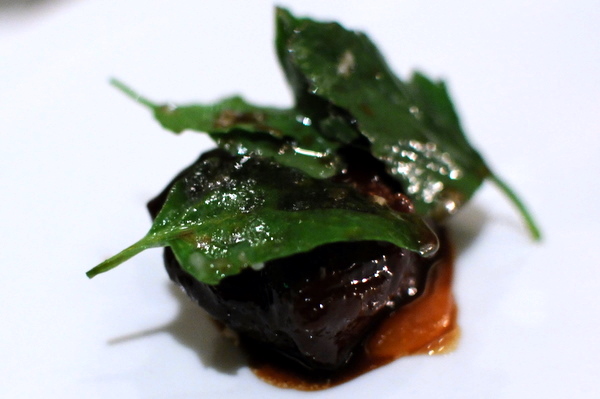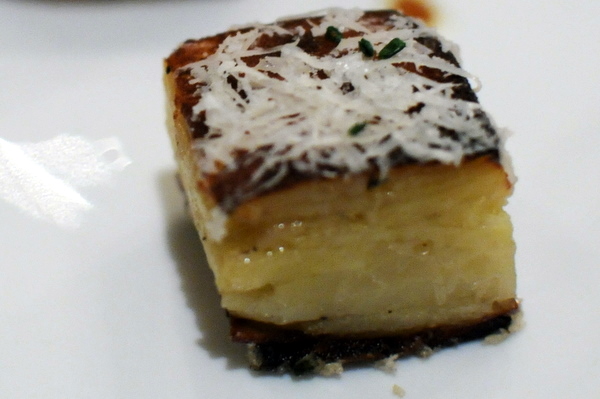 08: Fromage - Cave Aged Marisa, Le Gariotin, Camembert De Normandie, Beaufort, Stichelton
Dal Bosco Giulietta "Le Guaite di Giulietta," Amarone Della Valpolicella, Veneto 2002
Domaine Zind-Humbrecht Gewürztraminer "Hengst," Alsace, France 2002
Fromage at Sona will always have a special place in my heart as Sona was where I learned to appreciate fine cheeses. This proved to be a superb selection, running the gamut from firm to gooey and from mildly nutty to full-flavored.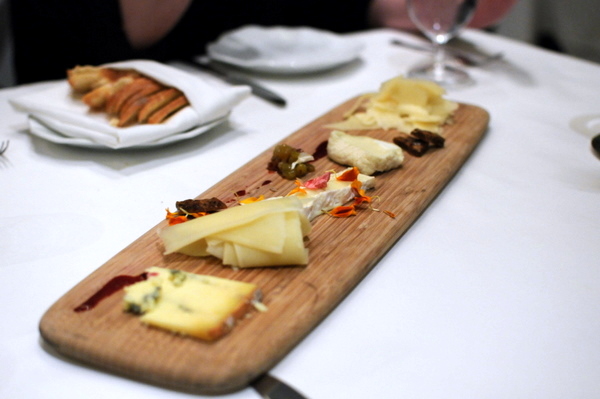 Not to be outdone by the exceptional savory courses, we were presented with an equal number of elaborately crafted desserts from Executive Pastry Chef Ramon Perez.

09: Fennel Sphere - with Cucumber Apple Juice, Lime, Licorice Root
First up was a palate cleanser strait out of Ferran Adria's playbook. The thin membrane of fennel burst on contact, releasing an herbaceous concoction of apple, cucumber, and licorice.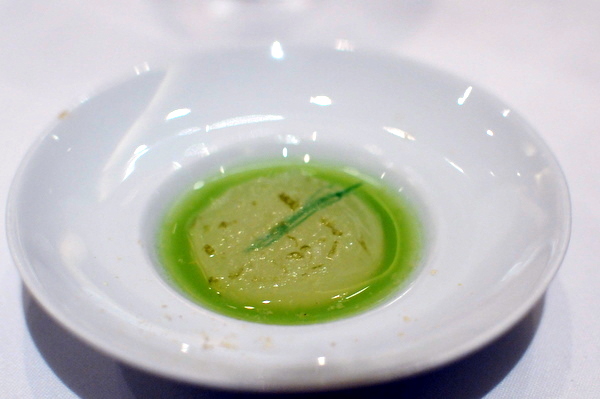 10: Mint Cloud - with Yogurt, Basil Seed
The mint cloud lived up to its name with an airy chalky texture punctuated with a tingling mintiness.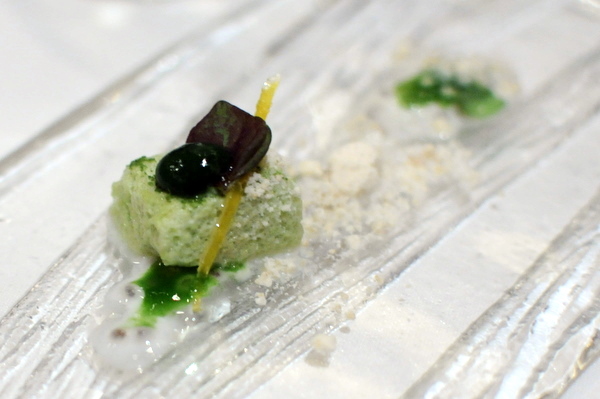 11: Kalamansi - with Ginger Ice Cream, Red Shiso
Dagueneau Les Jardins de Babylone, Jurançon, France 2005
One of the more cerebral desserts of the night. The interaction between the tart lime and spicy ginger was unlike anything else with a pronounced savoriness to boot.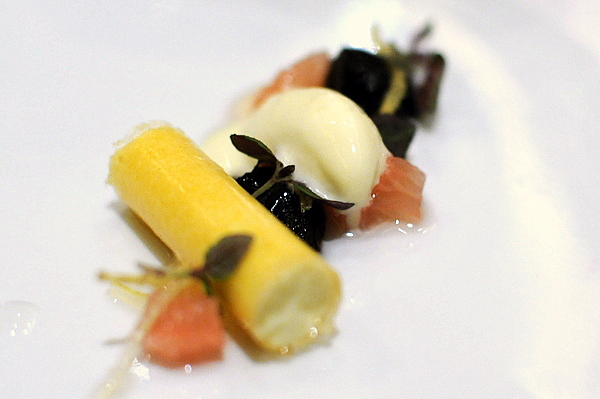 12: Alpine Strawberry - with Celery Meringue, Candied Rhubarb, Parmesan Ice Cream
Celery is one of my least favorite vegetables so I didn't think I'd welcome it in a dessert, but the herbal flavor was the ideal foil for the jammy sweetness of the fruit.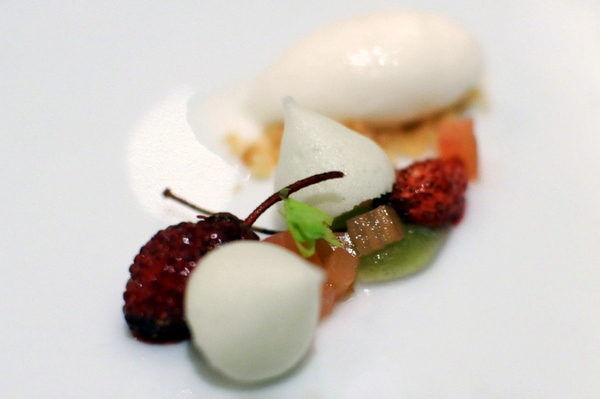 13: Raspberry Capsule - with Licor 43, Freeze Dried Raspberry, Shiso Ice Cream
The vibrant orange cylinder looked so sweet and inviting that the harsh burn of the Licor 43 came as quite a surprise. Unfortunately the alcohol rendered much of the dessert incomprehensible.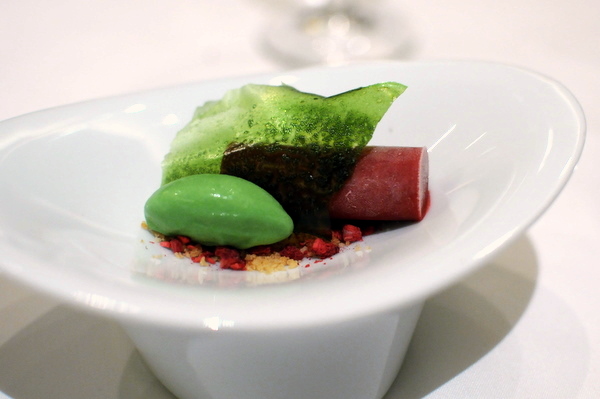 14: Black Sesame Crème - with Caramel Popcorn, Black Sesame Praline, Passion Fruit
Kevin likened this dessert to a Chinese Tongyuan and I found the comparison particularly apt. The caramel popcorn reminiscent of a kettle corn, was enjoyable but stood apart from the black sesame. The passion fruit provided a vibrant fruity contrast so effective with the heavier flavors of the popcorn and sesame.



15: Xocopili - with Beet, Raspberry
Dow 20 Year Tawny Port
One of the more distinctive chocolate desserts, like many of the Perez's other creations this coupled sweet and savory elements resulting in a more complex flavor profile. Surprisingly the Xocopili was the savory component, laden with with red pepper and spice. Sweetness was provided in the form of a beet sponge and concentrated raspberry gel.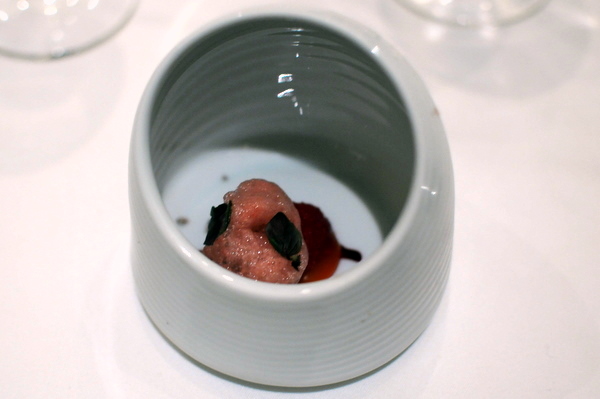 16: Orizaba Chocolate - with Jasmine Foam, Matcha Ice Cream, Matcha and White Chocolate Tuile
I loved the initial attack of the bitter herbal matcha which faded leaving a profoundly rich chocolate finish.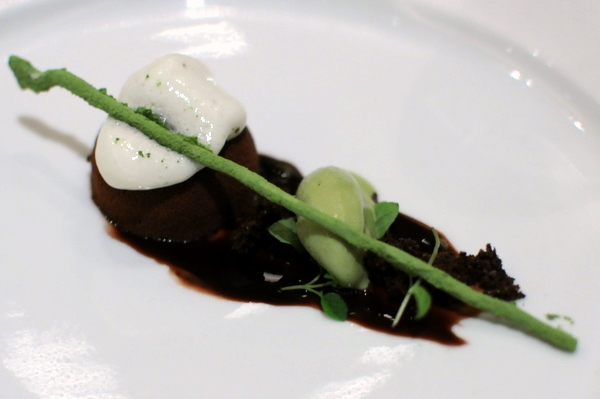 Mignardises - Chocolate Macarons and Madelines
These were by no means groundbreaking but the simple well made mignardises capped a superb meal.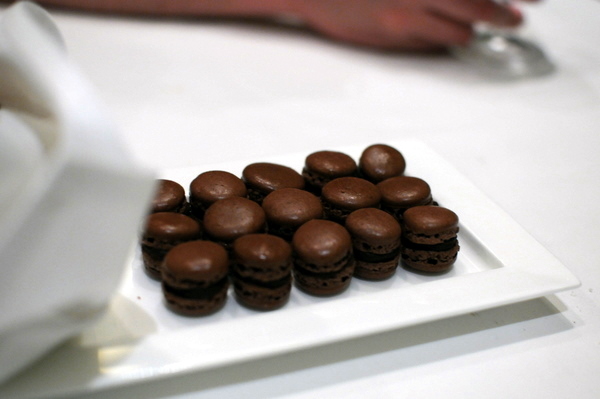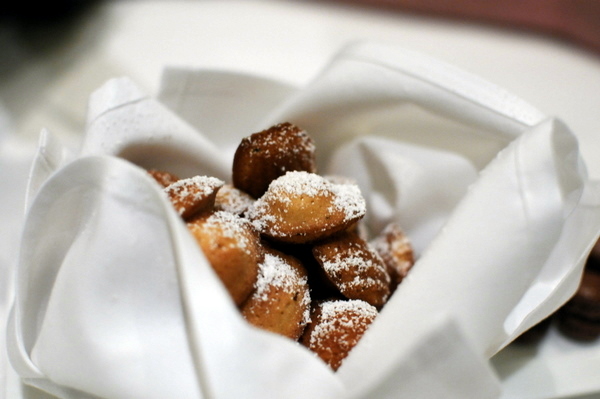 This meal was a return to the Sona of old, serving cuisine that is fanciful yet graceful; daring and delicious. I think by and large people find the idea of redemption appealing and are willing to extend second chances. I chose to believe that Myers is capable of rebuilding his tattered reputation by concentrating on what catapulted him into the limelight in the first place. My sincerest hope is that Sona does reopen with Myers (a little wiser and humbler) where he belongs; in the kitchen.