9575 W Pico Blvd
Los Angeles, CA 90035
(310) 277-0133

The idea behind Test Kitchen is sheer genius: give chefs a chance to try out their menus and build buzz for their upcoming restaurants. Unsurprisingly it is nigh-impossible to get a seat at the restaurant. I initially planned to go opening night and check out Red Medicine but events conspired against me, but nothing short of absolute catastrophe was going to keep me from checking out what Chef Walter Manzke has been up to since Hatchi.

Bread & Butter - Vermont butter with sea salt, foie gras butter lavender honey
The foie gras butter is becoming a signature of Manzke's and having had it at his Hatchi dinner, I couldn't wait to try it again. The bread it was paired with was surprisingly strong, even better than the Epi at BreadBar.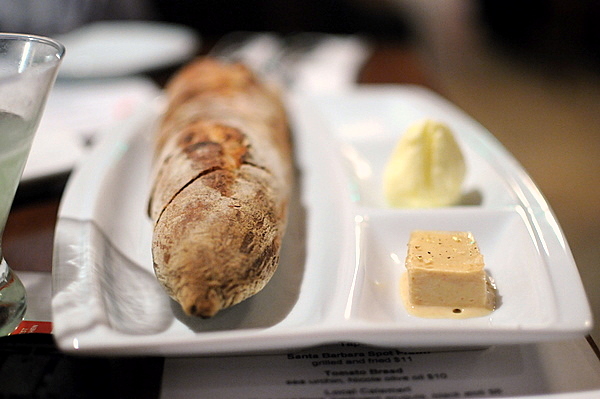 Local Calamari - grilled and fried, backyard arugula, black aioli
The fried calamari was enjoyable but fairly simple, the heft of the batter and oil didn't leave much room for the accompaniments. By contrast, the grilled preparation had a delectably slick texture and natural brine that really played well with the earthy brine of the squid ink.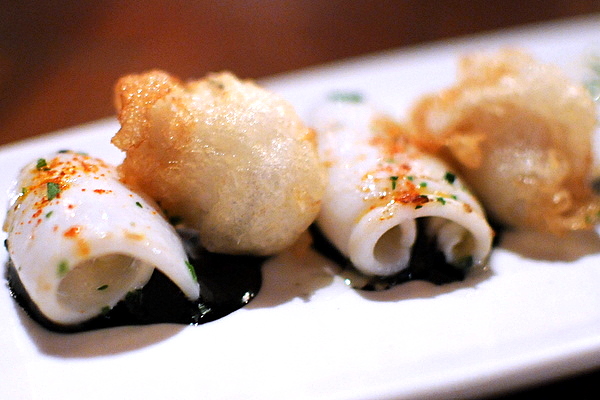 Corn Beignets - Parmesan, basil aioli
For such tiny morsels, these beignets pack a surprising amount of flavor. The taste of sweet summer corn is immediately evident, nicely augmented with a burst of fresh basil.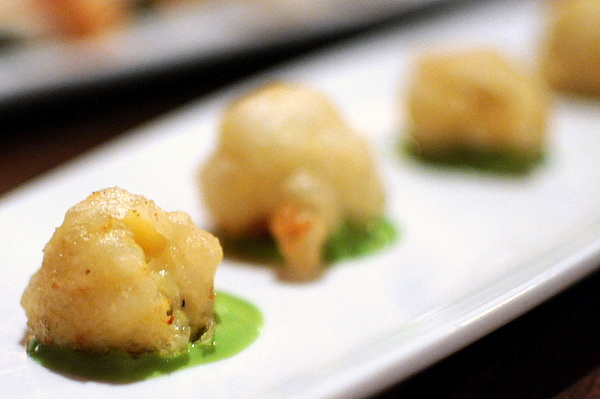 Tomato Bread - sea urchin, Nicole olive oil
Who would have thought uni would play so well with tomato and olive oil but thats exactly what happened. The interplay between the sweetness of the uni and the vegetal notes of the tomato and olive oil simply have to be tasted to be understood. I sincerely hope this finds a permanent home on Manzke's new menu.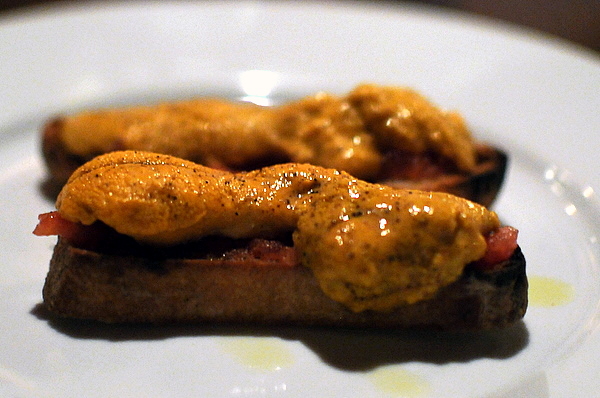 Santa Barbara Spot Prawn - grilled and fried
Like the calamari, the prawns were presented two ways though this time the presentations were effective in highlighting the strength of the different parts of the prawn. The meat was plump and snappy with the grilling adding a light bitter char to the sweetness of the shrimp. The head was reminiscent of the sweet shrimp tempura served at sushi bars and the savory batter helped hold together the innards and temper their offal-y brine.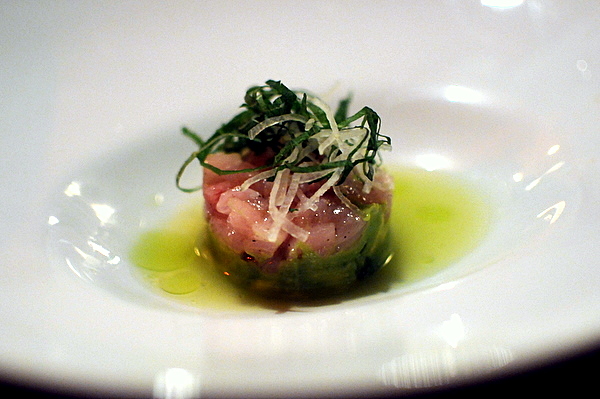 01: Hamachi - Avocado, Green Apple, Yuzu, Jalapeno
Manzke's Hatchi dinner started with a similar course and at the time I thought the dish was enjoyable but there was something off about the balance and unfortunately things have become even more uneven with this new incarnation. As before, the flavor of the fish is marginalized by the avocado and acidity of the sauce. However by presenting the hamachi as a tartar even its role as a textural element is diminished.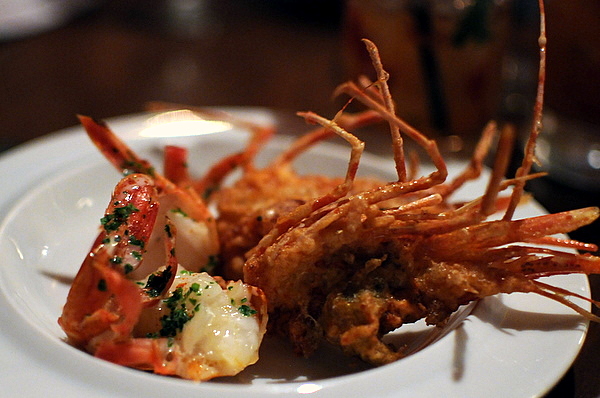 02: Thai Curry-Carrot Soup - Maine Lobster, Coconut Tapioca
Another variation on a Hatchi dish, admittedly I wasn't expecting much since in my experience carrot based soups inevitably end up being an overly saccharine mess. I was pleasantly surprised to find the flavor of the curry highlighted the strengths of the coconut and carrot while keeping their sweetness in check. More importantly, the lobster kept its focus, quite impressive against such a bold soup. Lastly there were bits of nuts, tapioca, and fresh fruit, their flavors flashing to life only briefly but adding immeasurable complexity and depth to the dish.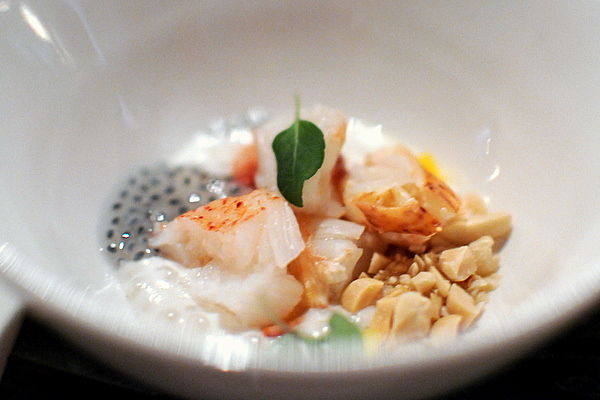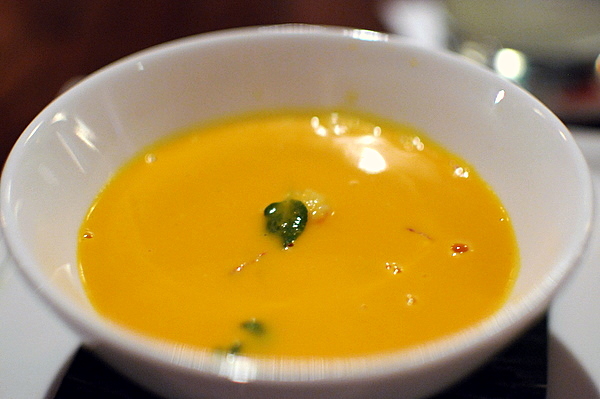 03: Loup de Mer - Sungold Tomatoes, Mole Verde
I've never been a huge fan of Branzino, but this was a brilliant preparation. The fish itself was immensely tender and imbued with a wonderful natural essence and the accompaniments far from being overly acidic again complimented the fish perfectly. Manzke's command of flavor on this dish can only be described as masterful!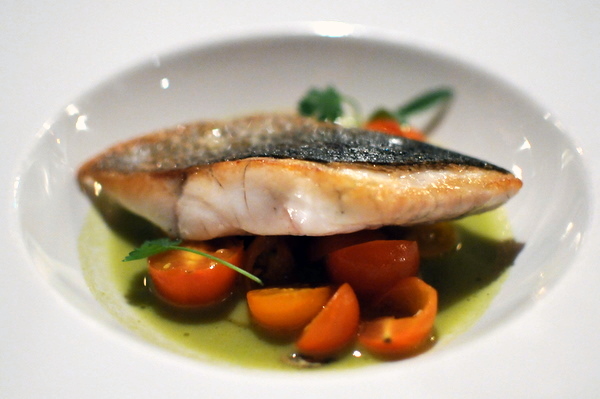 04: Beef Tenderloin - Chanterelle Mushrooms, Katsuo Bushi Broth
It's rare that a meal ends stronger than it started for me and it is nothing short of a miracle when a meal this good does so. Simply put this course was poetry on a plate. The beef, poached egg and katsuo bushi broth are all exceptional on their own but it was together that the food really shined. The tenderloin was just a shade above rare and ridiculously tender the simple beefy sapor alone would have made this an enjoyable course. Though I typically enjoy my beef minimally adorned, the rich umami broth seamlessly accented the meat's natural flavor. The runny egg acted like a thickening agent giving the broth a more substantial hearty texture and the interplay between the yolk and the beef reminded me of a steak and egg breakfast. As if this wasn't enough the smear of yuzu kocho was simply magical when taken with the beef. I would have literally ordered the entire meal again to get another serving of this beef.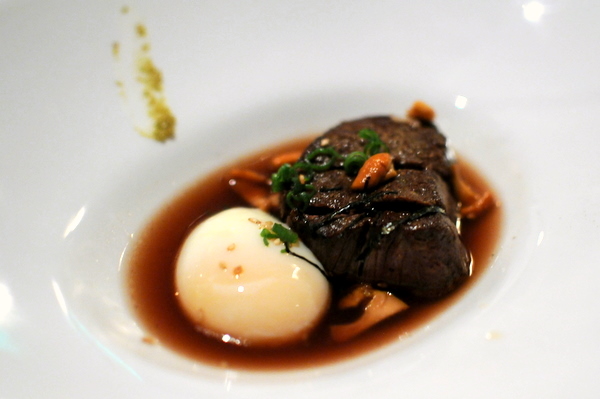 05: Crème Brulee - Strawberry
I was a bit underwhelmed when I saw this on the menu but I should have known that Manzke would never serve a pedestrian crème brulee. Instead this was more like a parfait combining layers with radically different flavors textures, and temperatures. The result was a refreshingly sweet dessert that left me wanting more.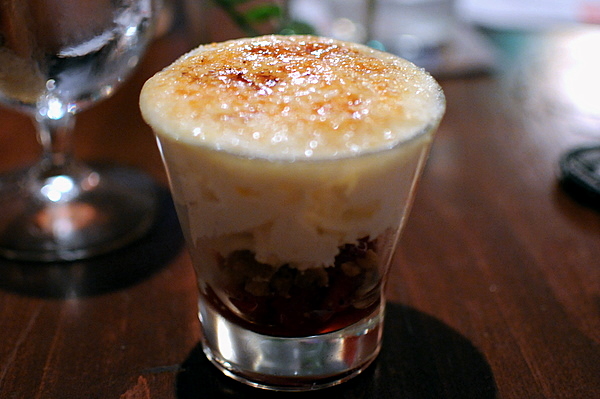 It has been almost two months to the day since Hatchi where I got a first look at Manzke's vision for his new restaurant and at the time I thought the menu needed some work. Manzke has used the time since then very well and I'm happy to say he not only exceeded my expectations, he shattered them.