633 D St., NW
Washington, DC 20004
(202) 637-1222

Though I'm no expert on Indian food, the idea of gourmet Indian food just sounds like an oxymoron to me. Most of my experiences with Indian food have been lunch buffets in dingy sparsely decorated restaurants or grabbing some curry and naan for dinner; in either case the food is cheap, filling, and plentiful.

Rasika piqued my interest with its steady climb up the ranks of the Washingtonian's top 100 restaurant list from 58 to 8 in the past 4 years. Rasika is owned by Ashok Bajaj, who also owns 701, Bombay Club, Ardeo, Bardeo, Bibiana, and the Oval Room. Bajaj tapped Vikram Sunderam, formerly of the Bombay Brasserie in London, to run the kitchen when the restaurant first opened in early 2006 and Chef Sunderam still holds the post today. The food is decidedly more refined than your typical Indian fare, combining traditional Indian flavors with high-quality ingredients prepared with a combination of Eastern techniques and Western emphasis on detail. The restaurant also features a substantial wine selection and a serious cocktail program if you are looking for something other than a Kingfisher or a Taj to go with your meal.

Palak Chaat - Crispy baby spinach, sweet yogurt, tamarind, date chutney
The spinach is fried to a glassy brittleness; the resulting texture is decidely unique and almost airy in its lightness. The addition of yogurt, tamraind, and date chutney add a palpable weight to the vegetable as well as a spicy-sweet tang that brightens the entire amalgam with a bold racy flavor. Wonderfully complex and enjoyable on so many levels, it is no surprise that the Palak Chaat is one of Rasika's signature dishes.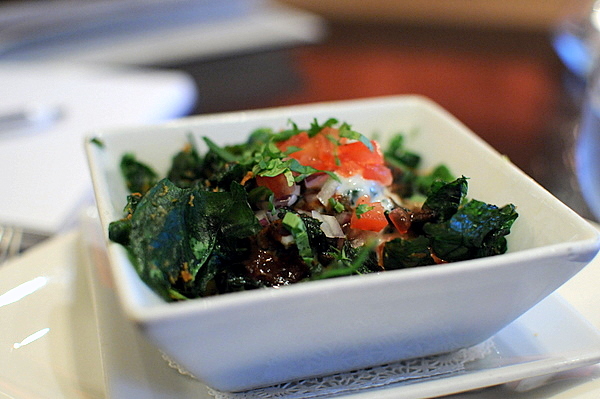 Chili Garlic Scallops - Bay scallops, ginger, lemon juice, Poha
This was a first for me, scallops at an Indian restaurant. The scallops themselves are dense and meaty but it was the masala sauce, with its arresting smokiness and vibrantly sharp burn that stood out. The starchy heft of the poha, a flattened rice, was instrumental in balancing the heat of the scallops.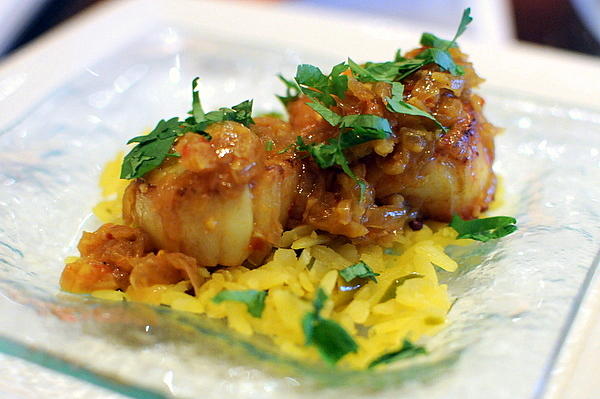 Spicy Reshmi Kebab - Minced chicken, mint, coriander, green chili
This each element of the dish was enjoyable course never really came together as a whole. The shrimp were well cooked and served in a mango coconut sauce while chicken sausage had a nice peppery bite and spongy texture typical of a good sausage, but there was nothing to tie the two together.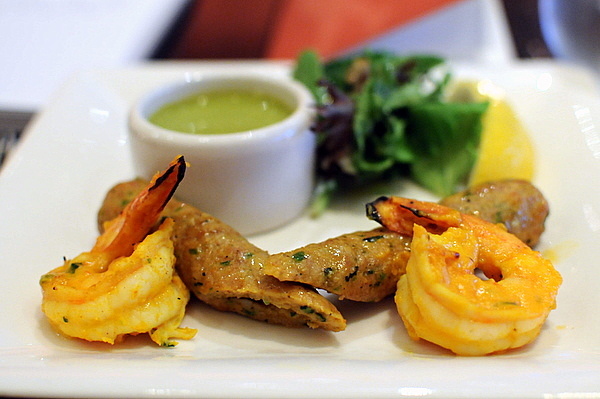 Black Cod - Fresh dill, honey, star anise, red wine vinegar
Along with the Palak Chaat, the Black Cod was another of the evening's standout dishes. The texture of the fish was sublime: dense, succulent, and oleaginous. The verdant flavors of the dill and anise were a superb pairing and a very nice departure from the saccharine miso sauce so prevalent at Japanese restaurants.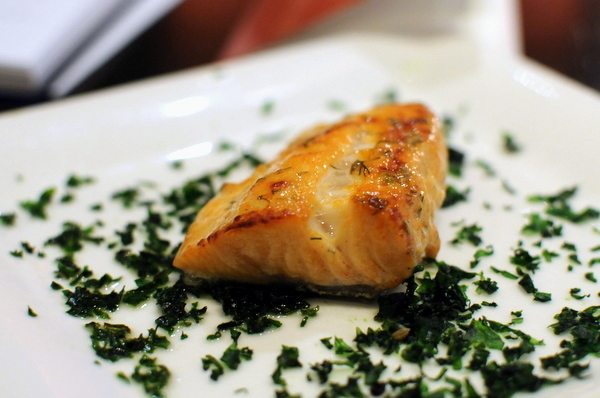 Lamb Bukhara - Cashew nuts, apricots, mace, cardamom
Chicken Makhani - Broiled chicken, tomato, fenugreek
Khumb Mattar - Shiitake, English peas, cashew nuts
Bhindi Amchoor - Sliced okra, dry mango powder
The final savory was almost a meal in and of itself, featuring four of the more traditional Indian dishes on the menu as well as sides of Basmati rice and naan. All four courses were enjoyable though I had a tough time finding any discernible differences from more conventional Indian restaurants. While it was nice to know that the restaurant could serve mainstream Indian food, Rasika's appeal is in its more innovative courses. I could have done with one or two fewer dishes here in exchange for something more exotic like the venison or duck.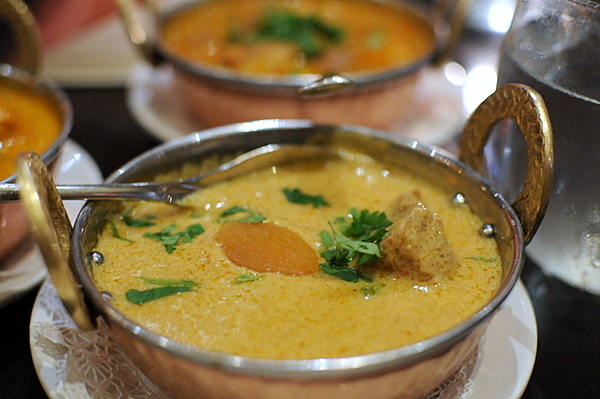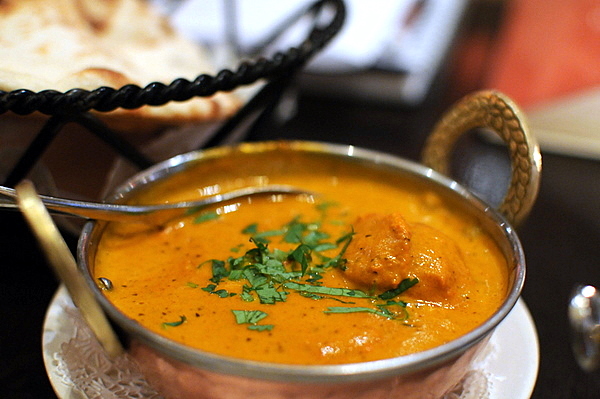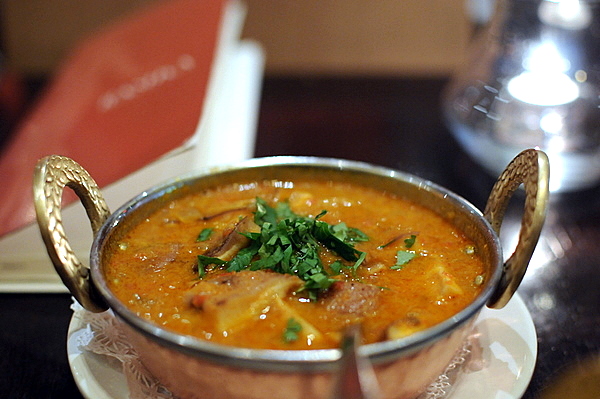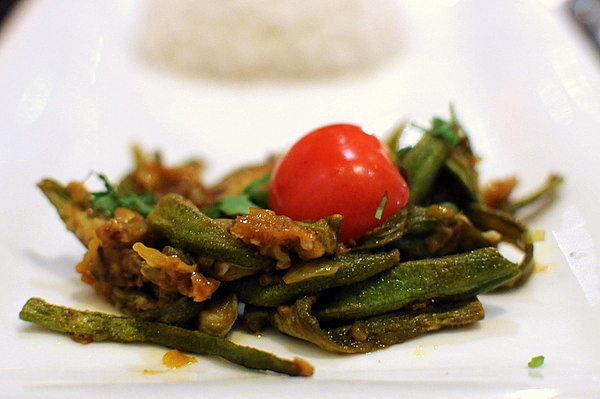 Dessert Course - Apple Jallebi, Gluab Jamun, Carrot Halwa
Similar to the final savory, the dessert course included three staple Indian desserts. The first was similar to an apple fritter, the second a donut hole soaked in syrup, and the third an incredibly moist carrot cake. All three were enjoyable but again lacked the grace and complexity of the earlier dishes.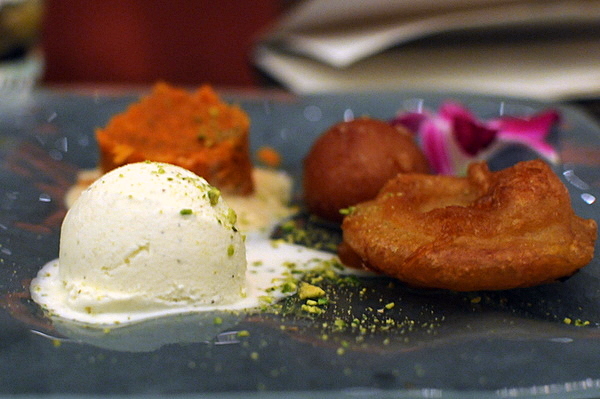 In the end, Rasika delivers. While some of the more classic Indian fare would probably have been just as good at your average hole in the wall restaurant, I was thoroughly impressed with the more inventive courses. Chef Sunderam displays remarkable skill in crafting dishes that excite the palate while utilizing flavors that remain faithful to the region.