190 South Glassell Street
Old Towne Orange, CA 92866
(714) 221-0680

Barely a year old, Haven is already making a name for itself with the restaurant enjoying strong business ever since it opened. Haven deftly combines upscale casual food with an extensive selection of premium beers in comfortable contemporary dining room wrought with dark wood. Unsurprisingly, a well-stocked bar dominates one side of the dining room while the back of the restaurant features a stone wall complete with fireplace, perfect for colder nights.

Shortly after the restaurant opened, Greg Daniels was selected to be Executive Chef. Classically trained at Le Cordon Bleu in Pasadena, Chef Daniels augmented his education with stints at Tradition by Pascal and Napa Rose, two of Orange County's premier fine-dining restaurants. Despite his training in classic French and contemporary Californian cuisine, Haven's menu is predominantly made up of classic English, Irish, and Scottish dishes. Instead Chef Daniels puts his fine dining background to good use at Haven, applying French techniques and the Californian emphasis on fresh ingredients to contemporary bar bites and comfort food. As a result, most everything, including the sauces are made from scratch and premium ingredients sourced from local and organic purveyors whenever possible.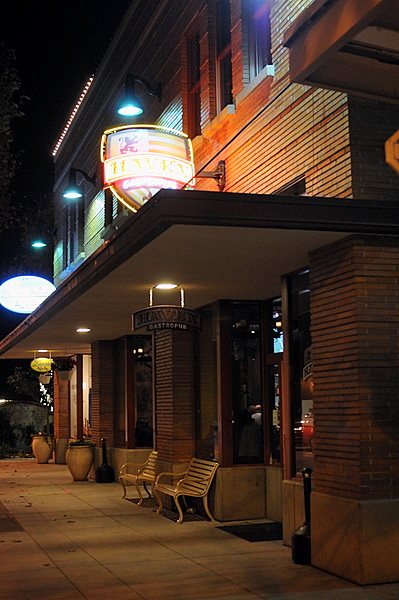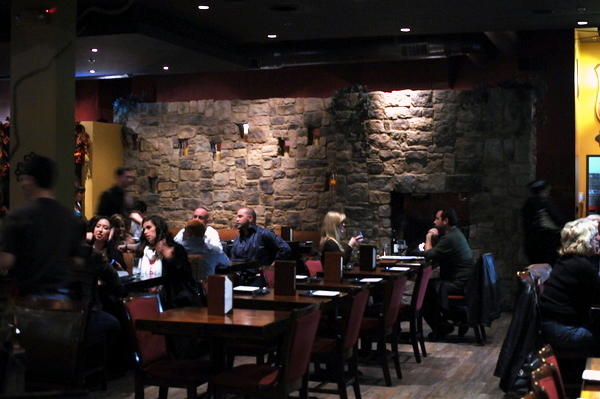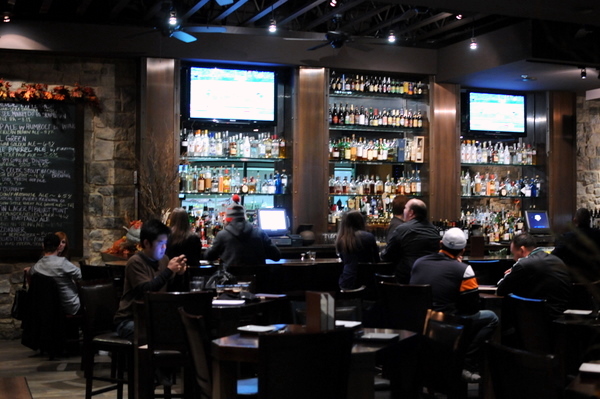 Beer Flight #1
Allagash Interlude '10 - belgian-style strong ale (sour ale)
My experience with sour ale is limited to Duchesse de Bourgone, by comparison the Interlude has a slightly funky tang coupled with flavors of oak, citrus, and pear.
Duvel Green - belgian golden ale
Befitting its name, the Duvel Green has grassy aromas and a fittingly bright hoppiness on the palate.
White Rascal by Avery - belgian-style wheat ale (white ale)
A classic witbier, the White Rascal offers plenty of orange peel and coriander, though felt a bit watery.
Franziskaner Hefe-Weissbier - munich hefeweizen
A solid textbook Hefeweizen, vibrantly effervescent with a pronounced yeastiness tinged with citrus and spice.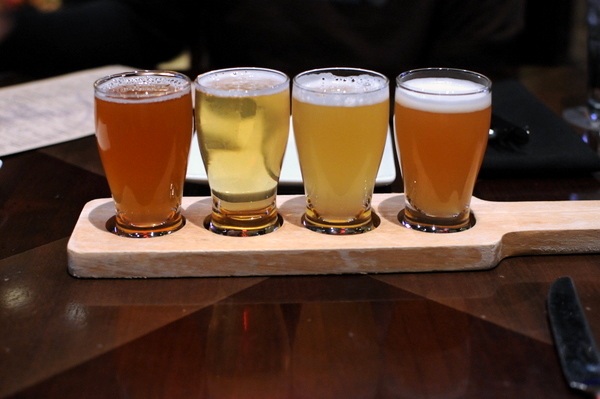 "liver and onions" - crispy rabbit liver, onion jam, micro radish, micro dijon
I've always been indifferent to liver aside from the fattened duck variety, finding the potent iron tang a bit much for my tastes. This was my first experience with rabbit liver which proved to be more to my liking with a subtler flavor than beef or chicken. The liver is further balanced by a bed of onion jam which laces the meat with the concentrated essence of sweet grilled onions.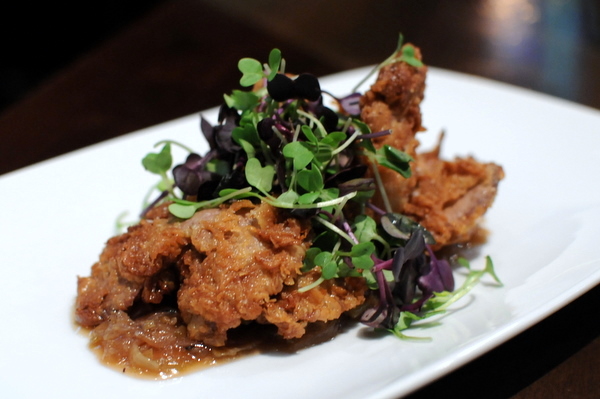 Oxtail Poutine - red wine braised oxtail, cheddar cheese curds, pommes frites
Poutine might be the single greatest gift we've ever received from our cousins to the north. Rising from humble beginnings in diners across Quebec, the dish spread across Canada before finding its way across the border. The classic dish consists of French fries that are topped with fresh cheese curds and gravy just before serving. What makes this dish is the way that the gravy which soaks into the fries, leaving a crispy exterior that gushes brazen dark succulence with every bite. Of course the dish is mind bogglingly fatty and with each delectable bite I could feel a bit more of my life slipping away.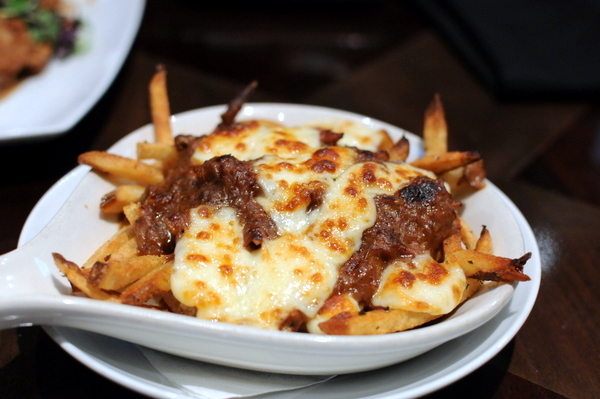 Short Rib Sliders - tomato chutney, asiago cheese roll, truffle fries
The sliders were solid but a bit one-dimensional the tomato chutney and Asiago cheese lost against the savoriness of the meat itself. The shredded short rib was solid but compared to the the previous course, lacking the expressiveness of the braised oxtail. On the other hand, the fries were delicious; fried to a perfect crisp, unabashedly salty, and soaked through with the decadent fungal musk.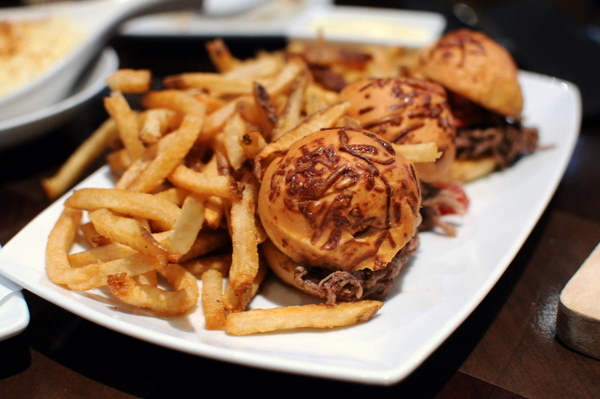 Mac n' Cheese - black truffles, gruyere, fontina, parmesan
This is perhaps the most technically faultless Mac n' Cheese I've eaten. The crisp brittle outer shell is lightly charred and hides supple al dente pasta smothered in a sea of silky cheesy potage. Simple yet delicious, I just wish the truffles were more apparent to provide some contrast to the monolithic gravity of the pasta and cheese.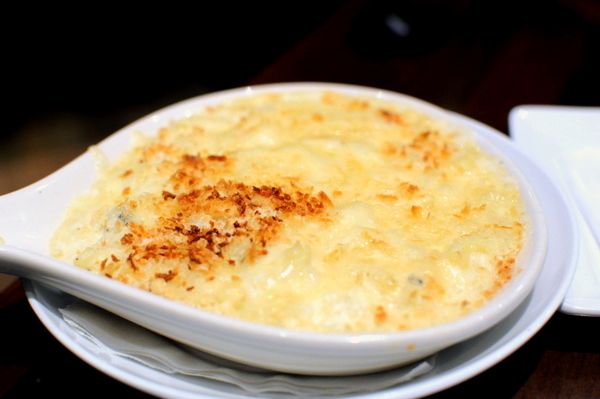 Chicken n' Waffles - fried chicken, cornmeal waffle, haven made hot sauce bärenjäger maple syrup
Chicken and waffles has its origins in soul food but in recent years the dish seems to have become gentrified, appearing in increasingly upscale restaurants including Thomas Keller's vaunted Bouchon. This was probably my favorite course of the night. The chicken was insanely tender and juicy while the hot sauce reminded me of buffalo sauce but without the typical biting acrid aroma. The waffle was equally spectacular, its porous crumbly texture, so different from the typical waffle, absorbed the maple syrup like a sponge. The result was a wondrous symmetry between the two components of the dish, the ideal blend of savory and sweet.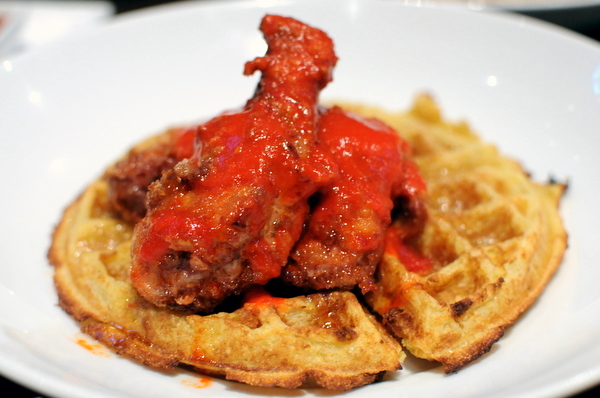 Seasonal Mushroom Risotto - farro, mushrooms, truffle salt, chevre
I wish I paid more attention to the description when I ordered this dish. Unlike a risotto made with true rice like Arborio, farro maintains a more rustic tone with its firmer springy texture and nutty flavor. The dish was solid but lacked the distinctive touches of many of the evening's stronger courses.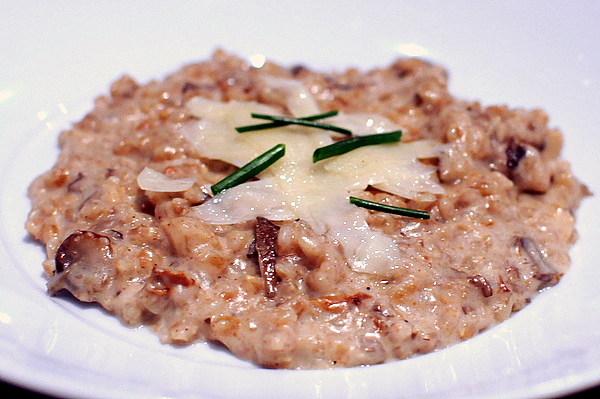 Ceviche - baby scallops, halibut, shrimp, avocado, cabbage
I normally love ceviche, particularly the interplay between the bright acidity and supple chunks of raw seafood. This tasted right but the unsettling pink hue of this particular preparation felt disconcerting as it made it difficult to differentiate the individual components of the dish.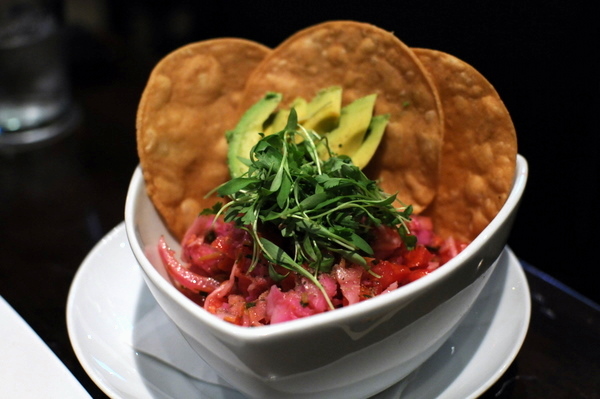 Beer Flight #2
Hemp Ale - american brown ale
This spiced beer tasted lighter than I was expecting, offering a malty nuttiness tinged with some dull citrus notes, a bit simplistic but enjoyable.
Firestone Double Barrel Ale - english style pale ale
The lively amber Firestone smelled strongly of toast and malt with mild rounded flavor touched with a hint of brassy bitterness.
O'Hara's Celtic Stout - irish dry stout
This looked exactly like a Guinness, but the flavor was perhaps a touch more savory with some grain and smoke complimenting the stronger flavors of coffee and molasses.
Oscar Blues Ten FIDY (Oak Aged) - barrel-aged imperial stout
Almost pitch black the Ten FIDY has the viscosity and color of motor oil. The flavor is incredible, sweet cocoa with ripe fruit at the edges with an oaked heft on the finish.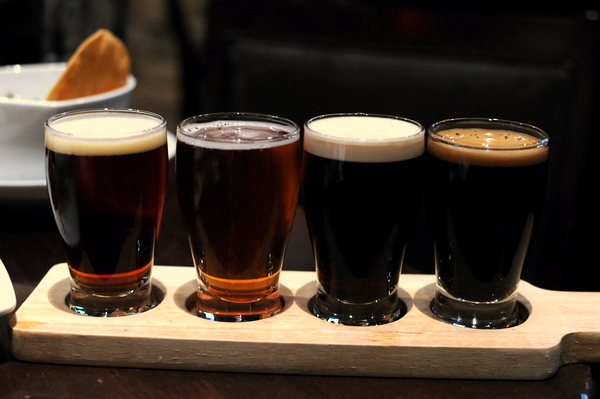 Rugbrød Brownie - candied bacon ice cream
Rugbrod is the name of a Danish rye bread but in this case I believe it refers to the rye beer produced by The Bruery. The beer gives the brownie a subtle essence of toasted bread that tempers the decadent chocolate. Still the brownie pales into insignificance against the bacon ice cream. Deliciously complex, the ice cream opens with a smoky porcine attack that dissolves into a buttery sweetness. Magnificent!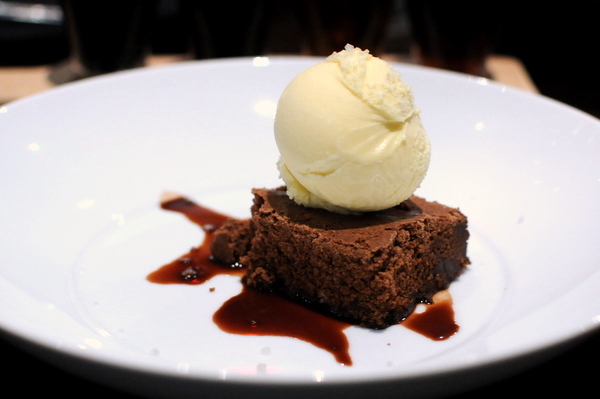 "strawberry shortcake" - black pepper shortbread, sweet vermouth strawberry compote, créme fraîche, candied basil
I wanted to try the tobacco ice cream but apparently that is no longer on the menu. Our server recommended this and after having an amazing candied rose petal I was sufficiently intrigued by the candied basil. Indeed the basil proved to be the star of the dish, its bold herbaceousness the perfect foil for the ripe sweetness of the strawberry compote.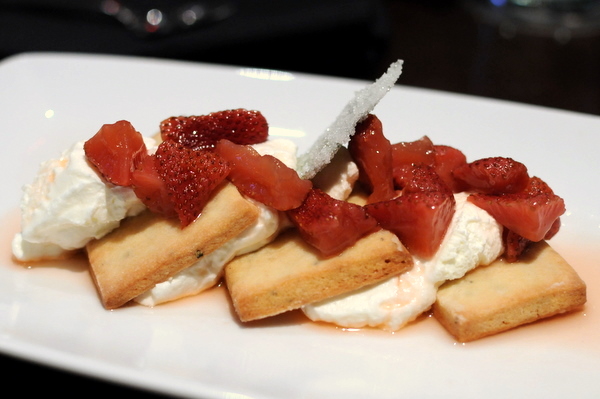 The food is by no means complex, but then it doesn't need to be. The straightforward and approachable fare is perfectly suited to Haven's superb beers, delicious without overshadowing the libations. My companion's first question upon finishing our meal was to ask when we would return. With an easy atmosphere as well as superlative food and drink, it is easy to see how the restaurant could command such instant and intense esteem.