108 W Wilshire Ave
Fullerton, CA 92832

A "permanent popup" seems like an oxymoron, yet that is just what Chef Joseph Mahon set out to create with his Burger Parlor. Open Wednesday through Saturday for dinner, The Burger Parlor is located in the Rialto Cafe and serves up gourmet burgers and sides. While it might seem odd to envision the classically trained French chef who once ran Bastide flipping burgers, but his "Burgers at Bastide" idea actually provided the impetus for the parlor. Like any trendy burger spot, The Burger Parlor proudly displays a set of "rules." Happily the rules are there for the staff rather than to limit the choices of diners unlike some other burger places that shall remain nameless.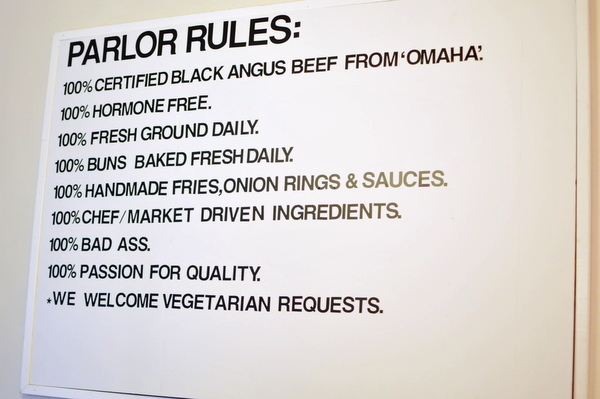 CHIP SHOT - Fontina/Potato Chip/Tomato Confit/Mushrooms/Arugula/Chipotle Aioli
Hard to believe, but some people in our party had had never tried potato chips on a burger. I've always enjoyed the textual crunch and added salty kick the chips provide. The creamy zip of the Fontina and the ripe tang of the tomato confit made this one of my favorites.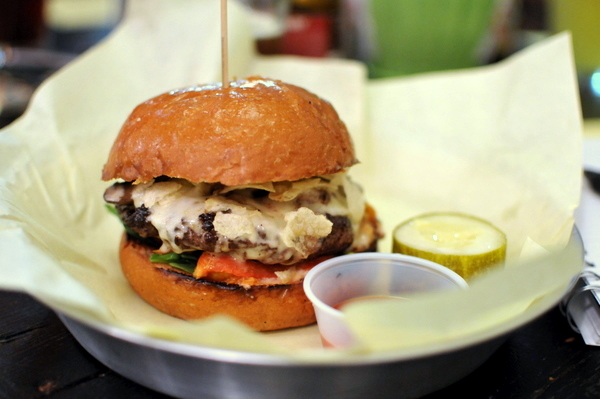 OLD SCHOOL - American Cheese/Lettuce/Tomato/Caramelized Onions/Secret Sauce
The old school is exactly what you'd expect from a well done burger juicy and flavorful one of my friends likened it to an In N Out burger. Still as good as it was it would be a shame to come and not try one of Mahon's more inventive creations.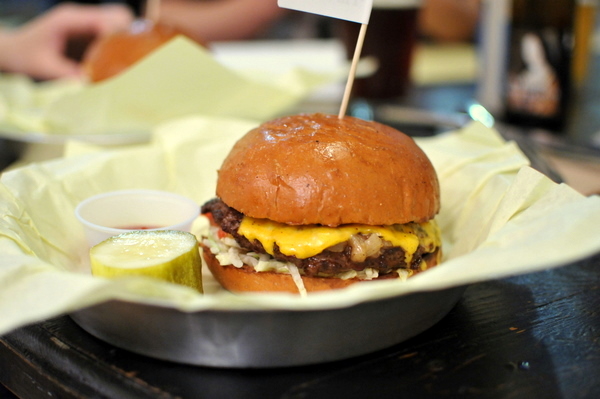 O.C. - Turkey Patty/Sprouts/Marinated Carrots/Avocado/Provolone/Herb Sauce
The OC was clearly the nod to healthy eating on the menu. The flavor of the turkey and cheese turned out surprisingly well and the veggies definitely gave the burger a lighter feel than the rest. Call me old fashioned but as good as this was, I'd rather have a greasy heart stopping burger.



MAHON - Hamburger Patty/Pastrami/Swiss Cheese/Caramelized Onions/Pickles/Grain Mustard Sauce
Fittingly Mahon named the best burger after himself. While I normally like some lettuce and tomatoes in my burger for moisture, in their absence in this burger made the meat feel particularly rich and juicy. In addition, the pastrami swiss combination added an extra level of flavor without the overwhelming presence of the Smokey. The mustard was particularly effective giving the burger a nice twang heightened by the pickles.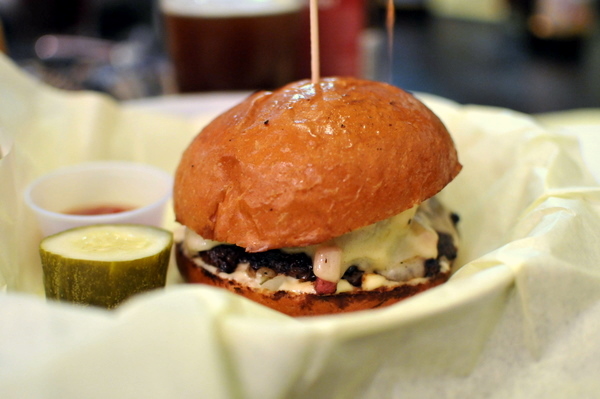 SMOKEY - Hickory Smoked Bacon/Fried Onions/Cheddar Cheese/Bibb Lettuce/Oven Dried Tomato/Secret Sauce
The Smokey is decidedly one note compared to the other burgers but when that note is of hickory smoked bacon who am I to complain.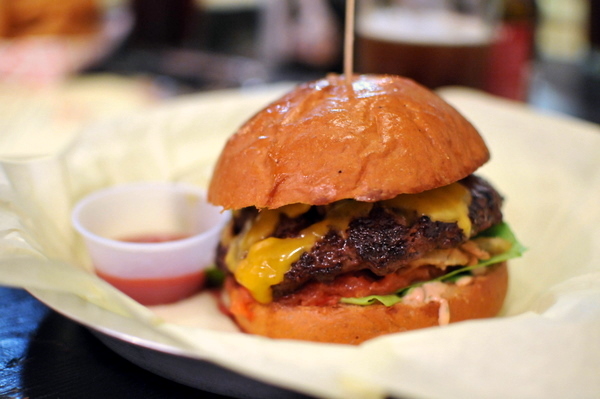 'BEER BATTER' - Onion Rings
These were some of the best onion rings I've ever tasted, the exterior was perfectly fried, thin and crisp without being excessively oily or heavy. These were so good we got a second order even though we had way too much food.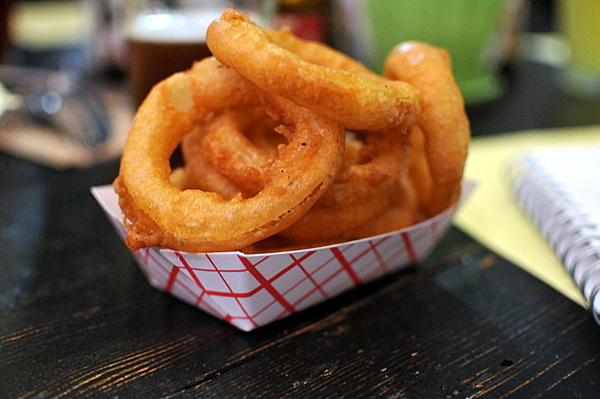 SNACK SHACK - Belgian Fries/Short Rib Chili/House Made Cheese Sauce
This was an absolute must order but I have to say I was expecting a bit more. The cheese sauce was perfectly melted but I thought the chili was a bit bland. I was expecting straight up grease pit food but got something that felt a bit more refined.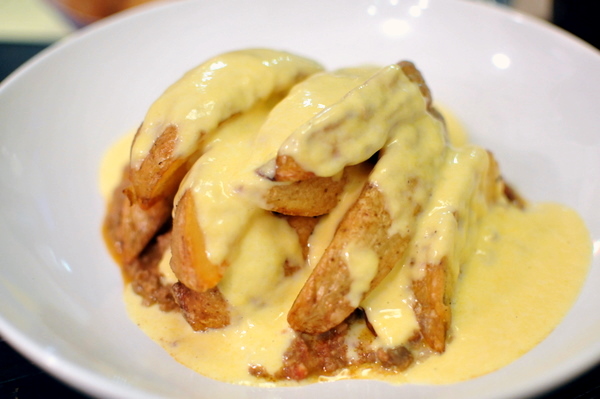 LASORDA - Pork Sausage Patty/Crispy Mozzarella/Oregano/Roasted Peppers
I liked the idea behind this burger but it felt a bit clunky to me. The fried mozzarella needed a softer consistency, to mesh better with the pork instead of feeling like a mozzarella stick added in as an afterthought.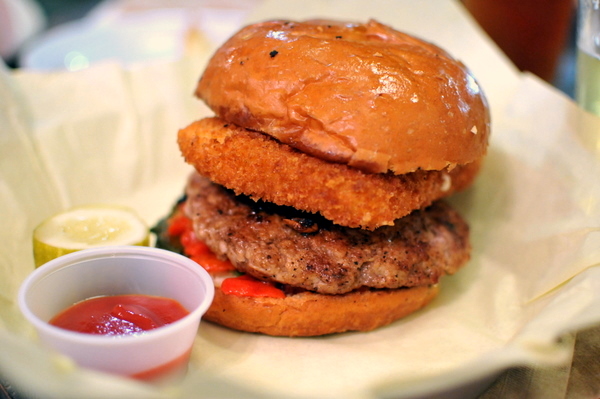 SLOPPY JOE - Ground Beef Chili/Cumin/Fried Cheddar Cheese
Oddly what was overwhelming in the Lasorda was wonderful with the Sloppy Joe. The chili was more on point this time as well, meshing beautifully with the melty fried cheddar.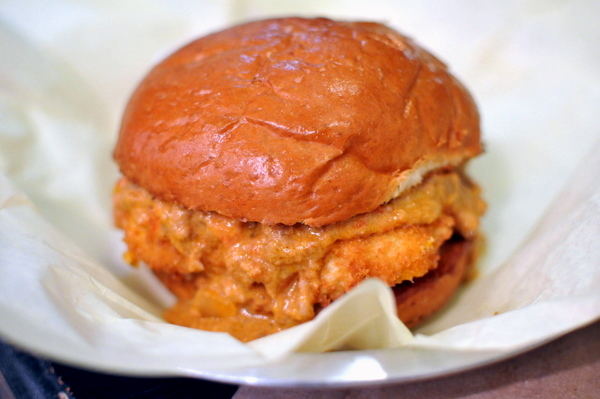 STATEN ISLAND - Meatball Burger/Provolone Cheese/Tomato Sauce/Basil Pesto
Chef Mahon sent this out as a gift to our table. An interesting concept, this definitely tasted more like a pasta dish than a burger. I'm glad I got to taste it, but for my money I'd stick to a more traditional burger.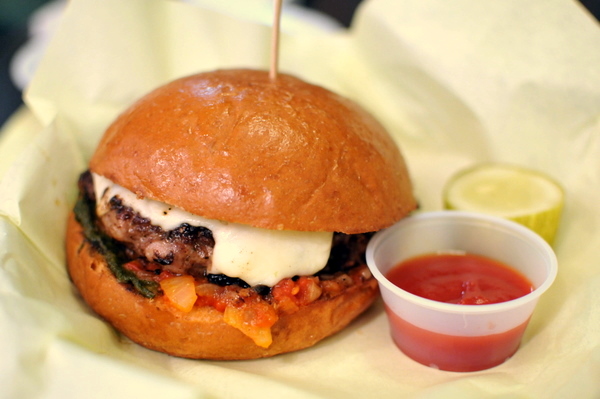 FRIED CHICKEN - Watermelon/Feta/Arugula/Tarragon/Aged Sherry Vinaigrette
Despite being a burger place, I would highly recommend ordering the fried chicken. The salad is a take on one of Mahon's Bastide dishes. The sheer succulence of the watermelon was the perfect foil to the fried chicken. While the greens added a subtle vegetal nuttiness.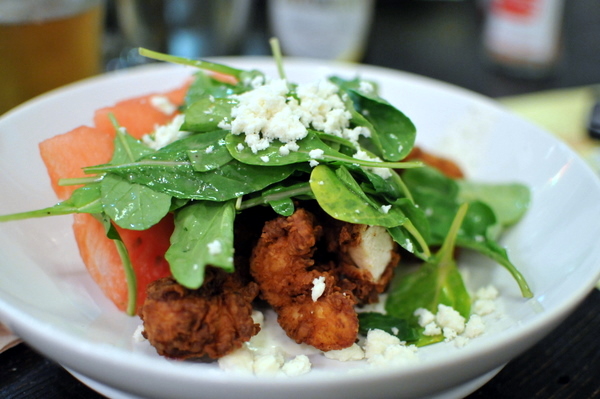 BELGIAN FRIES - Sea Salt
We ordered a second helping of the fries sans chili cheese to get a better feel for the fries themselves. Still quite enjoyable, the sea salt added an extra touch of flavor.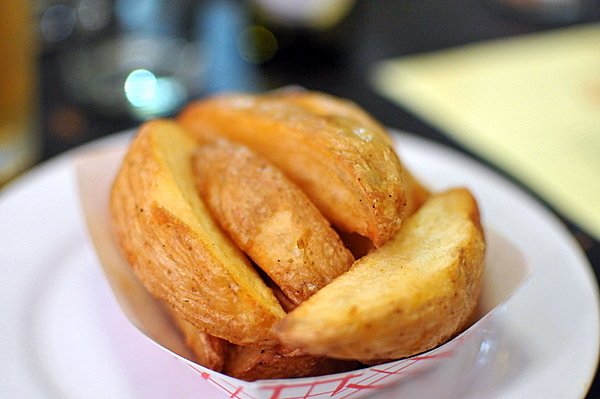 MURPHY'S STOUT FLOAT
On its own, the stout has an almost chocolatey finish to it, but the sweetness of the ice cream makes the beer taste bitter by comparison. Still this adults only version of a root beer float just feels apropos.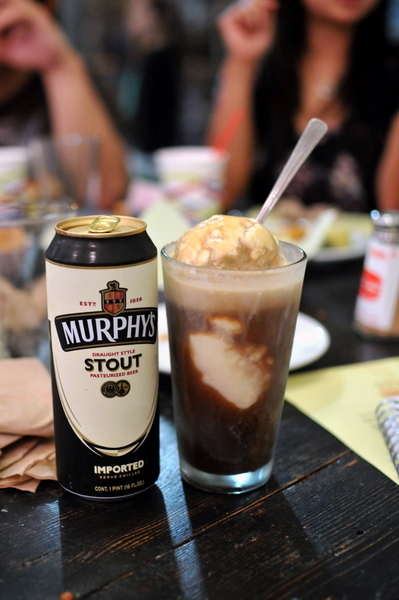 ICE CREAM SANDWICH
The last two desserts were gifts from the kitchen. First up was an ice cream sandwich, one chocolate chip cookie and one white chocolate chip cookie. The cookies had a delectable fresh baked aroma to them that was perfect with the cool creamy ice cream and chocolate fudge sandwiched in between.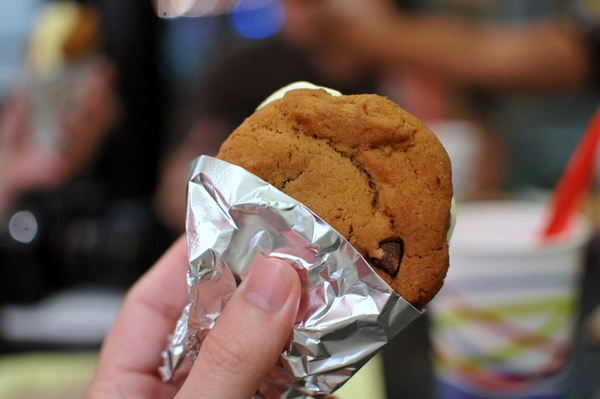 BANANA BREAD PUDDING
The last dessert was a bannana bread pudding, dense and cakey with a slightly spiced sweetness to it.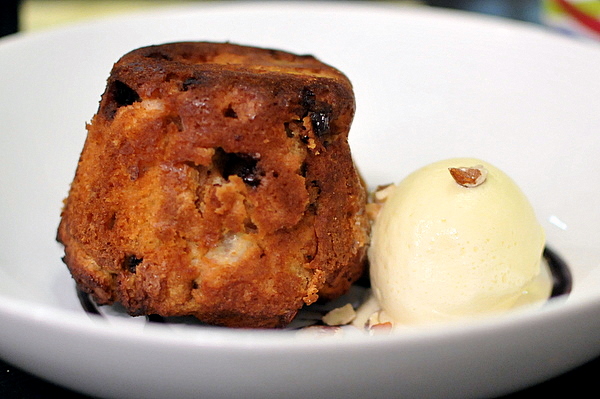 Cooking Gangsta, Joseph Mahon, delivers the goods with Burger Parlor. Though not all the combinations worked for me, that was more due to personal preference than any failing on the staff's part. Quality is paramount at the Parlor and it isn't just burgers that Mahon does well, but the sides, salads and desserts as well. A small collection of upscale beers rounds out the experience. It isn't fine dining but it is good food and a damn good time.