1555 Blake Street #101
Denver, CO 80202
(303) 353-5223

During my last visit to Denver a number of people recommended Cholon but my instinctive bias towards contemporary Asian restaurants kept me from trying it. Since then, my experiences at Red Medicine and Lukshon have gone a long way towards dispelling those fears.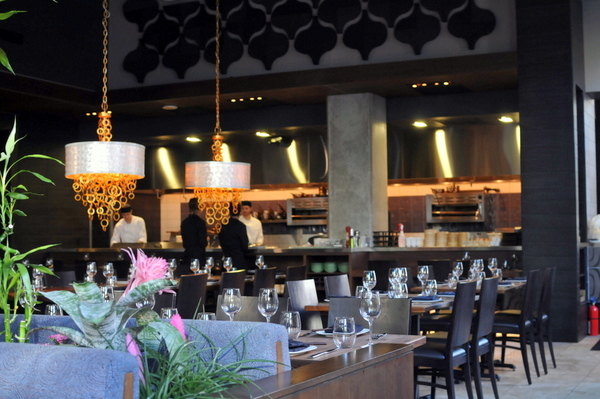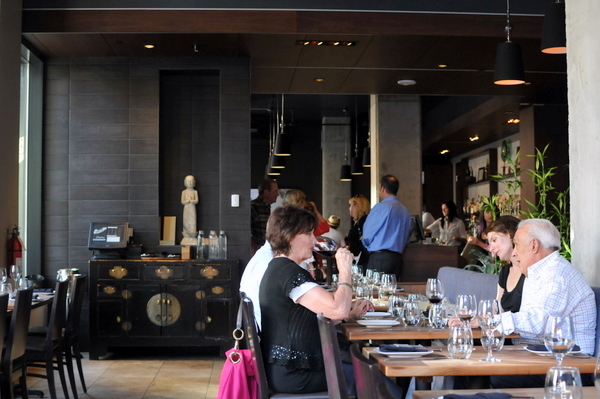 Old Saigon - Maker's Mark Bourbon, Thai Basil, Luxardo Cherries, Orange Bitters
This was a bit of a let down, the promising mix of basil, bourbon, and bitters ended up decidedly one note, tasting of diluted bourbon and not much else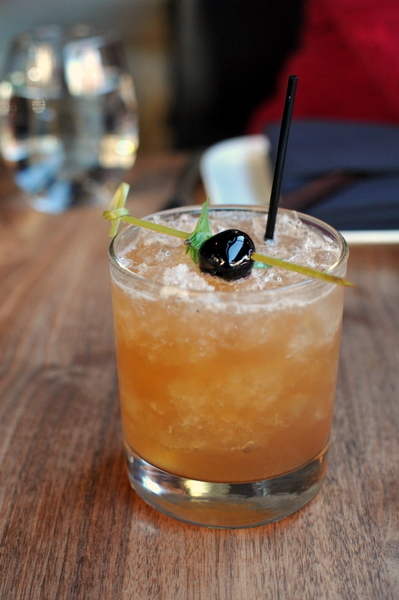 Rice Cracker - Tomato Jam
This was a clever substitute for the traditional bread service. We were presented with a plate sized rice cracker and a small bowl of tomato jam. The cracker had a satisfying crunch but little intrinsic flavor. The tomato jam was key, the tamarind-laced sauce reminded me of a chutney: ripe, tangy, and spicy.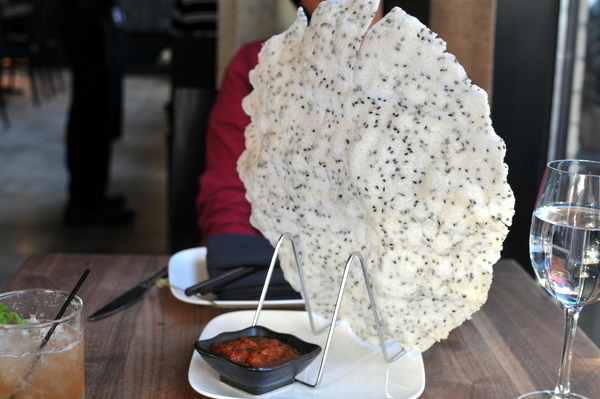 Chili Crab Rolls - Charred Corn Salad, Sriracha Mayo
I thought this course nicely summed up what Cholon was about, composing dishes that feel the wrapper, and vermicelli gives the dish a classic grounding, but the corn and grilled vegetables adds a distinct Southwestern flavor. Though I enjoyed the flavor of the roll, I would have liked the chili crab itself to be more apparent.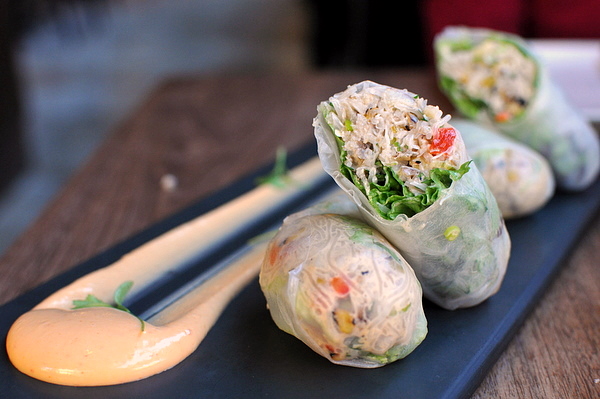 Crispy Calamari - with Lemon-Chili Aioli
The calamari itself was nicely prepared, the squid was tender with a fleshy slickness while the batter possessed a light airy crunch, but coupled with the sauce it tasted disconcertingly like a McNugget.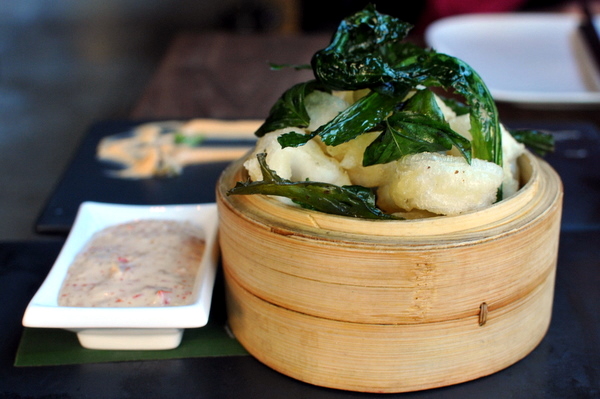 Pork Belly Pot Stickers - Ginger Mustard
If I were judging this against a classic gyoza, it would have been fairly good, but I was expecting a burst of weighty fat that just never materialized. The sauce was almost cloying in its sweetness; pity because I quite enjoyed the stinging mustard bite.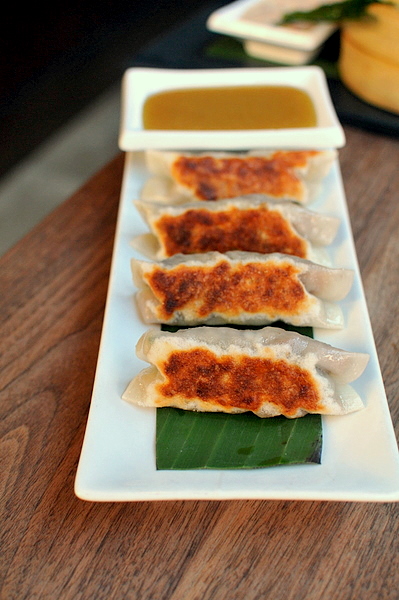 Curried Duck Spring Rolls - Cilantro Yogurt
I wasn't sure what to expect with these rolls, but it certainly wasn't a heavy muddled mess. The duck hash had almost no flavor, totally subsumed by the curry. The dish's one saving grace was the cilantro yogurt, its bright color, vegetal tang, and light spice reminding me of a mint chuntey.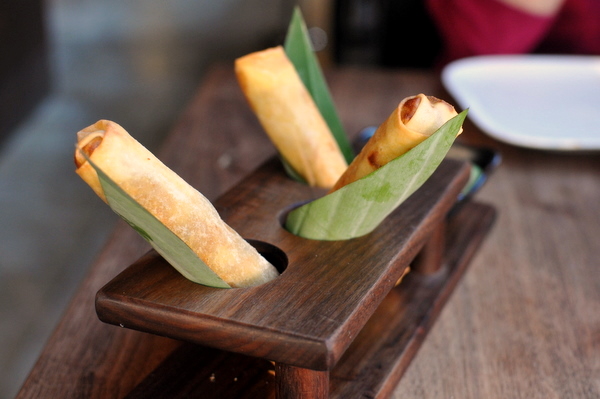 Full Moon Margarita - Republic Plata Organic Tequila, Sombra Mezcal, Tamarind, Chili-Salt
This was a much more impressive drink, the accompaniments reminded me of Pulparindo, a spiced Tamarind candy, albeit tempered by the darkly smoky savor of the mezcal.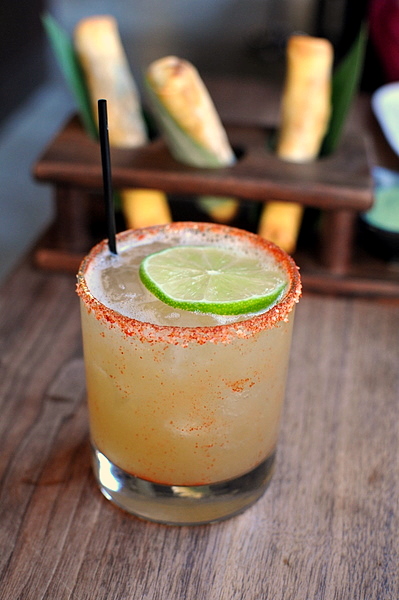 Vietnamese Grilled Chicken Wings
The wings were grilled nicely, very tender with an apparent char, but the heavy-handed sweetness rendered these extremely pedestrian.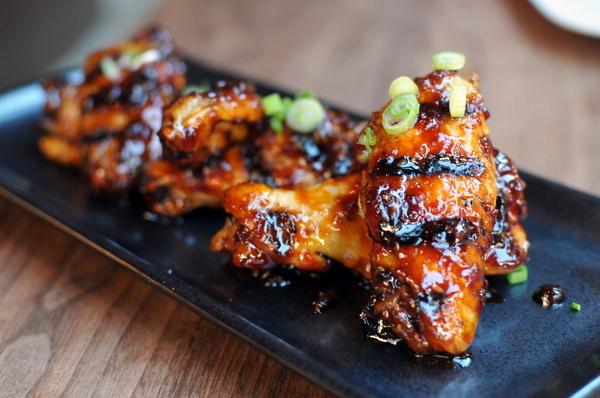 Kaya Toast - Coconut Jam, Egg Cloud
This was a gentrified version of the classic Singaporean snack, the nicely toasted bread tastes heavily of coconut and pandan. The third element, egg, is presented as a foamy dip that tempers the sweetness with a delicate savory tinge.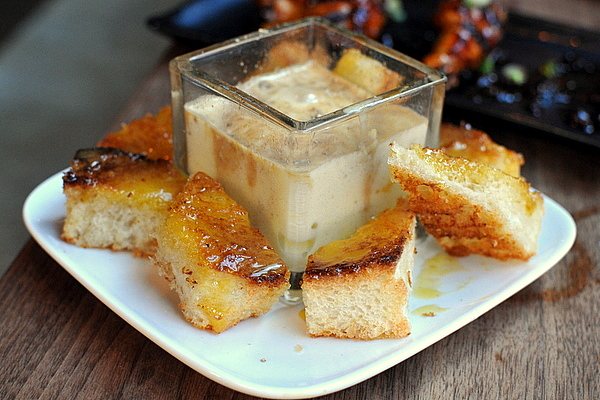 Asian Charcuterie Plate - Foie Gras Mousse, Duck Terrine, Pickles
Not sure what made this "Asian." The liver mousse was solid but unspectacular while the duck terrine tasted like a nondescript compressed meat. The pickles were definitely non-tradition but I think a light kim chi might have been better than the florid mix of clove and anise. This course could have been much better if it was fashioned off a banh mi.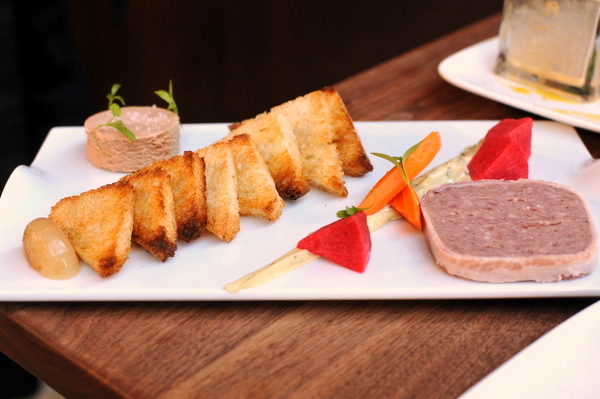 Green Papaya Salad - Tamarind Sorbet, Long Beans
My two previous experiences with green papaya salad have been absolutely stellar. This felt much rougher around the edges. The texture was jarringly hard and the sauce tasted overly astringent.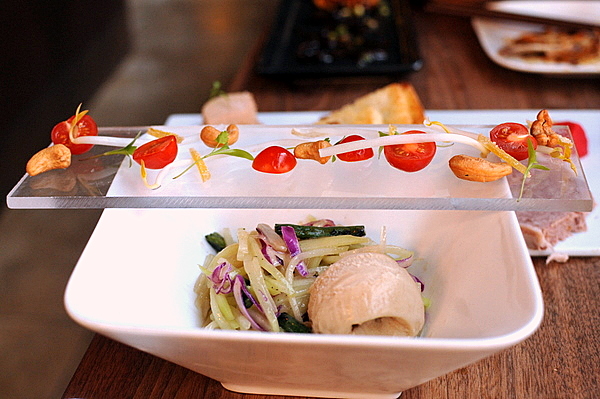 Yellow Curry Mussels - Pork Belly, French Fries
Like the crab spring roll, this course nicely incorporated European and Asian elements. Basically a Thai take on the a French-bistro staple, moules frites, the mussels come in a thick lemongrass curry broth. As with the pot stickers, the pork belly is fairly transparent but the tinge of porcine richness was a lovely foil for the brine of the mussels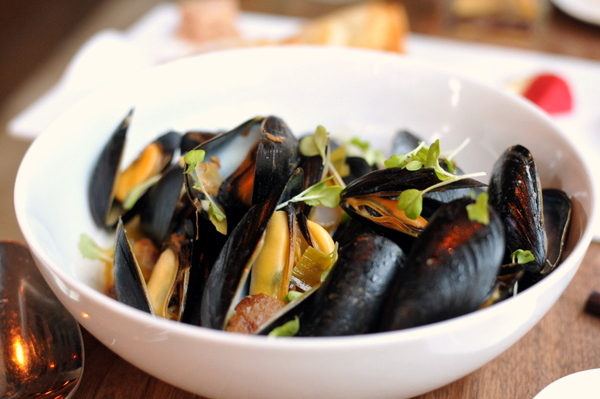 Beef Tartare - Chinese Mustard, Tapioca Puffs
My complaint with beef tartare is its lack of creativity, that isn't a problem here as the meat is redolent of nuoc mam. Sadly the mealy texture of the beef just put me off this course.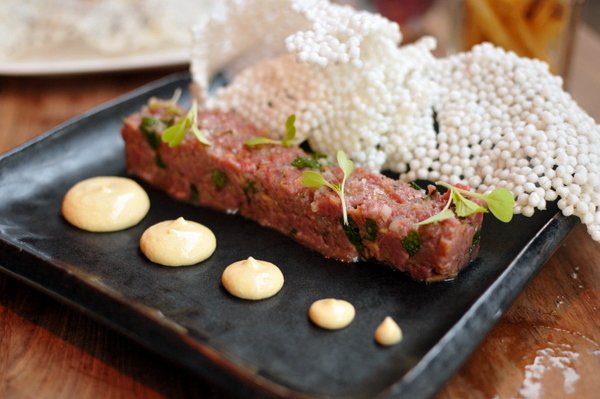 Coconut and Banana Leaf Sorbet - Passion Fruit Seltzer
Beautifully balanced acidity, spice, and sweetness, this dessert was a strong finish to a very mixed meal. The two sorbets are remarkably flavorful and distinct. The banana leaf reminded me of a floral fruity green tea while the coconut had a heavy tropical sweetness. The seltzer provides an effervescent tang and the crispy ginger cracker adds a scintilla of herbal spice.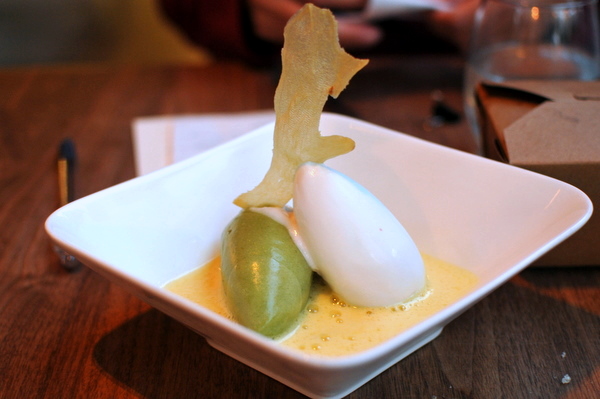 It feels like upscale Asian food has gotten a new lease on life the past few years, going away from tired fusion staples and emphasizing more authentic flavors. Cholon seems to be designed in that vein, and there are definitely flashes of promise. Unfortunately most of the food tasted overly sweet and blunt; a bit more acid or spice would have gone a long way. Perhaps the flavor is geared towards the Denver market but, speaking practically, I don't think this would have passed muster back home.