101 Constitution Avenue Northwest
Washington, DC 20001
(202) 547-8100

There was a time when a visit to Morton's or Ruth's Chris was the pinnacle of gustatory delight for me. Though I still enjoy a good steak, on the whole I find steakhouse fare overly simplistic. The one exception to this has been Wolfgang Puck's CUT which actually offered inventive appetizers along with top quality meat instead of the typical shrimp cocktail, and Caesar salad. Having been burned by Palmer in the past the one thing that brought me to Charlie Palmer Steak was its connection, however tenuous to Brian Voltaggio. Voltaggio honed his skills at Palmer's flagship Aureole, and opened Charlie Palmer Steak as its head chef and eventual partner. Though he moved on a number of years back, I was hoping his creativity would live on in the menu.

QUOROM CALL - EAGLE RARE BOURBON, MUDDLED MINT, A SPLASH OF SPARKLING WATER PURE "ROUGH CUT" RAW CANE SUGAR
It has been awhile since I've had a drink this bad. The "rough cut" sugar just sank to the bottom making it unbearably sweet. The rest of the drink tasted watered down, with a medicinal petrol-y undertone, I'd expect something of this quality at a house party not a steakhouse.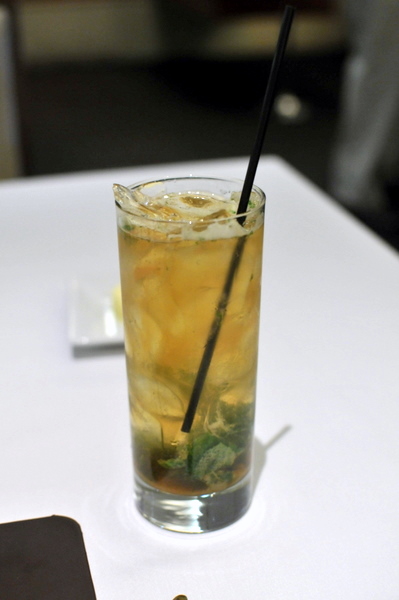 Amuse - White Wheat Soup
Though by no means stellar, the presence of contrast and the savory/sweet balance of the soup made it one of the better dishes.



WHITE ASPARAGUS SOUP - PANCETTA AND LEMON
I ordered the soup hoping for something lighter with to compliment the heavier dishes ahead, but this had none of the finesse I was expecting. Instead of a vegetal sweetness, the broth is think and laden with a savory cheesy weight and the intensely salty pancetta only exacerbated things.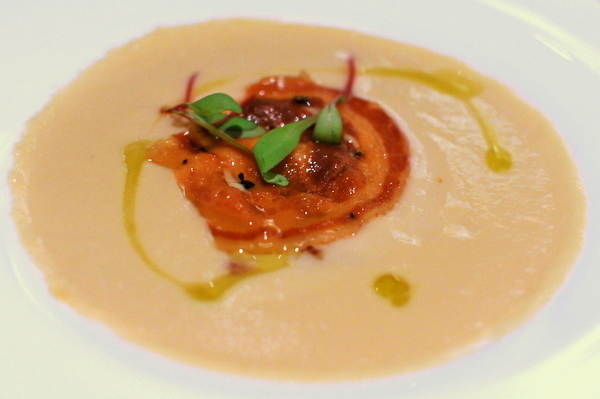 ROASTED WILD CAROLINA SHRIMP - CHORIZO, ARUGULA, FENNEL, BANYULS VINEGAR
Adjusting my expectations, I could have forgiven another overly heavy flawed appetizer but for the poor quality of the ingredients. My first shrimp tasted none too fresh and the mealy texture of the second was gorge raising. When charging $4.50 per shrimp the least you could do is make sure they are edible.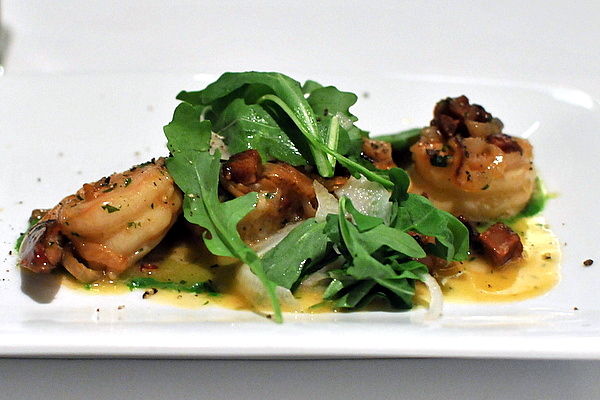 RIB-EYE "BONE-IN COWBOY CUT" - USDA ANGUS BEEF AGED 21 DAYS
HEN OF THE WOODS MUSHROOMS
YUKON GOLD POTATO PUREE
For my steak I settled on the rib eye rather than the dry aged New York Strip. The meat was about what I expected, moderately tender with sufficient fattiness and a nice char but with a bit more gristle than I expected. The sides were equally pedestrian; neither the potatoes nor the mushrooms were particularly special but there were no overt flaws either. While there was nothing wrong with my main course, I was hoping for a bit more creativity from the kitchen.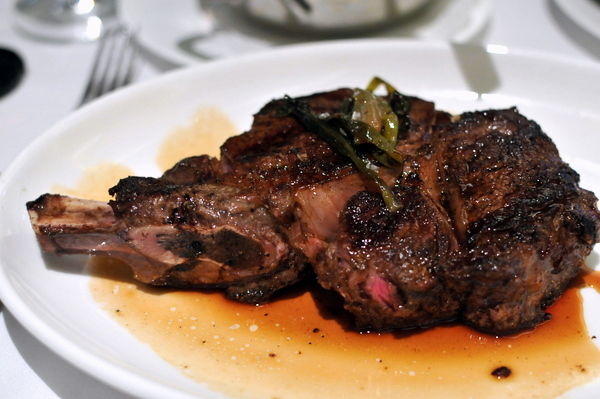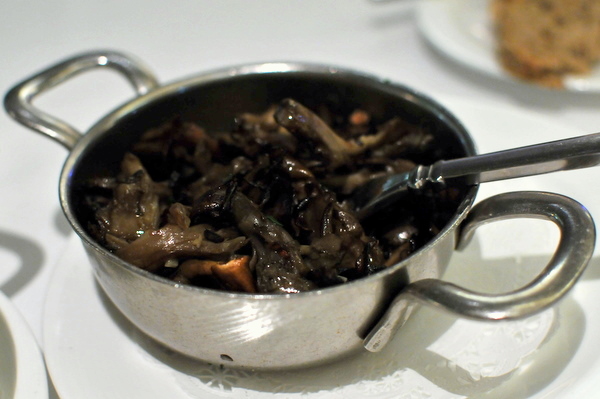 CHOCOLATE HAZELNUT PYRAMID - PRALINE ANGLAISE, WARM CHOCOLATE GANACHE, CRISP FILO TUILES
The meal ended with a fairly typical massively heavy steakhouse dessert with the buttery filo crisps injecting some contrast to the myriad forms of chocolate on the plate.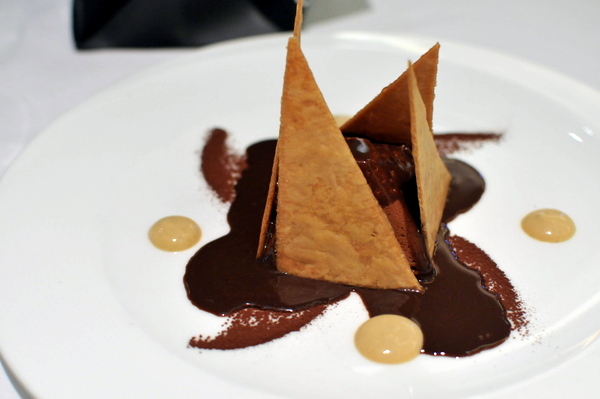 My two previous experiences with Charlie Palmer restaurants so far have both been abject disappointments and Charlie Palmer Steak continues the string of failures. Blunt, tired, and severely institutional; but for the name on the door I could have gotten this meal at any steakhouse.