602 Santa Monica Blvd
Santa Monica, CA 90401
(310) 587-0700

This year has gotten off to a strong start for gourmet neighborhood restaurants. First Govind Armstrong opened Post and Beam specializing in modern comfort food and now its his former protegee, Andrew Kirschner's turn. Tar & Roses, Kirschner's first solo venture, features elevated rustic fare that is both elegant and accessible, and draws heavily on Kirschner's previous professional experience.

A native of Southern California, Kirschner actually began his cooking career in Aspen at Ajax Tavern and Krabloonik, a place that offers food and dog sledding of all things. Kirschner moved back to San Francisco to attend the California Culinary Academy and to work at Arlold Wong's Eos. This early experience would leave a deep impression on the chef, and the Asian influences are evident in Kirschner's cooking. After graduating from the CCA, Andrew returned to the LA area; working at Joe's, Chadwick, and Lucques before becoming executive chef at Wilshire Restaurant.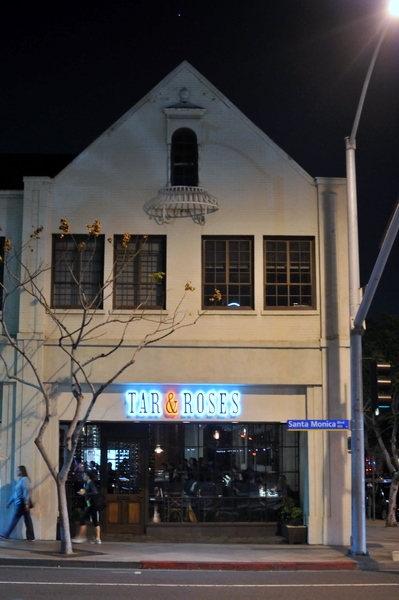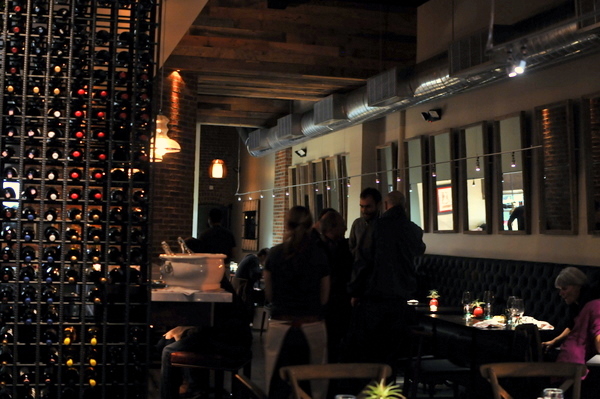 popped corn / crisp bacon / brown sugar / chili
We started off with a gift from the kitchen while we perused the menu. The brown sugar and bacon gave the popcorn a caramelized savoriness reminiscent of kettle corn while the chili added a surprisingly potent bite on the finish. I should have ordered a couple bags of this for Superbowl Sunday.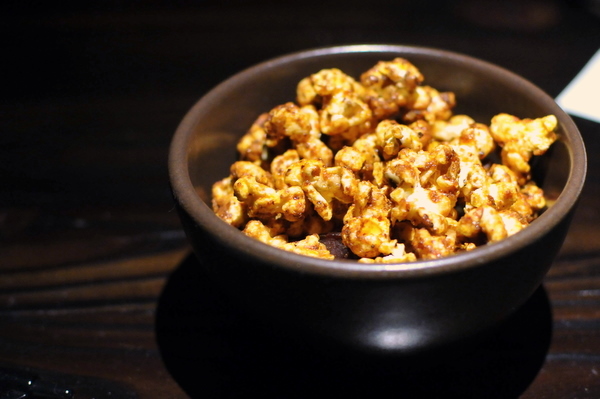 berkshire lonza / la quercia / iowa
wild boar / criminelli / utah
duck rilletes / prune jam / almonds
salt cod brandade / fried capers
gorgonzola dolce / lobardia, italy / cow / blue soft
Tar & Roses' charcuterie menu is almost deceptively large. Despite having 30+ items only a handful, those with the white dot, are available at any given time. Unfortunately the restaurant wasn't serving many of my top choices but we still managed to put together a delicious plate. Though I enjoyed everything, for me the standouts were the lonza and the brandade. The former had a subtle five spice flavor to go along with its fatty porcine richness. The latter was refreshingly innocuous with a savory garlic flavor rather than the typical oily fishiness.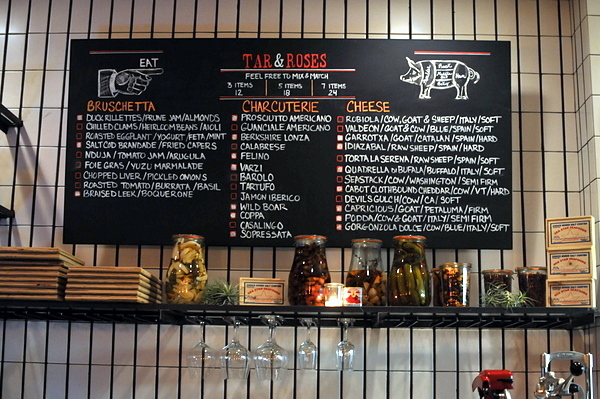 lamb belly / minted apple chutney
The meal proper began with a ridiculously tender lamb belly. What struck me about this preparation was its restraint. The belly had some richness and game but it wasn't over the top. Likewise, the apple chutney added an understated sweetness instead of the cloying jamminess that I feared.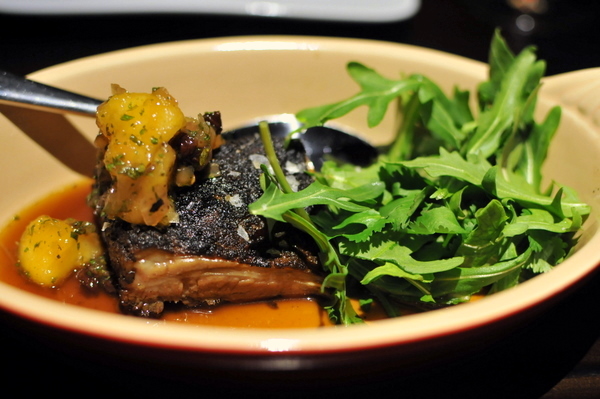 chicken oysters on a stick / tamarind
One of the stronger courses of the night, the oyster was a touch softer than my previous experiences with a subtle fragrance of spice accompanied by a woody essence. The tamarind sauce felt like something out of an Asian street market, robustly tart and herbaceous with an intriguing fish sauce funk.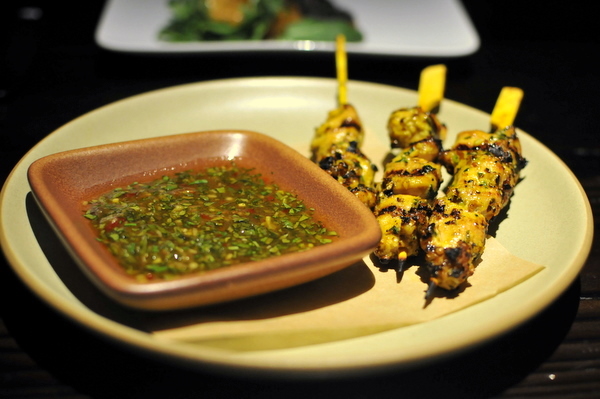 charred octopus skewers / salsa verde / piquillo pepper aioli
Readers of the blog will know I am a fan of char but this was a bit overwhelming even for me. The octopus had a nice texture but the bitterness was simply too intense. The salsa verde might have helped, but even that was smothered by the smoky weight of the piquillo aioli.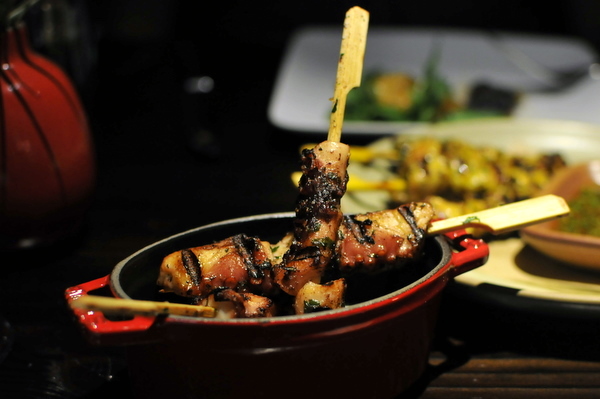 roasted beets / feta / tarragon / horseradish
Kirschner recommended this dish but quickly backtracked when I said that I hated beets and instead presented it as a gift. While the texture still felt a bit soft and monolithic I was pleasantly surprised to taste a distinct grassiness rather than the cloying root vegetable sweetness that I so loathe.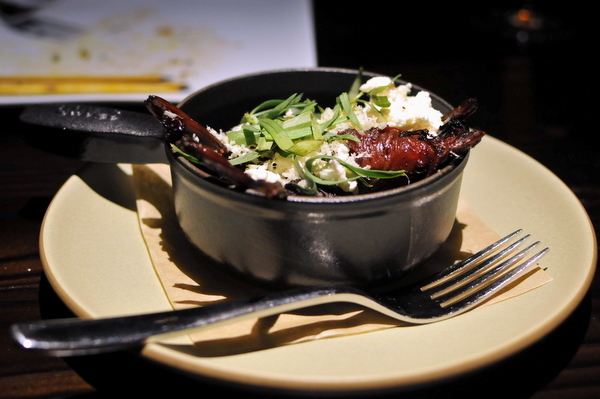 charred little gem lettuce / pickled sardine / burrata / dijon
Our third gift was my favorite course of the night, brash and discordant yet cohesive. The charred lettuce combines a heady bitterness with the vegetable's natural succulence. The sardine and dijon impart potent fishiness and spice coupled with an overarching tang while the burrata adds a moderating weight that pulls the dish together.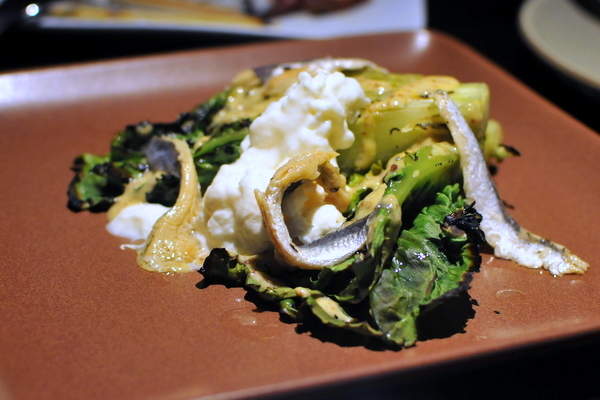 Cold Smoked Salmon Belly / frisee
Another gift from the kitchen, this dish wasn't even on the menu. Chef likened it to a smoked salmon toro and the name fit the dish perfectly. The belly is unabashedly rich though the oil is subordinate to the pervasive smoke while the fish fairly quivers on the palate like an ethereal lox.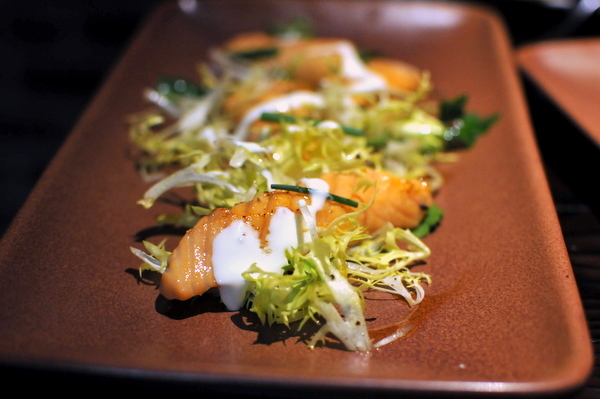 wood fired duck egg / gigante beans / tomato / guanciale
When I expressed my disappointment that they weren't serving guanciale on the charcuterie menu, my server noted that it came with the egg, though I would have ordered this dish regardless. The egg comes on a bed of chopped vegetables, think a wood-infused mirepoix and stupendously flavorful charred tomatoes that is elevated with an overarching gamy savor from the guanciale.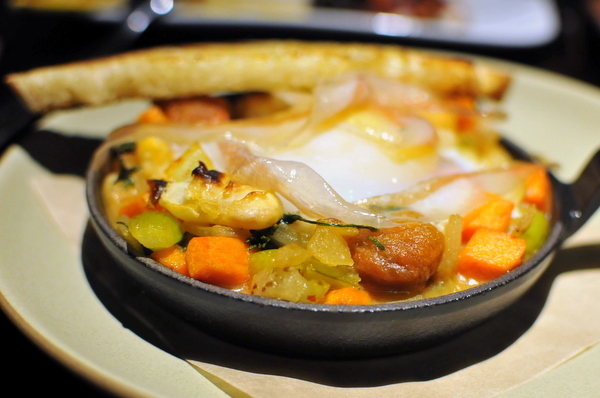 beef tongue / tuna conserva / wood roasted tomato jam
Chef Kirschner described this as his play on a vitello tonnato. Thick slabs of tender meaty beef tongue take the place of the veal. The crux of the dish is the creamy sauce of canned tuna which is captured perfectly in the dish.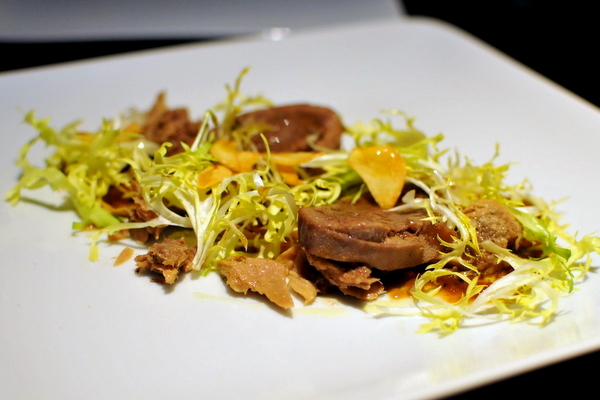 ricotta gnocchi / charred baby broccoli
We were so full by this point that we asked the chef to shrink the portions rather than waste food. This dish showed a captivating simplicity and purity of flavor centered around the broccoli and accentuated by a pure note of lemon zest.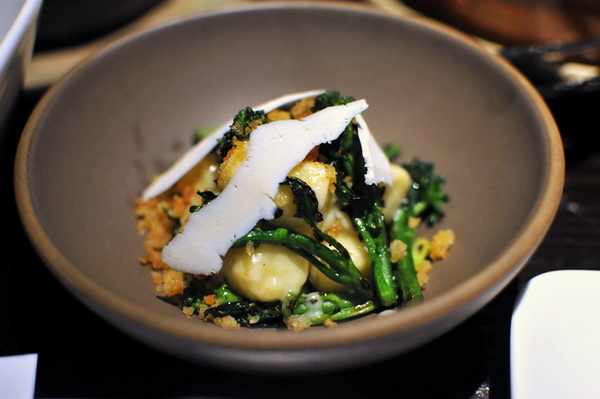 wood roasted carlsbad mussels / tangerine / chili / olive / basil
Another standout, the mussels are tender to the point of being diaphanous while the small sliver of tangerine acts as a break on the shellfish's natural salninty. The broth is infused with the flavors of the citrus, herbs, and olives as well as an eye watering spice.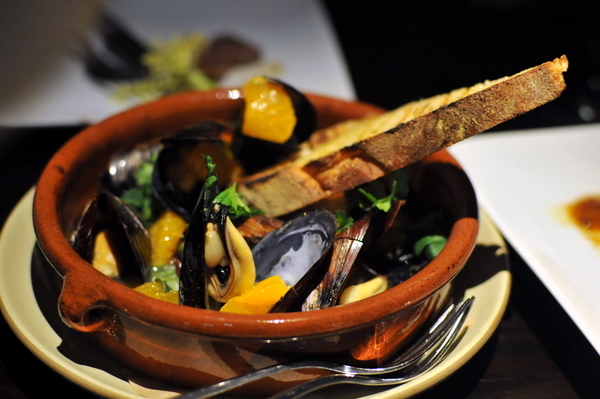 wood roasted potatoes / garlic / spicy tomato aioli
Reviews I had read were quite positive on this dish but I was likely too full to appreciate it. The potatoes were nicely roasted but the aioli felt painfully heavy.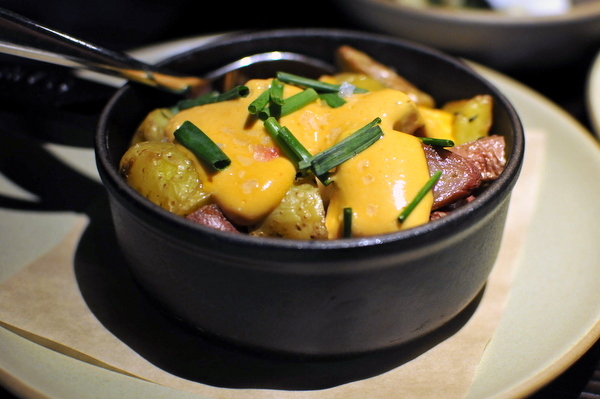 aborio rice pudding / passionfruit caramel / marcona almonds
I've never been a fan of rice pudding but this wasn't bad. The rice itself is coated with a slightly savory vanilla flavor that begs for the levity provided by the tangy caramel and crunch of the passion fruit seeds.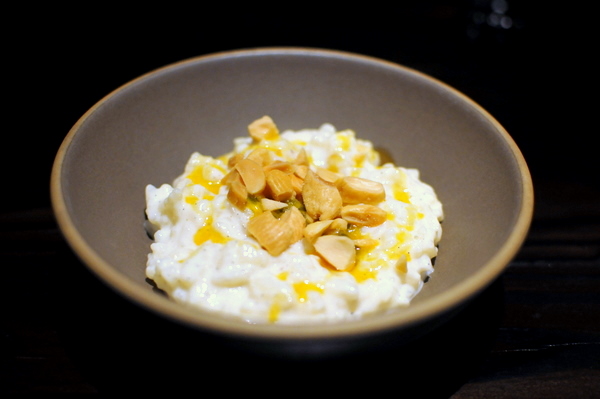 baked gianduja / sour yogurt / candied wheat berries
The second dessert, a bake gianjuja was more my speed. The gianduja reminded me of a coulant with a dense chewy crust and a soft molten interior. The concentrated chocolate flavor is countered by a cool dollop of tangy yogurt and savory grains of puffed wheat.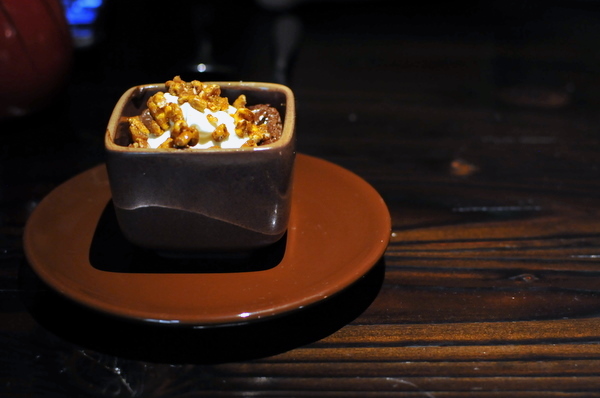 strawberry ricotta crostada / honeycomb ice cream
This was far and away my favorite of the three desserts. The mix of strawberry and blood orange was served on a buttery sugar dusted pastry. The fruit is also sprinkled with thyme, giving the dish a haunting herbaceousness that I found irresistible. The honeycomb ice cream was unabashedly sweet, delicious with the crostada and as a stand alone dessert.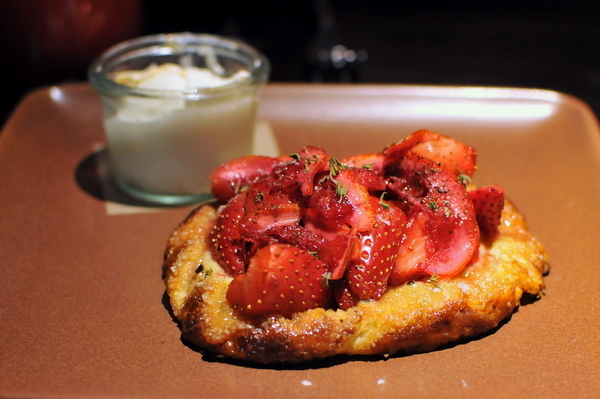 Tar & Roses certainly lives up to the incongruity of its name; serving food that is at once brazenly rustic and full-flavored yet suffused with a graceful finesse. Kirschner and his crew are to be commended, despite having been open little more than a week both the food and service feel remarkably polished. Without a doubt, Tar & Roses will make a wonderful new addition to the Santa Monica culinary scene.