10250 Santa Monica Boulevard
Los Angeles, CA 90067
(310) 277-3770

Its fair to say that desserts often get the short shrift when it comes to dining out. Though we all love sweets their placement at the end of a meal often makes them an afterthought or even forgone altogether in some circumstances. As a result pastry chefs often don't get the respect they deserve from their peers in the kitchen. To combat that image, Carlos Enriquez and Ramon Perez have gathered several of LA's top pastry chefs David Rodriguez (Providence), Waylynn Lucas (Fonuts) and Kei Hasegawa (Matsuhisa) and put together the 5weet & Savory Benefit dinner where their skills with both sweet and savory will be on display. Proceeds from the dinner will go to benefit Share Our Strength, a non-profit dedicated to combating childhood hunger.

Instead of a traditional wine pairing, the meal featured an unconventional mix of wine, beer, and cocktails. Devon Espinosa of ink was on hand to help out with the cocktails, while Julie Rodin formerly of New Moon Restaurant and Bar handled the wine and beer. She not only set up the pairings but worked with Justin and Sabina Vineyards and Ladyface Alehouse who donated the drinks to show their support.

peanut butter, tofu, salmon roe - Kei Haseqawa
Le Grande Courtage Champagne
I was a bit leery of how the peanut butter would play out but this dish turned out remarkably well. The wrapper had a lovely fried sapor that played very well with the salty pop of the roe. The tofu and peanut butter were more textural elements adding a full creamy body to the mix.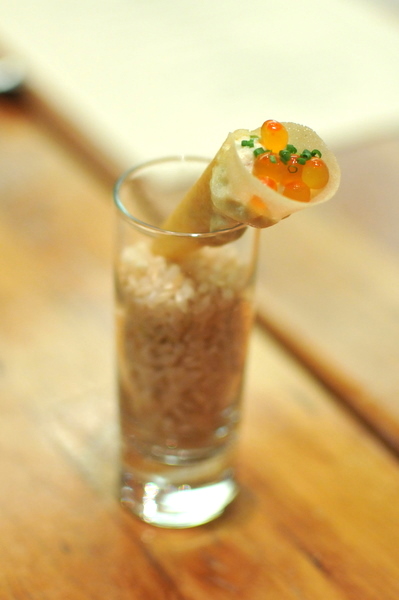 After the first course Devon noticed that we were without cocktails and generously provided us with a sample of his springtime creations.

Spring Fever - vodka, rose water, st. germain, blackberries, lemon
I really enjoyed the rose water and st. germain, their heady floral tones augmenting the blackberries and lemon making for a deeply aromatic fruity cocktail that doesn't feel overy sweet or syrupy.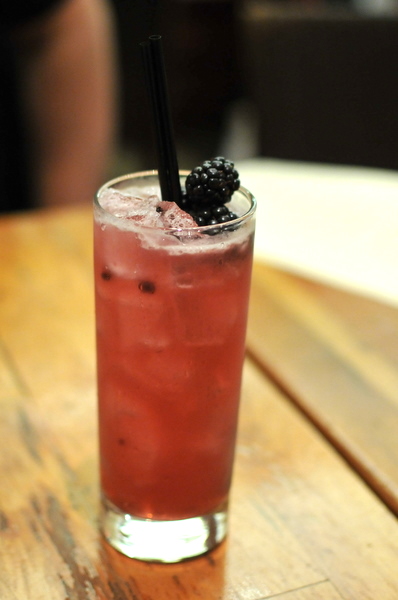 Kumquat Smash - bourbon, orange blossom honey and kumquats
My favorite of the three cocktails the drink begins with the stinging aroma of fresh orange zest and that bitterness is apparent on the palate tempered slightly by the honey. The bourbon is apparent on the finish and helps give the drink some bite.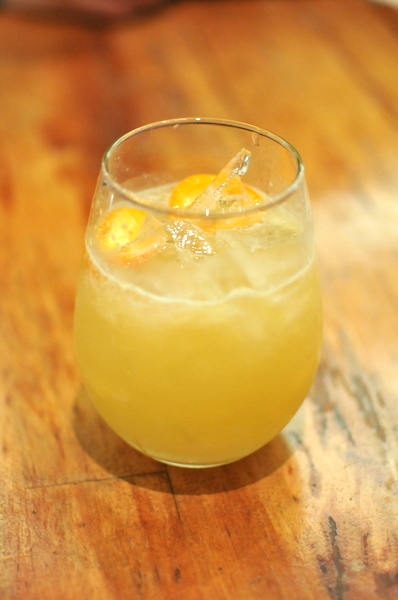 White Sangria - white peaches, almond, mint
Rounding out the trio is a lush sangria, the lightly effervescent concoction is filled with the fragrance of juicy white peaches and crushed mint.



amberjack ceviche, chicharron, raspberry chip - Carlos Enriquez
tequila, serrano, lime, yellow chartreuse, raspberry
Chef Enriquez went with a safe choice for his savory, going with a dish from his childhood. The result is a pretty classic ceviche and though the avocado feels a touch monolithic at times. The paired cocktail was absolutely integral adding both fruity sweetness and a spicy kick that really fleshed out the dish.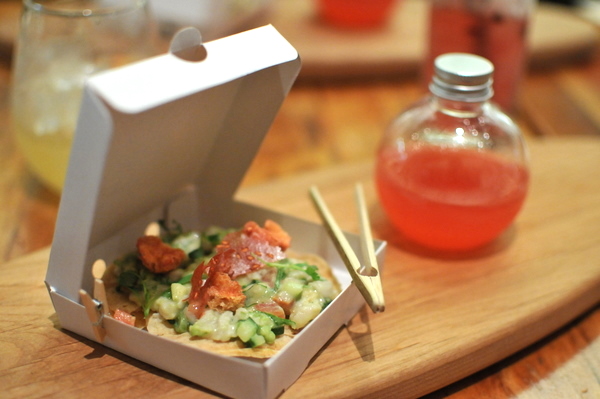 halibut, chicory, Seville Orange, white chocolate - Ramon Perez
vermouth blanco and smoked bergamont
I'm always wary about overcooked halibut but this was prepared beautifully resulting in a toothsome flakes of moist white fish. The aroma of the dish reminded me of a sausage pizza and the taste did nothing to dispel the image. Bold savoriness, with a tings of smoke and aromatics, not a conventional flavor profile for fish but delicious nonetheless.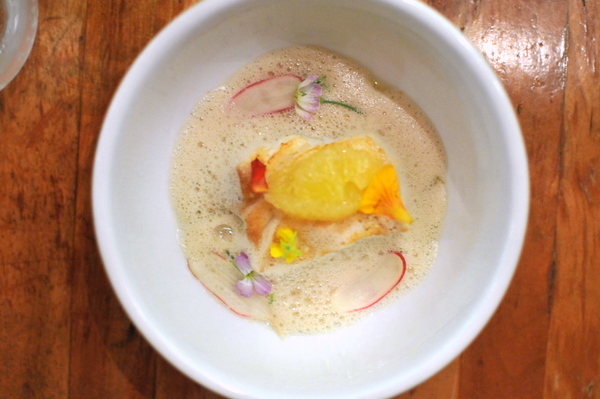 raclette beignet, prosciutto, olive oil powder, malt vinegar, star anise - Waylynn Lucas
LadyFace Trois Filles Tripel
Waylynn plays to her strengths here making a savory donut of sorts. The combination of prosciutto and melty raclette reminds me of a croque monsieur while the accompaniments add lively hints of acidity and bitterness. I'd never heard of LadyFace, a small microbrewery in Agoura Hills before this meal and was pleasantly surprised by their tripel. I'll have to keep an eye out for more of their beers.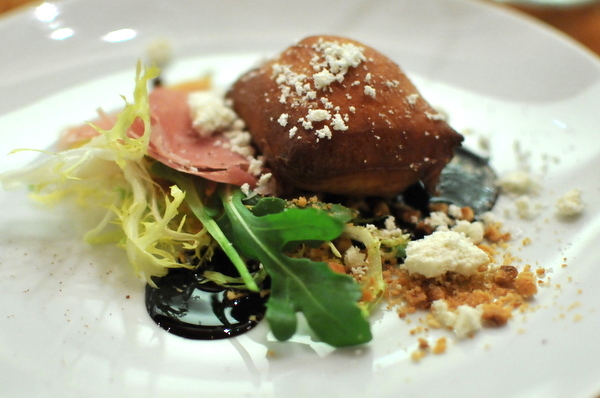 duck, strawberries, rhubarb, mushroom, black sesame - David Rodriguez
Justin Vineyards Cabernet Sauvignon
The duck breast was cooked perfectly firm and toothsome with just a tinge of gamy richness. I could have enjoyed the breast solo but the berries and mushrooms offer very well balanced accents to the bird. The cab was pretty classic and satisfying, heavier than I would normally pair with duck but the jammy sweetness of the strawberry and rhubarb held up nicely against the wine.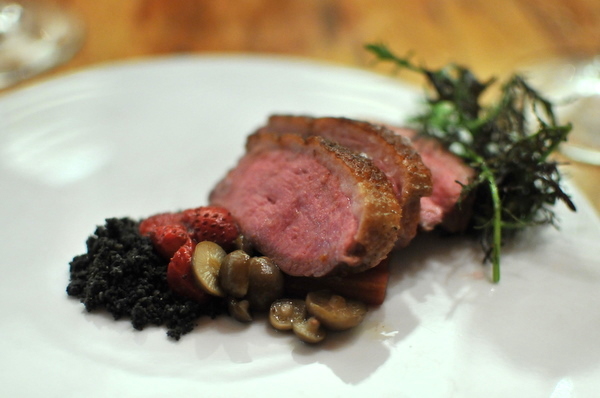 strawberry-rhubarb, corn croutons, tarragon froth, nitro olive oil - Carlos Enriquez
Sabina Vineyards Pinot Noir
As much as I disdain olives, I'm a fiend for olive oil in my desserts. Unfortunately the strawberry and tarragon run away with this dish and the resultant flavor is like an herb-tinged strawberry shortcake. Still tasty but just not as complex as I had hoped.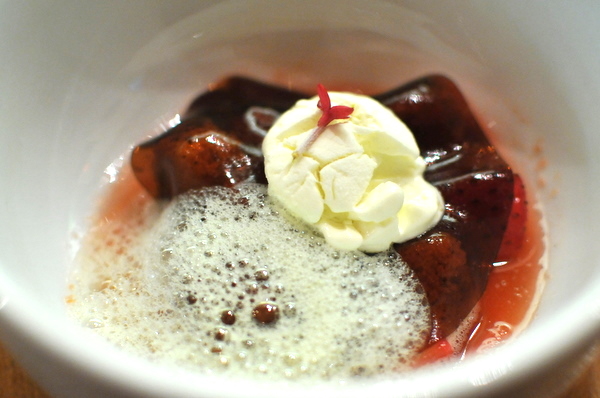 miso butterscotch, apricot sorbet, buttermilk, cinnamon - Kei Haseqawa
Michele Chiarlo, Muscato di Asti
The stone fruit sweetness of the sorbet is complimented by an overarching tang from the buttermilk while the miso adds the right touch of savory bitterness. A bit heavy given its place in the progression but delicious nonetheless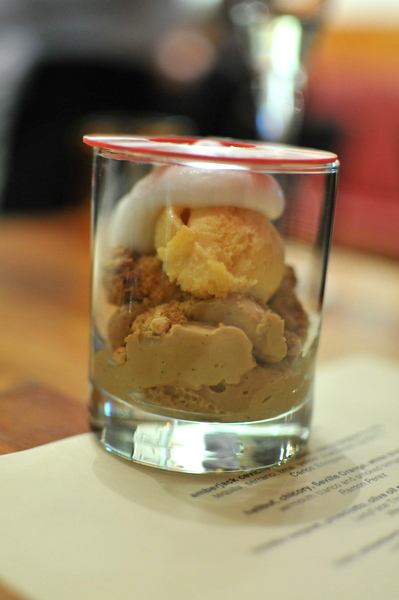 pixie tangerine, squid ink, ewe milk, licorice ice cream, fennel - Ramon Perez
vodka, cointreau, cream, tangerine, absinth
Perez demonstrates some real finesse with this one. The milk bears an ethereal gamy tang reminiscent of a sheep's milk cheese. I worried that the licorice and fennel would be too intense, but the flavors were in tune with the character of the dish. The accompanying drink was well matched, like an alcoholic Orange Julius.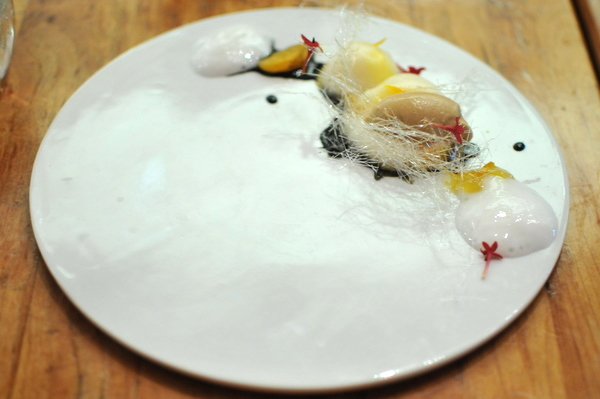 textures of chocolate, dehydrated peppermint meringues, eucalyptus ice cream - Waylynn Lucas
fernet, creme de cacao and mint
Built around the classic pairing of mint and chocolate, the flavor of eucalyptus and the complex textural interplay help make this dish memorable. The cocktail captures many of the same flavors as the dessert but tinged with the burn of alcohol. After the initial flavor of York Peppermint Patty fades, there is a lingering bitterness that reminded me of Chinese herbal medicine.



72% Mast Brothers chocolate cream, beets, raspberries, yogurt, red shiso - David Rodriguez
Justin Vineyards Obtuse
The final dessert was a play on a flourless chocolate cake. The "cake" was a dense compressed bar of dark chocolate cream flavored heavily with raspberries. The beet chips were a nice addition both for their crunchy texture and light chip-like sapor.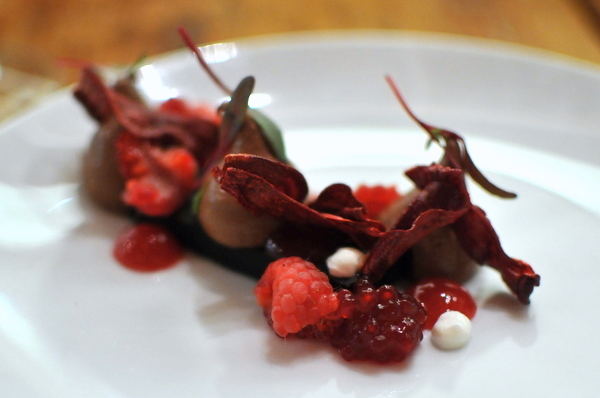 Mignardise
salted chocolate caramels in edible paper - Waylynn Lucas
raspberry-lemon meringue - Carlos Enriquez
chocolate sphere - Ramon Perez
green tea mochi - Kei Haseqawa
white chocolate, almond butter, feuilletine - David Rodriguez
Unsurprisingly this was one of the more creative sets of mignardise that I remember. While all five were good I thought Rodriguez's lollipop was the best with its creamy white chocolate exterior wrapped around a core of sweet buttery goodness and dusted with feuilletine for some texture.



I came to this meal with some doubts, while nobody would question the chefs' proficiency with sweets, I did wonder about the some of the savory courses. In the end, the meal exceeded my expectations, none of the savories were groundbreaking but they all were well designed and well executed. My biggest concern was the prevalence of sweet ingredients in the savory dishes, but they were integrated surprisingly well. Desserts naturally were even more impressive with the savory elements substantially enhancing the dishes as a whole. It was nice to see the pastry chefs, the pariahs of the kitchen, take center stage; that the proceeds from the meal went to help a worthy cause was icing on the cake.