3799 Las Vegas Blvd S
Las Vegas, NV 89109
702-891-7925

The man that Gault Millau dubbed the "Chef of the Century" was initially slated for a life in service to God. Financial pressures would force Robuchon to leave the seminary, and at the tender age of 15 Robuchon took on an apprenticeship at the Relais de Poitiers. Six years later, he joined a professional fraternity, Compagnons du Tour de France, that would enable him to travel the country and master France's various regional cuisines. Then at 31, Robuchon was awarded the Meilleur Ouvrier de France (Best Craftsman in France) for his mastery of the culinary arts.

Despite this success, Robuchon was a relative late bloomer by today's standards, waiting until the age of 36 to open his first restaurant: Jamin. The restaurant still holds the record for fastest rise on the Michelin Guide with his first étoile coming a mere three months after opening and the third just two short years after that. He closed Jamin in 1993 in order to open a more upscale restaurant, the eponymous Joël Robuchon. After two short years Robuchon announced his abrupt retirement, citing mounting stress and the desire to leave on his own terms.

Retirement would prove to be short lived and beginning in 2001 Robuchon started building a restaurant empire by opening a series of more informal l'Atelier de Joël Robuchon restaurants. Today his restaurant empire spans 20 restaurants in 10 cities (though his NYC outpost will be closing soon) with a whopping 26 Michelin stars between them, more than any other chef.

Lured by the glitz of Las Vegas, Robuchon resurrected his more formal Joël Robuchon in 2005, bringing along Jamin alumnus Claude Le Tohic to serve as his Executive Chef. In an industry known for rapid turnover, Le Tohic's continued presence in the kitchen after seven years speaks volumes.

01: Le Cerise - en gazpacho avec un lacté de brebis givré aux éclats de pistaches
The meal started with a gazpacho, the cherries substituting deftly for the traditional tomato base while maintaining the bracing blend of bite and freshness. The dollop of ricotta ice cream adds a tinge of weighty sweetness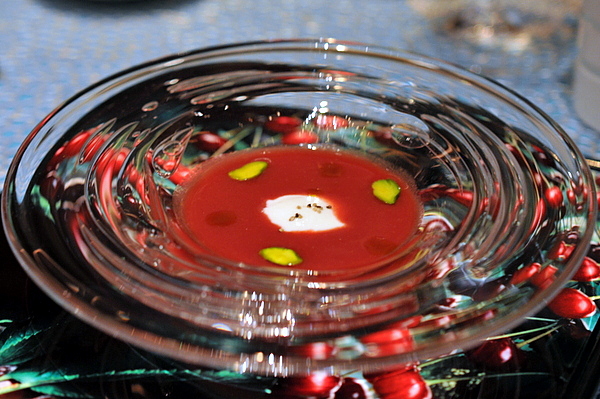 02: La Tomate - en salade, huille d'olive au basilic, tomate et mozzarella en gelée
Calling this a deconstructed caprese doesn't quite do justice to the exacting detail that went into its preparation. The first part of the dish consisted of a stupendously juicy and flavorful tomato coated in basil and olive oil, arguably the best preparation of raw tomato that I've ever had. The second plate contained a briny tomato gelée topped with tiny dollops of mozzarella further adorned with yet more tomato and basil droplets. The overall effect was a saltier flavor driven heavily by the slightly gritty texture and piquancy of the cheese.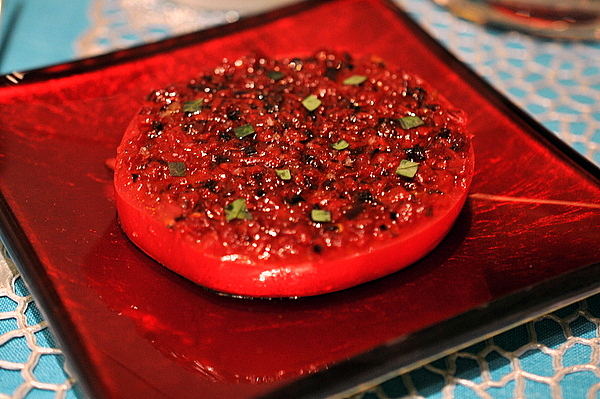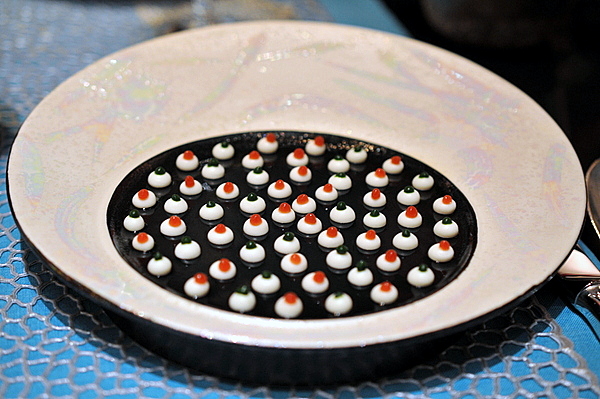 03a: Le Caviar - le navet rouge et le radis avec un carpaccio de hamachi
Like my first visit, the third course consisted of three small plates centered around Oscetra caviar. The first element of the trio was a piece of fatty yellowtail topped with caviar. The pickled radish and red turnips provided a crucial element of acidity while a dusting of espelette pepper gave the fish the slightest bit of heat. The rest of the table thought this was the best of the trio but I felt that this would have been delicious even without the caviar.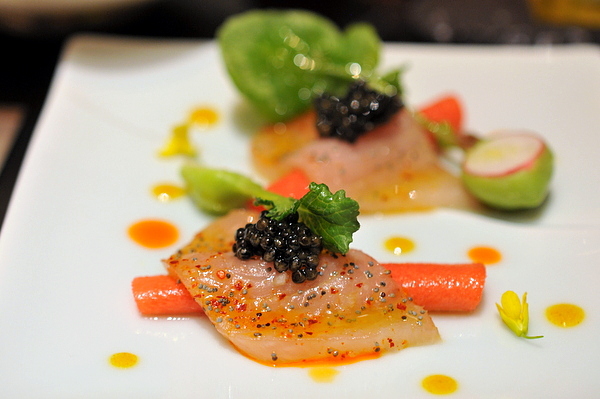 03b: Le Caviar - des fines graines de couscous iodé
We were advised to follow the hamachi with the caviar "maki" and the two couldn't be more different. Where the former demonstrated savor and flash this was pure finesse and delicacy. A thin layer of cucumber is wrapped around a core of cous cous topped with caviar. The caviar definitely stands out here, its salinity starkly apparent against the light Mediterranean spice of the cous cous.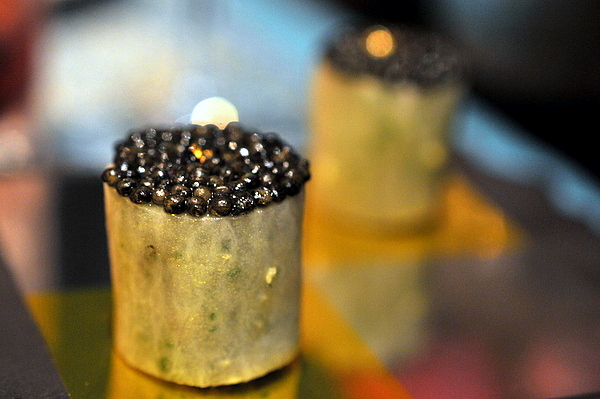 03c: Le Caviar - un velouté de chou fler glacé tremblotant
This was my favorite of the trio. The velouté conveys a pure intense signature of sweet and nutty flavors of cauliflower. The contrast between the creamy soup and caviar allows both to shine while a gelée of bonito broth adds a robust smoky slant to the dish.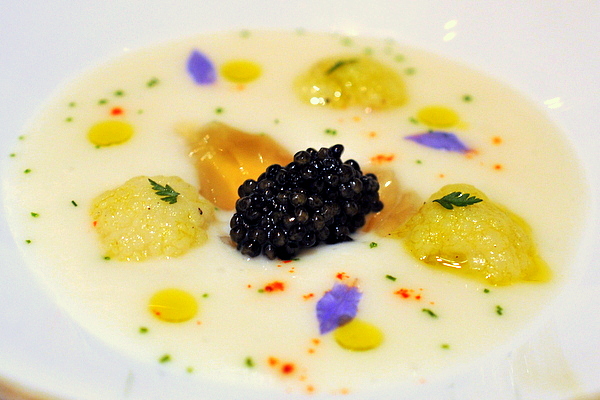 04: Le Grenouille - le cuisse en fritot à la purée aillée et au coulis de persil
This is likely the best frog leg that I've ever eaten which makes sense considering it is one of Robuchon's signatures. The frog itself is tender and juicy with a flavor somewhere between fish and chicken wrapped in a batter that augments the frogs natural savor. The sauce, a mix of garlic and parsley felt reminiscent of the flavors that typically accompany escargot.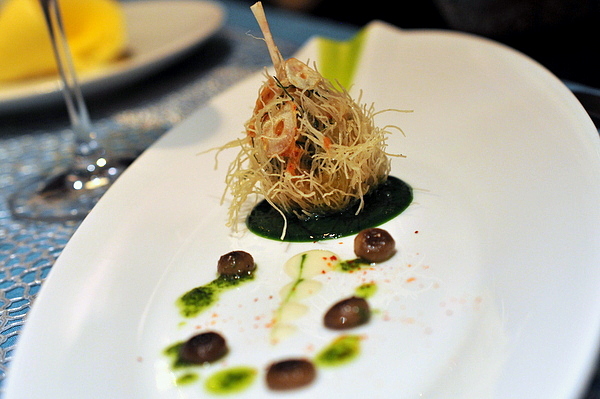 05: La Saint-Jacques - la noix poêlée dans une nage au curry vert
My last scallop at Roubuchon still stands as one of the best ever and this was so very similar but at the same time different. Naturally both scallops are cooked beautifully with a tender raw center and rich caramelized exterior. Interestingly both also displayed a Thai character with heavy use of coconut milk though this presentation came with curry, coriander, and espelette which gave the dish a sleeker more aggressive profile.



06a: Les Crustacés - la langoustine trufflée en cuite en ravioli
The second trio began with another of Robuchon's signature dishes: La Langoustine. The perfectly cooked langoustine is wrapped in a spongy ravioli then topped with a foie gras truffle butter and shaved truffle. The combination of sublimely rich sauce and light shellfish brine is absolutely marvelous. A small serving of stewed cabbage provides a slightly bitter accent to the dish.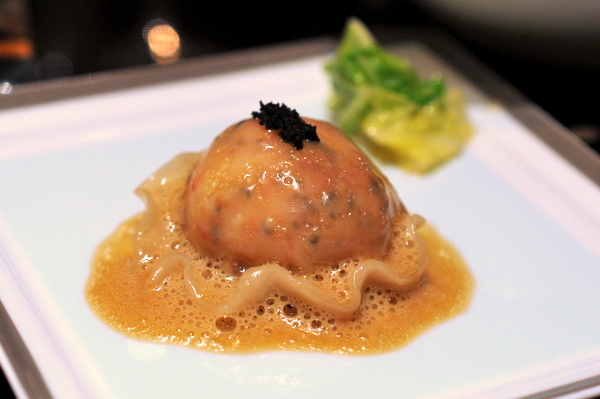 06b: Les Crustacés - médallion de langoustine grillé et sabayon virtuel aux aromates
I absolutely loved the color and scoring on the lobster which naturally came across clearly on the palate as well. The accompaniments consisted of a bright melange of herbs as well as a similarly flavored sabayon giving the lobster a dynamic fragrance and refined levity.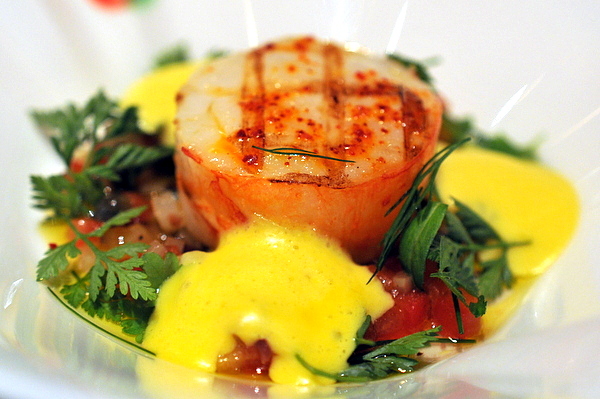 06c: Les Crustacés - l'oursin accompangé d'une purée de pomme de terre au café "Blue Mountain"
According to the menu this was supposed to be sea urchin flavored with coffee on top of the mashed potatoes but we were presented with a piece of calamari stuffed with jamon iberico. Robuchon is renowed for his pommes purée and his reputation is justly earned. The potatoes are airy yet full of the characteristic butter and starchy savor. As for the calamari, while it was nicely cooked, the flavor didn't stand out enough for my tastes.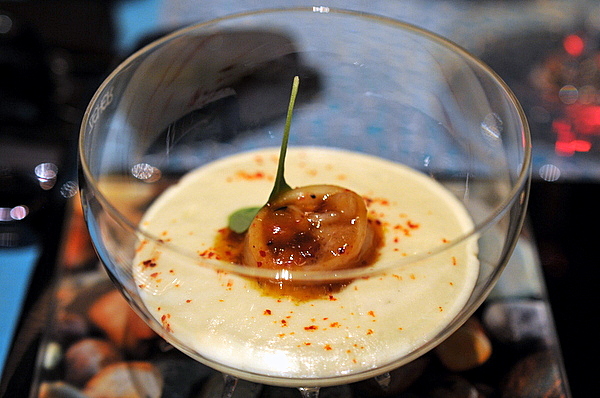 07: Les Petit Pois - en symphonie soyeuse au foie gras à l'huile d'argan
I was a bit wary of this course, thinking that the base of foie gras might overwhelm the pea velouté it was paired with. Turns out my concern was unnecessary as the peas exude a grassy verve that stood up nicely to the restrained foie gras royale. This was my first experience with foie gras royale, basically a mixture of blended foie gras with cream and egg. The addition of cream and egg give the liver a texture reminiscent of soft tofu while simultaneously tempering the foie's richness.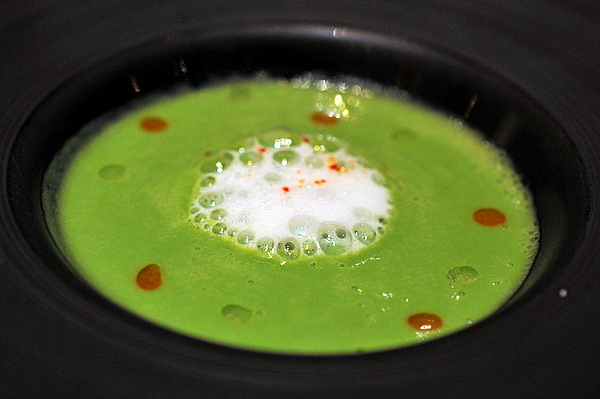 08: Le Saumon - le dos rôti mi-cuit aux graines de moutarde, tagliatelle de mangue à l'hile pimentée
I've always been a fan of lighter preparations of salmon, but I have to say this was easily one of the most amazing pieces of salmon that I've ever tasted. The fish itself is very lightly cooked which gives the flesh an exquisite and unique texture. The flavor conveys an abundance of sweet mustard that feels somehow balanced when taken with the oiliness of the fish while the shaved mango "tagliatelle" gives the dish a playful tropical tone.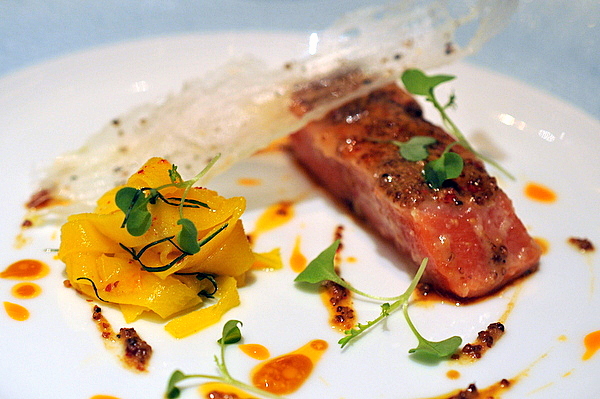 09: Le Bœuf - la noix d'entrecôte éminceée aux fins condiments, petits cœurs de palmier à la moelle
This was one of the richest non-Japanese presentations of Wagyu beef that I've ever had. Despite the high concentrations of fat, the meat still retains a succulent toothsome texture and meaty bovine sapor while the generous pepper crust and topping of capers, tomato, and olive add a measured contrast to the meat.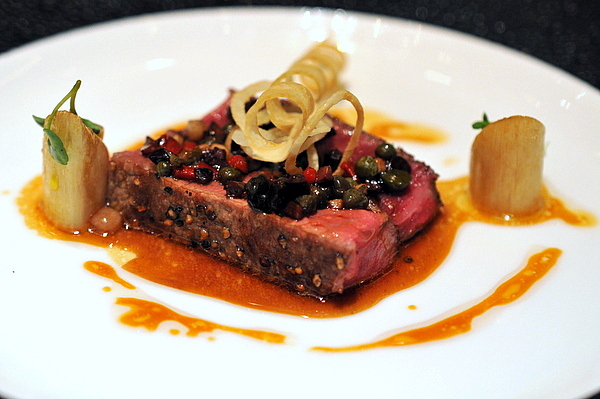 10: Le Soja - les jeunes pusses cuites comme un risotto aux zestes de citron vert et ciboulette
I've noticed that Robuchon often likes to end the savory portion of the meal with a lighter dish. Here we have a soybean "risotto" with bits of diced soybean sprouts substituting for the rice. The result was one of the most delicious things of this entire meal. The flavor is reminiscent of a mushroom risotto but the succulent sprouts and gentle dusting of lime zest give the dish a deft levity well suited to closing out the meal.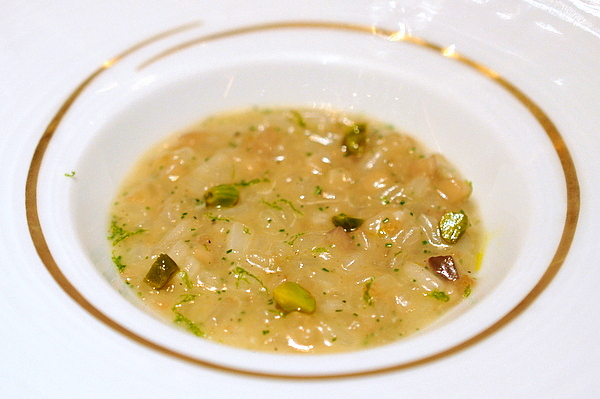 11: La Fraise - creme "Madame" à la chartreuse verte rafraichie d'un sorbet aux herbes
This is easily the best dessert that I've had all year. Jammy strawberry, an alcoholic heat from the chartreuse, and cubes of something that tasted like caramel corn form an intricate combination of flavors that are at once bold and in balance. Each bite of this felt different from the last but no less delicious.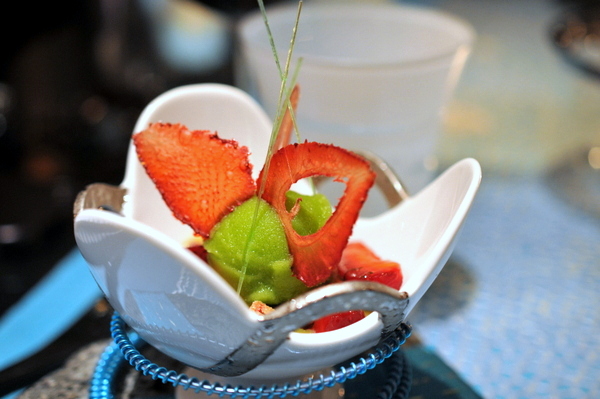 12: La Noisette - glacée et chocolatée, parfait "Arabica" sur un briclet au beurre noisette
Our second dessert was more straightforward but no less enticing. A richer treat that blends coffee with caramel, hazelnut, and chocolate one friend dubbed this a Ferrero Rocher wrapped in a Choco Taco.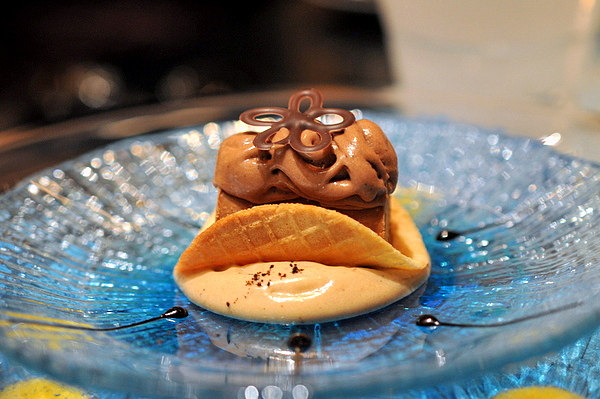 13: La Moka-Le Thé - escortés de mignardises
Meals at Robuchon always end with an extravagant mignardises cart that could give you diabetes just looking at it. This time around, we were also presented with a tea cart and I opted for a serving of lemon verbena tea to go with my final treats. For my mignardises I chose (from left to right): almond citrus tuile, white chocolate strawberry cheesecake, white chocolate with blueberry and violet, 5 spice milk chocolate, salted vanilla caramel, strawberry champagne cupcake, and vanilla bean macaron.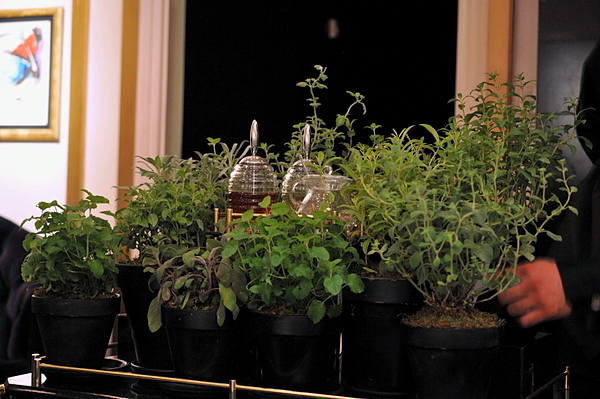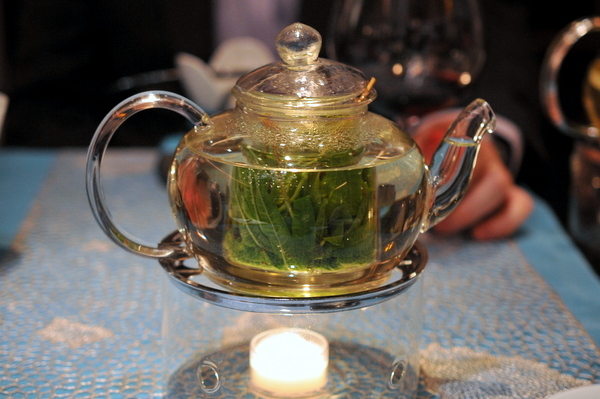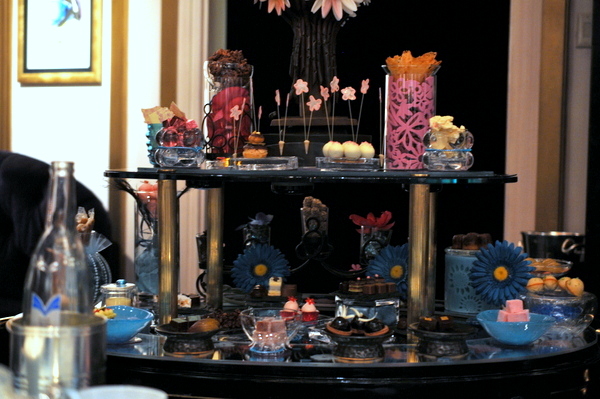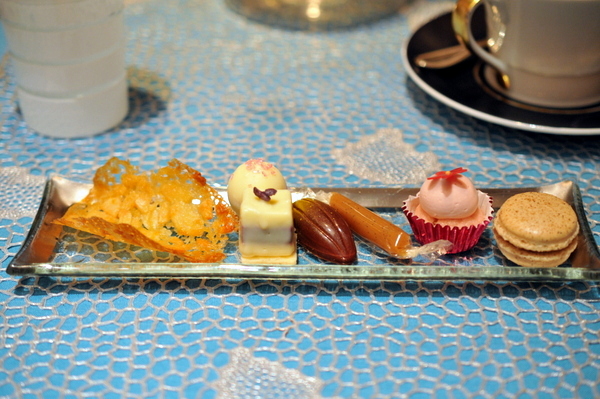 I have to admit to feeling a certain trepidation before my return to Joël Robuchon. My first trip here proved to be best meals of my life up to that point and I feared that this time around the reality might not live up to my memory. Turns out I needn't have worried, though I'd probably rank my first trip here slightly higher this still proved to be an absolutely sublime dining experience. From the over-the-top bread cart to the equally decadent mignardises cart Roubuchon is a spectacle of culinary technique and creativity. While the restaurant offers more modest menu I highly recommend the Degustation Menu, a 16-course display of sheer epicurean delight.