127 East 9th Street
Los Angeles, CA 90015
(213) 623-3663

Hard to believe how far Starry Kitchen has come in the past three years. The former underground dinner run by Thi and Nguyen Tran won a following for its pan-Asian comfort food and is one of the few that made the transition to a traditional brick and mortar restaurant. The Cal Plaza location had become a lunchtime favorite and there was much lamentation when the Trans closed their much-beloved cafe at the end of July. Fortunately for their followers, the couple is already planning a return to Cal Plaza but in the meantime the duo have setup shop at Tiara Cafe.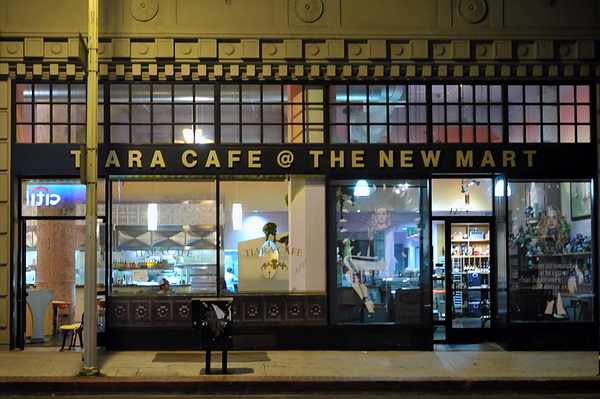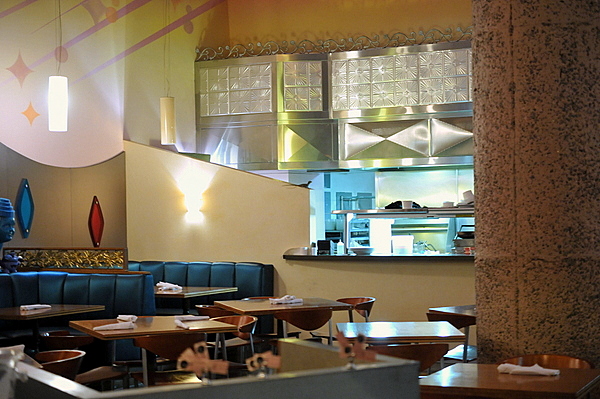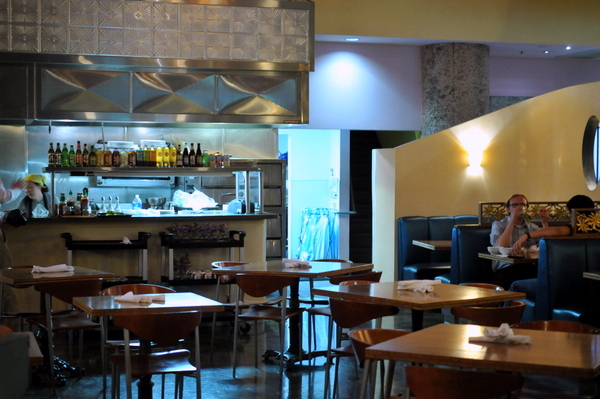 GRILLED BEEF WRAPPED IN SESAME LEAVES (aka "Bo La Lot")
Our first appetizer came straight out of Bò 7 món or Seven Courses of Beef. The grilled beef oozes with rich oil and seasoning that is deftly balanced by the vegetal fragrance of the leafy wrapping. I appreciated the substitution of sesame leaf for the more astringent Lolot leaf traditionally used.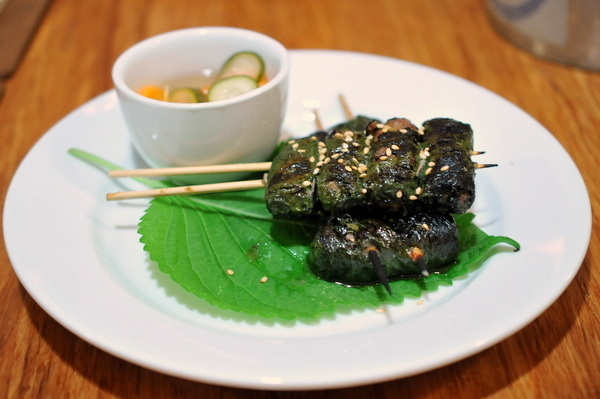 DOUBLE-FRIED SWEET GINGER CHICKEN WAAAAAAAAANGS
The original Starry Kitchen was justifiably lauded for its Double-Fried "WAAAAAAAAANGS." The lightly spicy sauce and dense crunch are intoxicating while beneath the sticky sweet glaze and crunchy batter lies perfectly-done tender and juicy chicken;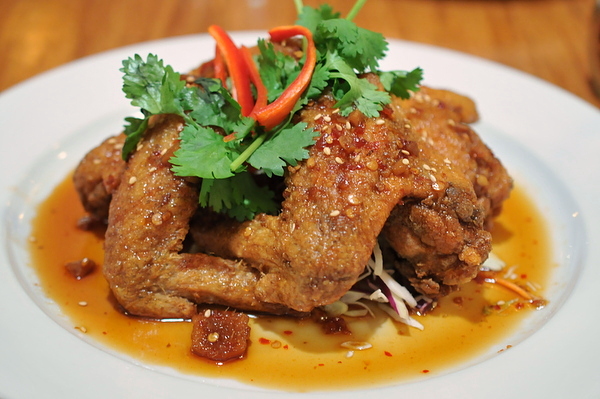 (very limited) GRILLED FISH "HEADS + TAILS" w/ VIET FISH SAUCE
This was one of the most intimidating things I've seen at a restaurant in a long time, but having eaten my share of fish heads growing up I knew what to do. The body of the bass is used for Starry Kitchen's vaunted claypot, leaving them with the odds and ends of a dozen fishes. I certainly see the appeal in this dish; the head, collar, and tail are often considered the best parts of the fish and a well done grilled fish can be immensely satisfying. The fish sauce adds a pleasing funk, but the simple char of the fish offered more than enough flavor. When I asked, Nguyen said it was a new addition and admitted that we were the first people to order the dish which makes me curious how many the restaurant will end up selling.



PORK CHILI OIL WONTON+SZECHUAN-STYLE SHREDDED POTATOES
Our final appetizer was a play on red oil dumplings, a classic Szechuan dish of boiled dumplings in chili oil. I quite enjoyed the shredded potatoes, pliant yet firm sort of like a starchy noodle with a texture north of al dente.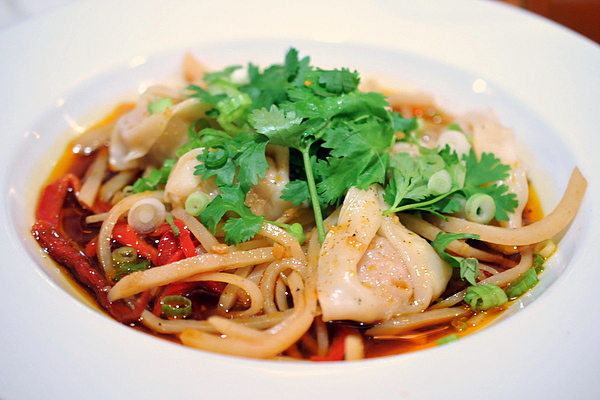 NIMAN RANCH RIBEYE BEEF SATAY NOODLES w/ DRIED-SHRIMP (WARNING: THIS dish is VERY Asian + ALMOST tastes like Asia itself :D)
This was the most complex and flavorful course of the night with elements of piquant funky umami, bright vegetables and fragrant herbs all showing beautifully. A bed of supple rice noodles provides a starchy foundation that ties everything together. Apparently a number of diners have complained about the dried-shrimp prompting Nguyen to add the warning, but I thought the dish was far too tame to warrant such disclaimers especially when measured against the fish heads.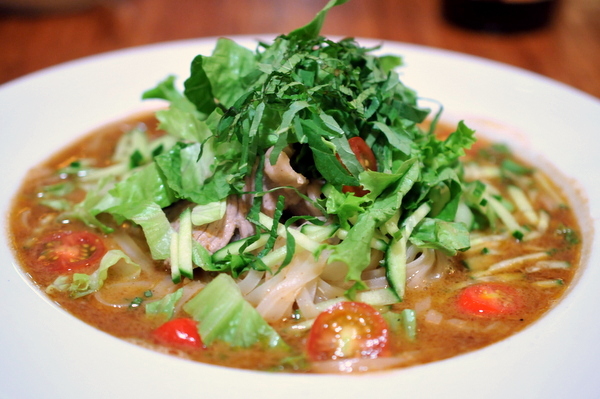 SINGAPOREAN CHILI CRAB "DING DING DING" (and it's VERY LIMITED TOO MOFOS!)
The Singaporean chili crab has quickly become the revamped Starry Kitchen's signature dish. The large Dungeness crab is cooked in a seductive spicy-sweet sauce. While getting at the meat takes a bit of effort, the sweet flesh within is well worth the effort. Nguyen even brought us some rice to sop up the excess sauce in the bowl.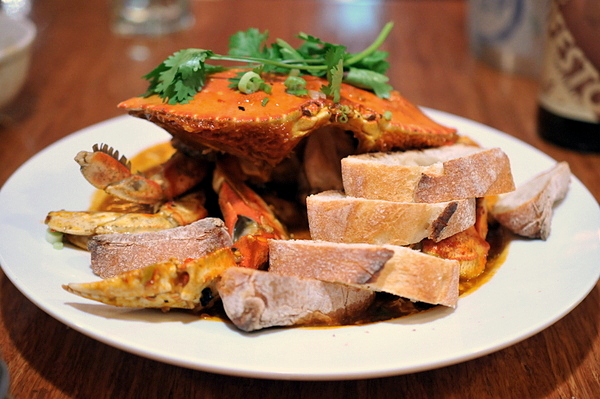 GRILLED WHOLE EGG PLANT IN A SAVORY GINGER SAUCE
I'm not a huge fan of eggplant but our server highly recommended this dish. This proved to be a pretty solid eggplant dish; extremely tender with plenty of ginger and char, but seeded with plasticky disconcerting pieces of what I think was charred skin.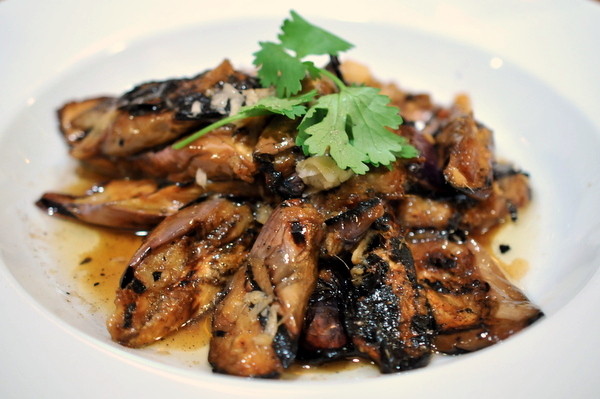 OSMANTHUS PANNA COTTA w/ POACHED PEARS
Moving onto sweets we started with a light panna cotta seeded with bits of dried osmanthus which is commonly found in Chinese tea and desserts. The delicate floral fragrance is augmented by slivers of the slivers of ripe fruit.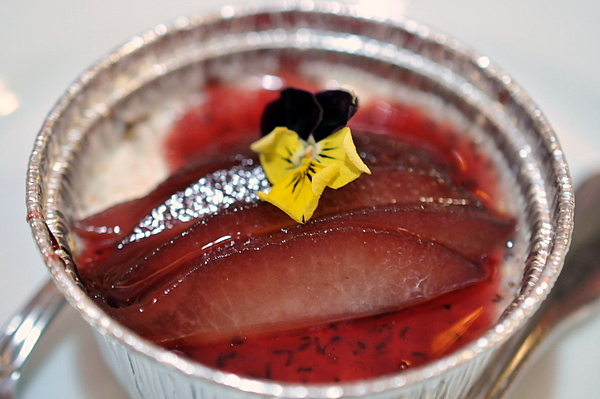 5-SPICED APPLE FRITTERS w/ HONEY BOURBON CREAM SAUCE
The final dessert consisted of apple coated in a freshly fried dough sprinkled with sugar and five-spice. My companion said the flavor reminded him of roast duck and while I could see the savory link this remained firmly a dessert in my mind. The honey bourbon made the dish even better with a beguiling sweetness shot through with a stout alcoholic burn.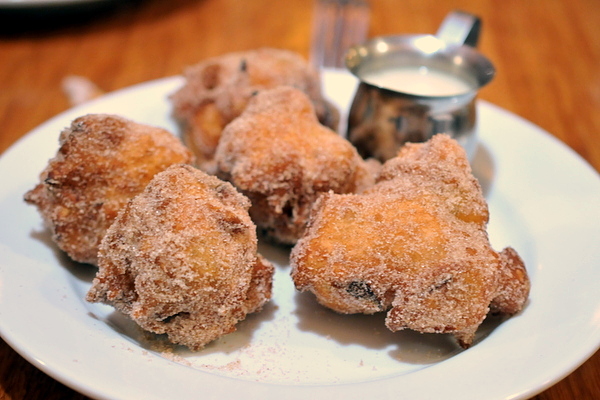 The original Starry Kitchen's do it yourself had a playful charm to it, but Thi really upped her game this time around. Taking advantage of Tiara Cafe's better-equipped kitchen, Thi has expanded her repertoire; creating dishes that feel more complex and creative; that the transition was made in a little more than two weeks makes the feat even more impressive. If you were a fan of the original Starry Kitchen, you owe it to yourself to check out SK @ Tiara Cafe and if you haven't been now would be a good time to get acquainted (or maybe wait till the roast pork belly xo fried rice gets added to the menu).