1813 Columbia Rd NW
Washington, DC 20009
(202) 234-6732

Situated in Adams Morgan, a neighborhood more known for its bars and night life than its restaurants, Mintwood Place might mark the change to a more serious dining scene. Owners Saied Azali and John Cidre brought in Executive Chef Cedric Maupillier to helm the kitchen. The French-born Maupillier started his career at the age of 15 at a bakery in Toulon. After moving between jobs in England and France he made his way to the DC area in 2002 to work at the now-defunct Maestro at the Ritz Carlton in Tyson's Corner. From there he joined Chef Michel Richard at Citronelle before helping him open Central in 2007. Given that Citronelle is one of my favorite restaurants in the city I was excited to see what a long standing alum like Maupillier would be doing at his own place.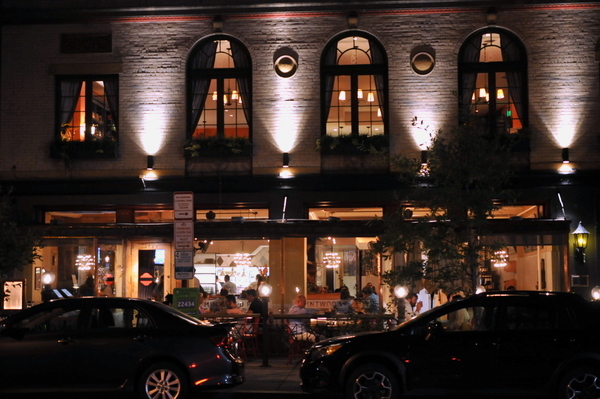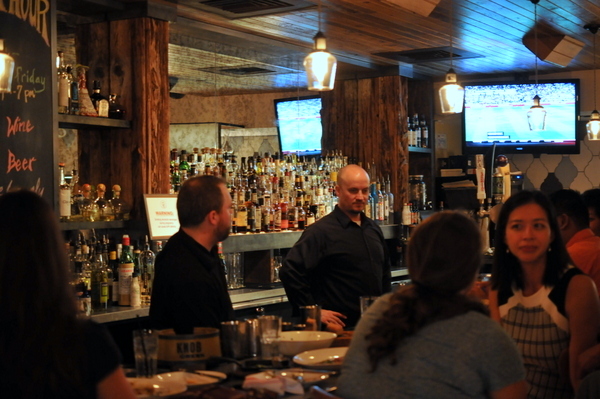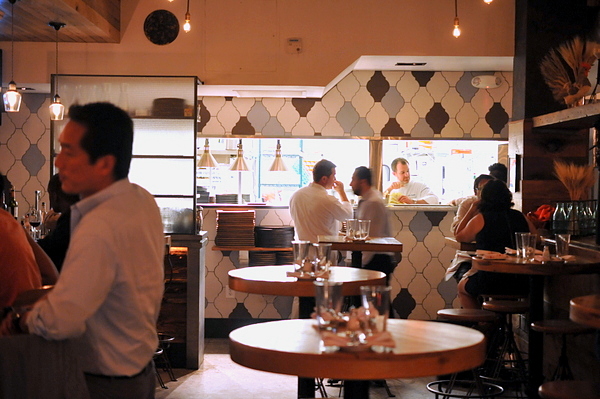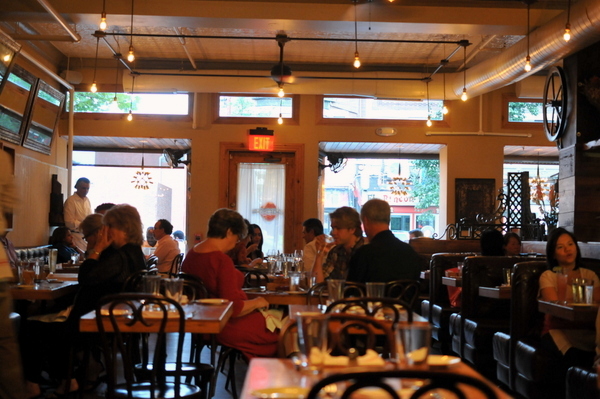 Manhattan Vacation - Bulleit Rye, Figoun, Trimbach Kirschwasser, Angostura Bitters
I don't normally go for Manhattans but the woody heft of the rye coupled is threaded with austere herbal overtones that deftly restrain the sweeter cherry flavors of the Kirschwasser.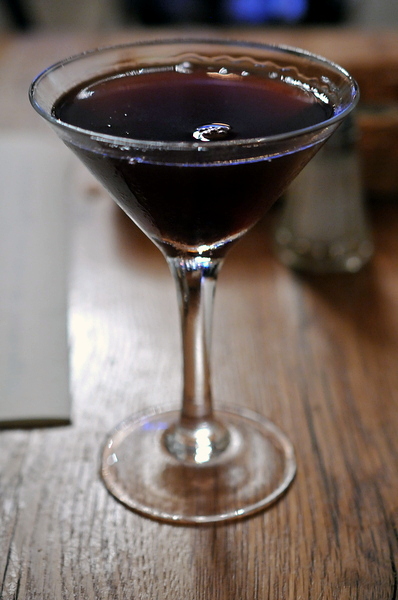 Deviled pickled eggs
Disconcertingly vivid pink color aside, these were pretty classic deviled eggs tinged with a bit of acidity and a nice contrast between the creamy egg and bitter radish.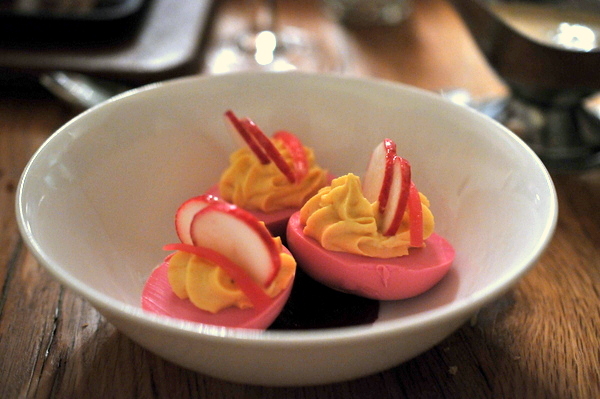 Maple pork cracklin'
The cracklin's were some of the best that I've had in a long time. Instead of the dense over-hard texture these were airy and light but still loaded with porcine savor along with a growing spice. The saltiness got a bit wearying over time but this would have been great to share with a group.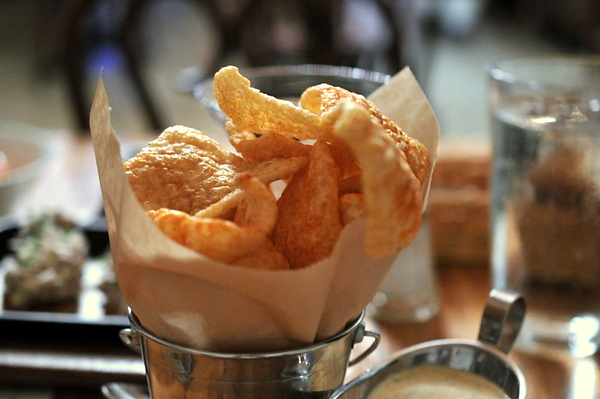 Chopped chicken liver tartine
This was probably my favorite course of the night. The dense rustic toast is coated with a lush creamy layer of rich iron-laced chicken liver that picked up a light sweetness upon mastication.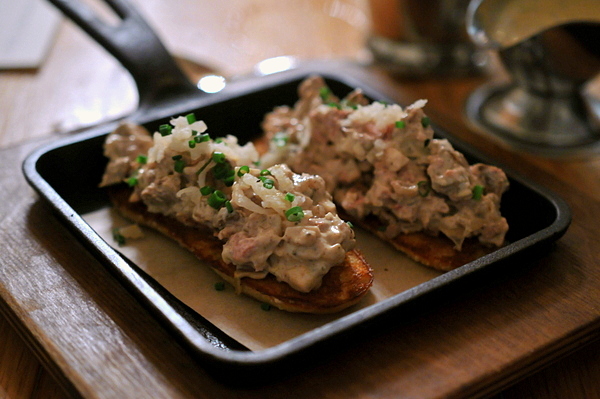 Garden Preservation - Botanist Gin, Cucumber, Basil, Lemon, Soda
The Garden Preservation certainly lived up to its name, the drink has a bitter celery tinged savor to it, perhaps due to the Botanist gin, a new artisan gin made by Islay-based distiller Bruinladdich or a strange confluence of the flavors with the cucumber and basil. Still quite refreshing but I would have liked the fruit to show a bit more.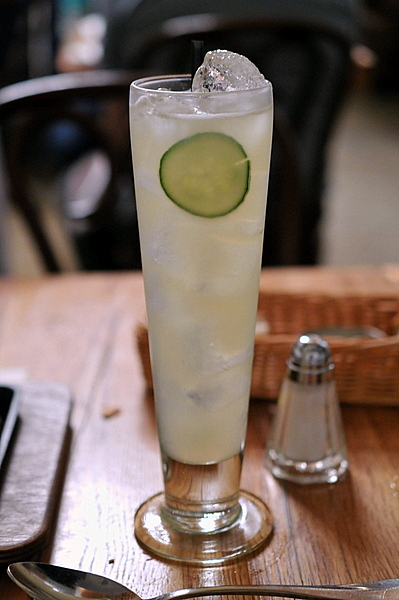 Cucumber & watercress gazpacho - crab & avocado
I selected the above cocktail to pair specifically with this course. The bright bracing gazpacho gives off a piercing astringency that is nicely complimented by the saline sweetness of the crab. The below the crab lies a base of avocado chunks that add a pleasing creamy thickness.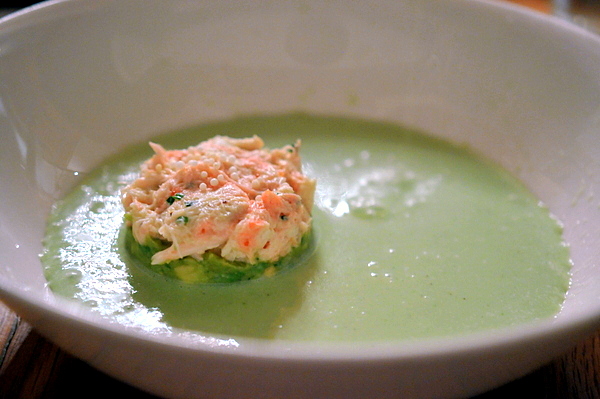 Wood-grilled octopus - eggplant, pinenuts, kalamata, piperade
I've never been a big fan of eggplant or kalamata olives but the promise of a fine wood-grilled octopus was too enticing to pass up. The mixture came doused in a hearty bath of spicy tomato with a smoky cast from the eggplant and earthy twang from the olives. The flavors worked well but I would have liked the octopus to show a bit more prominently.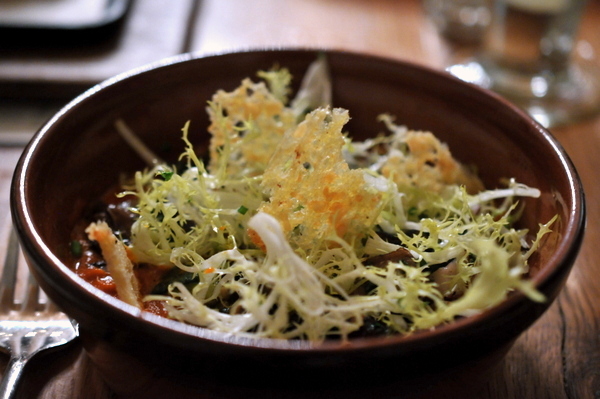 Wood-grilled confit calf's heart & collard greens salad
The final course was a salad of crisp bitter greens mixed with big chunks of meaty but overcooked calf heart. Beyond the technical faults, the salad lacked cohesiveness perhaps a bit of acid or spice would have tied things together better.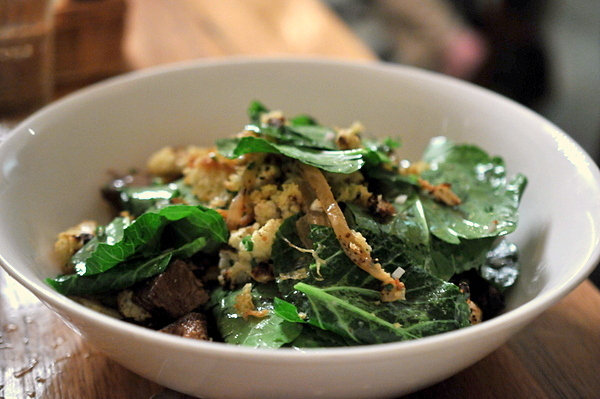 Warm peach croustade - nougat glace
Dessert was simple homey and enjoyable. The croustade consisted of a sugary buttery crust with warm ripe fruit topped with a sweet confection of honey laced nougat ice cream. A base of jammy strawberry puree adds a lively acidity to balance all the sweetness from the tart and ice cream.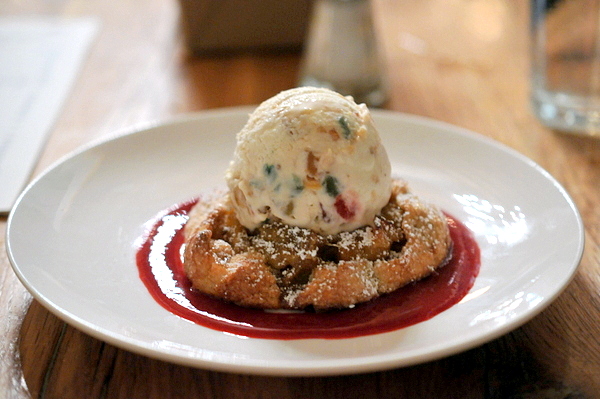 I can see parallels to the food at Central but Maupillier seems to have traded sophistication and polish for rusticity. I left with mixed feelings about Mintwood Place; while the cocktails and snacks were largely solid as was the gazpacho but the both the octopus and beef heart both felt incomplete to me. Overall I'd consider the restaurant a work in progress but given the lack of serious competition in the area I suspect they'll do just fine.