1612 14th St NW
Washington, D.C., DC 20009
(202) 319-1612

Hank's Oyster Bar has been a DC staple pretty much since it opened and I've visited the place once or twice during my travels to DC. This time around I was seeing a lot of press on Pearl Dive Oyster Palace. Unlike most oyster bars, Pearl Dive eschews the typical New England fare in favor of more spice-driven Louisiana style so don't expect to find a lobster roll but if gumbo is your thing than you've come to the right place. As much hip neighborhood hangout as restaurant, the Pearl Dive features a features a small but well crafted specialty cocktail list as well as a handful of beers and 30 or so wines. The restaurant has a weathered rustic feel emanating from the exposed bricks, re-purposed fixtures, and faded grey wood feels perfectly apropos.

The restaurant is part of the Black Restaurant Group owned by Jeff and Barbara Black. The couple opened their first restaurant, Addie's, in 1995 and since then have carved out a veritable empire in DC comprised of six restaurants and two bars.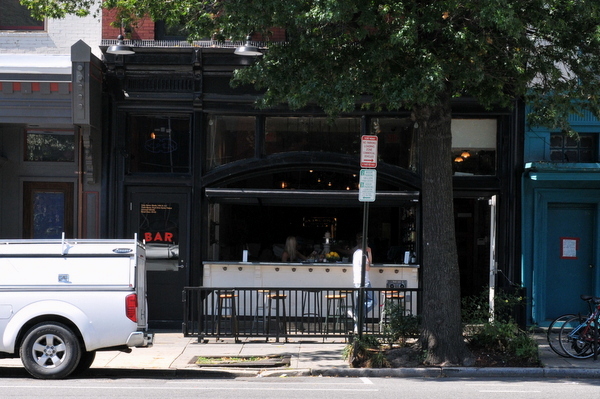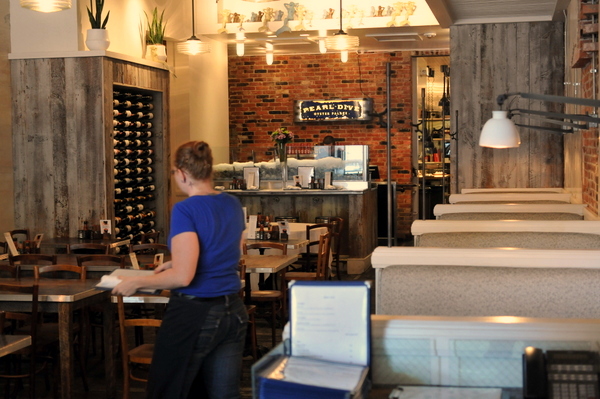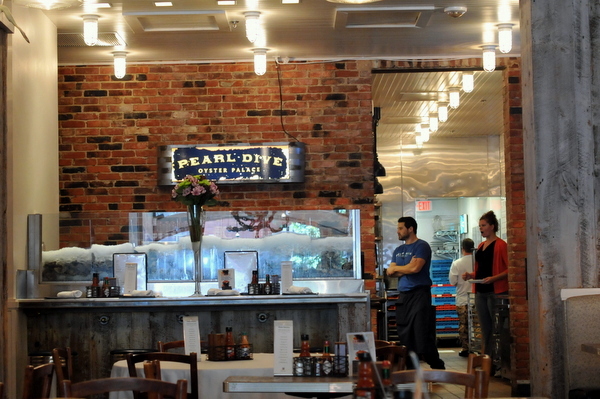 Bardstown Derby - Buffalo Trace Bourbon, Grapefruit, Lemon, Orange Blossom Honey
Simply put this was adult orange juice, with loads of citrus and the sweetness of honey the Derby reminded me of a Side Car but with a bit more kick thanks to the substitution of bourbon for cognac as the main ingredient.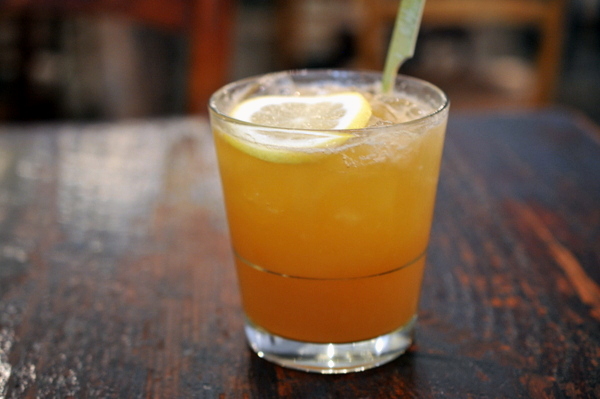 I had the kitchen select a half dozen oyster tasting with a mix of varieties thrown in. The oysters came with both classic accompaniments of mignonette and cocktail sauce; as well as Yuzu-Mirin and something called Dive Juice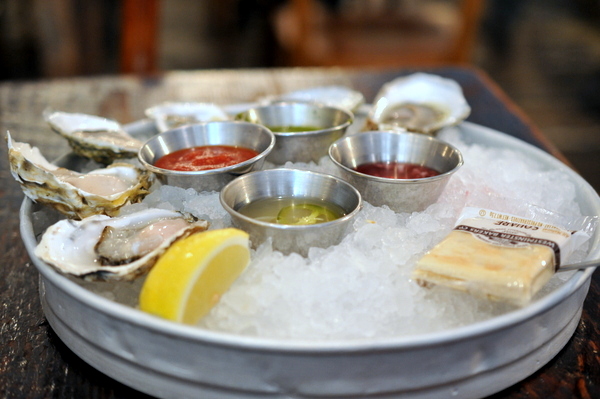 Stellar Bay - BC
A Pacific oyster, the Stellar Bay is raised by the same grower, in the same location, and originates from the same species as my favorite oyster, the Kusshi. Indeed this was a creamy treat, a bit larger and meatier than the Kusshi but with the same mild brine and lingering melon-rind sweetness; a fantastic intro oyster for novices.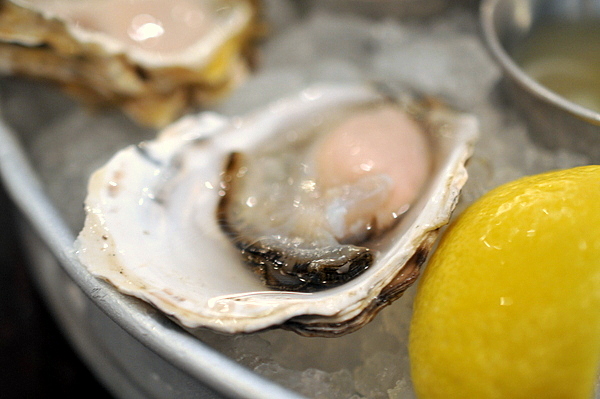 Malaspina - BC
The Malaspina was another fairly mild oyster that shares a great deal in common with the Stellar Bay. This shouldn't be a surprise since both varieties come from the Straight of Georgia that separates Vancouver Island from the Canadian mainland. The biggest difference was the Malaspina's lingering minerally twang.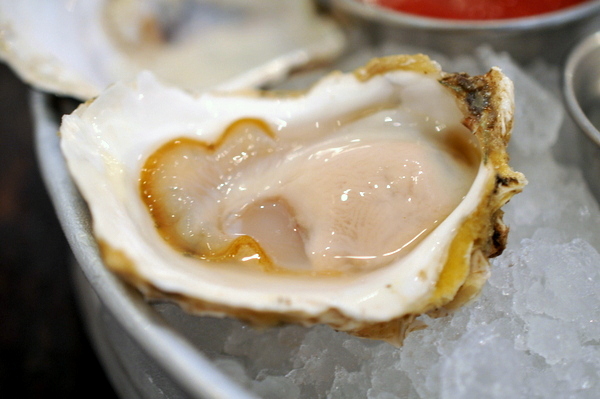 East Dennis - MA
Moving over to the East Coast, next up was a farmed oyster raised off of Cape Cod. The oyster has a bit more brine but the flavor isn't overwhelming but there was a funky vegetal note on this one.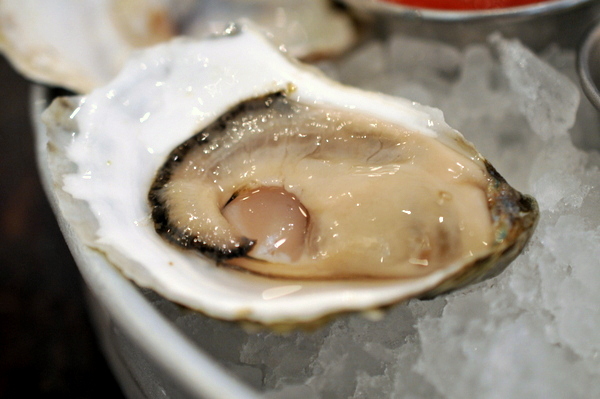 Peacock Cove - MA
With its thin kind of dessicated look, I was expecting this to be one of the more intense oysters but it was deceptively gentle with a clean finish; not at all what I was expecting.



Salt Pond - RI
This was the most challenging of the oysters for me. The flavor is almost like concentrated tidepool, salty, bitter and even a bit metallic and petroly, beginners should probably steer clear of this one.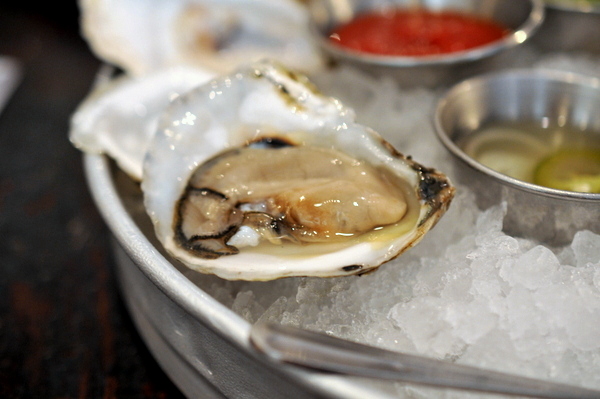 Old Black Salts - VA
The Old Black Salts were a custom oyster cultivated by Travis & Ryan Croxton of Rappahannock River Oysters specifically for Jeff Black's series of restaurants. Despite being labeled as the most intense of the bunch, I thought the bounty of creamy white flesh easily kept the salinity in check making this an immensely enjoyable finish to the tasting.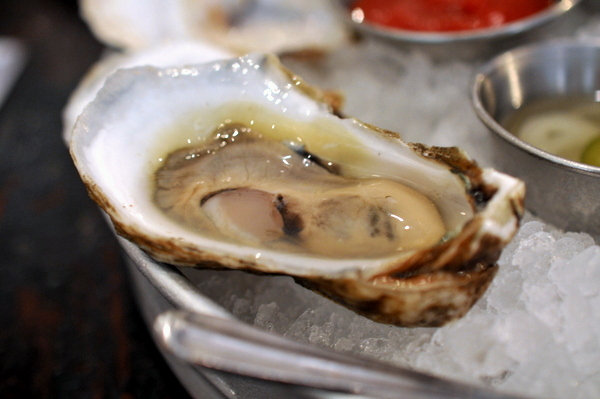 Wood Grilled East Coast Oysters - Garlic, Red Chile Butter, Gremolata
Moving on from the raw oysters I got an order of Pearl Dive's grilled variety. The oysters lacked the delicacy of the raw plate I'd just polished off, but the heady aroma of garlic and smoke make up for any losses. There were some other interesting cooked varieties, but they were only available during dinner.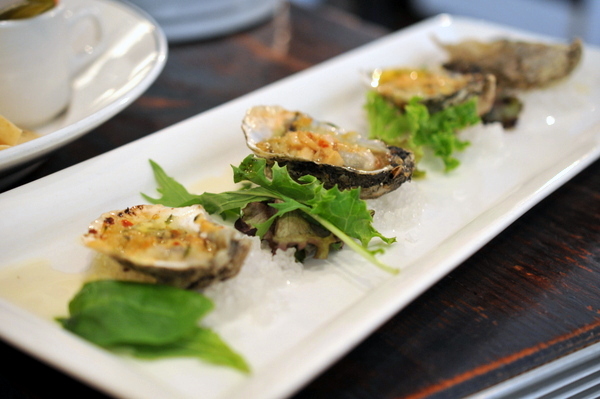 Mariscos de Campechana - Virginia Oysters, Blue Crab and Shrimp, Tomato-Serrano Salsa, Avocado, Corn Tortillas
My server described this as a seafood salsa and I couldn't agree more. The mix of tomato and avocado comes seasoned like a salsa though the vegetables take on an unexpected sweetness when mixed with the shellfish. The first few bites were enjoyable if a bit simple but I tired of this dish quickly.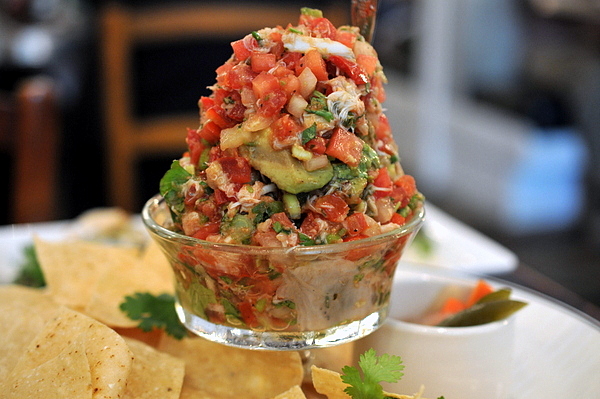 Fried Chicken Dinner - All Dark Meat - Salt Roasted Potatoes, Braised Organic Greens, Creamy Slaw
My waitress boasted that Pearl Dive's fried chicken was the best in DC. After tasting it I find that hard to believe, while the batter was light and even, the chicken itself was a bit dry; enjoyable but certainly not the best. The sides were solid all around but nothing particularly noteworthy.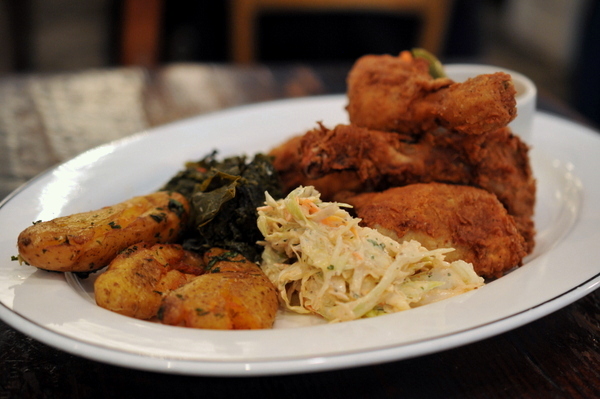 Creole Gumbo - Gulf Coast Shrimp or Oyster, Tasso Ham, File, Okra, White Rice, Garlic Bread
I decided to order this to go since I was working from 4:00 to midnight and wouldn't have time to grab dinner. Unfortunately I didn't taste it when it first came out and ended up eating it cold at my desk. The spice was unexpectedly intense and that was all I ended up really tasting besides a bit of Tasso's savor.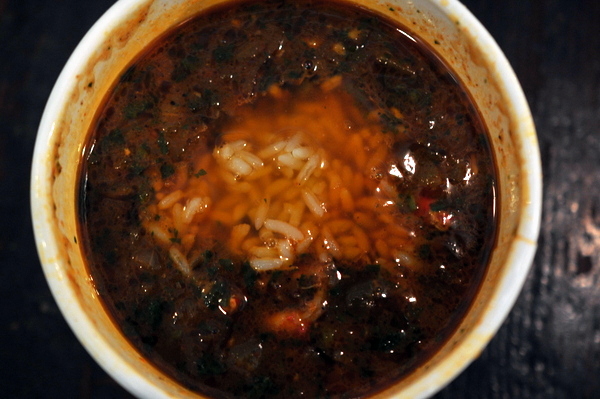 I'd heard good things about both the campechana and fried chicken but I found them decent at best. To the restaurant's credit, when it came to the oysters, both raw and cooked, the restaurant delivers perfectly. I can't say I'd recommend sitting down for a meal, but if you want to grab a drink and a few oysters with friends you could do worse than to hit up Pearl Dive.