1148 Manhattan Ave
Manhattan Beach, CA 90266
(310) 893-6299

Since it first opened in 2011, David LeFevre's MB Post has become an institution, bringing legitimacy to the Manhattan Beach food scene. Given his success, a follow-up restaurant was almost a foregone conclusion. Opened two doors down from MB Post, the seafood-centric Fishing with Dynamite makes sense given LeFevre's many years at the helm at Water Grill.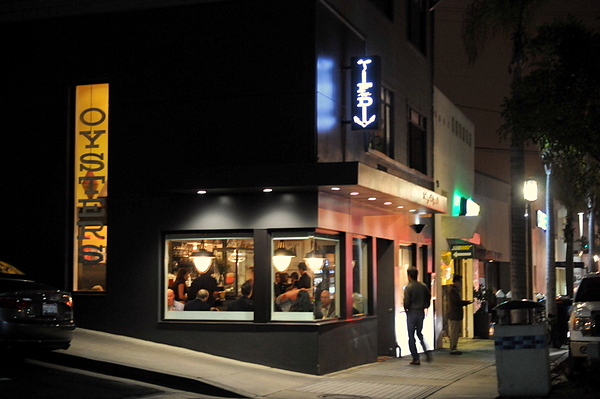 Original Gangster - boulevardier w/ white dog, aperol, vya sweet & grapefruit
The bartender, Ken, referred to this as a riff on a Negroni. While I've been learning to appreciate the classic Italian libation, the astringency can still be a bit off-putting. This was a bit more approachable than the typical Negroni, smooth as liquid velvet with a soft grape-y sweetness and touch of woody bitterness.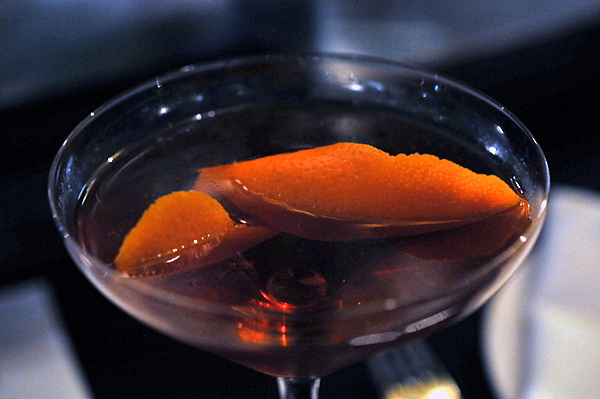 Late Night Corpse Reviver - sazerac, cocchi americano, blood orange, ginger and peppercorn syrup, lime juice, burnt orange zest
After chatting with Ken, I decided to go off-menu the rest of the evening. First up was a variant of the Corpse Reviver, a family of drinks designed to be drunk in the morning after a night of heavy indulgence. Ken's version, a medium-bodied drink tinged with a whiff of burnt orange and bitterness is built around a dark liquor hence the late-night moniker.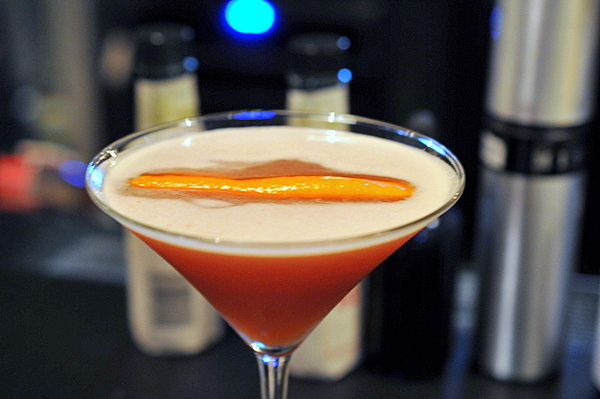 Sample Platter - Mattaki, Shigoku, Kumamoto, Wellfleet, Barnstable, Cookes Cove
Live Santa Barbara Sea Urchin - grilled foccacia
The plate featured a Shigoku and Kumamoto, but I decided to skip my favorites and try some new varieties like the Mattaki, a compact wonderfully creamy oyster with a pronounced saline finish to it. The Wellfleet was a leaner oyster, on the salty side with a touch of steel and seaweed thrown in. The Cookes Cove was the most challenging of the oyster thanks to its salty attack and keen lingering bitterness. The quivering slivers of chilled uni were equally delicious on their own or on top of the rustic toasted foccacia.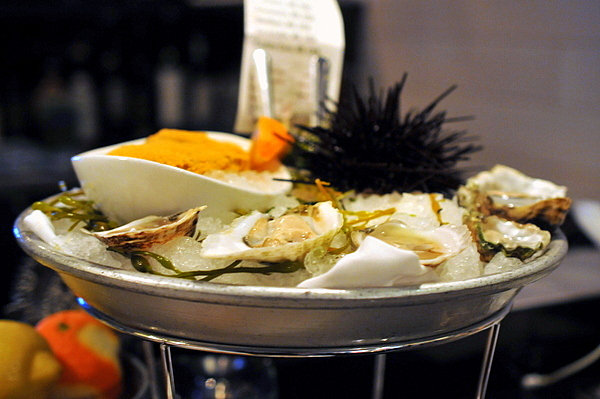 Black Miso Cod - japanese eggplant, adzuki beans, pickled ginger, thai basil
Black Cod seems to always be a good bet and LeFevre's version is no exception. The fish is buttery and flaky rife with sweetness accented by the miso sauce. The fish has a touch of char on the surface which adds an extra layer of flavor in the form of smoky charred fish oil. The base of starches were something of a mixed bag, while I liked the tender eggplant I wasn't a huge fan of the adzuki.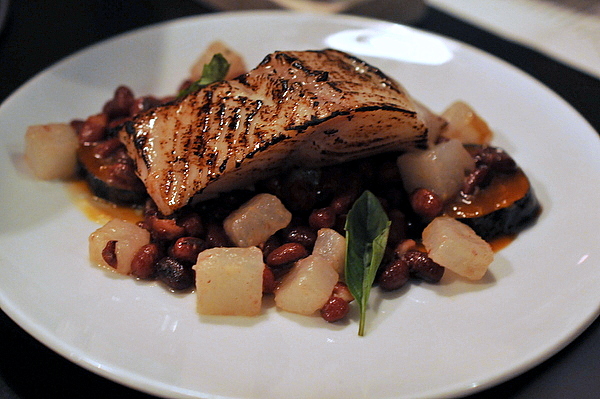 Hamachi - ponzu, avocado, red radish, serrano, shiso
Another classic combination, the combination of Hamachi, ponzu and chili has become fairly ubiquitous. Nothing to complain about here, the tender oily fish is heightened by the bracing zing of the ponzu while the Serrano and radish add some astringency to counter the heft of the fish and avocado.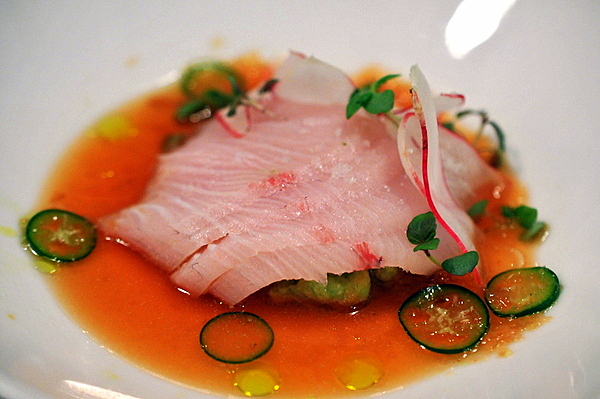 Nantucket Bay Scallops - uni, yuzu kosho, grapefruit, passion fruit, thai basil
The scallops came coated in a fragrant mix of sweet and citrus fruit that was quite pleasant but a bit overwhelming for the sweet bivalves. The uni helped balance things out with a streak of brash saline while the basil added a fragrant herbaceousness to the mix.



Mezcal Old Fashioned - mezcal, rosemary syrup, angostura and peychaud bitters, lime
When I asked for a mezcal based cocktail, Ken's face lit up. The Mezcal Old Fashioned was right up my alley, coupling multifaceted aromatics with an ever present sense of petrol and booze from the mezcal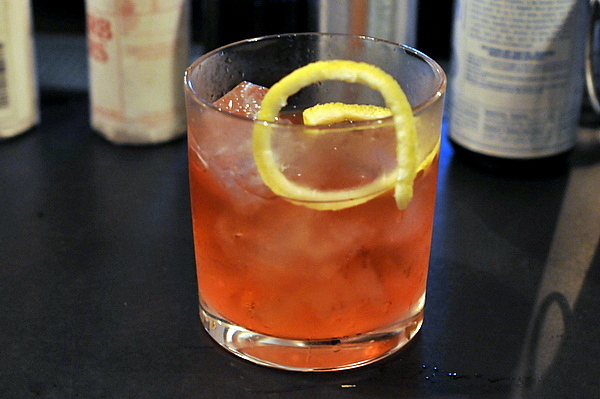 British Columbia Honey Mussels - housemade linguini, vermouth, grilled foccacia
I've always struggled with mussels and while I've come to enjoy heavier preparations that feature sausage, lighter preparations are still a bit of a challenge. The honey mussels certainly lived up to their name with plenty of sweet brine. The wine sauce the pasta came with was buttery rich, conveying a sense of savor and brine laced with a touch of chili. My companion likened the plump linguini and the heady broth to a gentrified chicken noodle soup.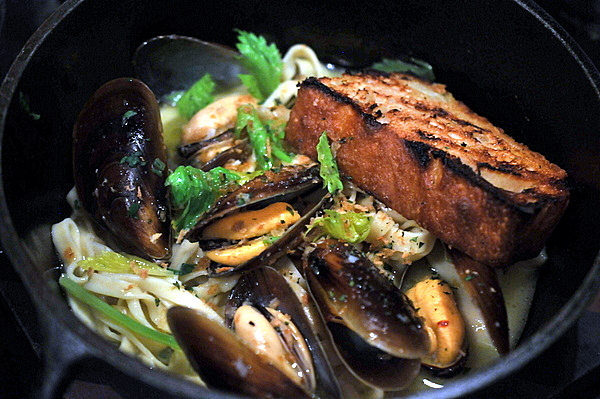 Maryland Blue Crab Cake - in-house dill pickles, whole grain mustard remoulade
There was plenty to enjoy about this crab cake. Pretty well pure crab meat the disc of crab meat can barely hold itself together. The base of creamy remoulade adds a light splash of bitterness and spice while the crisp tangy pickles are a wonderful foil for the crab.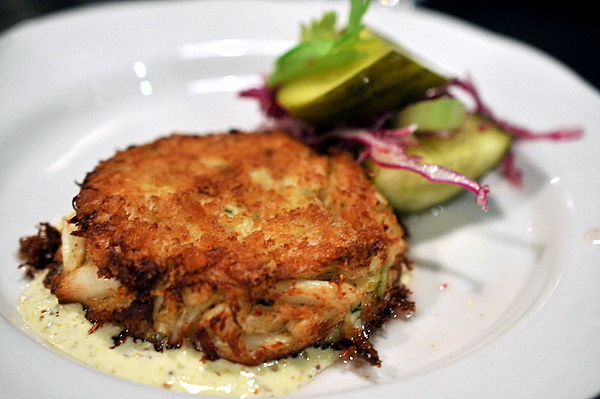 Grilled Octopus - cranberry beans, date-tomato ragu, preserved lemon, olive tapenade
The grilled octopus was surprisingly complex, soft and tender enveloped by a crisp charred layer. The octopus has a gentle flavor augmented by a sense of smoke and savor. The accompaniments are unnecessary but I loved the sweet sour interplay of the ragu and candied lemons as well as the contrasting weightiness of the beans.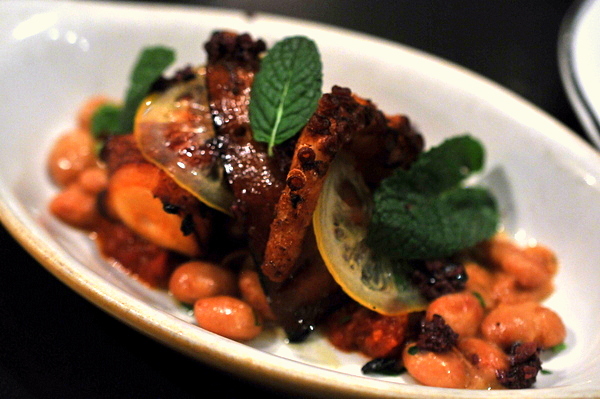 TBD - sazerac, cocchi americano, egg white, lemon, half and half, vanilla syrup
Designed to pair with the coming dessert this treat had a bit of texture to it thanks to the egg and cream. The flavor is subtly sweet with just the barest sense of rye and vinousness from the Cocchi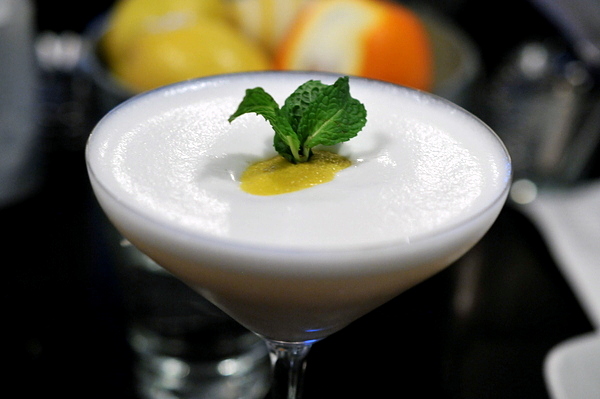 Pretzel and Chocolate Bread Pudding - salted caramel sauce and house made ice cream
Ken described this dessert as orgasmic and while I wouldn't go that far I did enjoy the combination of savory pretzel and rich chocolate. The caramel offers a similar dichotomy of flavor while the marscarpone ice cream adds an uplifting sweetness to the bread pudding.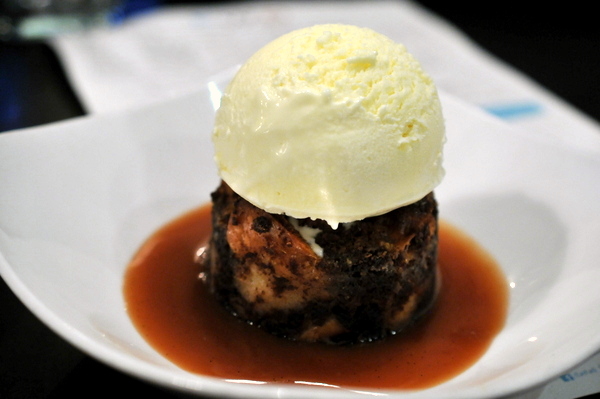 FwD offers an interesting mix of old school fare suited to a New England seafood shack and more contemporary dishes that feature a heavy Asian influence. The food is well-executed if a bit predictable, but judging by how packed the place was, LeFevre's food resonates with the South Bay crowd.