212 S Beverly Dr
Beverly Hills, CA 90212
(310) 859-3418

I came away from my first visit to Maude extremely impressed and with its concept of a monthly theme ingredient I knew I'd be back sooner rather than later. Being an absolute fiend for anything mushroom, I knew morels was an absolute must for me. Unfortunately word about Maude has spread rapidly and reservations have become nigh-impossible to get. Despite calling repeatedly as soon as the Morel menu was available, it was all I could do to get a 5:45 table for two.

Popcorn - Australian Winter Truffle
Our one snack for this meal was a dainty bowl of popcorn topped with morel salt that provided an earthy tone sharpened by the dusting of Australian truffle. I missed the procession of small snacks that preceded my previous meal at Maude but it was hard to complain about this earthy buttered popcorn.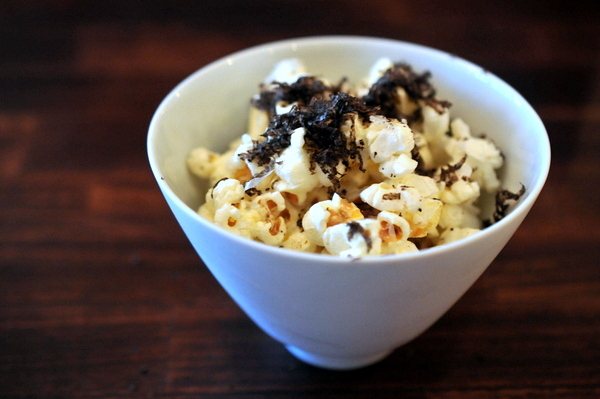 Risotto - Citrus Butter, Chicken Stuffed Morel
1992 En Tirage Extra Brut, Russian River Valley, Sonoma County, California
Our first proper course was a tiny bowl of risotto, little more than two mouthfuls really. Despite the small serving size, the rice was full of flavor rich creamy cheese with an ever so slight twinge of acidity. The morel was equally enchanting with a plump meaty texture and a rich savor from the ground chicken to compliment the morel's pungent musk. The accompanying wine was a domestic sparkler which I tend to shy away from but this had a bit of sherry-like oxidation along with ripe apples and a nutty toasty warmth.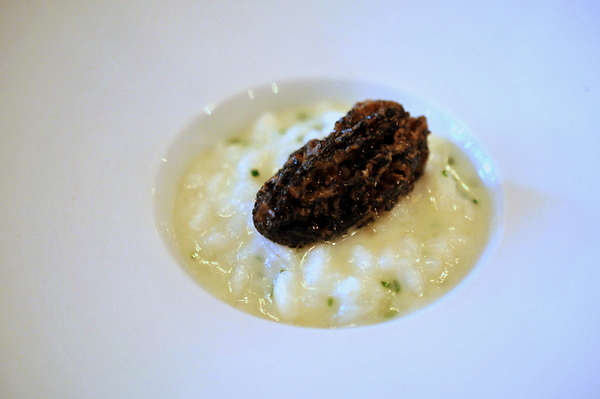 Kampachi - Avocado, Herbs, Passion Fruit Snow
2011 Wittmann, Riesling Trocken, Rheinhessen, Germany
The sashimi course showed an intriguing dichotomy between the earth and the fish. The herbs bring a bold flourish of basil while the passion fruit adds a lush juicy refrain. The dusting of togarashi provides a steady prickling burn.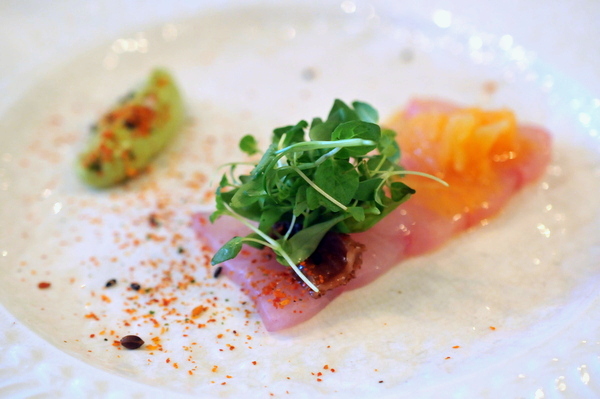 Soup - Rosemary, Oyster Crackers
Next up was a gentrified cream of mushroom soup. The thick creamy broth showed an earthy flourish and brown butter pungency coupled with a thick velvety texture. The oyster crackers bring a nice textural contrast while the tiny rosemary sprigs add just a touch of bitter herbaceousness.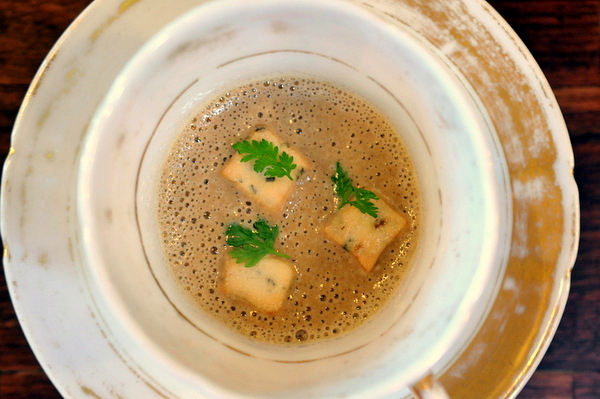 Scallop - Wild Garlic, Watermelon Rind, Roe
2011 La Conreria d'Scala Dei, Priorat Les Brugueres, Catalunya, Spain
The scallop was the only real misstep of the night. In terms of flavor the course was spot on, the gently sweet savor of the scallop amped up buy a foam of scallop roe. Similarly, the fragrant garlic and bright vegetal favas complimented the bivalve beautifully. Unfortunately, for all that the scallop itself was dreadfully overcooked making the texture stringy and rubbery. The wine was a surprisingly well done white Grenache with heavier notes of butterscotch and honey, balanced with sufficient citrus fruit and minerality.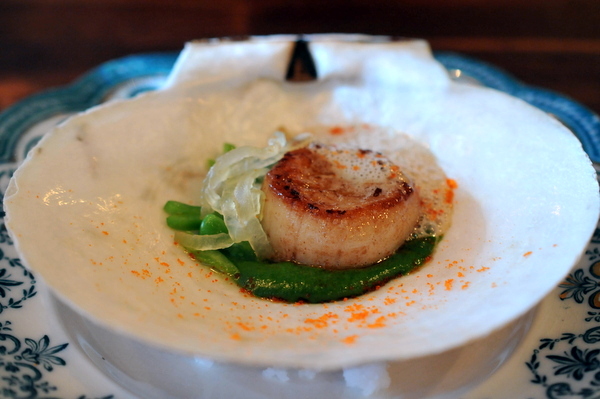 Duck Egg - Summer Squash, Horseradish, Smoke
2011 La Conreria d'Scala Dei, Priorat Les Brugueres, Catalunya, Spain
The meal got right back on track with this next course but then again I've always been a soft touch for runny egg yolks. This one came on a bed of verdant summer squash puree and was imbued with a smoky flavor. The piquant tang of the horseradish was a nice counterpoint to the creamy roundedness of the yolk while the bits of onion crumble provided a bacon-bits like savor and texture.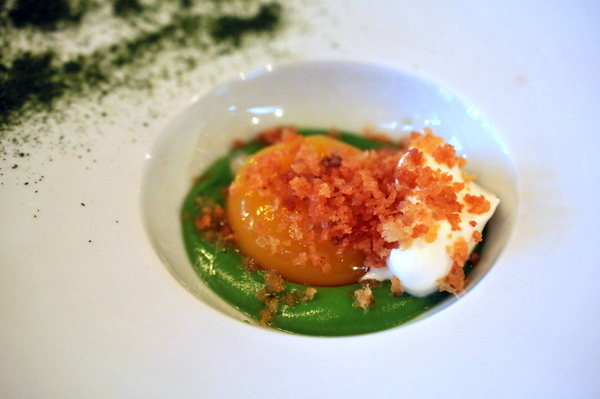 Raviolo - Consommé, Truffle Crumble, Watercress
2009 Passopisciaro, Passopisciaro, Sicily, Italy
The sixth course consisted of a dense meaty raviolo stuffed with scallop mousseline. The dumpling has a rather monolithic generic savor but the consomme provides a pervasive aroma of fresh earth while the bits of crumbled truffle tuilé show both ritzy savor and a touch of fragrant truffles. The leafy watercress adds a focused bitter austerity that tempers the rest of the dish.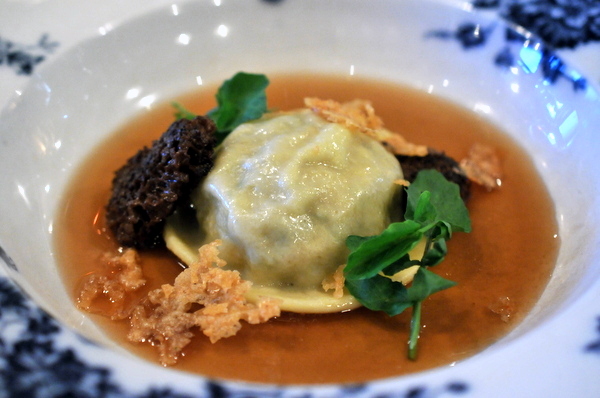 Pork Belly - Pickled Morel, Cilantro Jalapeño Puree
2009 Passopisciaro, Passopisciaro, Sicily, Italy
The braised pork belly was the standout course of the evening. The lean meat is tender and succulent while the skin has a fatty savor and crisp texture. The gravitas of the pork is lightened considerably both the simple yet effective application of pickled vegetables and morels.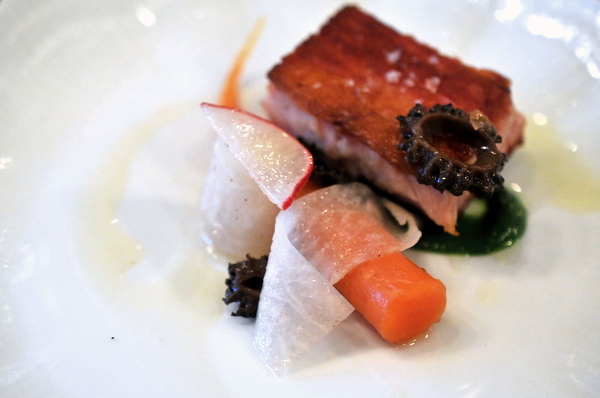 Lamb - Green Garbanzo, Eggplant, Leek
2011 Rosi Schuster, Zweigelt, Burgenland, Austria
Our final savory was a beautifully cooked lamb tenderloin. With the barest hint of game this could have easily passed for beef coupled with a whiff of herbs and mint. The gentle savor of the meat made the all the accompaniments that much more apparent from the buttery heft of the poached morels, to the pea-like verdance of the garbaznos and the smoky relish from the charred leek and eggplants.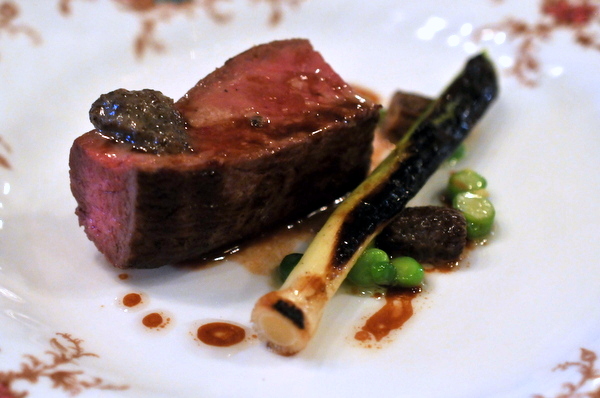 Taleggio - Onion, Charred Peach, Nasturtium
Our cheese course consisted of a soft ball of creamy melty Taleggio. Despite its fairly strong aroma, Taleggio tends to have a mild flavor as well as a slight bitterness that went well with the jammy flavor of the charred peaches and the savor of the onion.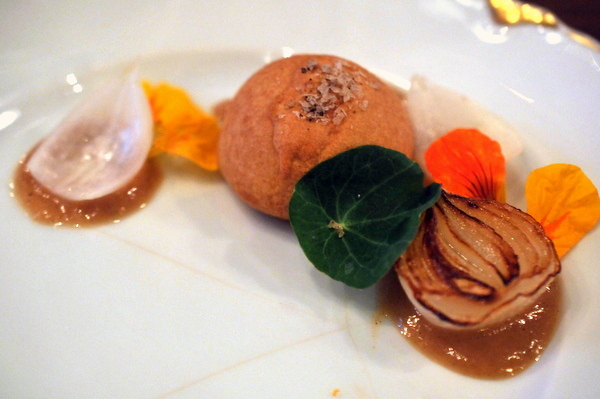 Ice Cream Bar - Coffee & Morel
Our pre-dessert consisted of a house made ice cream bar. As far as ice cream bars go these were sublime, perfect balance between chocolate shell and creamy vanilla. The coffee nibs accentuate the chocolate's bitterness and add a nice bit of crunch though the morels didn't really come through on this dessert.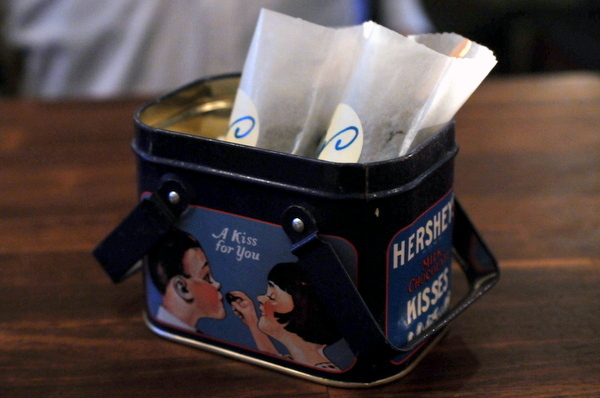 Black Forest Floor - Dark Cherry, Chocolate, Hazelnut
2005 Domaine Piétri-Géraud, Banyuls Cuvée Méditerranée, Languedoc, France
I've had plenty of mushroom based forest floor savories but this was my first time having a sweet version. Indeed the "floor" is made up of dense chocolate cake with bits of cooked bing cherries mixed in. Down below is a sugary caramel cream while the surface also showed nice toasty notes from the crunchy hazelnuts. Classic flavors served in a fun texturally diverse little bowl.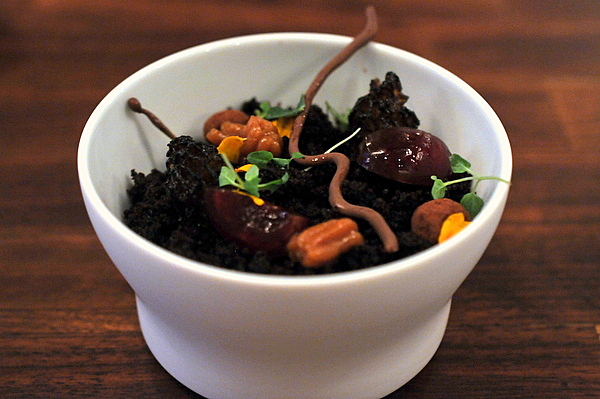 Mignardises - Tropical Financier, Raspberry & Dark Chocolate Truffle, Strawberry & Chartreuse Hard Candy
Our meal ended with three creative little treats. First up was a ball tropical "financier" though the dessert lacked the traditional shape I quite enjoyed the mix of coconut and pineapple. Next up was a classic raspberry and dark chocolate concoction tasty but not particularly interesting. Lastly we ended with a hard candy that showed both a touch of berry sweetness and a gentle but persistent booziness from the Chartreuse.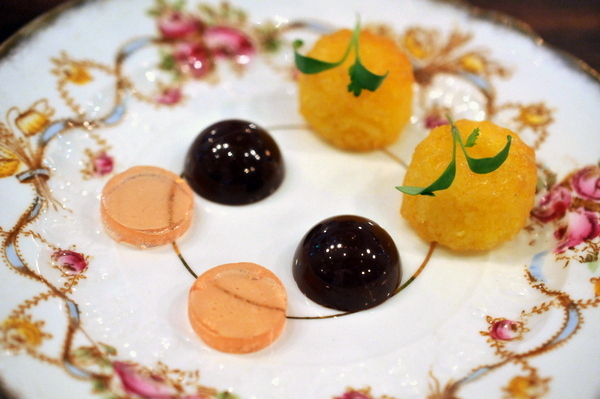 So far Chef Stone is 2 for 2. Despite being the first night of a new menu, the overall experience from the food to the service was all quite polished and on point. As was expected, the Morel menu was noticeably heavier than the citrus menu. I think the deeper earthy flavor of Morels is less adaptable than citrus, but Stone integrates the prized fungus into his dishes very effectively. Time and fortune permitting I'd love to come back towards the end of the month to see how the menu has evolved.