9669 S Santa Monica Blvd
Beverly Hills, CA 90210
(310) 275-2914

I've long considered Totoraku the pinnacle of yakiniku, but the secrecy and artificial exclusivity has always been somewhat off-putting. When I heard that Yazawa, a famous Japanese purveyor of Wagyu beef had opened up shop in Beverly Hills I had high hopes they would give Totoraku a run for its money.

Unlike Totoraku, Yazawa serves beef from a variety of sources including Snake River Farms for its domestic cuts and Wagyu from all over Japan's beef producing regions. Also the restaurant maintains an air of rustic elegance with weathered dark wood paneling and dark leather booths to match.

Uni Wagyu Tartare - Truffle Oil
It goes without saying this dish was absolutely delicious but it almost doesn't seem fair, pairing uni, Wagyu and truffle. In terms of flavor the uni and truffle definitely dominate, but the meat adds a complex textural element that is at once slick but with a fine grain that doesn't show up in the cooked meat.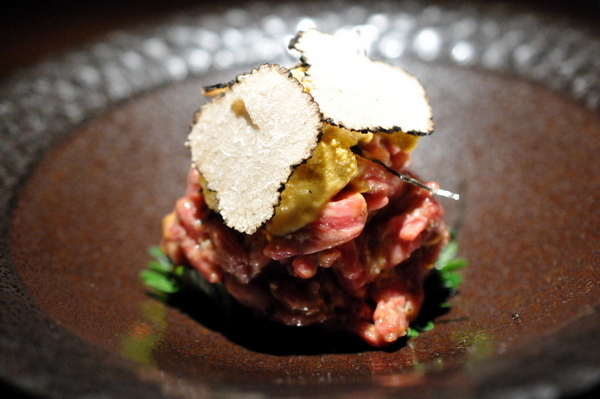 Assorted Kimchi - Radish, Chinese Cabbage, Mountain Potato
Next up was a pretty traditional plate of kim chi though the seasoning used to ferment the vegetables had a bit more bite than I was expecting. The radish and cabbage were pretty traditional but the mountain potato was a nice change of pace, almost like a savory Asian pear.



Toro Sashimi
I never thought I'd say this but I guess meat can be too rare but I guess it is possible. The meat certainly looked beautiful, but it was dense and utterly flavorless like chewing on oily clay. The soy and wasabi help superficially but don't really remedy the issue.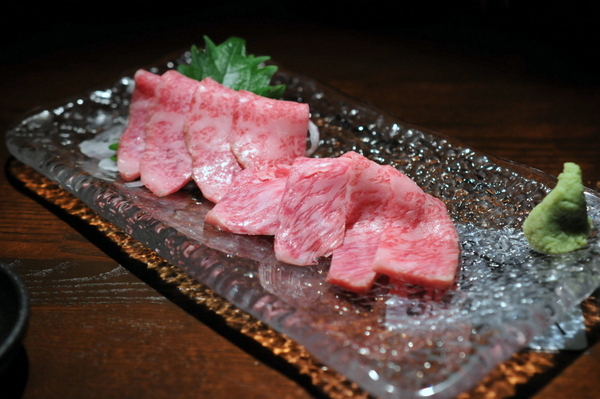 Wagyu Terrine
I was a bit skeptical about the idea of a Wagyu terrine thinking that the cooking would render out the best parts of the delicately marbled beef, but the result was effective if a bit non-traditional. The meat had a tender corned beef-like consistency with a rich buttery flavor and lingering essence of stewed meat.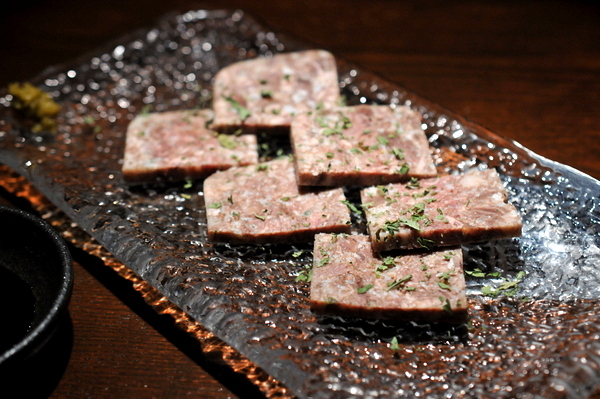 Shishito
This was a textbook Shishito appetizer; the pepper's verdant smoke wsa augmented by bonito shaving and savory garlic chips.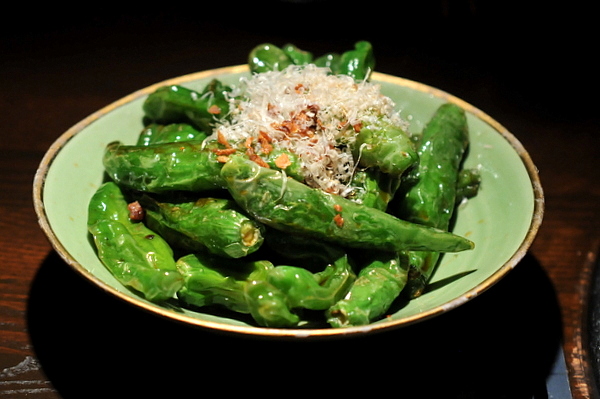 Braised Beef Tongue - with Traditional Japanese Marinade
I've typically seen beef tongue in lengua and yakiniku with little variation in between. This was an intriguing compromise. The tongue had a tenderness thanks to the braising but with a pleasing snap at its pinkish core.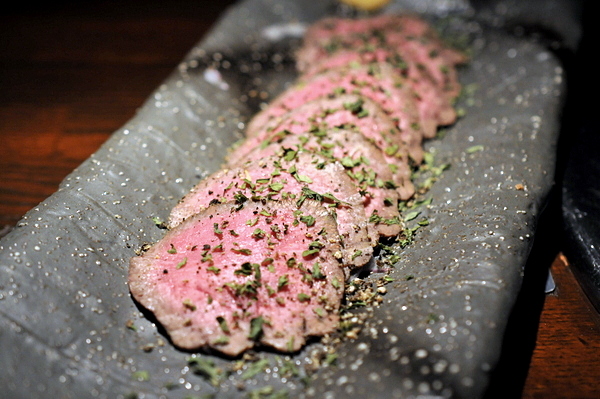 Wagyu Roast - with crispy onion and Japanese Balsamic
Yet another wonderful cooked Wagyu preparation. The moist Wagyu had the hearty flavor of a traditional roast beef with a heady savor from the onion and a touch of countervailing tang from the balsamic.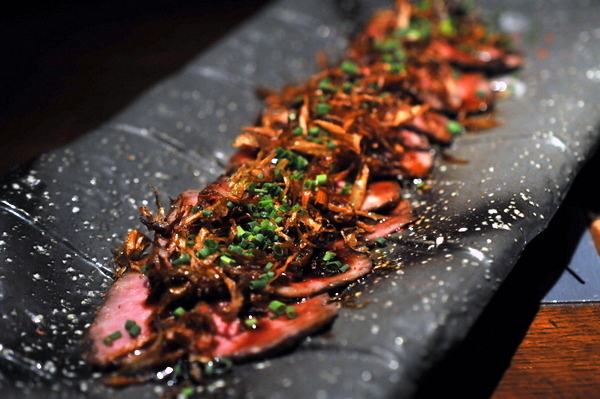 Wagyu Bresaola - dry aged and salted
The Bresaola proved to be the table favorite among a slate of very strong beef appetizers. The curing gives the beef a deep burgundy color and beautifully dense tenderness. The higher fat content and brine makes the flavor aggressively salty and rich making the tomatoes and arugula the ideal compliment to the meat.



YAZAWA Cut Tongue - Sliced Beef Tongue (US Beef)
Yazawa serves their tongue noticeably thicker than most other yakiniku restaurants. Consequently, the meat can stand more time on the grill resulting is a more multifaceted texture with some nice crispness and char on the edges yet still snappy at the core.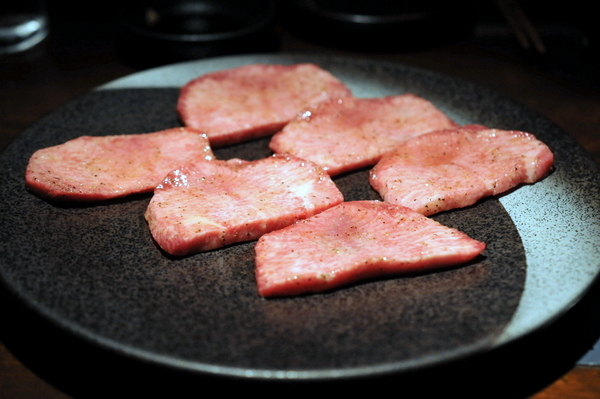 "YAZAWA-YAKI" - Sirloin (Japanese Wagyu)
This is the restaurant's signature cut and at $28 per slice the only one where the staff makes a point to cook the meat for their guests. The result is sublime, a silky lissome sheet of perfectly marbled beef that balanced the rich oily fat with plenty of beefy heft. The meat comes in a sweet marinade and egg dipping sauce but can be enjoyed on its own.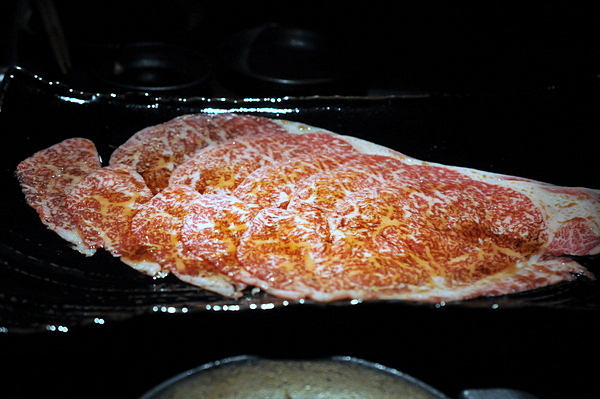 YAZAWA Cut Harami - sliced outside skirt (US Beef)
Our second round of beef started with the outside skirt steak from Snake River Farms. The meat has an appreciable heft and much firmer grain than its Japanese counterpart though the marbling isn't quite as well integrated.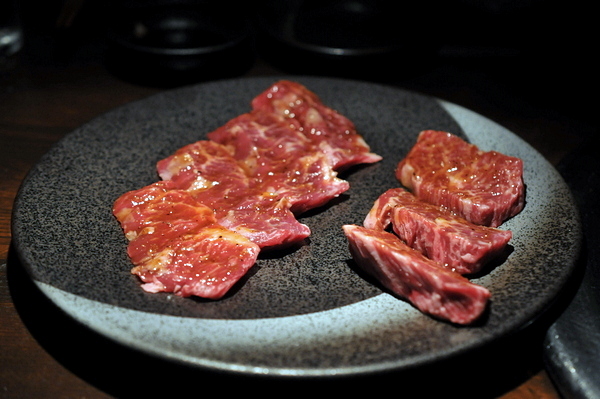 Misuji - Brisket (Japanese Wagyu)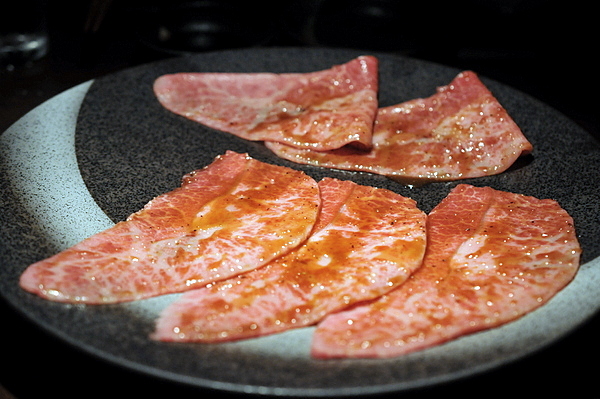 Yazawa Cut Kalbi - sliced short rib (US Beef)
Naturally we couldn't leave without trying the classic Kalbi. The meat is buttery rich and generally tender though a bit more sinewy than the rest of the courses.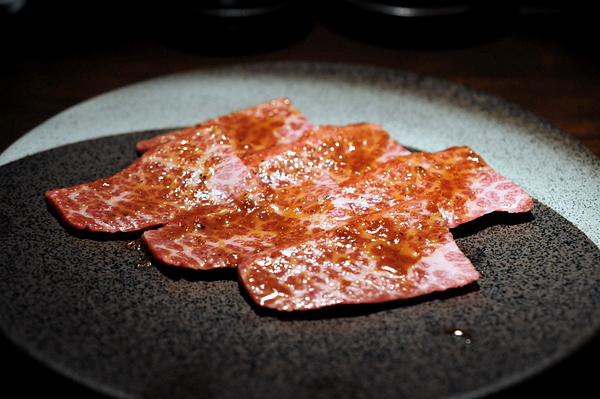 Rib-Shin - Rib-eye (Japanese Wagyu)
We were advised to cook the rib-eye three seconds per side. Personally I found this a bit short as the fat hadn't quite rendered and the exterior hadn't picked up any caramelization. At 5 seconds per side, the meat picked up much more depth, smoke, and tenderness.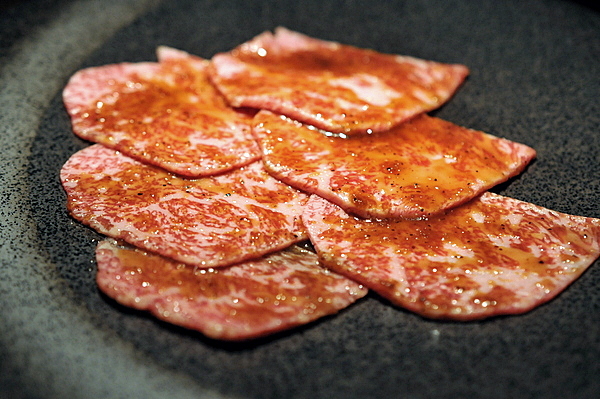 Pork - sliced kurobuta pork
While Yazawa's focus clearly is on high quality beef the restaurant does offer a couple other proteins. The pork was far denser than any of the cuts of beef but remained fairly tender and picked up a nice bacon-y char as the fat rendered.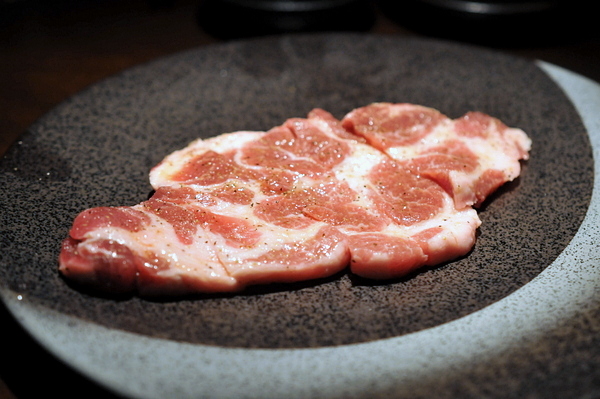 Ramboso - Round (Japanese Wagyu)
Working our way down the marbling scale we decided to end our night with the Round steak. Markedly leaner than its the texture is still supple and tender though a bit less overtly rich than the Japanese cuts we had earlier.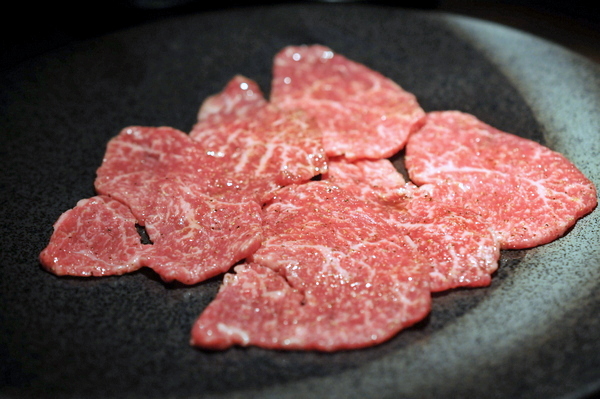 Uni Gyu Toro Don Bowl - uni and minced raw japanese wagyu on rice
This was basically a rehash of the tartare we had earlier but served on a bed of warm rice. As with the tartare, the beef plays a supporting role to the aromatic decadence of the urchin and truffle. The addition of pickled radish was a nice touch, crunchy and tart, they kept the dish from feeling overly heavy.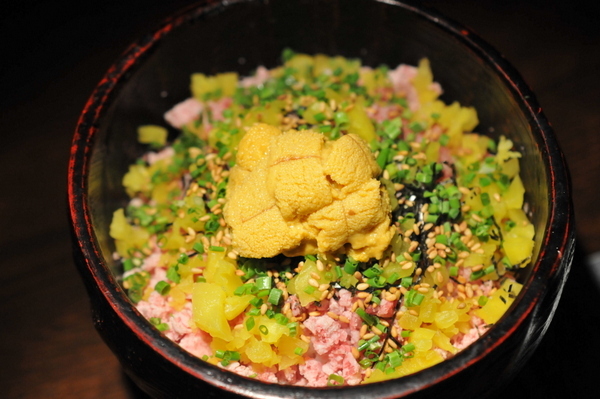 Japanese Wagyu Curry Rice - minced japanese wagyu curry rice with an egg
Classic Japanese curry, which would be great but I've never cared much for curry rice. The meat has a hearty stew like flavor and it was hard to really notice what if anything using Wagyu beef did to help the dish.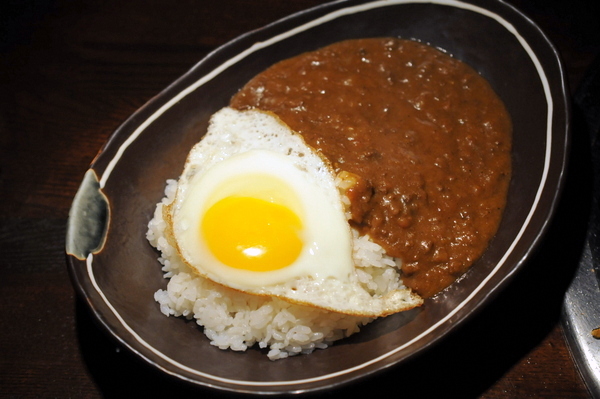 Oxtail Soup
I loved everything about this dish, from its alabaster color to its slightly creamy consistency and rich meaty savor. The sprigs of fresh parsley provided a verdant countervailing bitterness while the inclusion of rice lent the dish a nice solidity.



Garlic Japanese Wagyu Rice - served in a clay pot
Our server recommended this dish and I'm thankful we took him up on his advice. The rice and beef are served in a sizzling pot a la bibimbap that really brought out the flavor of the fried garlic while softening the meat and lightly toasting the rice, easily the best of the rice dishes and probably the best clay pot rice I've ever had.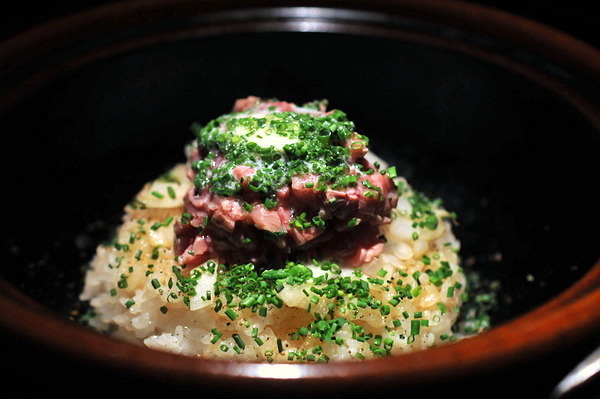 Cold Tan Tan Noodle - sesame and chili ramen
I'm not typically a fan of Dan Dan noodles, but this version wasn't bad. The noodles themselves were cold and dense while the characteristic peanut flavor is replaced with sesame and tempered by a surprisingly healthy dose of chili.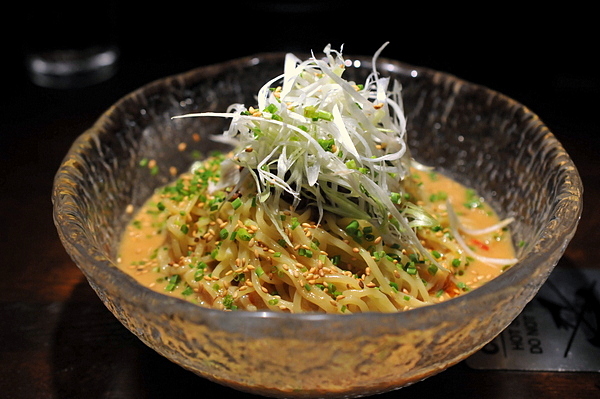 My only real complaint was the $36 we were charged for tea. At $4 a cup, please inform guests that refills aren't free and don't replace half-finished cups without asking first. Our meal came to north of $125 per person so the additional $24 for refills just feels excessive.

In terms of food, Yazawa met my expectations and then some. The beef was stellar from start to finish; with each cut having its own distinctive character and the appetizers and rice dishes were equally, and in some cases arguably even more impressive. In terms of service the restaurant is clearly a step above most other yakiniku or Korean BBQ places, with the staff changing the cooking surface in between each cut of beef to keep one cut from contaminating the next. The wine list was a bit sparse but as corkage is an option, I highly recommend diners skip the wine list (and the tea) and bring their own wines to pair with the heavenly meat.