86 Pine St #1
Seattle, WA 98101
(206) 441-8844

Having spent the last 46 years on the cutting-edge of the Seattle sushi scene, Shiro Kashiba is without a doubt Seattle's godfather of sushi. Back in 1970, Shiro established the first full service sushi bar at Maneki a Japanese restaurant that dates back to the turn of the twentieth century. After working there for a couple of years, Shiro struck out on his own and opened his first restaurant, Nikko. He ran the restaurant for the better part of a generation before selling the name to the Westin in 1992. He remained with the restaurant for little more than a year before the corporate grind drove him tender his resignation. In 1994 he started the eponymous Shiro before feeling the 20-year itch and retiring again in 2014. Apparently retirement didn't sit well with the venerable Kashiba and it was little more than a year before there were rumblings of a new restaurant in the works and in late 2015 Sushi Kashiba was born.

Situated one block north of the Pike Place market the restaurant has a small a la carte seating area as well as a comfortable well appointed bar, but to get the full experience omakase at the sushi bar is a must. Seating at the bar is strictly first come first serve so though I recommend you show up before the restaurant opens or be prepared to wait.

Binnaga - Albacore Tuna
Akami - Lean Bluefin Tuna
Zuke - Marinated Bluefin Tuna
O-Toro - Fatty Bluefin Tuna
Omakase meals typically start with lighter fishes like halibut or snapper but Kashiba chose to open with a quartet of tuna. Starting on the right, we have a tender slab of albacore, the delicacy of the fish's texture is heightened by it's abundant oiliness. Besides the Albacore was a piece of classic bluefin tuna, the fish was on the lean and steely side with a soft bite of wasabi on the finish. Next up was marinated tuna, with a softer suppler texture and intrinsic salinity, this was was far superior to the standard Akami. Last but certainly not least was the toro; utterly different from its leaner cousins, the decadent oiliness suffuses the palate and lingers long after the tasty morsel is gone.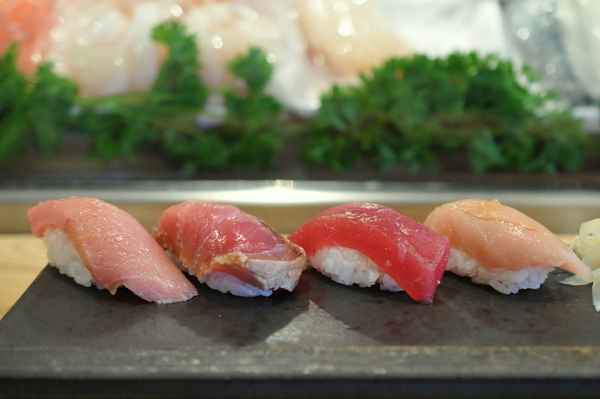 Madai - Snapper
Hirame - Halibut
Engawa - Halibut Fin
The snapper had the classic mild flavor, but was a bit flabby for my liking. The halibut was more appealing with a touch of crunchy firmness and a bold spicy bite from the pickled radish. The Engawa was by far the best of the trio with a dense muscular chewiness and deeper flavor not seen in the other two white fish nigiri.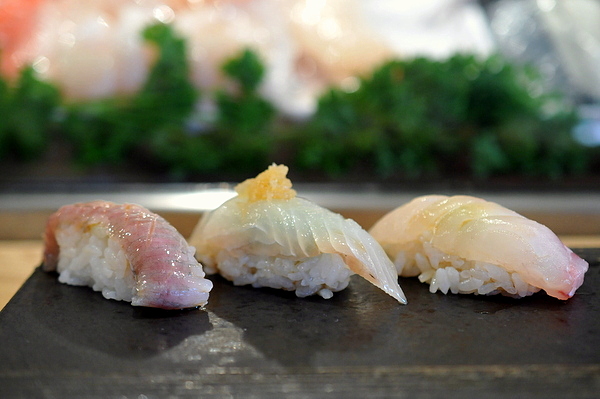 Beni Jake - Sockeye Salmon
Sake - King Salmon
The duet of salmon opened with a richly colored sockeye salmon, which was markedly leaner with a touch of steeliness instead of the buttery sweetness of the more common King Salmon. Kashiba's preparation of Sake enlivens the ubiquitous sushi fish with a crisp succulent sprig of sweet onion and a nutty strip of nori.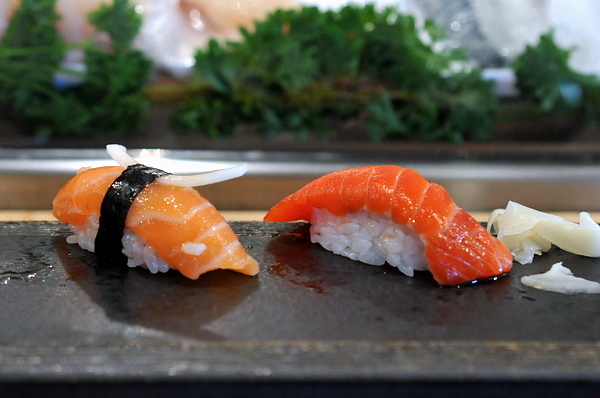 Sake Toro Tataki - Seared Salmon Belly
If the regular salmon had plenty of oily goodness, the belly raises things to absurd levels, but the searing helps burn off some of the oil and infuses the fish with a rush of heady smoke.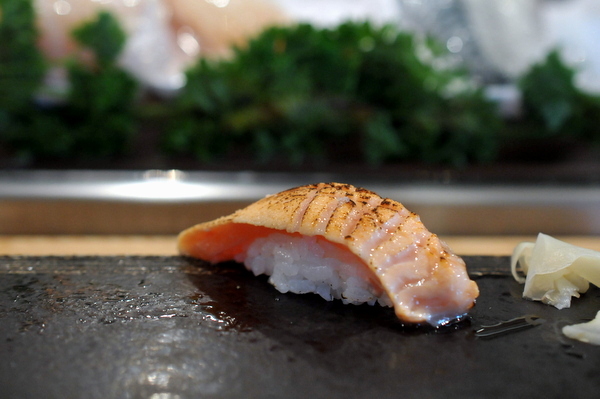 Mirugai - Giant Clam
Hotate - Scallop
It would be a sin to visit Seattle and not have fresh Mirugai. Kashiba's preparation has a multifaceted dense yet snappy texture as well as a perfectly balanced sweet saline tension. The Hotate was a little more forward with a straightforwardly buttery sweetness as well as a silky soft texture.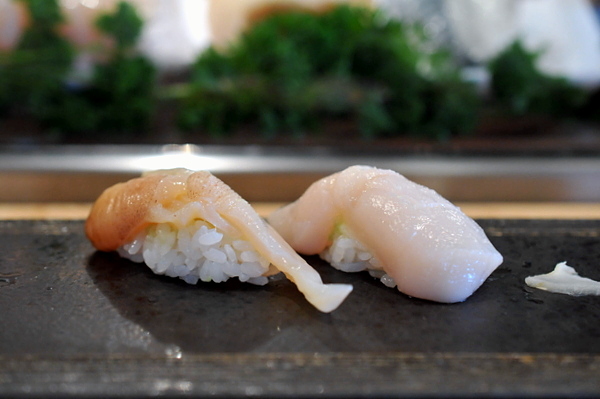 Saba - Mackerel
Sawara - Spanish Mackerel
Aji - Jack Mackerel
I was expecting plenty of oily goodness from the trio of mackerel and the fish certainly didn't disappoint. Starting from the right was basic Mackerel, texturally the leanest of the three fish, with a touch of sliminess around the traditional dense slightly dry mouth feel. The Sawara had a smoked hammy flavor and consistency with the pliant chewy adding a contrasting textural note. The Aji was my favorite of the trio, snappy and light the Aji also evidenced the most nuanced slate of flavor.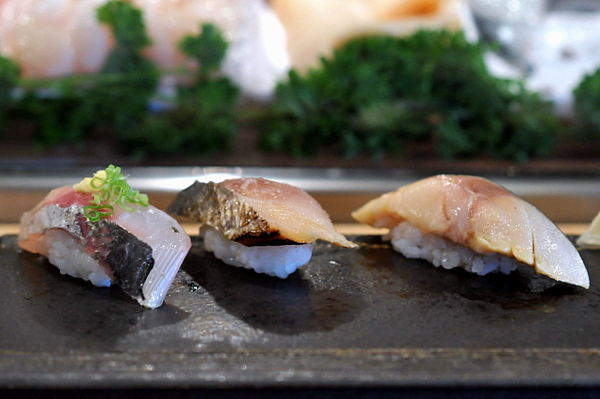 Wakasagi - Ocean Smelt
I actually mistook this for Sayuri when I first saw it but this was actually a form of smelt. The fish has a pleasing jellied texture and mild flavor that worked quite nicely with the spicy grated ginger.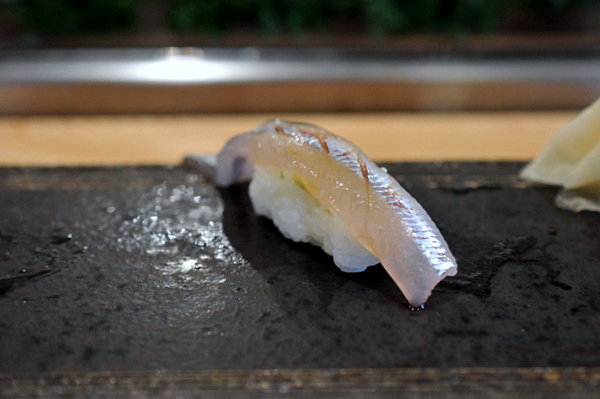 Nishin - Herring
Having finished the basic omakase our itamae began taking requests. When we asked for Kohada he informed us the season had passed but he offered us their house marinated herring instead. The fish has the same pungent flavor of vinegar and fish oil but with a softer more succulent texture.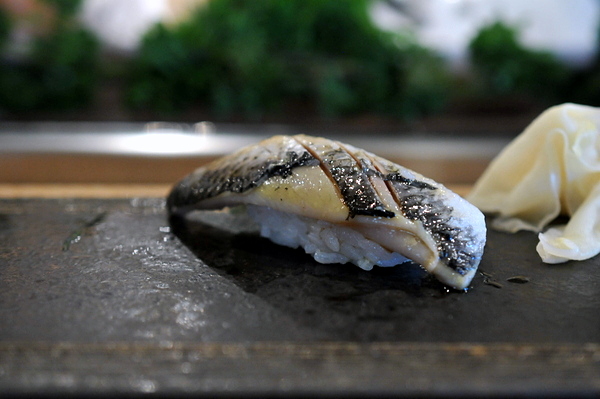 Amaebi - Sweet Shrimp
Live Amaebi prepared a la minute is almost always a standout and this certainly didn't disappoint. The shrimp exhibited a lusciously crisp creamy texture along with a sweet clean salinity, sadly the overall preparation was a bit sloppily done. Loosely packed rice had been an ongoing issue throughout the night but it was particularly bad here with half the rice falling back onto the plate as soon as I picked up the nigiri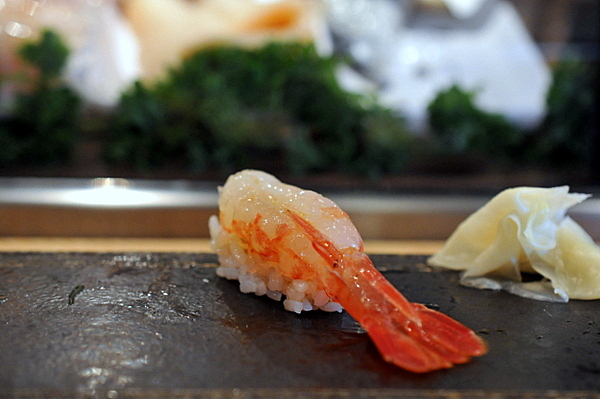 Uni - Sea Urchin
Ikura - Salmon Roe
Next up was a classic duet of roe. The uni hailed from Hokkaido and golden pouches of creamy sweet richness left me wanting more. The Ikura was served a bit warmer than I was used to but despite the temperature, still had a delightful pop and classic smoky flavor.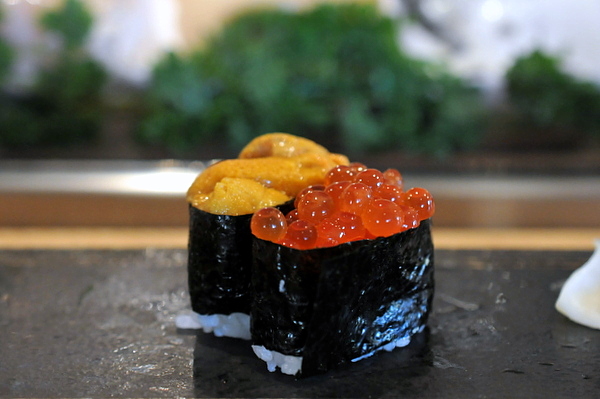 Hamachi - Yellowtail
Kampachi - Amberjack
In my sushi infancy Hamachi was my go to fish though I hardly ever order it anymore. The classic sweet oily twang reminds is still quite appealing but the soft fleshy texture feels a bit one-dimensional. The Kampachi was definitely more impressive on that score offering a slick and snappy texture accompanied by a similar but milder flavor as the Hamachi.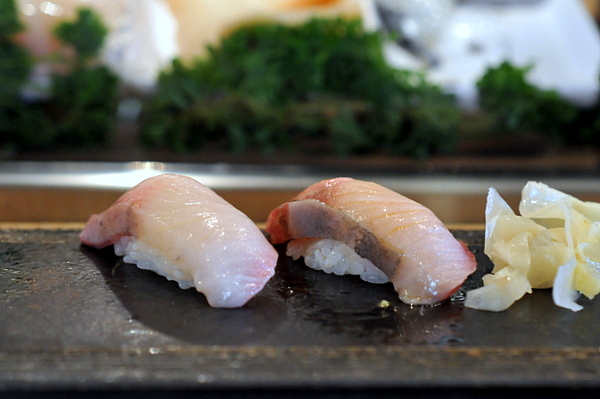 Tokobushi - Abalone
This was my first time having Tokobushi, a species of abalone that tends to be smaller than the more commonly found Awabi. The Tokobushi has a softer more pliant texture and milder flavor that lends itself well to showcasing the dashi it was cooked in.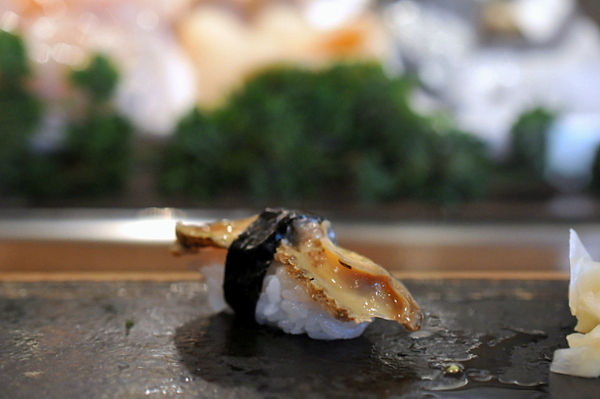 Taraba Gani - King Crab
Zuwai Gani - Snow Crab
For our final savory we opted for nigiri Deadliest Catch style with a delectable duet of king crab (right) and snow crab (left). I tend to favor King Crab over Snow Crab and Kashiba's offerings continue that trend. The Taraba Gani has a meatier texture and its flavor tends to be a touch sweeter where the Zuwai Gani has a leaner stringer feel and earthier flavor.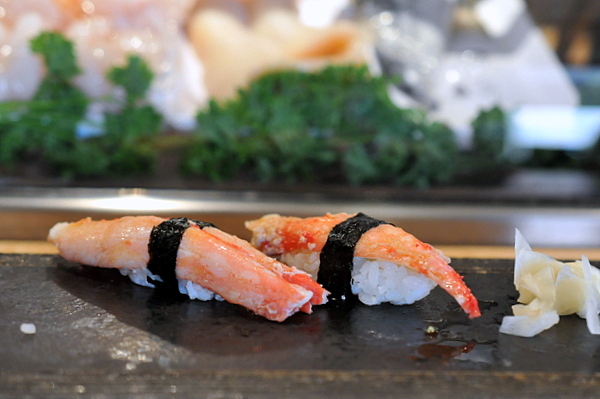 Tamago - Egg
The meal closed out on a strong note with a dense cake-y tamago that deftly balanced the smoky-sweet eggy flavor with a slight hint of savoriness.



Given Kashiba-san's pedigree and reputation I was expecting a transcendent experience and came away a bit wanting. Perhaps my expectations were unrealistically high as the fish quality was consistently very good and aside from the overly loose rice there weren't any overt flaws. Ultimately, I have to say that a trip to the sushi bar at Kashiba is a no-brainer for any sushi fan visiting Seattle.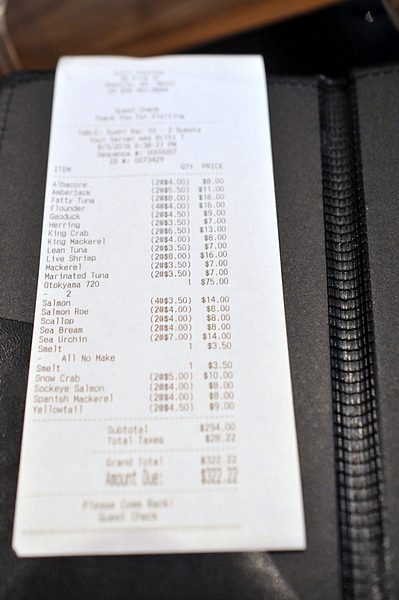 My girlfriend and I had planned to have back-to-back dinners at Sushi Kashiba and Shiro. Having missed the first seating at Shiro, we opted to grab a small bite at Kashiba to tide us over.

2016 Yamazaki Sherry Cask
I almost couldn't bring myself to order a shot of the Yamazaki Sherry Cask, but I figured this might be my only opportunity to try it. This extremely limited bottle became even more elusive after it was named World's Best Whisky by Jim Murray in 2015. This year a mere 26 of the 5,000 bottles released were shipped stateside and apparently Kashiba-san had the pull to score one from his distributor. The deep reddish color and slightly viscous texture are in keeping with an aged Sherried Whisky while the aroma offered notes of syrup and dried fruit the palate has a nuanced restraint that shows off the sherry without being drowned in it. What surprised me most about the drink was how much my girlfriend, who typically likens Whisky to paint thinner took to this dram. However at $2,000 a bottle, I don't feel inclined to indulge her budding interest in Whisky any further.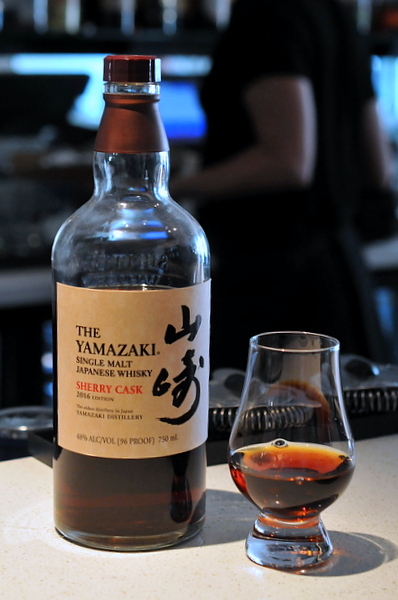 Oyster on the Half Shell - Kumamoto oysters sprinkled with shaved frozen ponzu vinegar
Being in Seattle the Kumamotos were an absolute must. Fished fresh from the local waters the sweet briny morsels are coupled with a punchy tang from the ponzu vinegar.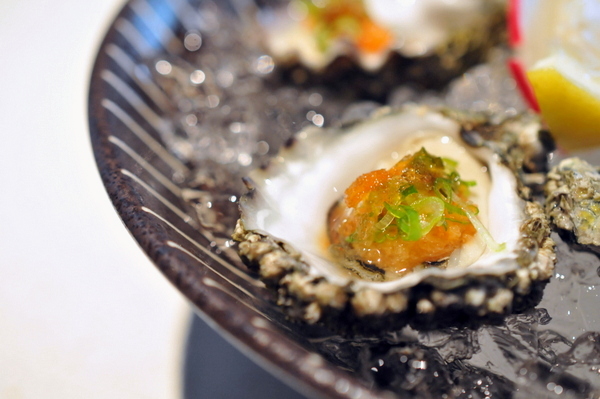 Agedashi Tofu - Lightly fried tofu served with grated white radish and grated ginger and bonito flakes in a savory dashi broth
One of the more elegant preparations of Agedashi tofu I've had in a while. The tofu was brilliantly soft while the broth had a brooding weighty savor perked up by the bitter daikon and bite of the ginger.