Renee and Henry Segerstrom Concert Hall
615 Town Center Dr, Costa Mesa, CA 92626
714-429-7640

Given my impending visit to this restaurant next week I thought it might be nice to repost my first tasting menu experience. I hope the kitchen has achieved a level of consistency since our last visit.

Restaurant empires tend to get a reputation as sellouts, more concerned with profits than the pure essence of cooking. I have to say whatever the Patina Group is doing they have found the perfect compromise. This is the third of their restaurants I have tried, the first two being Catal and the flagship Patina and I have enjoyed all three. This is actually my second time dining at Leatherby's Cafe Rouge and I have to say it lived up to my expectations far more than my first visit.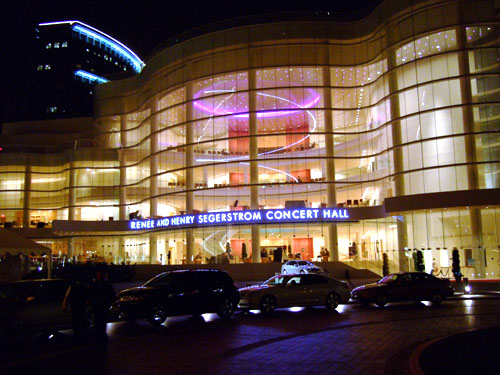 My friend and I had a late dinner at Leatherby's after a long evening of shopping at Bloomingdales. It was quite the successful man-date. We showed up to a nearly empty restaurant, a nice change of pace from the crowded noisy restaurants we are accustomed to. With so few diners, it seemed every member of the staff came by to perform one function or another.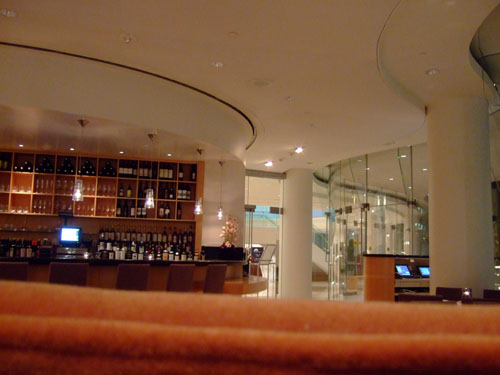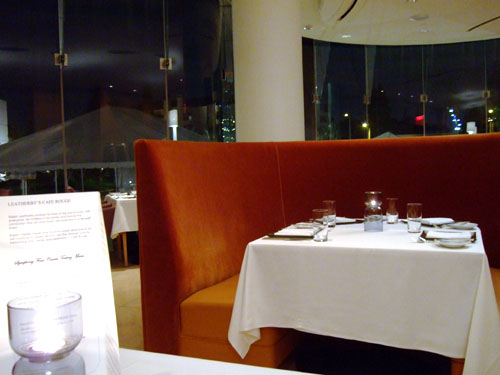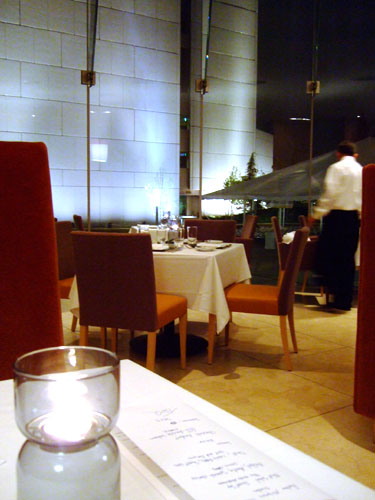 When we sat down, we immediately decided on the tasting menu. Oddly the tasting menu had changed drastically from a genuine gourmet tasting menu to a speedy pre-theater dinner (logical given the restaurant's location in the Segerstrom Concert Hall). Since we came so late the staff asked if we would like a more complete tasting menu than, much to our delight, proceeded to whip up a totally different menu for us. Although this may have also been due to the fact they had a very busy pre-theater and were out of many of the ingredients for the printed tasting menu. Naturally, a fine menu deserves a good wine pairing. Given the spontenaiety of the menu, there was no time to write up a formal wine pairing and we did not get the precise list.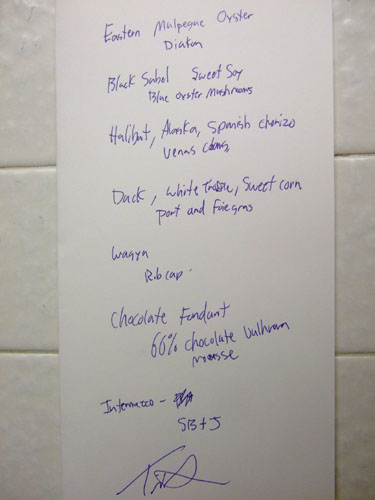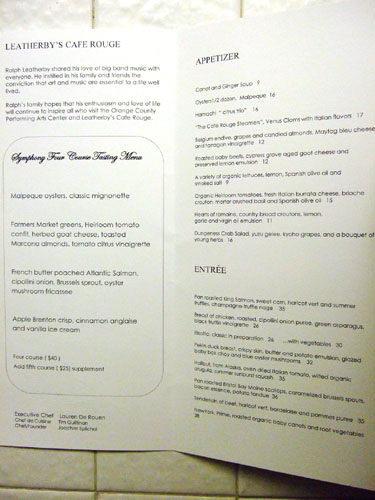 Eastern Malpeque Oyster - Daikon Mignonette
The amuse was a single oyster topped with a light daikon mignonette. The oyster was a significant departure from the norm, with a much lighter briney flavor. Very light and refreshing, a pleasant treat to start the late night. The wine paired with this was a daiginjo sake which was very floral and sweet initially but became a bit harsher after the oyster.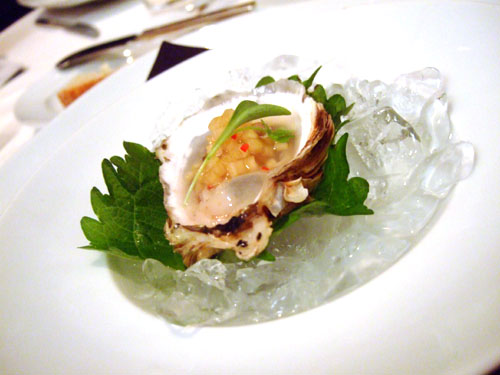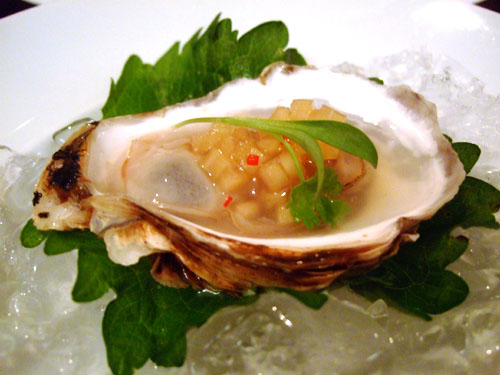 Black Sable - Sweet Soy, Blue Oyster Mushrooms, Bok Choi
A nice tender piece of fish, perfectly cooked with tender yet firm flesh that flakes when pressure is applied. The fish was cooked in a very Asian style with sweet soy and a topping of julienned ginger and onion. The chef later told us this fish is often misnamed butterfish or black cod making me thing the famous black cod with miso is actually black sable. This fish was also paired with the sake, a sensible choice given the Asian flavor, unfortunately I again found the wine harsher and less palatable after the food.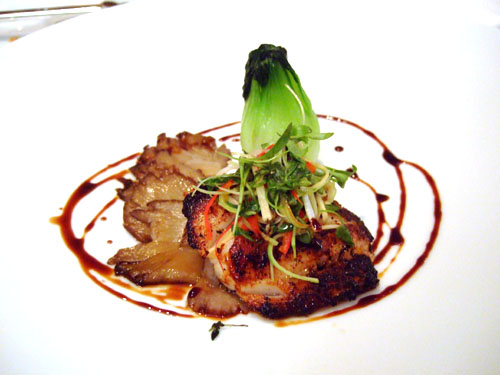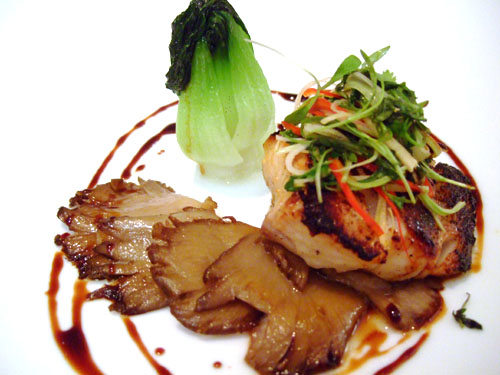 Alaskan Halibut - Spanish Chorizo, Venus Clams
An interesting choice the chef made halibut, spanish style with a tomato and pepper sauce. Halibut is always one of those fishes that worry me, sometimes perfectly soft and beautifully done, other times dry and stringy. Luckily, this happened to be one of the former. I tend to shy away from Spanish preparations but this was quite good. The chorizo wasn't overpowering and the clams were very clean and firm, although I did get a bite of shell once. The wine paired with this was an Italian white, that was fruity on the nose but very nice and dry on the palette. The chef later explained halibut is a difficult fish to keep for extended periods because the natural juices tend to flow out very quickly. He actually feared the pieces he sent us might be overly dry but was surprised to learn that was not the case. I mentioned the horrific experience my girlfriend had and he apologized but rationalized it saying sometimes the demands of business compromise the purity of the cooking.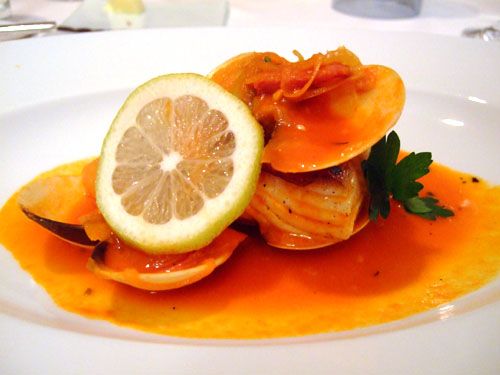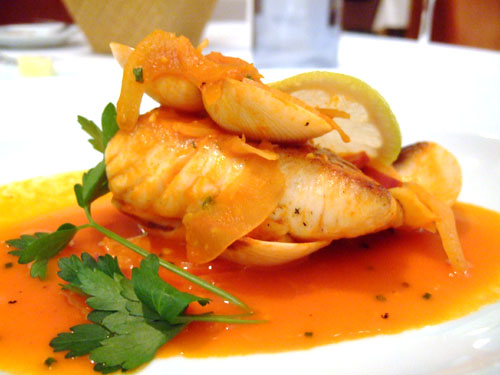 Intermezzo: PB&J - Kyoho Grape Sorbet & Tahini on Toasted Brioche
The most fun course I have had in a while. Basically a super-upscale peanut butter and jelly sandwich to serve as a pre-dessert between the fish and meat courses. The restaurant got a shipment of fresh Kyoho grapes the didn't know what to do with so they made a sorbet. Tahini is actually sesame paste but can double as a very respectable peanut butter substitute in a pinch. Maybe if my parents made PB&J like this when I was a kid I would have actually liked it.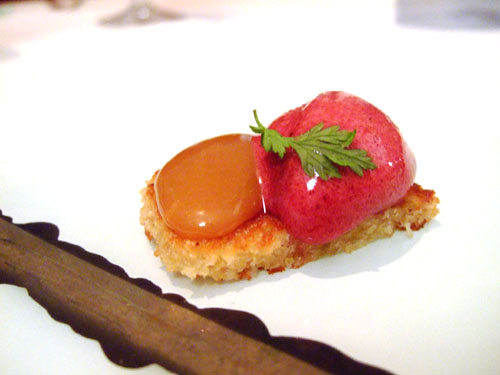 Roast Duck Breast - White Truffle, Sweet Corn, Port and Foie Gras Reduction, and Beet Leaves
Another very nice duck. Succulent and moist with nicely cooked crispy skin all slightly covered in a thin coat of melted duck fat. Add to this fresh sweet corn flavored with the etherealness of truffles and a sweet savory sauce. The duck came topped with some intensely tart beet leaves which I later learned were covered in a pomegranate reduction. The leaves were added as an afterthought by the staff and the chef seemed genuinely surprised we enjoyed it. Probably my favorite course of the night. As one might expect a pinot was paired with the duck. Not quite as good as the perception altering pinot at Patina but still a very nice glass.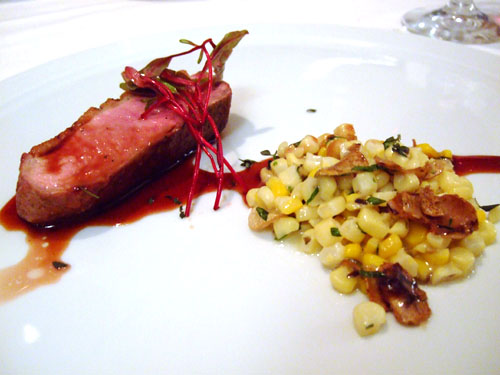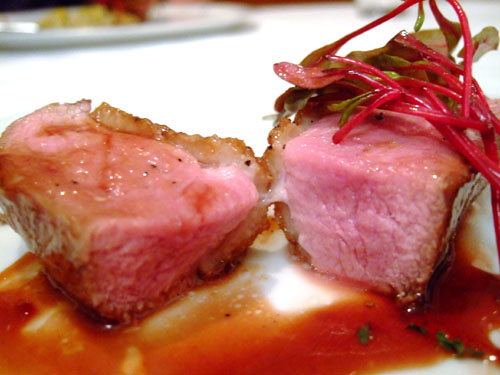 Snake River Waygu Rib Eye Cap - Fingerling Potatoes and Watercress
We naturally added the Kobe beef to our tasting menu. When we asked if the Kobe was real or from Snake River Farms the chef promptly answered Snake River. I am happy to report this may be one of my most positive experiences with American Kobe. The meat was not super fatty but it was super tender and cooked very well. The meat did not come marred by any sauce and the sides were served with minimal additions as well. To wash the meat down, the sommelier paired a classic cabernet, very nice if a bit on the more restrained earthy side for my tastes.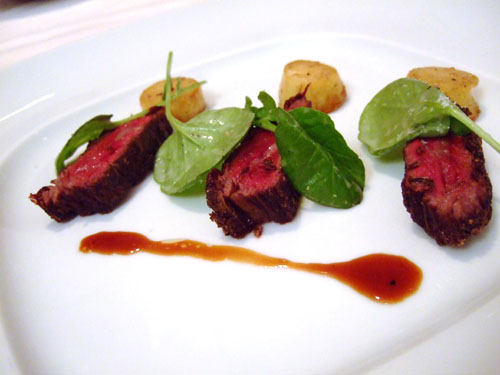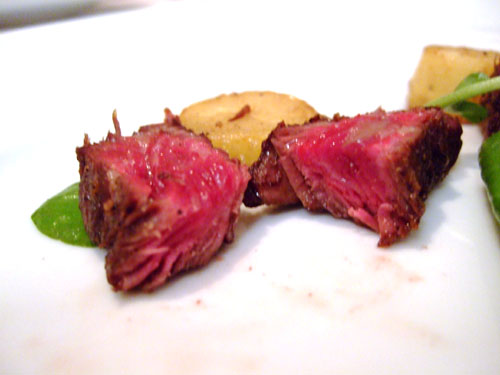 Chocolate Fondant - Raspberries, Vanilla Bean Ice Cream
A nice dessert if nothing particularly special. Fondant is basically a fancy word for icing. Before you get the wrong idea, the fondant is not simply icing it is actually a dessert akin to solidified chocolate cream similar to what you find in a truffle. The port paired with this was quite spicy and not sweet at all decent on its own. Sadly it wasn't sweet enough to overcome the flavor of the dessert and tasted powerfully bitter afterwards.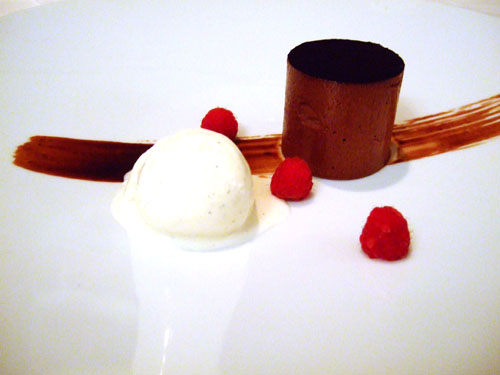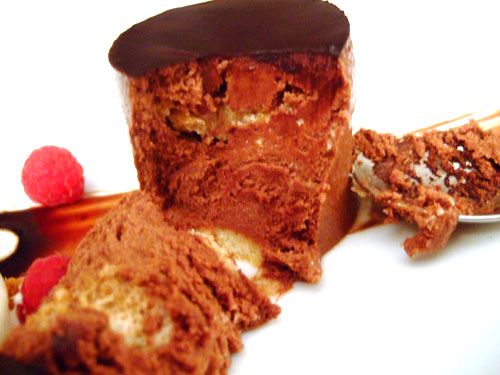 The meal ended with a very brief tour of the kitchen, since it was almost 1AM and everybody probably wanted to go home. The kitchen was quite small given the size of the restaurant. By the time we took a peek inside the kitchen was shut down except for the dishwashers which gave the small space an unbearably hot and humid feel, definitely not a nice feeling after a good meal.

Unfortunately there is no picture of the chef. He came out to talk to us twice. The first time was at the start of the meal and he was incredibly brief almost to the point of rudeness, but we put this down to his desire to cook and get us out as soon as possible. The second time he came out after the duck and was far more personable. He gave us an image of a restaurant in flux. The chef had changed somewhat recently and I get the impression the restaurant was not living up to expectations. I can see my first experience is a result of that. Coming on a day when the theater is closed, the restaurant cannot manage much business and is consequently forced to lower their standards. He also explained the restaurant experiments with their post-theater service to find out what works and what doesn't. Again this gives me the impression of a restaurant that has not found its identity. Leatherby's has been around for almost a year, and they considered the first year a sort of trial run. Given I had two very different experiences so close to one another there are clearly some issues that need to be worked out. Lets hope their new chef gets the chance to bring some stability and consistency to the place.

This last time at Leatherby's was my best dining experience out of the three Patina Group restaurants I have been to and that is including the flagship restaurant, Patina. I honestly believe Leatherby's has the potential to be a top restaurant in Orange County. Although I feel they need to sacrifice profitability in the short term to build up a customer base. Being located in a theater, potential clients will definitely be fairly well off. By establishing themselves as a first-rate restaurant they can build the clientele to run a successful business without sacrificing quality. To that end I recommend all foodies in the area give Leatherby's a try, preferably after the pre-theater crowd has cleared out all the leftover stock.

Special thanks to Kevin for providing the pictures.

Home