306 N Garfield Ave #12
Monterey Park, CA 91754
(626) 573-3421

Giang Nan is an authentic Shanghainese restaurant located in one of the many strip malls dotting the San Gabriel Valley. My friends and I often looked for an authentic Chinese restaurant that paired appropriate wine with the food. Failing to find any such restaurant it took the initiative of the FoodDigger folks to finally make this pairing happen.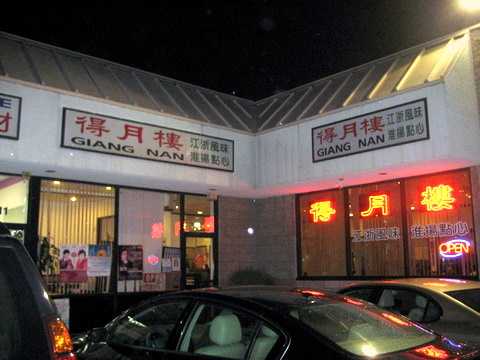 The theme of the latest FoodDigger dinner was Chinese food with Spanish wine. The majority of the wine were Spanish reds, which make sense given the heavy flavor of the dishes being served. Kevin brought a couple bottles of white to change things up a bit. The wine pairings seemed very well thought out and more often than not complimented the dishes they were paired with. The FoodDigger crew must have put in a good amount of time and effort determining which pairings worked.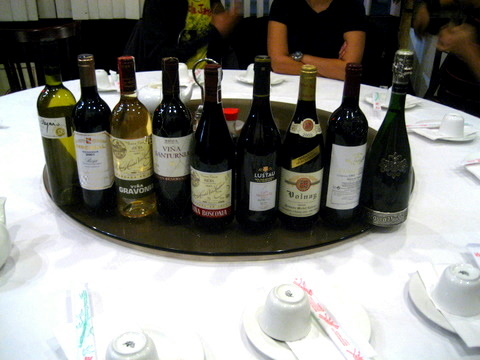 Smoked Fish
The fish had a salty/sweet flavor and a dry texture some people felt was reminiscent of eel. It might have been an effective snacking food with wine but I found it a little too lean for my tastes.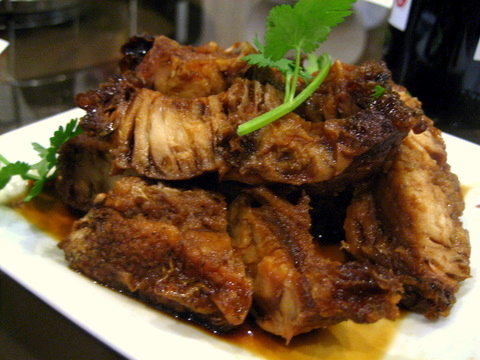 Marinated Jelly Pork Zhen Jiang Style
I am a huge fan of pork served with the layers of skin and fat. This was a surprisingly balanced with the different layers providing subtle textural contrasts rather than variations in flavor.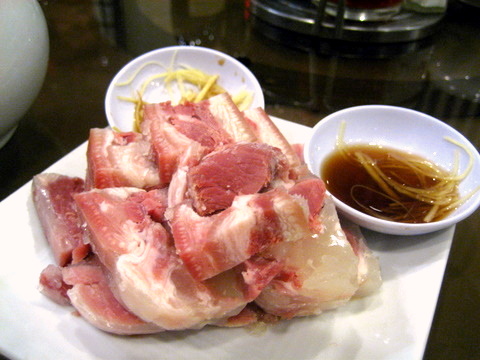 Jade Celery
I was surprised by how good this was. The use of a marinade added a mild sweet/sour flavor that helped to soften the natural flavor of the celery. The simple flavor, crunchy texture and pleasing bright color all make for a very satisfying appetizer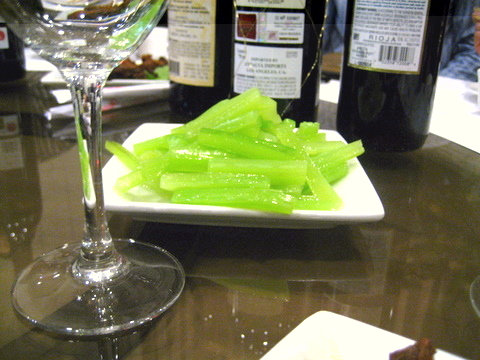 Dried Bean Curd with Mixed Vegetables
Taken alone this was a bit bland, with neither ingredient having much flavor. The course was actually meant to be eaten as a side with the fried yellow fish.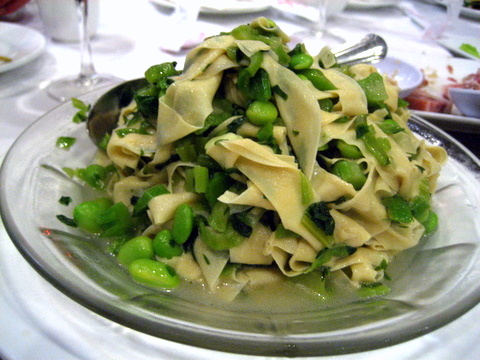 Seaweed Fried Yellow Fish
The fish was easily one of the best courses of the night. By itself the fish was fairly plain, relying on the seaweed added subtle brine. Adding a bit of the jiao yan gave a much appreciated saltiness and a mild peppery kick to the dish.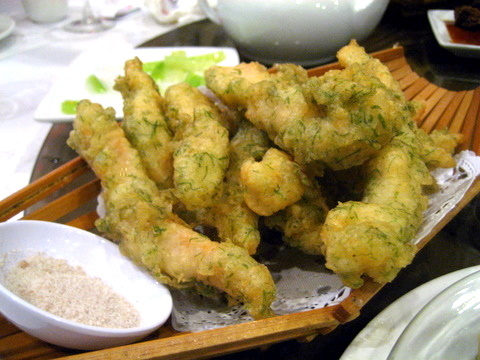 Stir Fried Vegetable with Bamboo Shoots
The vegetables were nothing particularly special slightly crunchy with a faint bitterness. My parents have reminded me on many occasions this is considered an expensive vegetable, perhaps as a vain attempt to get me to eat it.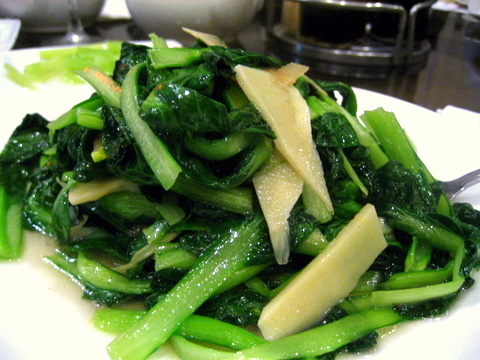 Tea Smoked Shrimp
I don't really remember this course too well. The shrimp itself was decently cooked if a bit bland.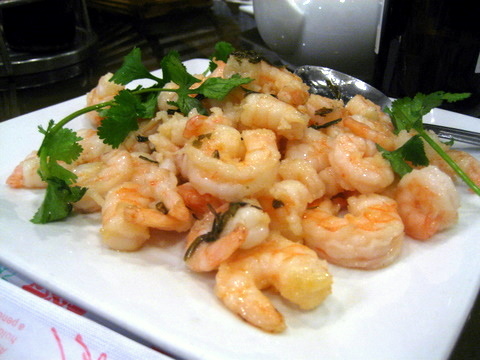 West Lake Fish with Vinegar Sauce
Another specialty of the restaurant, Xi Hu Cu Yu is named after a lake in Hangzhou. Typically a fish native to the area is used, but I think the restaurant served a tilapia instead. The sauce overly thick and tended to coat everything with pungent sweet/sour flavor.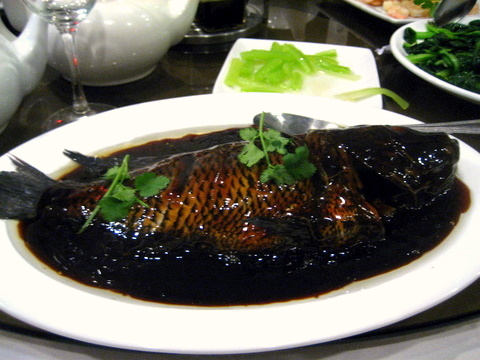 Meatball with Duck Egg Yolk
The name of this course literally translates to Lion's Head (Shi Zi Tou). If you use your imagination the meatballs and vegetable might bear some small resemblance to a lion's head. The meatballs are made up of ground pork and stuffed with salted duck egg yolk. Very simply seasoned, the richness of the meat and saltiness of the yolk dominate.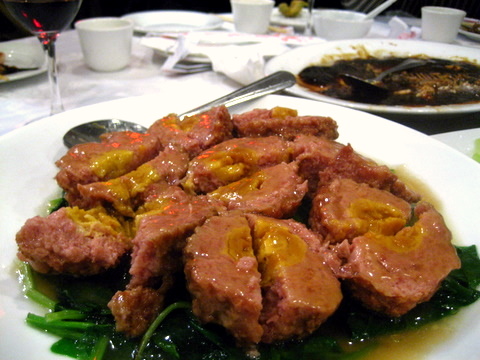 Squash with Crab
I've had this squash a number of times at home and found it either mildly sweet or bitter and I am not sure what accounts for this difference. Giang Nan's preparation was quite sweet, perhaps the flavor was enhanced by the flavor of the crab.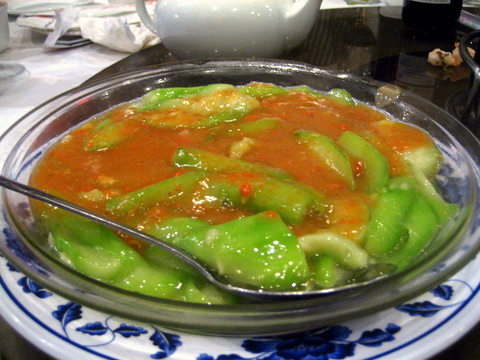 Shanghai Style Spare Ribs
This looked like sweet and sour pork that you could find at any Chinese fast food restaurant. Palatable but a bit over sauced for my tastes.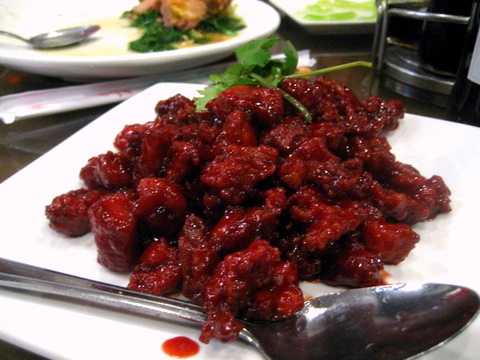 House Special De-Greased and Braised Pork Knuckle
I believe this is actually Ti Pang, a braised preparation of pork that combines gloriously fatty skin with tender flavorful lean meat. As a kid, Ti Pang was always a rarity, a special dish that was only ordered at extended family gatherings. Even then we were always served sparingly since it was so obviously unhealthy. Having it again brought back distant memories of family gatherings in Taiwan.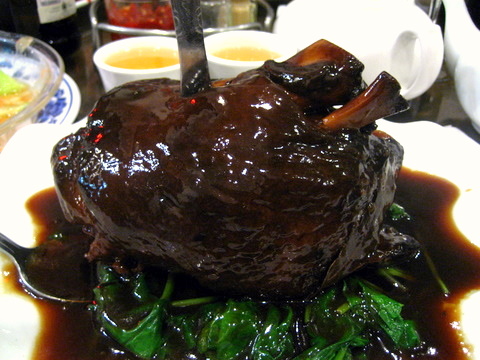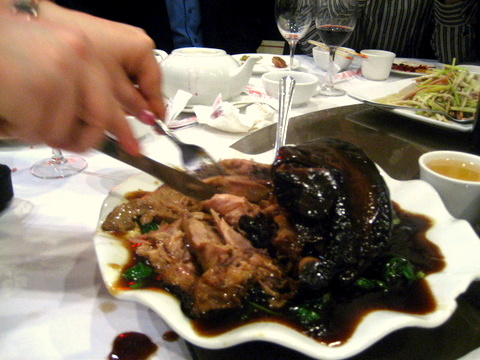 Sadly I missed out on pictures of the next two courses.

Shanghai Stir Fry of Shredded Pork, Celery and Squid
Like the bean curd and mixed vegetables this course was ordered as a side dish, in this case to temper the artery clogging fat from the Ti Pang.

Shanghai White Rice Cake with Shredded Pork and Vegetable
After a night of heavy sauces the restaurant brought out a course that desperately needed some. The rice cake itself was prepared fairly well, quite "Q" and some extra flavor would have made it one of the night's standouts for me.

Xiao Long Bao
Probably the most well known Shanghainese delicacy simple buns filled with pork and soup. I found these to be a bit dry and lacking the characteristic broth, arguably the most important element in the dish.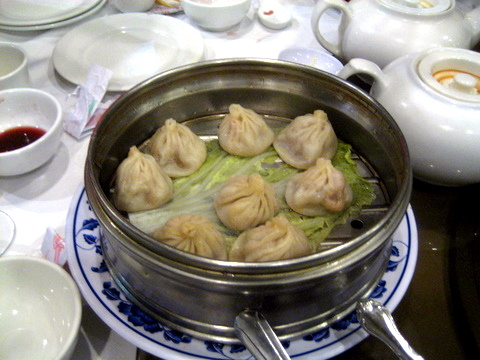 Dessert
I have never been a fan of Chinese desserts but this was fairly good. A fairly complex mix including rice, fruit, and Tang Yuan.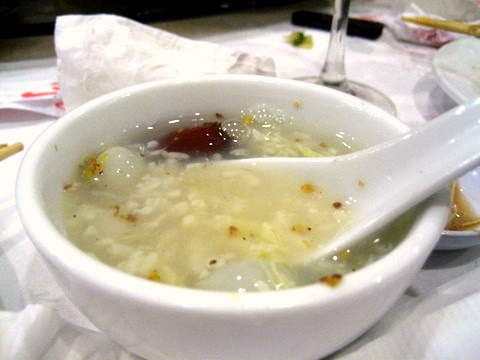 Giang Nan's food was quite different from Cantonese style cuisine that I normally eat, featuring far more sweet and sour elements and much thicker heavier sauces. The food was fairly authentic although it could be a bit much for those unfamiliar with Shangainese cuisine. For the most part the wine added welcome dimensions to the dishes. Far and away the best part of the meal was the company and experiencing this unique meal with friends who appreciated it as much as I did.

Thank you Will, Brian, Marshall, and Eddie.

In-N-Out 4x4
Like the last FoodDigger wine dinner, I wasn't quite satiated. Kevin and I decided to hit up In-N-Out before calling it a night. This was actually the first time I ordered a 4x4 so I decided to take a photo to commemorate the meal. I've heard conflicting reports but supposedly the 4x4 is the largest burger In-N-Out officially makes.