686 Anton Blvd
Costa Mesa, CA 92626
(714) 444-5900

Originally, I was planning to head to LA for New Year's Eve but after considering the crowds and traffic, I decided a low-key dinner in Orange County might be better. I finally decided on an old standby, Pinot Provence. The restaurant recently had a change in the kitchen with Chef Lauren de Rouen formerly of Leatherby's Cafe Rouge taking over.

Amuse: Smoked Salmon - with Cucumber and Crème Fraîche
The smoked salmon felt a bit dry despite the addition of creme fraiche, but pairing it with cucumber added a refreshing crispness.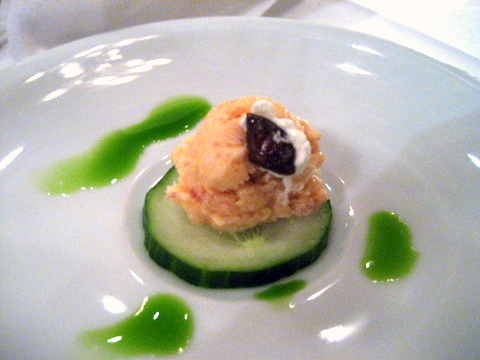 01a: Confit Baby Tomatoes - Shaved Saint Daniele proscuitto, Burrata Cheese, Mortar Crushed Basil, Lemon Oil, Petite Arugula
One of the most distinctive preparations of Insalata Caprese I have had in a while. The confit tomatoes had a deep sweetness that contrasted nicely with the sharp salty prosciutto and the burrata provided a nice creamy base for the complimentary flavors.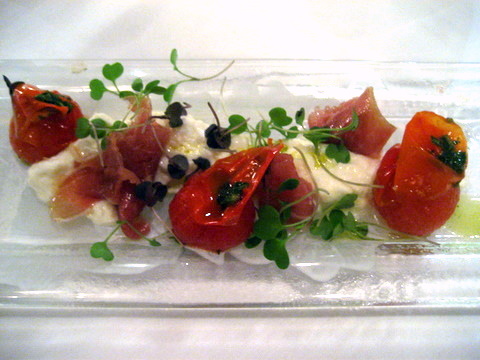 01b: Dungeness Crab Tower - Créme Fraiche, Yuzu Gelée, Red Seedless Grapes
The dungeness crab tower lived up to its name, a solid cube of crab meat with no filler. The use of creme fraiche masterfully complimented the natural sweetness of the crab, adding some weight and richness. And the two fruit components served to add some variety to the dish.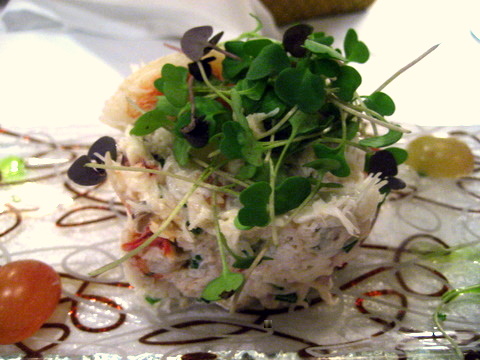 02a: Butter Poached Lobster Tail - Lemon Scented Risotto, Baby Squash, Lemon Grass Emulsion
A very well cooked lobster tail, crisp, sweet and evenly flavored with butter. I enjoyed the lemon risotto although the actual lemon flavor was a bit too sharp, and the dish would have fared better if the creaminess of the risotto came to the fore.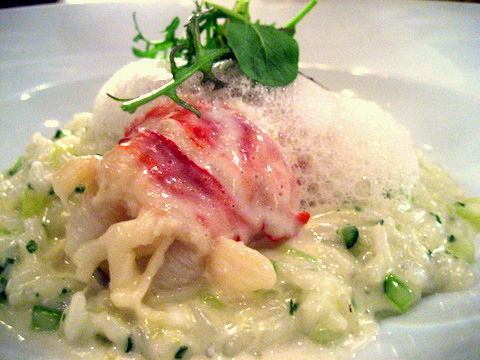 02b: Duo of Beef - Braised Boneless Short Ribs, Filet Rotisserie, Pommes Morbier, Roasted King Mushrooms, Caramelized Cipollini Onion, Grilled Baby Leeks, Sauce Bordelaise
Both types of beef were done very nicely. The filet was very tender and flavorful, comparable to any good steakhouse. The short ribs were so soft you could cut them with a fork and the flavor was rich but not overly so. The beef was good enough to stand on its own but in this case the sides were a welcome addition, providing a break from the richness of the meats.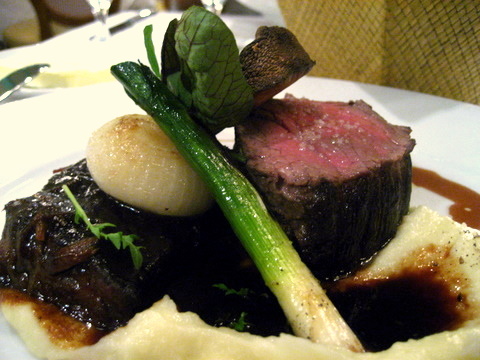 03a: Chocolate Mousse Cake - Served with Cappuccino Gelato
A true chocolate lovers dessert. The cake was basically three layers of various chocolates. A bit rich and monolithic but still quite tasty.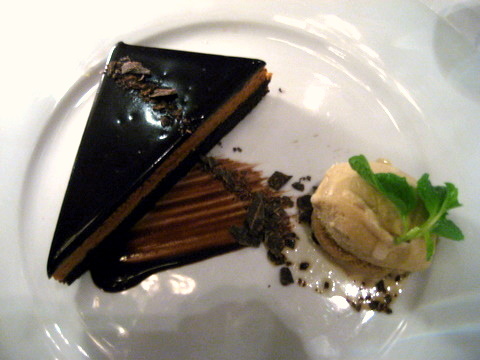 03b: Apple Tart Tartin - Cinnamon Ice Cream, Caramel Sauce
A fairly typical apple tart, the poached apples had a nice spice to them that went well with the sweetness of the caramel although the tart was a bit dry.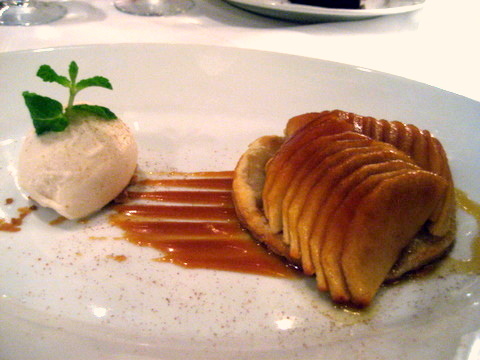 After the horror of Asanebo this was a welcome change of pace. Pinot Provence doesn't serve the most innovative cuisine around but there isn't much to complain about in terms of execution and sometimes thats all it takes to make a good meal.