816 West Armitage
Chicago, Illinois 60614
(773) 248-6228

I recently revisited Charlie Trotter's and I thought I'd repost my first visit, clearly made before I knew how to use the white balance on my camera.

When I was planning my trip to Chicago I knew I wanted to try some good restaurants. Considering Charlie Trotter's is a veritable institution in the Windy City it would be foolish not to try it. I made my reservations about 2 weeks in advance and got a 5:30 table for Saturday. My original plan was to have the kitchen table menu.

However at the last minute (Thursday) I got a reservation for Alinea on Friday at 9:30. My girlfriend and I were way too full at the end of Alinea and feared the same thing might happen at Trotter's. As a result we both went with the Grand Menu. I am happy to say the amount of food was perfect. It appears the comment on their website is not without merit. "Although the menu (Kitchen Table) is composed of about 15 courses, it is still the perfect amount of food." I now regret not getting the full Kitchen Table experience but at least it is something to look forward to next time.

The restaurant is located in a two story townhouse at the corner of Armitage and Halsted. Similar to Alinea it is easy to miss if you don't know what you are looking for. Fortunately at 5:30 there is plenty of light and I had no trouble finding Trotter's.

After walking up a short flight of stairs we enter a darkened hallway containing a small bar area and the hostess' station. Perhaps it was early, but I was surprised with the number of wait staff standing at the entrance. I seem to recall at least 3 or 4 people in the small area.

We were promptly lead through the downstairs dining area where there were maybe one or two parties already eating. We climbed a flight of stairs where menus from notable days were hung. I wish I had the presence of mind to snap a few shots so I could read the menus at my leisure later. We were lead to our table which was in a sort of alcove away from the main upstairs dining room and given a folder with two menus inside: Vegetable and Grand Tasting. While we were deciding, a husband wife pair were at the table next to us and they did one of each menu. As I write this, I am kicking myself mentally for not doing the Kitchen Table menu (sigh).

Anyway, enough maudlin reminisces, the Grand Tasting menu awaits!

I chose to do the wine pairing with my meal although I toyed with trying the nonalcoholic drink pairing. I think serving a nonalcoholic drink pairing is a nice touch that more places should do.

We had two main staff members who brought the courses and drinks. In addition there were a slew of others who cleared plates, changed silverware, brought bread, and did a remarkable job taking care of us. Small details like pouring an extra little bit of a favored wine, to say bringing us a whole extra dish really made an impression on me. I thought the entire staff performed admirably and were more than happy to answer questions or discuss the cuisine with me. In fact I had taken to having short conversations about the restaurant, and food in general around Chicago with one of our waiters.

Wild King Salmon with Horseradish & Sunchoke
Bruno Paillard "Premiere Cru" Brut Rose MV
Our first dish was a beautifully colored piece of salmon. The foam has a whisper of horseradish flavor and the sunchoke provides a nice grainy texture to contrast with the softness of the fish. I was pleased the horseradish did not overpower the natural flavor of the salmon. Also I think there was some sprinkled sea salt and what looked like Toragashi powder sprinkled on the fish. The sea salt added a delightful crunch and a burst of saltiness. The wine was a multi-vintage rose champagne with a nose of strawberries and apples. The effervescence and crispness also paired well with the flavor of the fish.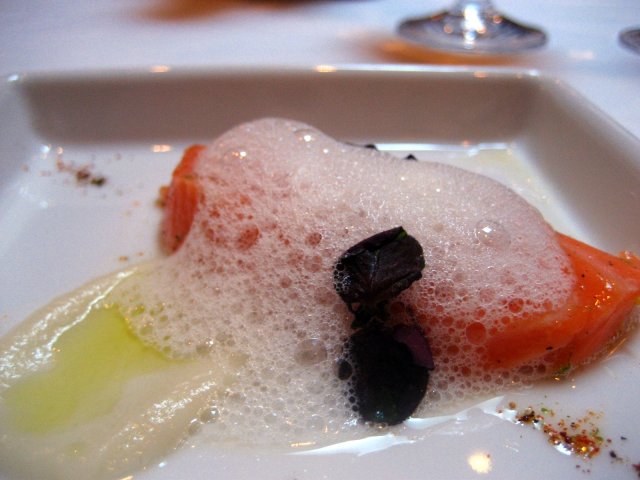 Four Story Hills Farm Avian with Poached Egg, Shallot, Thyme Chutney & Pumpernickel Crisp
Bonny Doon "Ca' del Solo" Albarino, Monterey 2006
Probably the weakest course of the evening for me was the Avian, which in this case is just a fancy word chicken. This was by far the best chicken breast I have ever eaten in my life. I loved the thyme chutney, cool herbal flavors pair beautifully with the tender lightly flavored chicken breast. The pumpernickel crisp added a light crunch and a slight flavor of burnt toast. The wine had an earthy mineral nose and a dry citrus flavor. A safe pairing but not as impressive as the previous course.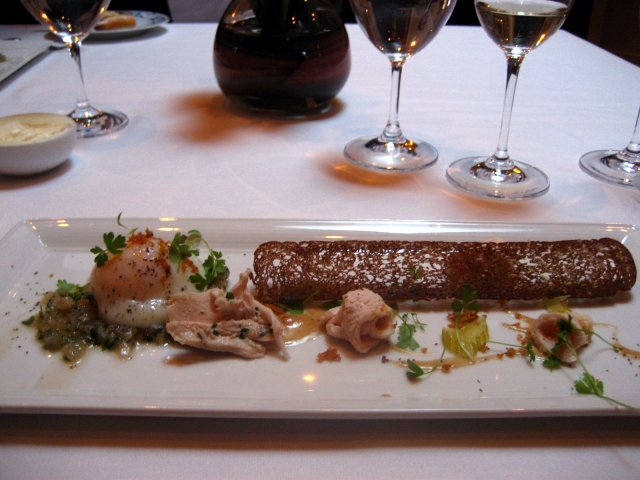 Steamed Casco Bay Cod with Littleneck Clams, Steamers, Mussels, Picholine Olives, Artichokes & Stinging Nettles
E. Knoll "Reid 'Loibenberg' Loibner" Gruner Veltliner, Wachau 2005
I am normally not a big fan of cod. I tend to prefer my fish a bit softer, but this was perfectly prepared. The large flakes of the meat had just separated and you could see the juices flow when. The fish itself had minimal flavor added, the skin was fried and salted; again pairing crunchy and salty with light and soft. The shellfish added their delightful fragrance to the flavor and the olives (which I normally dislike) added the right amount of bitterness and acidity. I really enjoyed this wine which seemed to start out a bit closed, but by the end of the dish had developed a sweet complex flavor.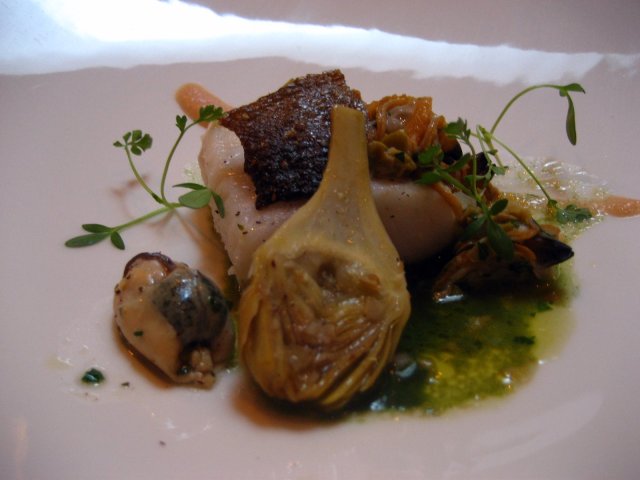 At this point, I mentioned to the waiter we had thought about the kitchen table menu and I was regretting not ordering it. Our waiter made a note and said he'd see about having the kitchen whip us up a little surprise.

Roasted Saddle of Rabbit with Fingerling Potatoes, Turnips, and Mustard Greens
Dog Point Pinot Noir, Marlborough 2005
Three delicious pieces of rabbit paired with bitter mustard greens, potato puree, and some salty dried crisps. As with every dish so far, each ingredient has its own unique flavor and texture. Individually, the flavors are unbalanced, too salty, or bland, but combined they just work. I can't quite explain it. The roasted rabbit was firm but cooked so well that it was tender at the same time. The rabbit meat also had a flavor I couldn't describe but it was easily able to stand on its own, but was so much stronger when paired with the accompaniments. There was also a darker spot in the center of the largest piece I wasn't sure but it looked like liver or marrow and had a saltier flavor. The wine was another favorite of mine, big jammy nose with a hint of earthiness or smokiness. On the palette it tasted of raisins, red fruit, and a hint of spicy sweetness.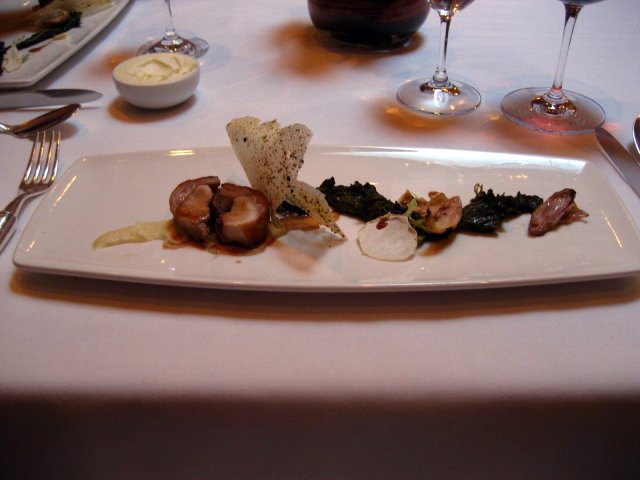 When the waiter brought the lamb, he reminded me that a surprise was coming. I jokingly said it wouldn't be Foie Gras would it? Foie Gras was recently banned in Chicago, but a loophole allows it to be given as a gift. In most instances, foie gras would be a perfect gift, but I had heard Chef Trotter was one of the driving forces behind the ban. When I mentioned that to the waiter he adopted a stricken look and gently corrected me. True, Chef Trotter does not believe in serving Foie Gras, but he strongly opposes any law dictating what we can and cannot eat. Perhaps his celebrity status and well known stance against serving the fatty liver made him de facto spokesperson for the anti-Foie Gras camp. This is a role I was told he does not want, so at least here I'll set the record straight as I have heard it.

Summerfield Farm Lamb Shoulder with Garlic, Aged Manchego & Parsley
Brunello de Montalcino Fornacina 2000
The best course of the night and I don't normally like lamb, garlic or cheese. No I don't like parsley that much Apologies for the picture. The dish smelled so wonderful I forgot myself and started eating and only remembered to take a picture when I was almost done. The lamb was braised for 12 hours giving it a very tender texture and as I expected, not even a hint of gaminess. Besides the lamb was a sauce made from garlic, caramelized onions, and sheep's milk. This was topped with Manchego cheese. The cheese and garlic were both strong enough to be noticed but not enough to become the dominant flavor in the course.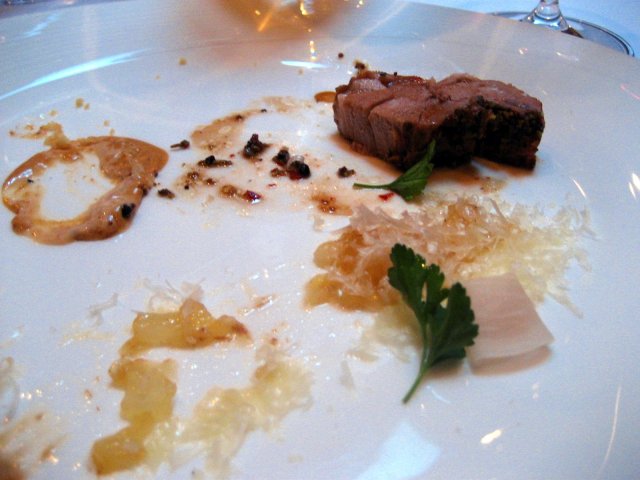 Angus Beef with Turnips, Sultanas, Porcini Mushrooms, Mache & Merlot Braised Red Cabbage
Ribera del Duero "Torre Silos" Cillar de Silos 2001
Surprise! The kitchen was kind enough to prepare an extra course of Angus beef for us. The beef was tender and flavorful. The pairings were fairly traditional using mushrooms and a red wine sauce. The standout was the turnip which was cooked in some sort of stock and had soaked up a fair amount. Biting into the turnip released the fragrant juice inside. Its that explosion that really made this dish enjoyable.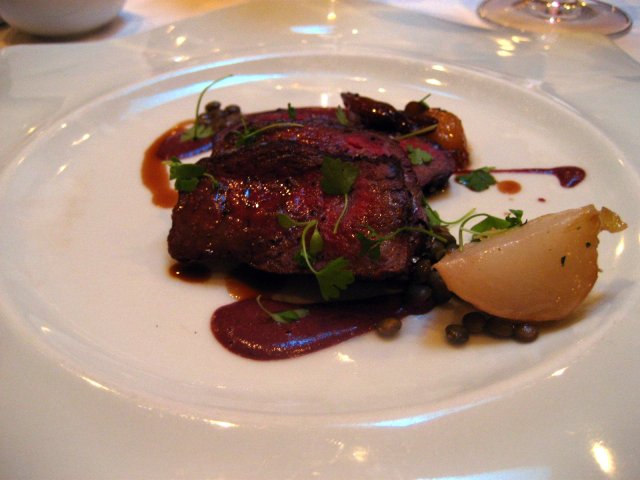 Sweet Tofu With Meyer Lemon & Shiso
The first of 5 desserts, think of this as an amuse bouche for the dessert section of the meal. When I heard sweet tofu I immediately thought of the Chinese dessert which I detest. I am happy to say this is nothing like that. The tofu had a creamy texture and a mild sweetness. Every instance I have had shiso before, it tended to overpower everything else in my mouth. The pairing with the Meyer lemon was perfect. The intensity sourness and mintiness somehow inhibited each other down to the perfect level. In fact I could still taste the subtle sweetness of the tofu



The next desserts all came on simultaneously. Prior to dessert my girlfriend mentioned a wish to try the desserts from both menus. I don't know if they overheard or are just psychic but the waiters brought both desserts without our prompting. They also gave us another little extra. The desserts all came out at once along with two glasses of wine so this was the most cluttered our table was the entire meal.

Nutmeg Braised Peanuts with Caramelized Organic Honey & Korintje Cinnamon
Tokaji-Asuzu "5 Puttonjos" Royal Tokaji 2000
I only had a bit of this dish but I remember it being not very sweet. The honey gave it a richness but the cinnamon and peanuts were definitely the dominant flavors.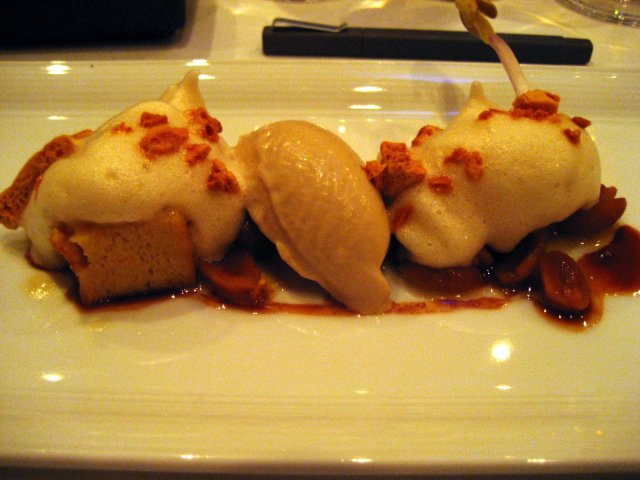 Organic Buttermilk with White Pepper, Toasted Milk Ice Cream
I ended up eating most of this dessert. The flavors were very subtle. There was a soft sweetness from the ice cream and a bit of bite that I now know comes from the pepper. My girlfriend found this bland. But I thought the sheer flavor of the rich cream more than made up for that.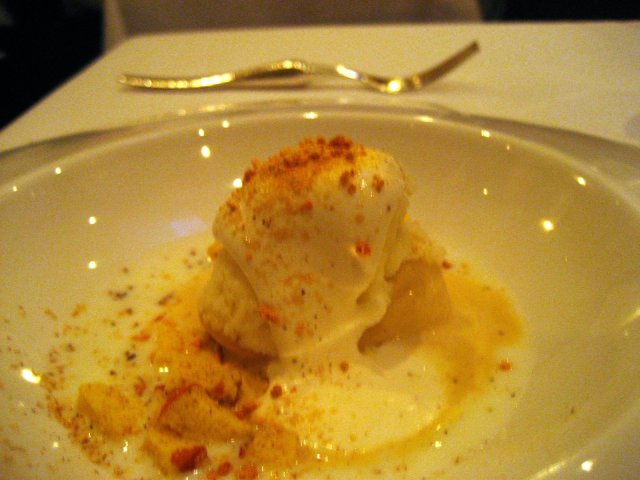 Venezuelan Chocolate with Sour Cherries & Vanilla Creme Fraiche Ice Cream
Bodegas Toro Albala "Don PX - Gran Reserva" Pedro Ximenez, Montilla-Moriles 1971
Fearing for my safety, I did not want to get between my girlfriend and this dish. I tried a touch of the chocolate and found it very intense and bitter. Too much for a chocolate newbie like myself.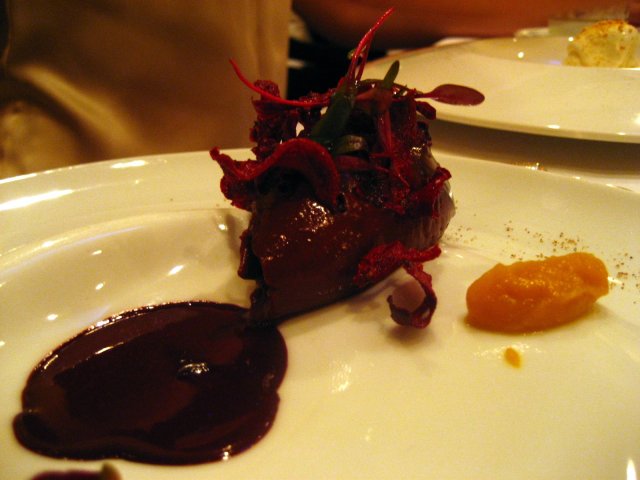 Chocolate, Tea, Caramel
I thought it was odd they brought out the petit fours with the rest of the desserts but whatever. I really enjoyed the soft chewiness of the caramel. The tea was masked by the flavor of the chocolate, probably the only time the entire meal when one flavor dominated.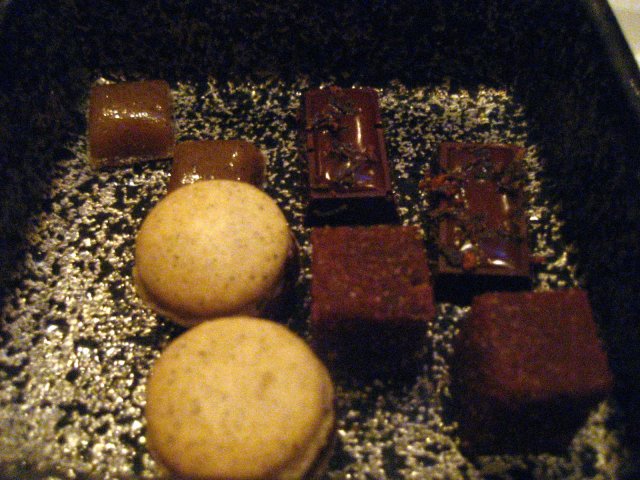 If I had to find faults (and I would be nitpicking) I would say its the lack of an amuse bouche (I just wanted to eat more). Probably the biggest disappointment was the fact I was unable to get a tour of the kitchen. We finished our meal around 8:30 and I asked for a signed copy of the menu and a tour of the kitchen. Unfortunately, eating early has one unforeseen consequence, the chef is probably at his busiest around 8:30. As a result, he could not be bothered to sign the menu at the time. Our waiter did take down my address and mailed me two copies within two weeks. As for the tour, that could not be accommodated this time. Again this all could have been avoided with the Kitchen Table (yes I am a bit hung up on it).

The evening concluded with a surprise gift in the car, a box of macaroons. And for the record they were delicious, certainly up to the level of everything else we had from Chef Trotter.

You'll notice I keep saying things (flavors, textures) paired well. Each and every review, blurb, commentary hails Trotter as a master of flavor and texture (mine does too). Pairing fresh ingredients in the most harmonious fashion. In fact it was difficult for me to write the review since it was a challenge to pin down and quantify why everything tasted delicious. It doesn't take an advanced palette to enjoy these dishes, they simply taste good. This is Chef Trotter's genius.

In fact I was extremely sad when dessert came because I knew the meal was ending. The sheer quality of everything we had blew me away. Normally, with this many courses there is bound to be one that doesn't strike my fancy. Here every last dish, I found myself wishing was a little bigger. The fact that I enjoyed the food so much makes it all the more bitter that I didn't do the Kitchen Table Menu (last time I mention that, I promise). As I was eating, I kept thinking each of the courses was the best so far. Thinking about it now I do think I liked the lamb the most. More than finding a favorite, I realized I enjoyed every course and the best one was the one I was experiencing at that moment.

In summary, if you have only once fine dining experience in Chicago, do it here!