641 N Highland Ave
Los Angeles, CA 90036
(323) 297-0101

Pizzeria Mozza has long been on my list of places to try, even more so after a strong experience at the next door Osteria and glowing reviews from trusted friends. I ended up in LA running an errand so I dragged Kevin along and we ended up having alate lunch/early dinner at Mozza. The restaurant is done up in bright slightly garish colors colors and packed cheek to jowl with functional wooden tables and chairs. Patrons also have the option of dining at a small wine bar, a couple seats overlooking the wood fired oven, or even a private dining room.

Pizzeria Mozza is one of two restaurants in a joint venture between Nancy Silverton, Mario Batali, and Joseph Bastianich. Pizzeria Mozza remains arguably the hottest ticket in LA, even more than its more upscale sibling Osteria Mozza. The fact that every table was taken we arrived at 3:45 for our reservation is a testament to the place's popularity. Perhaps the restaurants popularity is due to its versatility, whether an upscale lunch, afternoon snack, or late-night drink at the wine bar.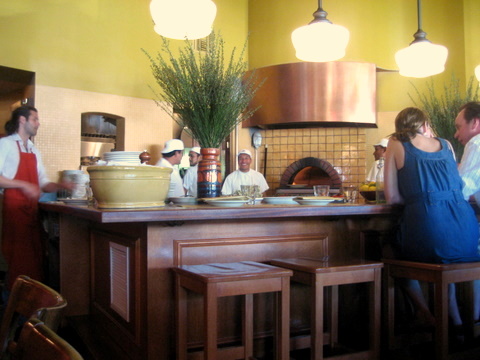 Avant Garde, Biere de Garde - The Lost Abbey, San Marcos, CA
Avant Garde is labeled as a Biere de Garde or "keeping beer." These farmhouse-style beers were brewed in the winter and spring then cellared to be drunk at a later date. This was a fairly dark beer with an aroma of yeasty bread, orange and honey. On the palate, the beer tastes of caramel maltiness with a strong orange zest and light floral characters. Kevin aptly described the beer as rustic.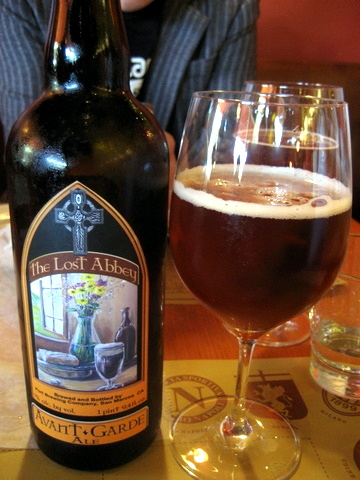 Asparagus al forno with speck & parmigiano reggiano
The grilling reduced the asparagus to an semisolid consistency and added a bitter char to the vegetable's natural grassy sweetness. The speck offered a nice textural difference with its tender chewiness and the smoky flavor of the meat provided a savory counterpoint.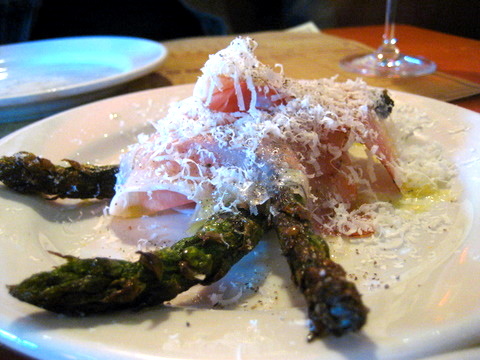 Bone Marrow al forno
Bone marrow is always a dangerous dish, rich and flavorful it can sometimes feel like eating a stick of butter. On its own Mozza's marrow is a perfect example, tasting like solidified oil. The bread and bitter greens manage the unctuousness of the marrow while leaving behind the rich buttery flavor.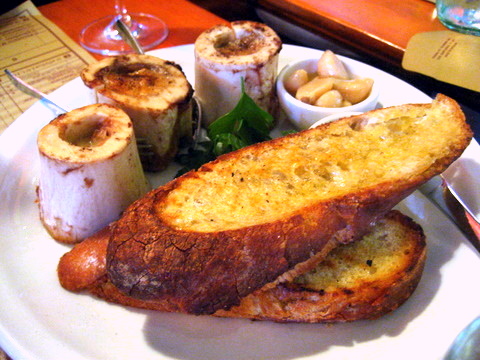 Great White, Wheat Beer - Lost Coast Brewery, Eureka, CA
Our second beer was a fairly typical witbier. The pour was light blond with a pronounced haziness. On the nose hints of orange and coriander compliment the yeasty wheat. The citrusy tang and soft spices continue on the palate joined by a disconcerting metallic flavor.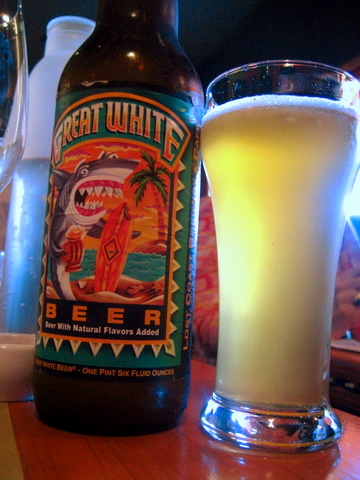 Margherita with mozzarella, tomato & basil
We had to try the Margherita since it is ubiquitous among the more upscale pizza restaurants and serves as a convenient reference point. The freshness of the ingredients was apparent in this pizza, very bright tart-sweet tomatoes, fragrant basil, and nicely brined cheese all resting atop a crispy crust. My only complaint was the oiliness of the pizza and this was a problem that carried over to the sausage pizza as well.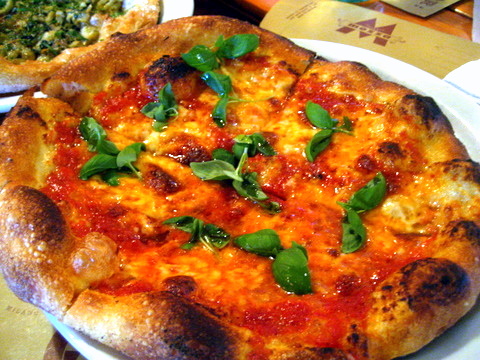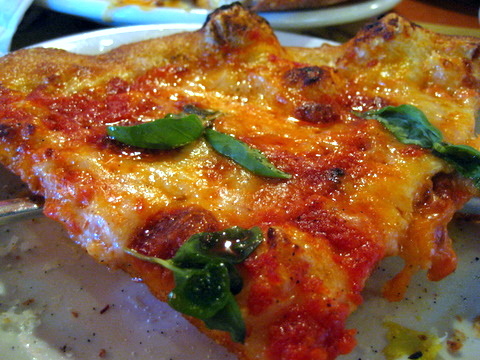 Fennel sausage, panna, red onion & scallions
Initially, I tasted a lot of strong distinct flavors which made it a bit hard to really appreciate what I was eating. As the pizza cooled, the flavors seemed to temper down leaving the anise tinged sausage as the focal point of the dish. Again my main complaint was the amount of oil I squeezed out of the pizza when I folded it in half.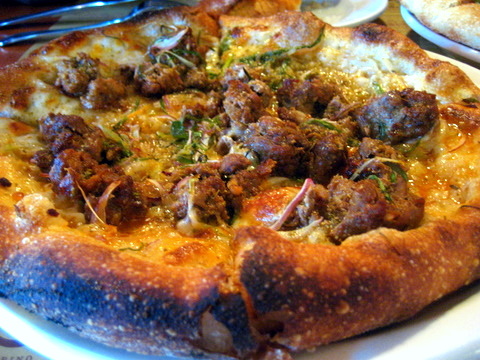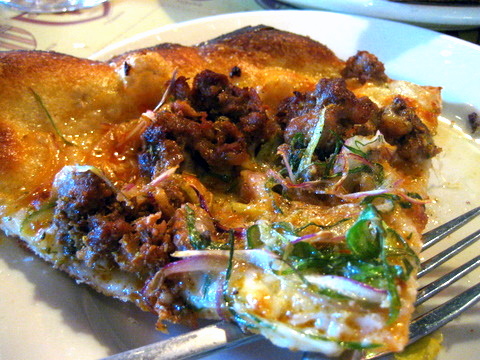 Ipswich clams, garlic, oregano, pecorino & parmigiano
I missed out on the clam pizza at Lombardi's so I felt this would be a good substitute as the ingredients are very similar. Alas the flavors turned out to be a bit blunt, alternating between slightly bitter briney clams and the herbaceous garlic and oregano mixture. An interesting experience but not one I'd care to repeat anytime soon.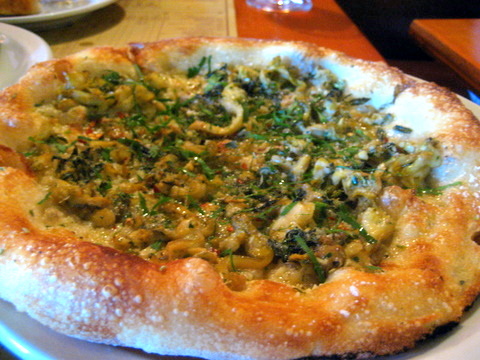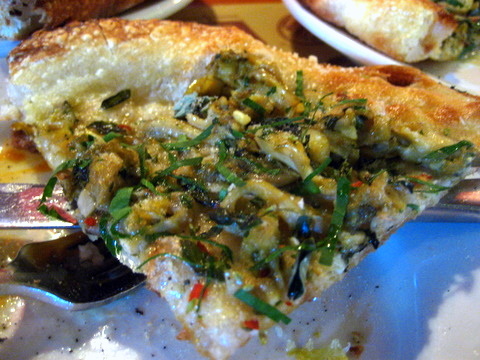 Butterscotch budino
I was told the budino was a can't miss dessert by Christine who threatened bodily harm if we did not try it. The blend of butterscotch and caramel accented with sea salt did not disappoint particularly when finished off with the lingering warmth of the rosemary cookie.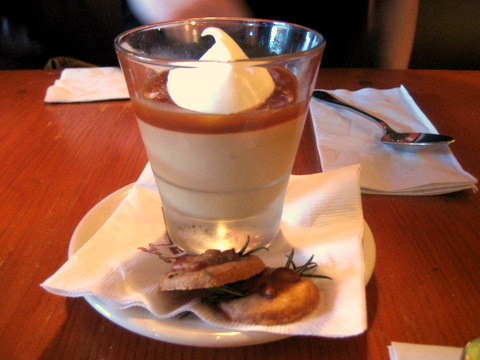 So did Mozza live up to the hype? In a word, no. But that is partially due to the fact that the level of buzz around this restaurant is unreal. To its credit, Mozza serves up solid pizzas with an array of interesting toppings backed up by strong appetizers and tasty desserts making this a great choice for a casual dinner with friends that is if you can get a seat.