Susan Feniger's Street
742 N. Highland Ave
Los Angeles CA 90038
(323) 203-0500

After 4 days of 10+ hour class sessions I was on a quest to find a bottomless brunch to scrub my brains with alcohol. My first stop was Susan Feniger's Street, but sadly bottomless brunch was no more, still the eclectic international fare was worth a try.

Singapore Kaya Toast - thick coconut jam on Malaysian white toast with soft fried eggs drizzled in dark soy and dusted with white pepper
The sweet nutty jam and soft toast was enjoyable on it's own if a bit one dimensional. The addition of the egg and soy remedied this; giving the dish a complimentary savory component.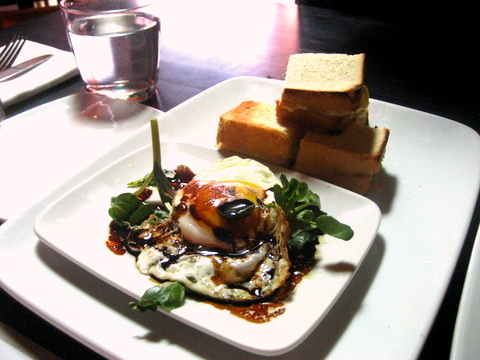 Turkish Doughnuts - small spiced pastries fried and then simmered in cardamom rose syrup; served with sour cream, rose hip jam and a side of homemade lamb sausage
Known as Lokma, this is a popular dessert served throughout the Mediterranean, typically sweetened with syrup or honey. Street's preparation uses rose water syrup for sweetness and cardamom to provide a hint of exotic spice. The addition of sour cream provides an interesting contrast, as does the lightly gamy flavor of the lamb sausage.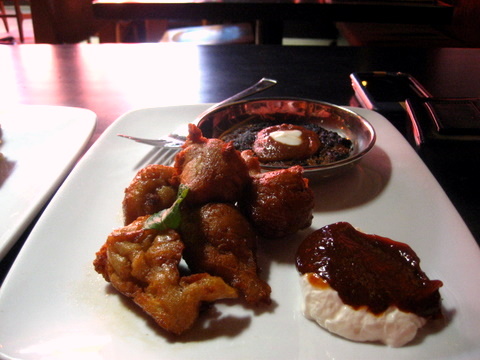 I heard mixed reviews about Street, with one of my friends referring to it as a "crash course in foreign food for white people." Certainly Street takes some liberties with traditional ethnic dishes, making them more appropriate for the mass market. The concept is interesting enough and the food enjoyable, but without unlimited alcohol there isn't enough here to bring me back.

Ivan Kane's Cafe Was
1521 N. Vine St.
Hollywood, CA 90028
(323) 466-5400

Our second stop was at Ivan Kane's Cafe Was, a traditional French bistro housed in an eccentric Bohemian setting. Happily the restaurant was still offering its bottomless brunch; $15 for all you can drink champagne, mimosas, screwdrivers, or bloody mary's.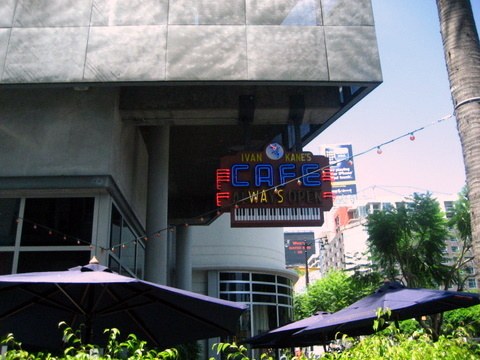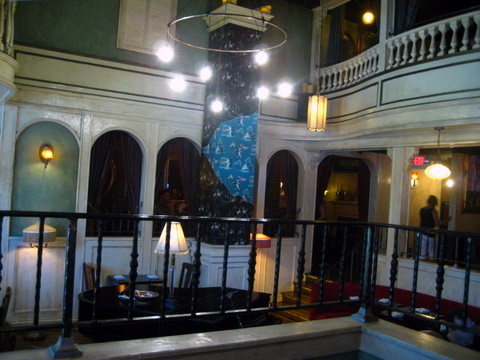 Croque Monsieur Sandwich - warm black forest ham/ gruyere gratinée / chips
Make it a Madame - add an egg
Croque Monsieur is the most basic of dishes, basically a grilled ham and cheese sandwich. Was' presentation tries an interesting play on this dish, smothering the ham and bread in a layer of gooey cheese granitée. Not bad but the cheese doesn't actually make this sandwich stand out from the norm.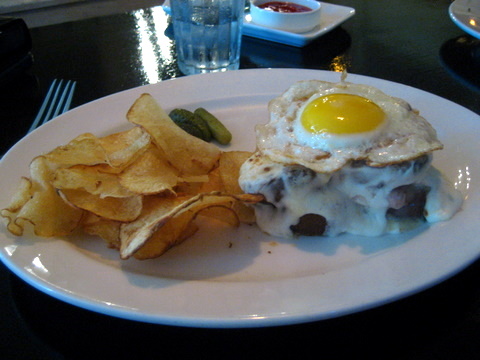 Bistro Burger - 9 oz. house-ground tenderloin / prosciutto / brie / quail egg / herb fries
One of my guilty pleasures is a Fatburger Kingburger with everything including a fried egg, so I always have high hopes for burgers topped with runny eggs. Too bad the saltiness of the prosciutto ruined what would have otherwise been an enjoyable burger.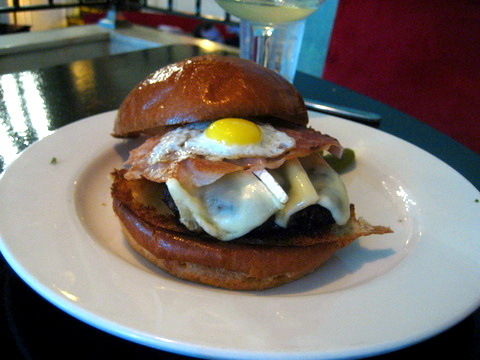 Like Street, Cafe Was's food alone isn't enough of a draw, but the addition of bottomless champagne and distinctive decor make it a fun place to grab brunch with a group of friends once in a while.