445 N Canon Dr
Beverly Hills, CA 90210-4819
(310) 385-0640

Back before dinners were multi-course affairs, nothing used to to please me more than a nice rare steak. There was a time that a trip to Morton's or Ruth's Chris would have been the highlight of the month for me. Things have changed a bit since then but from time to time I still enjoy a slab of red meat served with a matching wine.

Crafted in the image of the legendary Peter Luger's, Wolfgang's is a classic steakhouse emphasizing the simple purity of the beef without all the glitz and glamor of restaurants like CUT or STK. The restaurant has long been on my list, even lackluster DineLA reviews couldn't dissuade me from trying the place myself. I finally got the opportunity while entertaining guests for a school project.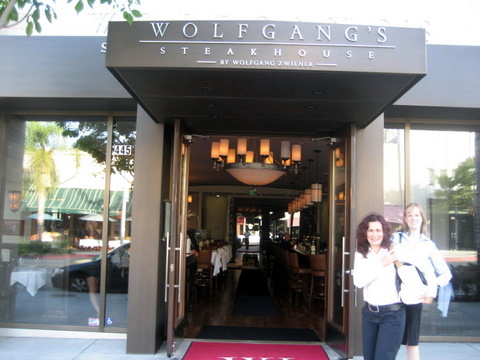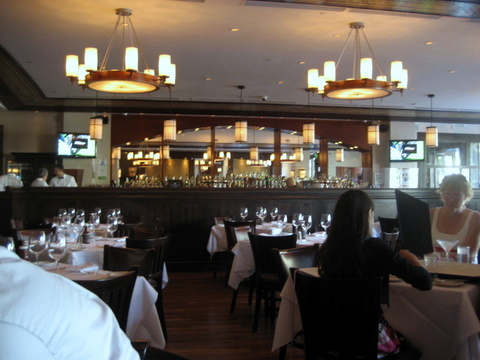 2005 Araujo Estate Cabernet Sauvignon, Eisele Vineyard, Napa Valley, CA
I brought this as a gift for the visiting executives hoping that it would pair well with the steak. The wine is a bold example of California cab, with intense aromas of sweet currant complimented by notes of white flowers, and minerality. The wine ended up being a bit too fruit forward especially with the strong char of the beef but was quite enjoyable nonetheless.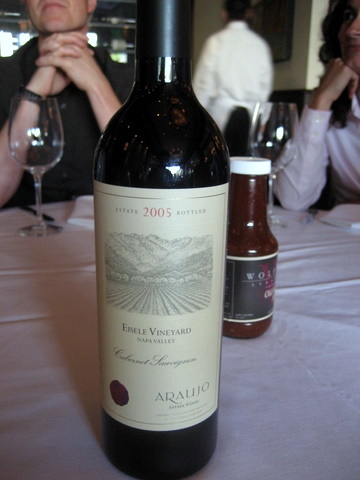 Porterhouse for Four - with German Potatoes, Steamed Spinach, and Sauteed Mushrooms
Wolfgang's specialty like Luger's is the Porterhouse for two or more. Out of our group of 7 four people opted for the restaurant's signature steak. One problem with the group preparation is agreement on doneness. In our group, three of the diners liked their steak rare but one preferred medium-well, we finally settled on medium rare as a compromise. The steak comes out in a pool of butter on a sizzling pan. The beef itself was initially quite good, very tender, though the heavy layer of char gave the meat a pronounced bitterness. During the course of the meal, the steak continued to cook rendering the rest of the meat overly tough. The sides were pretty typical, with the sauteed mushrooms being the best of the bunch.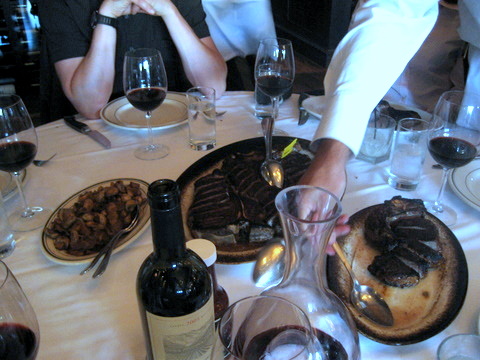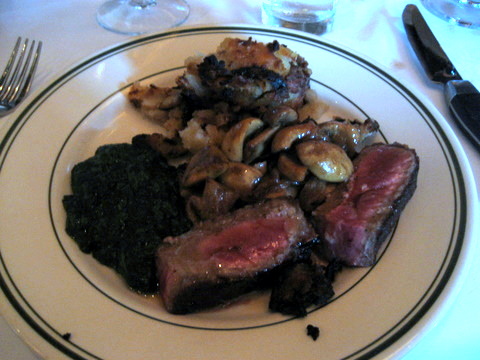 Overall I was disappointed by the food at Wolfgang's. I understand the restaurant offers an old-fashioned steakhouse experience but with the unbalanced steak and tired sides, the restaurant just feels old.