312 Wilshire Blvd
Santa Monica, CA 90401
(310) 451-7482

When I first heard about a Food Digger event at the new Fraiche in Santa Monica (formerly Riva) I expected the food to be similar to the casual fare at its more established Culver City sibling. Not to say this would be a bad thing, as the Culver City Fraiche has built quite a reputation on the strength of its rustic Italian/French cuisine. However Will and the Food Digger crew exceeded expectations as usual, arranging a 7-course dinner designed by Chef de Cuisine, Sydney Hunter and served with exceptional wine pairings.

Chef Hunter is a 2001 graduate of the Cordon Bleu program. After a brief stint at L'Orangerie with Chef Ludovic Lefebvre, he set up shop at Bastide and would proceed to work with every one of the restaurant's head chef and remain there until the restaurants closure. Since then he has been at Riva and has continued on as Chef de Cuisine at the new Fraiche.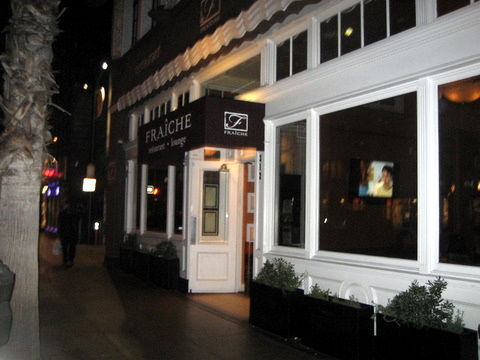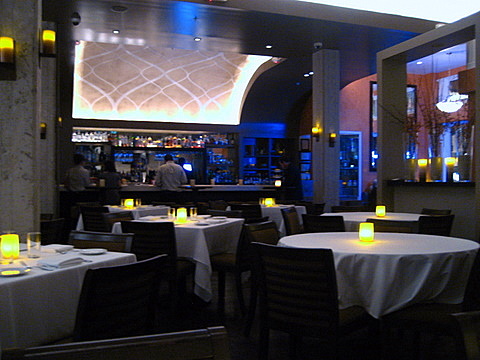 01: Japanese Scallops - Braised Pearl Onions, Lobster Glace, Lemon Oil, Orange
1995 Ferrari Rose, Trentino, Italy
From the moment this course was brought to the table, I knew I had to throw out any expectations I had about Fraiche. Subtle and complex, one is first met by the citrus notes from the lemon oil and orange which give way to a savory sweetness. A light well-balanced opening to the meal though I wish the scallop were a bit more substantial.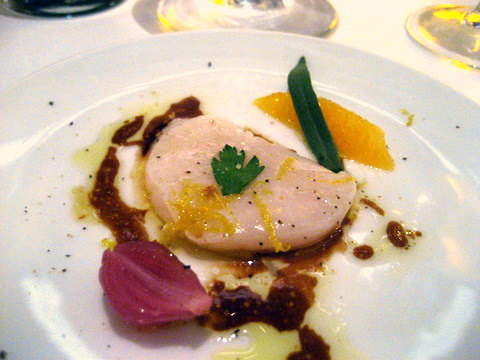 02: Foie Gras Terrine - Layered with Prosciutto & Fig Puree, Orange Gelée, Campari Gastrique
2006 Charles Hours Jurancon, Monein, France
A smooth and rich foie gras helped along nicely by the sweetness of the fig and slightly smoky twist of the prosciutto. However the dish truly came into its own when eaten together. Sweet. Sour. Bitter. Bold beautiful flavors combining effortlessly, each ingredient highlighted superbly yet none overpowering the others.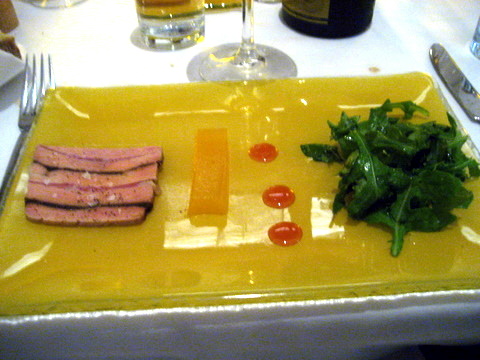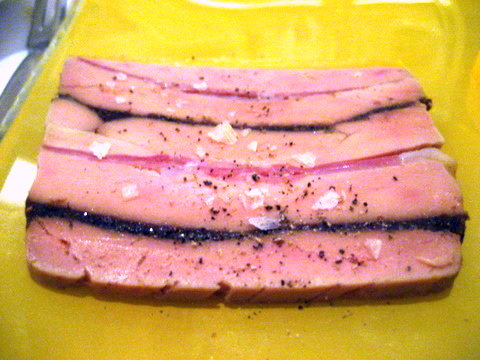 03: John Dory - Pearl Onions, Baby Turnips, Carrots, Toasted Brioche Crumbs
2007 Domain Drouhin, "Arthur" Chardonnay, Dundee Hills, Oregon
Chef Hunter explained that with scaled fish like Dory, the skin is removed prior to cooking so he added the brioche crumbs to serve as a faux skin. The crumbs replete with dark burnt butteriness complimented the mildness of the fish itself.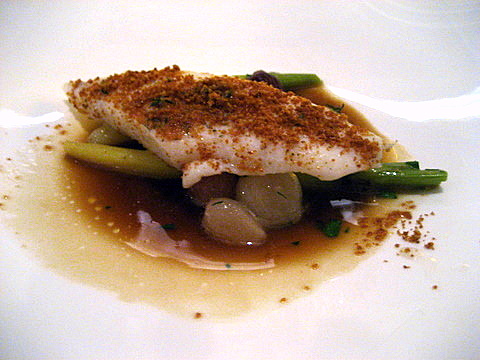 Next came a pair of courses that the chef decided to throw in as a surprise.

Supplement: Roasted Halibut - Paddlefish Caviar, Cauliflower Puree, English Peas, Chanterelles
2003 Albert Seltz Sono Contento Sylvaner, Alsace, France
The first of the two gifts was a gracefully prepared halibut, tender and supple, I was surprised to find this was a roasted preparation. The fish itself was extremely mild though the paddlefish provides a fitting salinity while the cauliflower and peas provided a degree of sweetness. Very nice, but some textural contrast would have been welcome, perhaps a quick sear to scorch the surface of the fish. The wine paired with this was truly exceptional, melon, bright acidity, and lively citrus notes, I've been trying to find a few bottles for sale but haven't had much luck.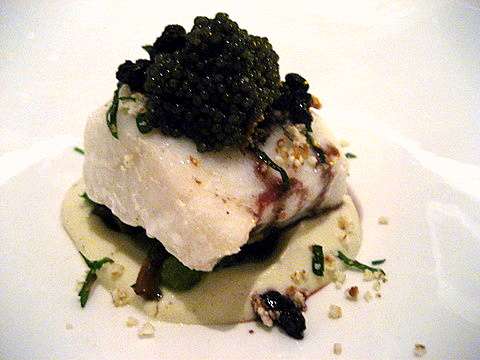 Supplement: Rabbit Three Ways - Rack of Rabbit, Loin of Rabbit, Confit of Rabbit
2006 Domaine Mongeard-Mugneret Fixin, Burgundy, France
The second surprise was a rabbit snack plate with a trio of preparations: a saddle with herbs, rabbit confit, and a disturbingly cute mini-rack of ribs. Each of the three had its charms though the rack with its simple straightforward fattiness was my favorite.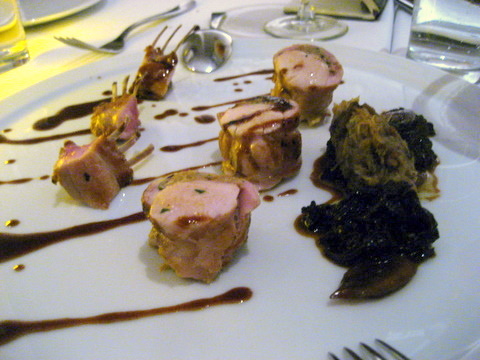 04: Kurobuta Pork Two Ways
Wood Fire Braised Loin - Lentils, Carrot Sauce, Ginger-Honey Emulsion
Bone-in-Chop - Baby Turnips, Brussel Sprouts, Butternut Squash Puree, Pepitas
2006 Ghost Block Cabernet, Oakville, Napa Valley California
The last course was comprised of two preparations of Kurobuta pork that couldn't have been more different. The first was a tender braised loin served in a spicy sweet stew. A hearty mixture that begs to be be wolfed down in a manner most out of place in public. This course was so simple yet delicious a number of people asked for seconds. The second was a chop, a bit drier and subtler, intriguing in its very austerity. The wine paired with this was a powerfully intense California cab, dark chocolate, rich fruit a bold accompaniment very well suited to the braised preparation.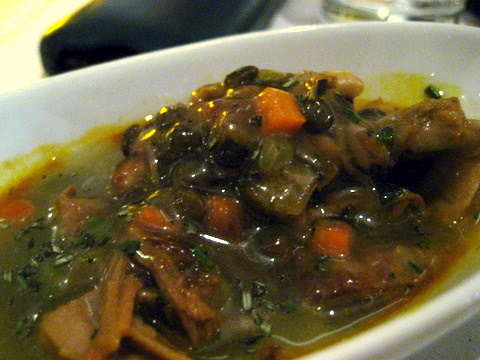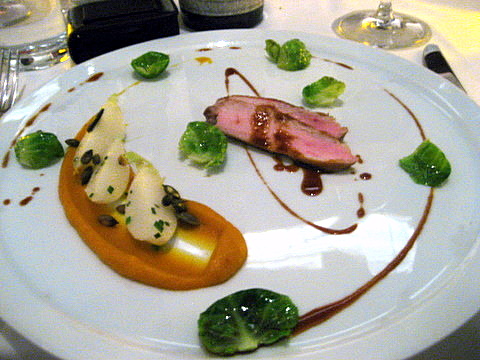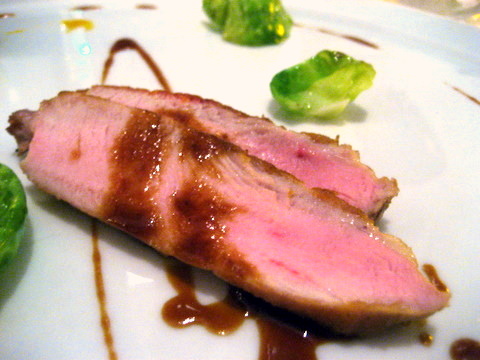 05: Milk Chocolate Cremeux - Candied Pecans, Brown Butter Ganache, Coconut Sorbet
Framboise and Allagash White
The chocolate formed a dense base to which the coconut sorbed added a subtle Thai shading. The mascarpone noodles were a nice visual addition though their flavor was a drowned out by the chocolate. Mixing the body of the Allagash White with the sweetness of the Framboise worked surprisingly well as a dessert wine, though it couldn't quite stand up to the richness of the chocolate.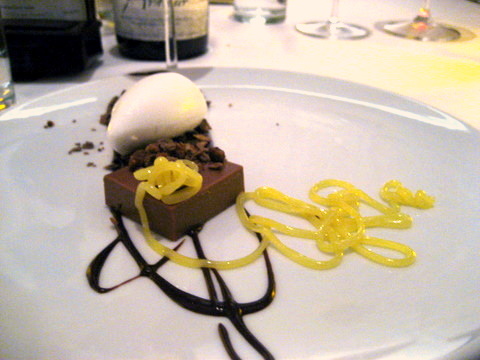 A graceful host from start to finish, before each course, Chef Hunter described the dish explained his rationale behind it. When the meal came to a close, he took us on a tour of the kitchen which was effectively two kitchens: an exposed spacious outer kitchen equipped with a pizza oven (now idle though Chef Hunter mentioned he had a few ideas he'd like to try) and an inner "submarine" kitchen where the real work gets done.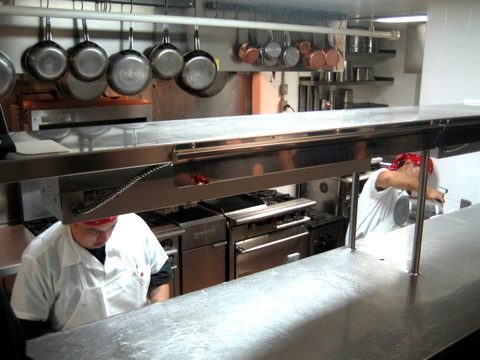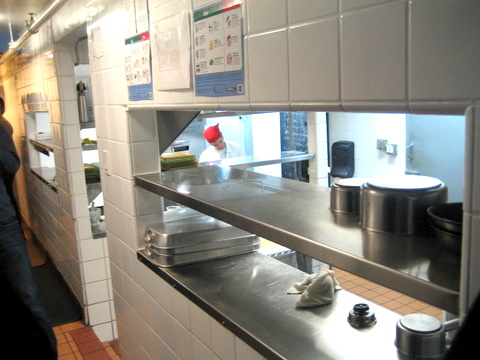 My experience at Fraiche far and away exceeded my expectations, the food exhibited a level of complexity far above the bistro fare I was expecting. Those who visit Fraiche in Santa Monica expecting a carbon copy of the original will be surprised, though I expect pleasantly so. I can't wait to see what other surprises Chef Hunter has on the menu.