Pagolac
14580 Brookhurst St
Westminster, CA 92683
(714) 531-4740

Despite living 5 minutes from Westminster I hadn't even heard of Bò 7 món, 7 courses of beef, until a couple of years ago. Though I've wanted to try it, I never got around to it until a friend who couldn't abide my abject ignorance insisted taking me for lunch. We first tried Thien An but the restaurant just happened to be closed for the day so we decided to try Pagolac instead.

Different restaurants may take some liberties in interpreting the 7 preparations that make up the meal though Pagolac's offerings are supposed to be fairly representative of the traditional preparations. The meat comes with sides of rice paper, vegetables, and herbs as well as a mam nem dipping sauce. The crispness of the fresh vegetables are an excellent counter to the heaviness of the meat, however my inability to wrap everything neatly in the rice paper resulted in quite a bit of messiness.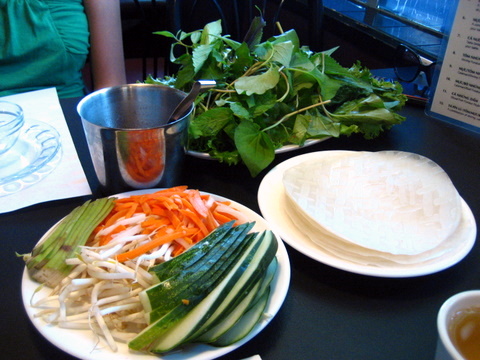 Course 01: Bo Nhung Dam | Fondue Style - slices of tenderloin especially prepared at your table in a simmery vinegar broth
I initially thought this would be similar to the beef in pho but it turned out to be a fair bit tougher and the vinegar broth was nowhere near as enjoyable as traditional pho stock. Utterly boring, the meat was immediately lost against the backdrop of the vegetables and sauce.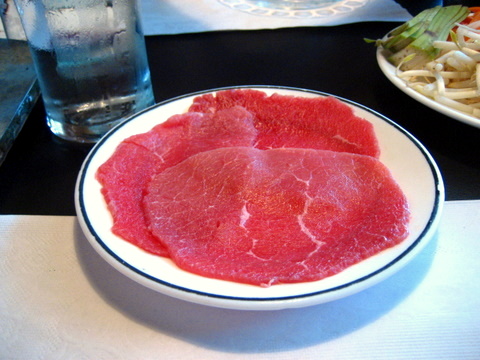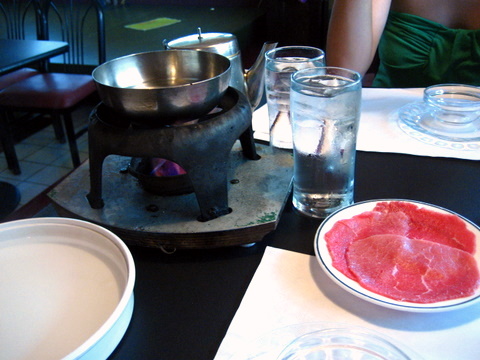 Course 02: Bo Cha Dum | Steamed Meatballs - delicious meatballs mixed with mushrooms peanuts and spices steamed to perfection
Course 03: Bo Nuong Mo Chai | Tasty Grilled Ground Beef Sausage - seasoned with five spices and charbroiled to perfection on an open flame
Course 04: Bo La Lot | Hawaii Leaf Sausage - grilled and wrapped in special aromatic leaves freshly imported from Hawaii
Course 05: Bo Sate | Beef Sate - prepared with a special curry sauce, pickles, ginger and wrapped in sliced tenderloin and charbroiled to perfection on an open flame
The next 4 courses were served simultaneously and much more fitting to eat in conjunction with the aforementioned accouterments. The Bo Nuong Mo Chai and Bo La Lot both utilized spice and herbs to accent the simple flavor of grilled meat while the other two relied on less subtle complimentary flavors.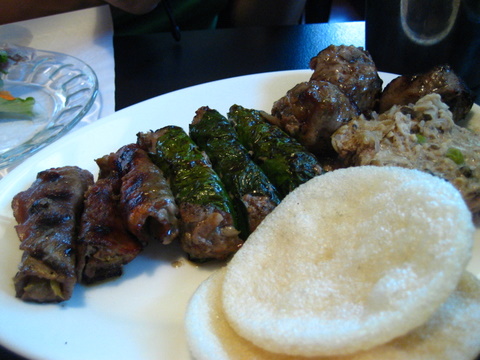 Course 06: Bo Bit Tet | Beef Salad - slices of tenderloin prepared over freshly tossed green salad with a touch of house dressing
Another solid course, the beef was well cooked while the red onion added sweetness and texture.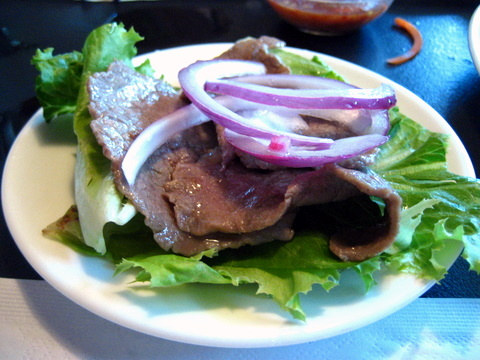 Chao Bo | Alphabet noodles and rice beef soup - sumptuous savory soup with ground beef, green onion, ginger and spices
Not sure what is so sumptuous about this course, all I could taste was a thin gingery broth, everything else in the Chao Bo was just eye candy.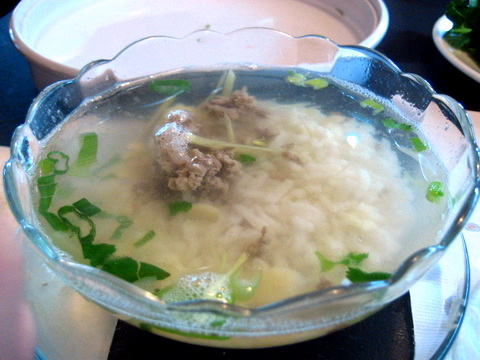 I have to say I left my first Bò 7 món experience somewhat underwhelmed. The idea is great, a multi-course affair of beef, what self-respecting carnivore wouldn't love that? Unfortunately, for me, the execution left much to be desired. I am glad I went, but I doubt I'll do it again.

Pho Thanh Lich
14500 Brookhurst St
Westminster, CA 92684
(714) 531-5789

Not quite satiated after our light repast at pagolac we decided to try the pho place located at the other end of the plaza.

Pho Tai
We decided to split a bowl of classic Pho Tai. The broth came out perfectly clear with a pure note of rich beef flavor. The meat was already sitting in the bowl by the time it arrived and was tougher than I normally like. However I normally ask for the meat on the side and probably cook it a lot less than is advisable. Still solid all around, though the strength of the broth probably makes it one of the better bowls of pho I have had.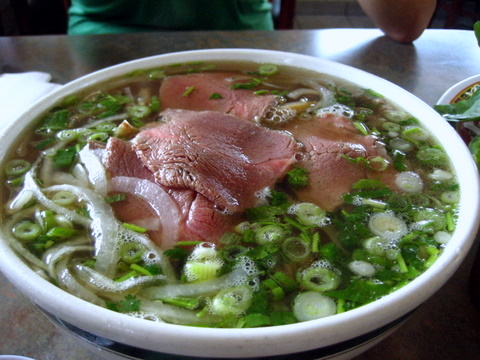 Cha Gio
For some unfathomable reason we also ordered a plate of egg rolls. Nicely fried and dense these immediately settled like lead in my stomach, though the bitter greens helped marginally counter the oiliness of the egg rolls.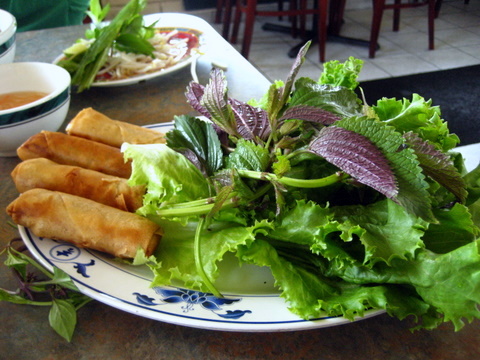 One for two, I left Pho Thanh Lich quite happy though bursting full. My coworkers had been looking for a new pho place for lunch after finding compelling evidence of lack sanitary standards at our previous regular haunt and I think we have found a winner in Pho Thanh Lich.