3300 Overland Ave.
Los Angeles, CA 90034
(310) 287-0337

Chego, which specializes in Korean inspired rice bowls, is the latest creation from Chef Roy Choi of Kogi fame. Though Chego is actually a traditional brick and mortar restaurant, the space is so small that they might actually serve fewer people than they could with a food truck. The walls around the dining area are filled with random gewgaws and knickknacks brought by friends and family and the clutter only adds to the claustrophobic feel of the room.

I ended up visiting this place on the recommendation of Jai Kohli, the president of AndersonEats, the food appreciation club at UCLA Anderson. Jai also happens to be an avid reader of Kevin's blog and a damn fine cook in his own right.

My apologies for the poor photo quality, my camera died and these were taken with my iPhone.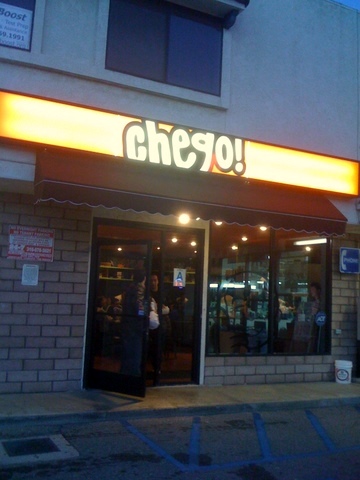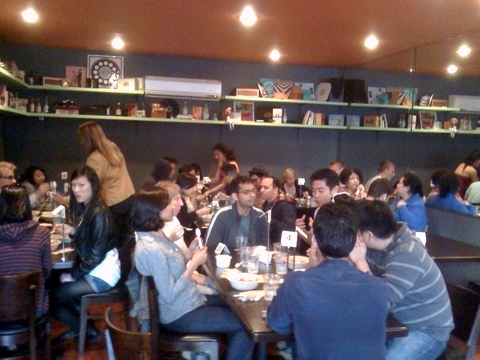 Charred Asparagus - Garlic Chili Cilantro Lemon
To start I went with a side of charred asparagus, the vegetable itself takes on a softer stringy consistency with a sharp bitterness. There is a hefty amount of spice from the two types of chili as well as a nice citrus twang on the finish, simple but effective.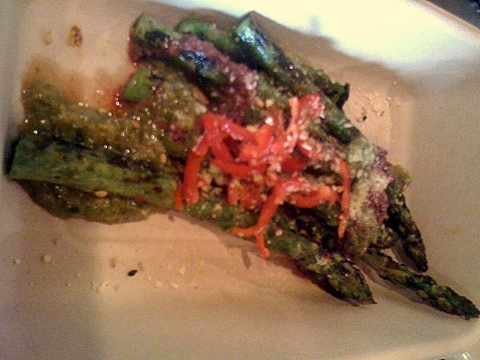 One Chubby Pork Belly - Fried Egg Waterspinach Peanuts
Hard to go wrong combining pork belly with a fried egg. The gelatinous yolk adding a sticky mouthfeel to the rice and pork. The heavy flavors are countered with a liberal helping of spice and the light fragrance of cilantro and basil.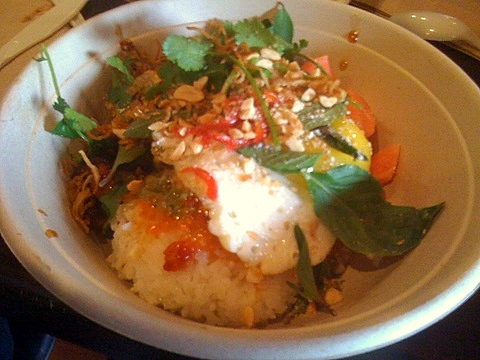 Sour Cream Hen House - Fried Egg Chinese Broccoli Thai Basil
Jai ordered the chicken bowl which came with many of the same accompaniments. Less well balanced than the pork belly, the lighter flavor of the chicken was overwhelmed by the vegetal bitterness of the Chinese broccoli.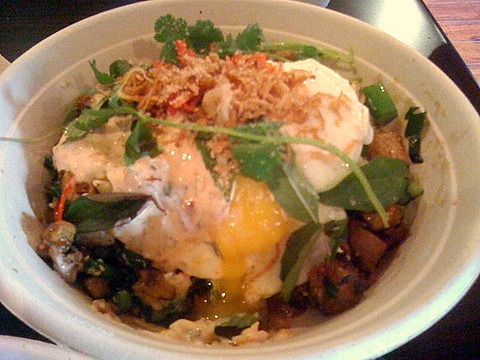 Rock Yer Road - Smoked Almonds Brownies Caramel Melting Marshmallow Fluff
In keeping with the upscale renditions of simple comfort food we finished with their one dessert offering. A chocolate ice cream topped with the ingredients found in a traditional Rocky Road ice cream. The dessert had a surprisingly complex mix of intense sweetness from the marshmallow and caramel and a multifaceted savoriness from the almonds.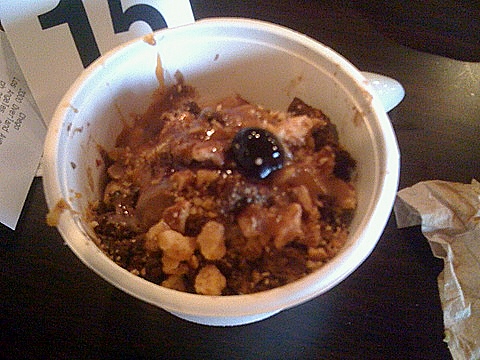 Despite still being in a soft opening stage, the restaurant had people waiting for a seat. I suspect once the restaurant formally opens, the line will be out the door. I suspect Kogi's reputation has a great deal to do with the early popularity. For my part, I thought the food was enjoyable though nothing particularly special.