Chez Panisse, is undoubtedly the most famous restaurant in Berkeley's "Gourmet Ghetto" and widely considered the birthplace of California cuisine. Founded in 1971, Chez Panisse has become a culinary institution boasting an impressive list of alumni including Suzanne Goin (AOC, Lucques, The Hungry Cat) and Mark Peel (Campanile).

Chez Panisse founder, Alice Waters was supposedly inspired by cooking techniques of Southern France and adopted their emphasis on fresh locally sourced ingredients. Adherents of the Californian cuisine style typically procure ingredients from farmers markets then tailor their menu to reflect whatever is in season. Both the Chez Panisse and the upstairs cafe feature constantly changing menu daily and weekly respectively.

I had dinner at the upstairs cafe once during my undergraduate years in college and for several years it was the best meal of my life. The cafe serves more casual fare and follows an a la carte format. By comparison the downstairs dining room has a fixed menu which increases in length as the week goes on from a mere 3 courses on Monday to a lengthier 5 on Friday and Saturday.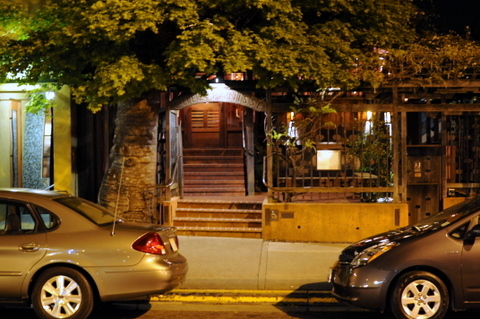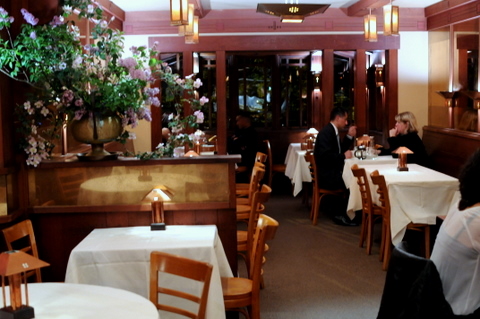 Crémant du Jura, Stéphane Tissot, France, Jura, NV
For such a brief meal we decided to stick to a single wine. My companion has a propensity for sparklers and with good reason they tend to be quite enjoyable on their own or with a wide selection of food. The Cremant du Jura comes from a mountainous region of eastern France. A fairly easy drinking wine the nose started out showing off lemon zest and mineral with hints of vanilla and toast on the palate. As the wine warmed, the nose started to pick up some of the creaminess as well.

Amuse: Crab and Lobster Salad
An apértif - Vin du Orange
The meal opened with a glass of chilled vin du orange think white sangria with a lingering essence of orange oil. Along with the apértif came a amuse of crab and lobster with mayo and vegetables. As much as I dislike slathering food in mayo, the creamy mouthfeel is a natural compliment to shellfish. Similarly the vegetables add a crisp textural variation and vegetal foil to the amuse.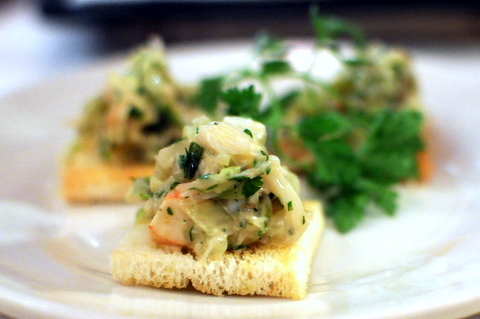 Artichoke and spring flower tempura - with horseradish cream
Such fresh vegetables deserved a gentler treatment, the flowers in particular were so delicate that it was difficult to taste anything over the savory fried batter. It didn't help that this course came with onion rings; easily the most flavorful part of the dish, they ended up coloring the rest of the vegetables with their sweetness.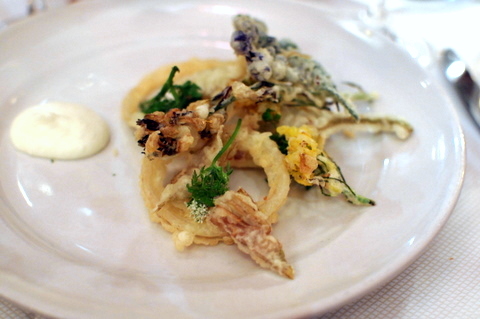 Chilled asparagus soup - with Roasted Scallop
Easily the best savory course of the night. The soup resonated with the pure essence of asparagus, slightly sweet with a distinct herbaceousness that is like no other vegetable. Add to that a warm scallop, lightly roasted to preserve the savory flavor and texture. Both components were minimally adorned, celebrating their innate qualities and letting us appreciate the contrast between them.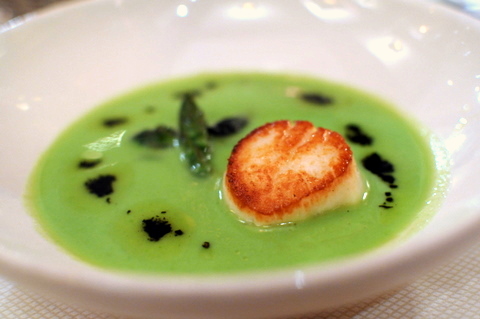 Grilled Sonoma Liberty duck breast - with rhubarb sauce, potato and pancetta gratin, and garden salad with fava beans
It goes without saying that the duck breast was tender and moist, at a restaurant of Chez Panisse's caliber that is a given. The sweet rhubarb sauce was just too much. The potato and pancetta was enjoyable though its hard to screw up a gratin potato. The salad was also a nice touch with fresh leafy greens and sweet grassy fava beans. Overall a very well structured dish, solid preparation all around, classic flavor, well balanced but utterly boring.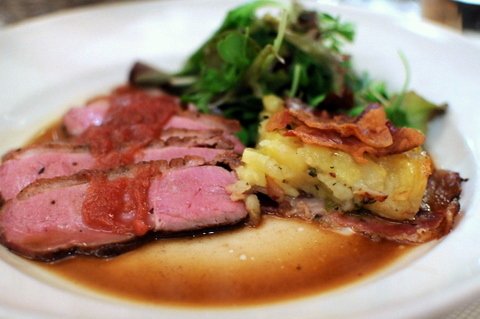 Bittersweet chocolate crêpes - with bourbon ice cream and candied pecans
Probably the most interesting course of the night. A slightly drier and crisper crepe, liberal application of melted chocolate added some much needed moistness. The star was easily the bourbon ice cream with its subtle woody flavor, just a fantastic foil to the chocolate.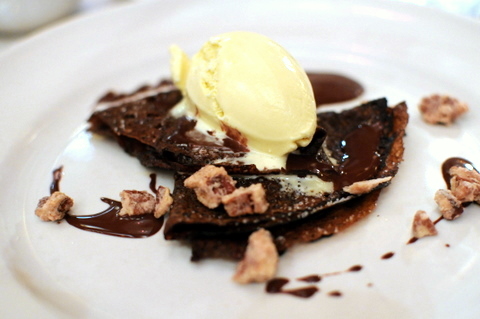 Mignardises
An enjoyable pair of mignardises the orange zest was fairly typical and one of my companions described the other dessert as a mini pop-tart.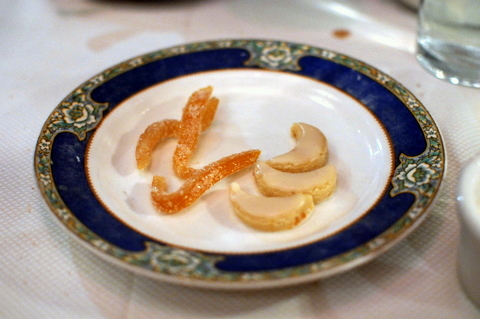 My meal at Chez Panisse reminded me of a conversation I had with Chef Jose Andres at The Bazaar. He felt that the primacy placed on the origin of ingredients was coming at the expense of the overall flavor of the dish. At one point we were brought a plate of Watermelon with Sexy Tomato Seeds, consistently one of the best courses at The Bazaar. Chef Andres explained the watermelons came from Mexico, why because it was the only place to get watermelon in the middle of November. Chez Panisse espouses the opposite view, tailoring their menu to suit whats at hand rather than creating the best tasting dish. Not to say one view is better than the other but for my part I'd rather have a better tasting dish than one that came from the organic sustainable farm next door any day of the week. Of course what do I know, the restaurant has been in business for nearly 40 years and maintained a sterling reputation; they must be doing something right.