3859 Piedmont Ave
Oakland, CA 94611
(510) 653-3902

Considering we were flying out of Oakland, Commis was the only real choice for dinner. Chef James Syhabout, formerly of Manresa and Coi, is finally in control of his own kitchen at Commis. The restaurant has been receiving quite a bit of press including a Michelin star in the 2010 guide.

Like Animal, the exterior of Commis has no overt signage and would be easily overlooked by any casual passerbys. This could be by design as the interior is tiny and with only seats 31 competition for reservations is fierce. The interior is decorated in a clean contemporary style, dominated by the display kitchen.

Commis features a small 3-course menu made up of ever-changing courses designed to take advantage of the freshest seasonal ingredients. The food has a distinctly avant-garde feel with complex pairings and flavor profiles which I hoped would be a welcome change from the staid menu at Chez Panisse. In addition to the 3-course the kitchen counter features a 9-course tasting menu.

Given the time constraints, the tasting menu was out of the question, but we tried ordering an extra three-course which would allow us to taste everything they were serving that evening. The restaurant refused our request which seemed a bit strange though that comes as less of a surprise after our experience at Danko. It seems refusing customer orders is a behavior common to Bay Area restaurants.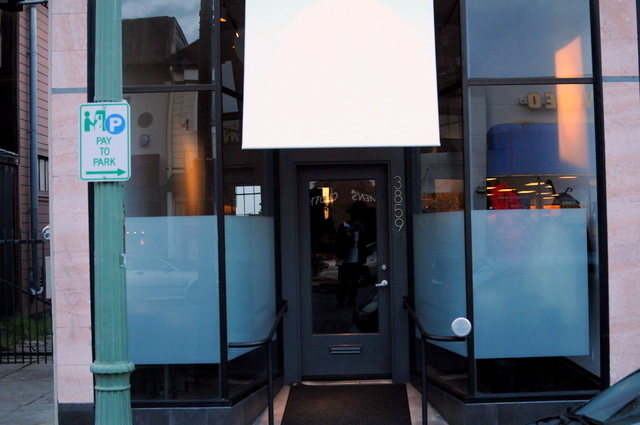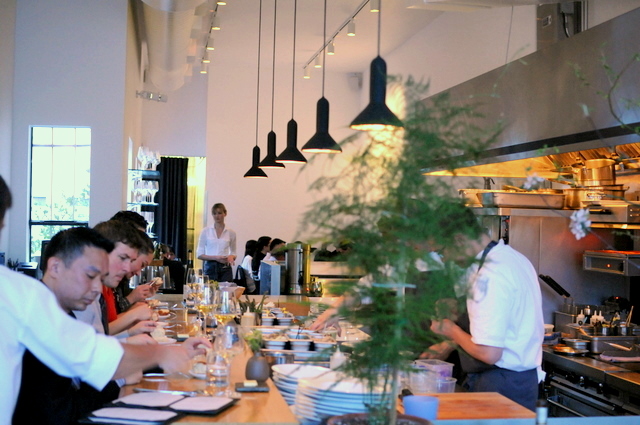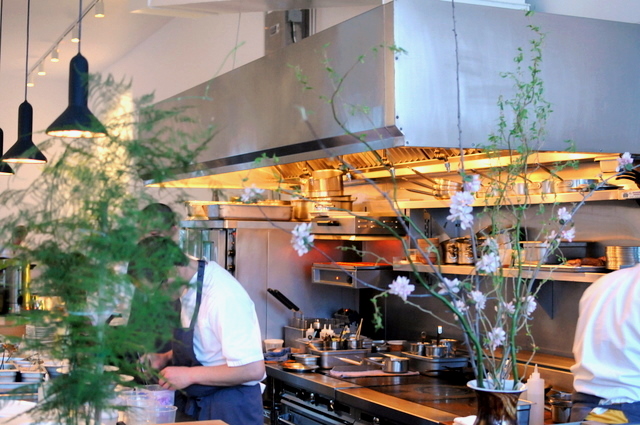 Amuse: HARD POACHED EGG - smoked dates, chive, malt, granola
Prosecco Le Vigne Di Alice Tajad MV
An intriguingly presented amuse, the egg reminded me of an unblinking eye staring up at me. The key to this dish was to get everything together in one bite and letting the egg bind and temper the nutty granola and saccharine date.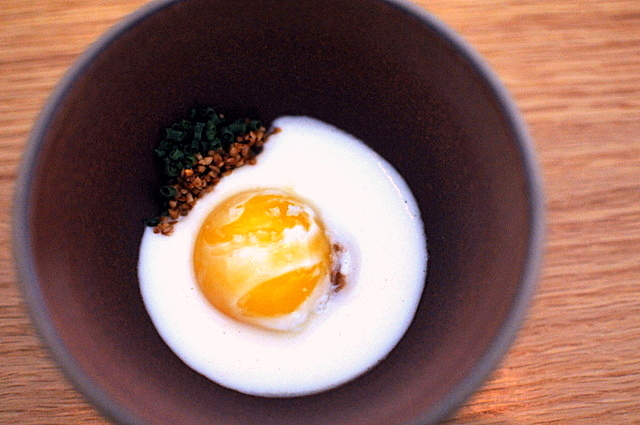 Bread - Wheat Bran with Black Pepper
Both the bread and butter are made fresh in house, today's offering was reminiscent of Hawaiian bread but with some teeth.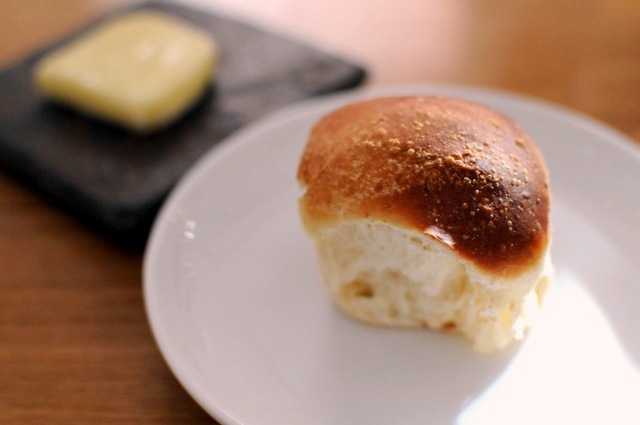 1a: CORNED PORK JOWL SALAD - black trumpet vinaigrette, chicory and lettuce stems and leaves
Chenin Blanc Leo Steen Saini Farms Sonoma Coast 2008
I am an unabashed lover of all things fatty but even I had to tread carefully around the pork jowl; think all the flavor of pork belly and twice the fat. It was a good idea to try pairing a bitter flavor profile to cut the oppressiveness of the pork but the intense lingering flavor of the chicory was just too much, outlasting the pork and taking away from its exquisite richness.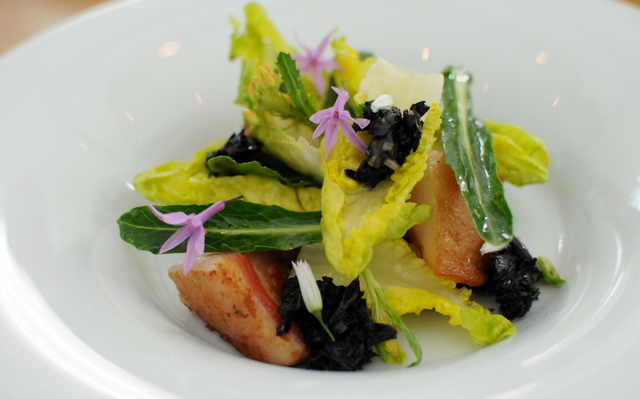 1b: MONTEREY BAY SARDINES, LIGHTLY CURED - grilled King Richard leeks with mint, crisp chickpea
Mataossu Punta Crena Liguria 2008
Sardines are a naturally full-flavored fish but these were even more intense than I expected. The dish had a complex combination of flavors and textures but I found the pairing of fishy brine with the vegetal leeks and mint disturbing.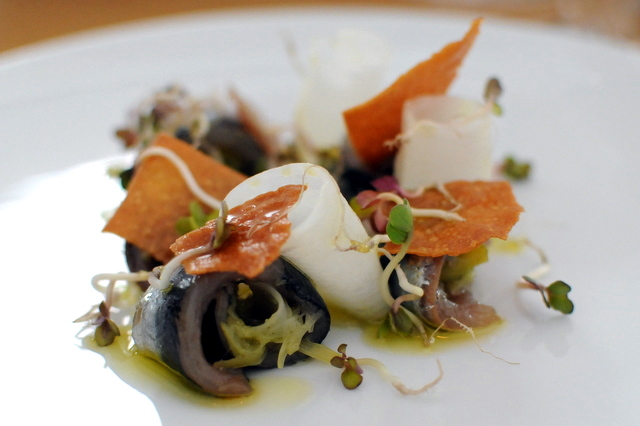 2b: SLOW ROAST SIRLOIN OF BEEF - caramelized cauliflower and spring garlic pudding, bone marrow jus
Tinta Roriz Duas Quintas Adriano Ramos Pinto Douro Valley 2007
At a glance, the temperature gives the illusion of tenderness, but the response I got while cutting the meat suggested otherwise. The beef was a steak-lovers dream, rough-cut texture, well marbled and chock full of beefy goodness.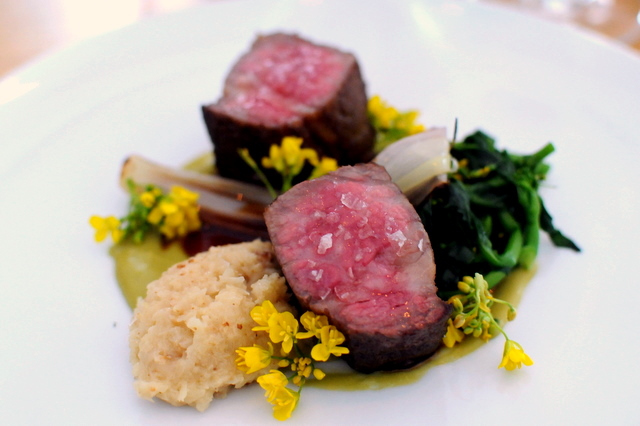 2b: PASTURED CHICKEN POACHED IN BUTTERMILK - potato crushed with flowering herbs, confit and beech mushrooms
Cinsault/Grenache Domaine de Roquemale Les Terrasses Languedoc 2007
When I see buttermilk and chicken in the same sentence, fried chicken immediately comes to mind but it happens to be a brilliant poaching stock, resulting in an incomparably tender breast. The delicate flavor of the herbed potatoes and soft earthy tone of the mushroom were perfect in keeping with the delicate tone set by the breast. The course also featured a tough stringy confit that came bursting with flavor but I felt the blunt savoriness overwhelmed the balance set by the rest of the course.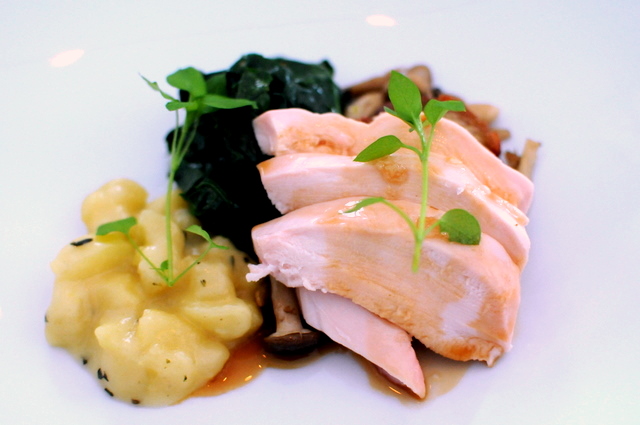 Pre-Dessert: HIBISCUS JASMINE SODA
The hibiscus is apparent on the attack but the jasmine really picks up giving this a tea-like complexion on the finish.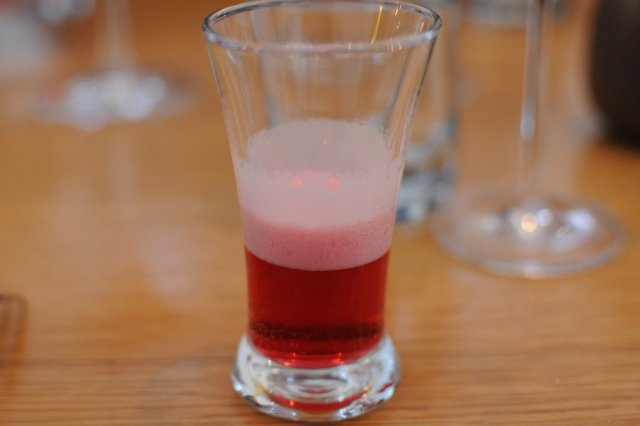 3a: CHOCOLATE BRIOCHE PUDDING - green tea ice cream, caramelized puffed rices and popcorn custard
Late Harvest Chardonnay Baton Charles Heintz Vineyard Sonoma Coast 2006
This looked like your typical chocolate dessert but the brioche moniker proved to be a key differentiator, adding a savory twang which were heightened by the puffed rice and popcorn custard. I typically like rich chocolate desserts but every now and then a lighter dessert is a nice change of pace.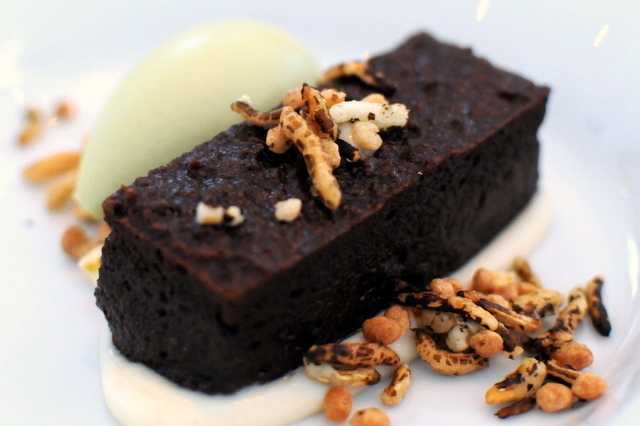 3b: CARROT CAKE (IN A JAR) - raisin-tamarind jam, lime cheesecake cream
Late Harvest Zinfandel Bella Sonoma County 2008
I wonder if this was an homage to Ubuntu's "Cheesecake in a jar." Ubuntu's Chef Fox and Chef Syhabout's are good friends the two worked together at Manresa and opened their respective restaurants at the same time. This was just what you'd expect, classically sweet and spice flavors tempered by the tangy jam and smooth cream.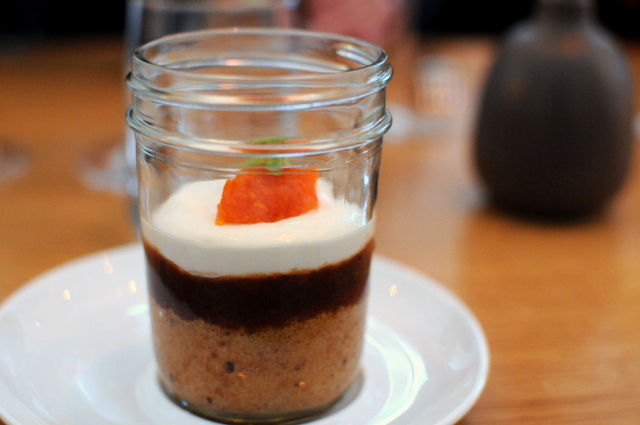 Mignardises - Absinthe Jelly
A light sweet finish but Absinthe in name only.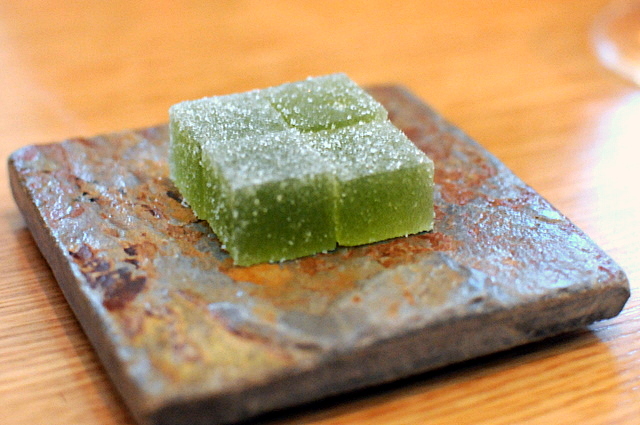 Did Commis live up to the hype? Yes and no. The skill of the kitchen is abundantly clear in the preparation of the meat, the pork jowl, chicken, and beef were all superb, but as a whole the first two courses just weren't very satisfying. The later savory courses were substantially better but lacked the complexity of the earlier courses, ironically the same complaint I had about Chez Panisse and one which I dearly hoped to avoid here. Still I'd be willing to try the tasting menu before writing off the restaurant entirely.