When I was first developing a taste for fine dining, the tasting menu at Spago made a huge impression on me. It wasn't my first fine dining tasting menu, that honor goes to Alinea. Still the meal at Spago showed me just what a difference good ingredients in the hands of a skilled kitchen crew can do. Ever since then I've wanted to return to see if Spago would stand the test of time.

As before, the tasting menu began with an array of signature canapes. The canapes came served with a glass of Ruinart Rosé that showed off lively notes of berry fruit and minerality with a pleasing creamy mouthfeel, an excellent pair with the seafood heavy amuses.

Canape 01: Tuna Tartare Cone
Ruinart, Brut Rosé, Champagne, NV
Perhaps the most famous of Wolfgang Puck's appetizers the tuna tartare cone is a regular fixture at the Academy Awards Governor's Ball and with good reason. The tuna is fresh with classic accompaniments of ginger, masago, soy and wasabi packaged in a handy and approachable savory-sweet sesame cone.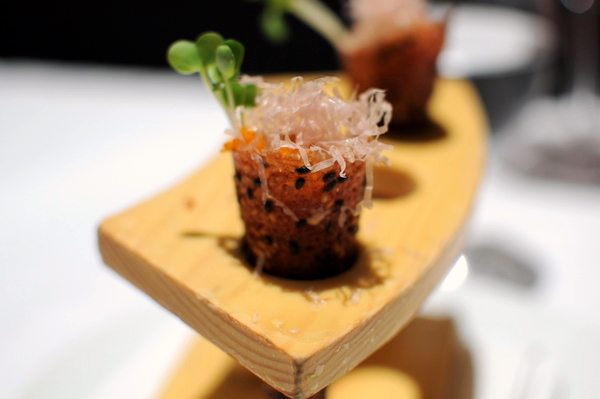 Canape 02: Hamachi Ceviche
Ruinart, Brut Rose, Champagne, NV
I remember this being overly acidic last time and the same still holds true. The hamachi felt a bit flat to me, perhaps a firmer fish or a coarser cut might have allwed the fish to at least contribute texturally to the dish.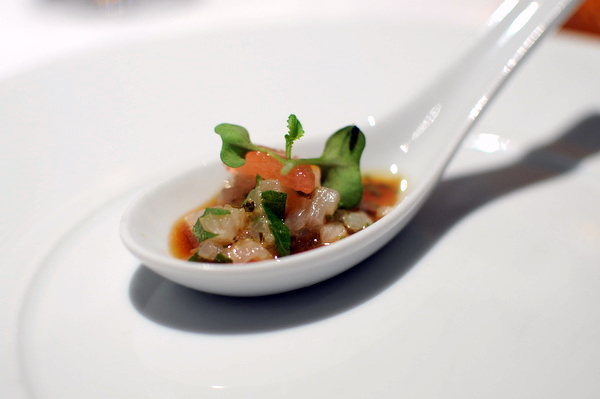 Canape 03: House-Smoked Salmon on a Lemon-Herb Blini
Ruinart, Brut Rose, Champagne, NV
The ikura does wonders for this course, bringing the natural essence of the fish out from beneath the smoke. The blini adds a moderating temper to the salmon as well as a pleasing heft.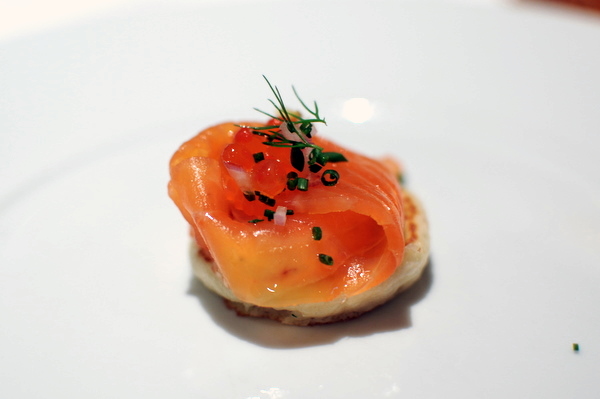 Canape 04: Sturgeon Mousse on Rye Crisp
Ruinart, Brut Rose, Champagne, NV
A small amount of savory fish mousse came topped with oscetra caviar and sandwiched between two thin slices of rye toast.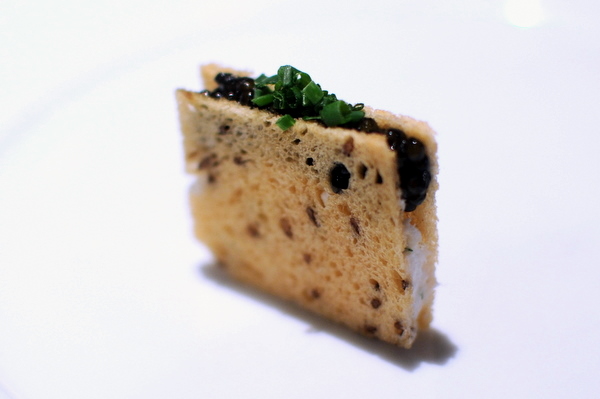 Canape 05: Fava Bean Hummus Tartlets
Ruinart, Brut Rose, Champagne, NV
A quintessentially spring dish, pairing classic Mediterranian flavors with a nutty vegetal twang from the beans.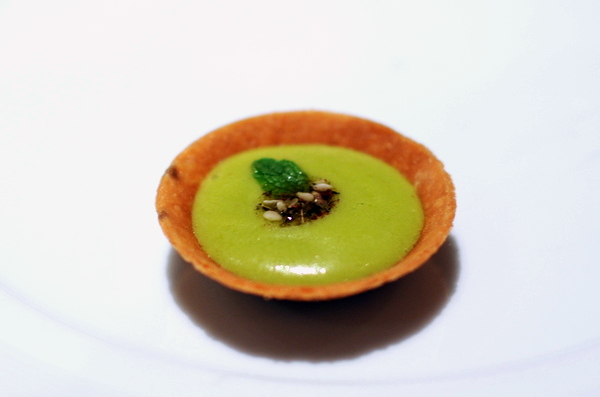 Canape 06: Bacon en Croute
Ruinart, Brut Rose, Champagne, NV
Hard to find fault with the final canape, a flaky buttery pastry wrapped around a piping hot savory bacon and cream filling.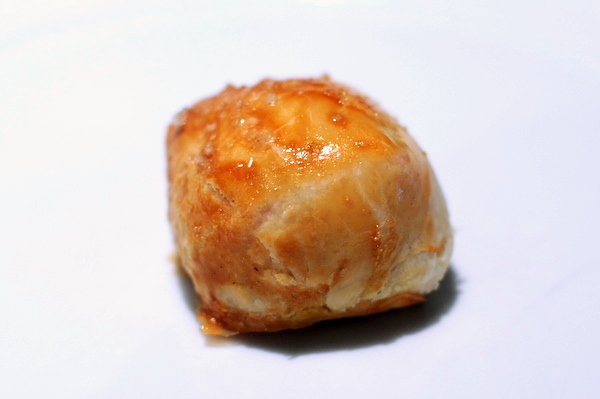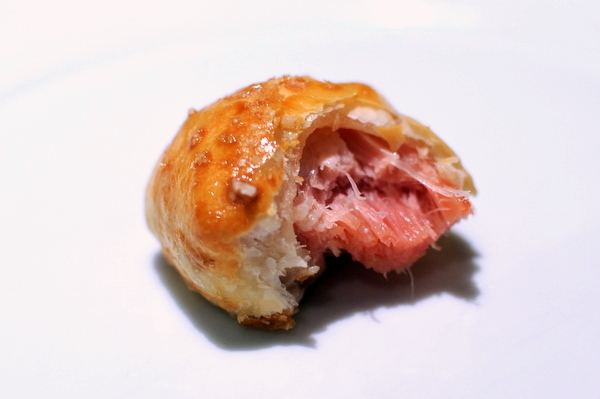 Sorbet: Cucumber Sorbet - with Ume Boche and Oolong Tea
A unique feature of Spago's tasting menu is a palate cleanser between the canapes and the formal courses. The bracing sorbet features a rejuvenating essence from the cucumber and tea mixture as well as a disconcerting but fitting savory essence.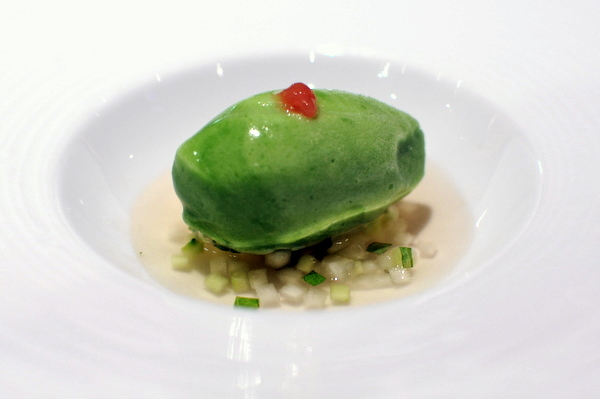 01: Albacore Sashimi - with Jalepeno Garlic Ponzu Sauce
Pinot D' Alsace, Zind Humbrect 2007
Presentation was at least as important as preparation with this course, the vivid colors and minimalist presentation giving the dish a Kaiseki-like feel. The jalepeno garlic ponzu was a touch heavy for such a mild fish but the succulence of the onion and greens helped dilute its potency. The wine was an Alsatian Pinot gris which combined aromas of peach and lemon zest with firm acidity that made the wine light enough to compliment the fish.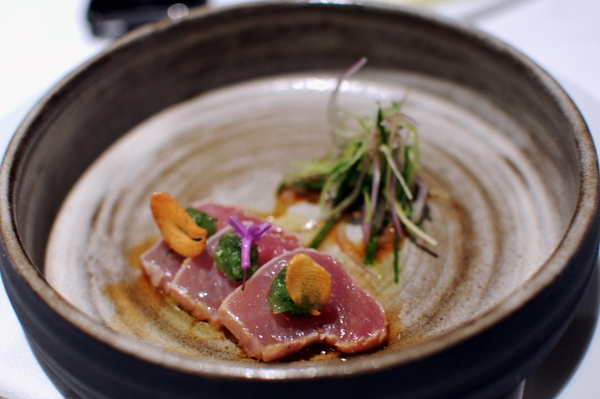 02: Seared Maine Diver Scallops - Lemongrass, Holy Basil and Pad Thai Noodles
Riesling, Schäfer-Frölich, Medium-Dry, Nahe, Germany 2007
Scallops are a fine dining mainstay but this is the first time I've seen Pad Thai at a restaurant of this caliber and style. The scallop was delicious but the exceptionally prepared Pad Thai steals the show. The two elements are tied together by the lemongrass tinged peanut sauce. I couldn't think of a better pairing for this course than the classic approachable riesling that we were served.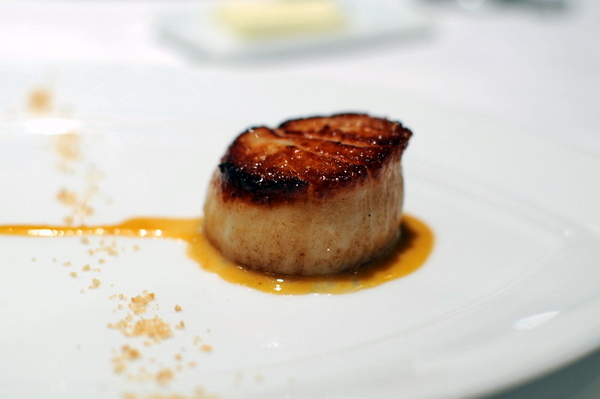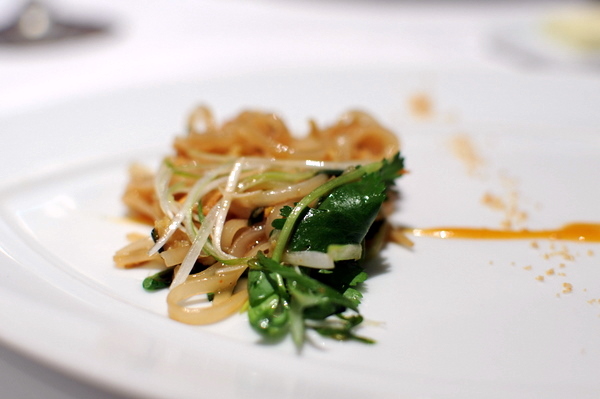 03: Virginia Striped Bass - Ragout of Littleneck Clams, Fava Beans
Pinot Gris, Alexana, Revana Vineyard, Dundee Hills, OR 2007
Striped bass is an interesting fish with a straightforward sapid flavor and a texture that is a pleasing compromise of flaky and meaty. The simple flavor is immeasurably deepened by the stock from the slow cooked clams while fresh herbs and fava beans provide a clean vegetal foil.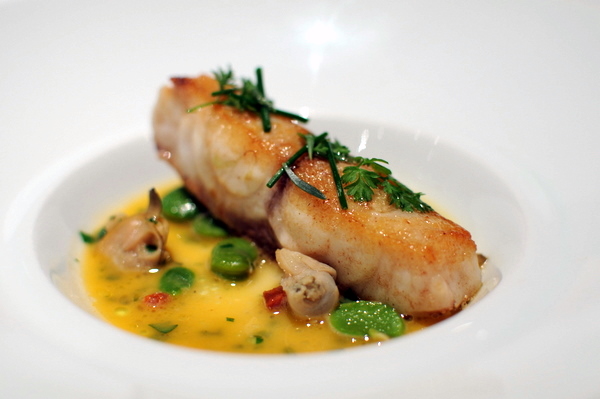 04: Homemade Sweet Pea and Marscarpone Agnolotti
The only holdover from my first visit was this heavenly plate of pea agnolotti. Again the sweet herbaceousness of the peas intertwines perfectly with the creamy body of the marscarpone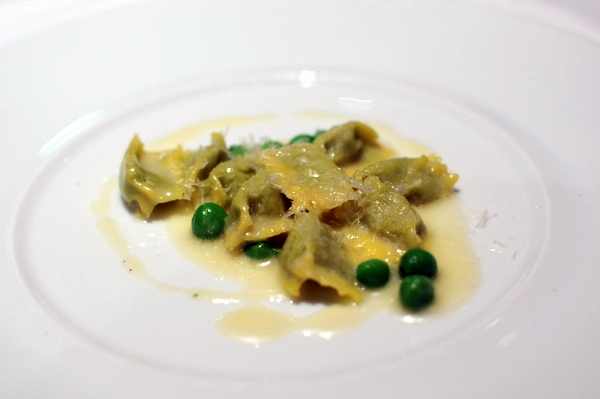 05: Devils Gulch Rabbit - Morel Mushrooms and Asparagus, with Natural Juice
Pinot Noir, Brewer-Clifton, Sta. Rita Hills, CA 2008
I hate to admit it but the rabbit loin had a texture reminiscent of a well cooked chicken breast. The natural jus helped accentuate the slight natural game of the rabbit which also benefited greatly from the herbed stuffing. Flavorful dusky morels and the fresh spring asparagus were wonderful foils to the heft of the meat. The wine was a full bodied pinot which exhibited intense earth and white flower aromas in addition to the typical bright sour cherry.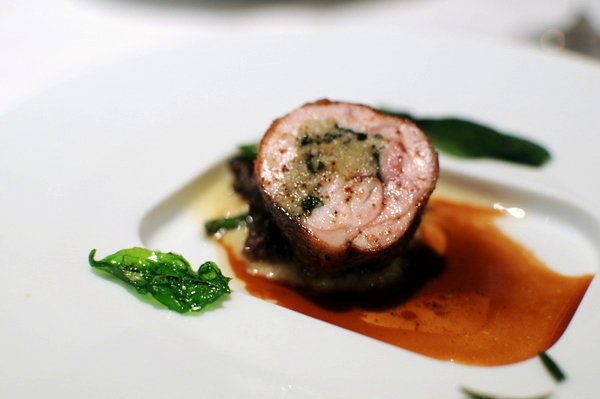 06: Sonoma Lamb Rack - Huckleberries and Sage Flour
Syrah, Domaine Faury, Vieilles Vignes, St. Joseph, Rhone Valley, France 2006
Hard to believe how much lamb can vary, the gaminess that permiated mine was noticably absent in my girlfriend's plate. A fairly typical presentation except for the two small cubes of pork fat; utterly rich but totally out of place against the smoky savory lamb. The syrah was a great choice to pair with the lamb, equally smoky with hints of meat and pepper along with a core of ripe fruit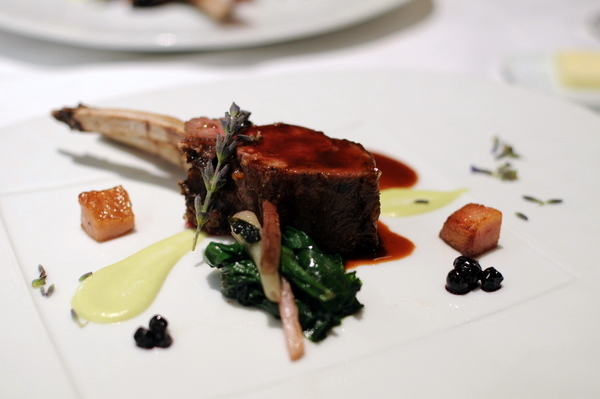 07: Spago Artisanal Cheese Selection
Mourvedre, Chatea LaRoque "Cuvee Vieilles Vignes," Pic Saint Loup, France 2006
The first time I had a fromage course was at Spago nearly three years ago. Back then, the smell of blue cheese turned my stomach and even the Brilliat Savarin (now one of my favorites) intimidated me. This time around the cheeses were much more palatable. A mild blue and tangy sheep's milk plus a Chimay cheese made by the same Trappist monks that make Chimay beer. The Chimay was superb springy and pliant with a slightly bitter flavor profile on account of having been washed in beer.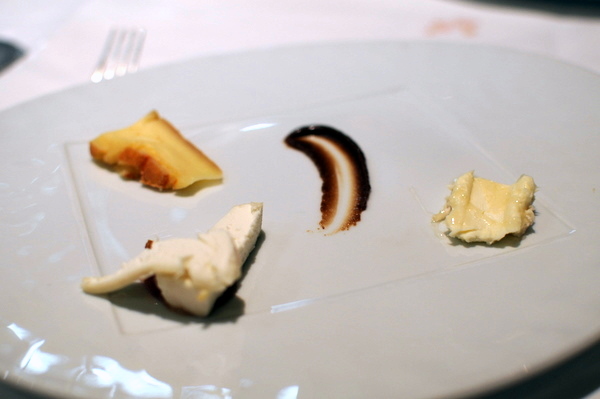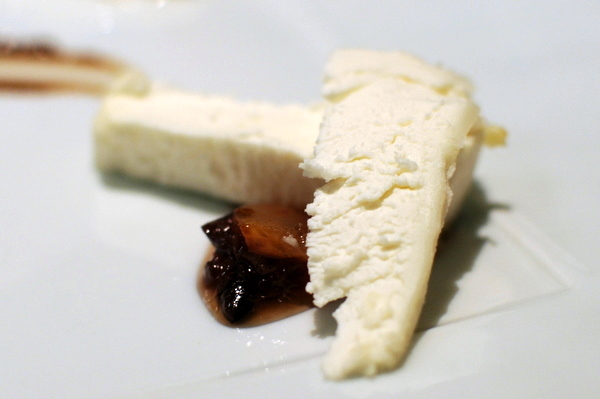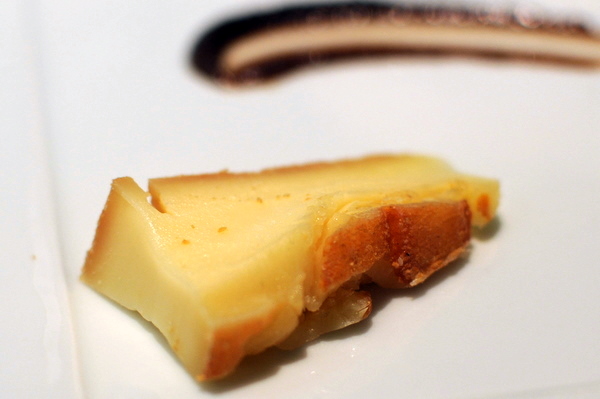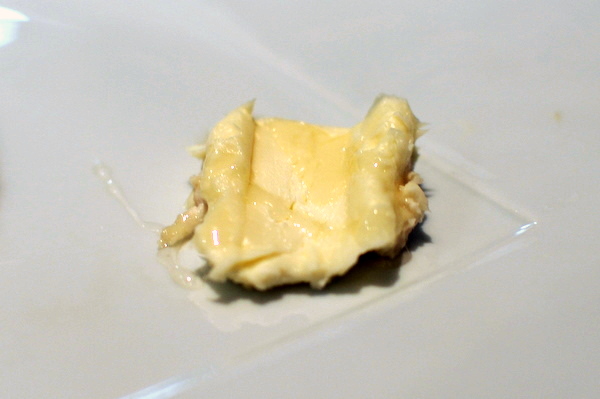 08: Mille Feuille - Inverse Puff Pastry, Créme Baumanier, McGrath Farm Strawberries, Strawberry Ice Cream
La Spinetta Moscato D'Asti "Bricco Quaglia," Italy, 2008
As expected the first dessert was fruit based with crispy glazed pastry sheets. I couldn't have asked for more, ripe luscious strawberries thick luxurious cream and sweet buttery pastry. The Asti was surprisingly complex yet approachable, with intensely sweet fruit and floral notes coupled with the light alcohol and slight effervescence make this one of the easiest drinking wines I've had in a long time.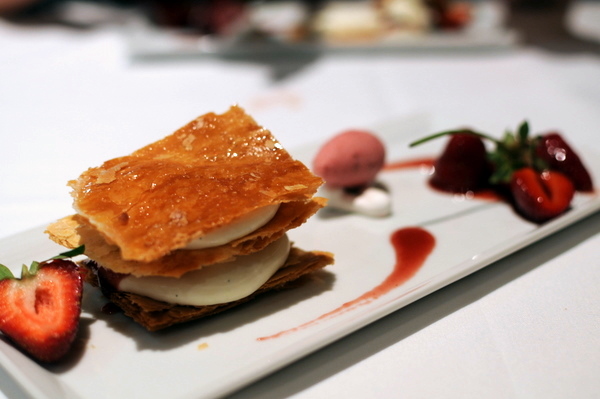 09: Chcoolate Bread Pudding - Warm Guittard Chocolate Ganache, Almond Krokant, Butterscotch Gelato
La Spinetta Moscato D'Asti "Bricco Quaglia," Italy, 2008
Bread pudding is definitely not one of the more common chocolate desserts around so it was an odd coincidence to see it at consecutive dinners. But the similarities to the dessert at Commis ends with the name. The bread pudding reminded me of Texas sheet cake the brioche had a moist sticky consistency and veritably oozed rich flavors of chocolate almond and caramel. The wine didn't have a chance in hell of holding up to the intensity of the chocolate losing much of its brightness and vibrancy.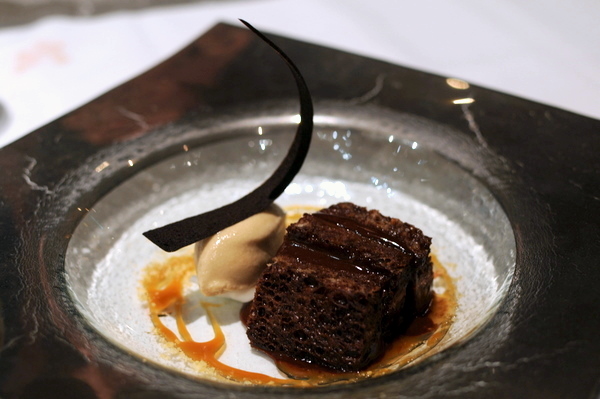 Spago gets its share of criticism for haughty or indifferent servers but during my two visits the staff was nothing but gracious and attentive. More importantly the quality of the food has not dimmed in the three years since my last trip.

I think credit for Spago's consistency is in a large part due to its Executive Chef, Lee Hefter. Chef Hefter started his career at a New Jersey country club before moving west to San Francisco to work at Tropp's China Moon Cafe. He then joined Wolfgang at the original Spago in 1993 before heading to Europe in 1995 where he staged at a number of top restaurants. He returned in 1996 and hooked back up with Puck, this time as the executive chef at Granita. After a year he left to take up the reins at Spago in Beverly Hills. Since then he has also served as executive chef and managing partner at Vert, CUT, and most recently WP24. In an industry characterized by high turnover Hefter's 13 year stint as the executive chef of Spago is particularly impressive. While the food is by no means groundbreaking, Spago offers delicious tasting and approachable fare and remains one of the better restaurants in Los Angeles.