9575 W Pico Blvd
Los Angeles, CA 90035
(310) 277-0133

Josh Smith stepped up to the executive chef position at Church and State after Walter Manzke's departure. Chef Smith's last two years were spent as the Chef de Cuisine at Anisette so the transition to Church & State would have been a natural one. Initially Chef Smith's role was that of caretaker, executing Manzke's menu which almost invariably entails a step down in quality. In her review, Virbilla noted Smith's own dishes were quite strong, thus I was looking forward to seeing what he could do given the freedom to plan his own menu.

Amuse - sorbet of vodka, honey, dill, basil, lemon
The bar menu seemed more elaborate than normal, preparing six cocktails to pair with the savories and an alcoholic sorbet for an amuse. The alcohol was barely noticeable instead the sorbet offered a bracing blend of lemon and basil which I found quite refreshing.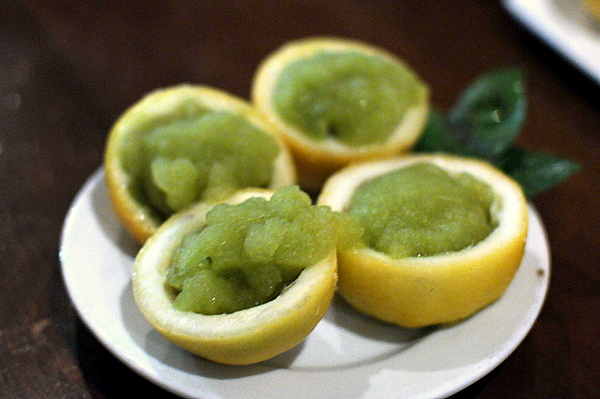 01: "Fattoush" - zebra tomatoes, green gage plums, lemon cucumber, daikon radish
that's what shiso - starr african rum, cherry sunburst tomatoes, purple shiso, sumac, sugar
Traditionally, Fattoush is a salad of fried pita bread and mixed vegetables and was created as a way to make use of pita bread that had gone stale. Chef Smith's interpretation focused more heavily on the fresh vegetables than the stale bread, featuring vegetables and fruits that ranged from saccharine to bitter and worked exceedingly well together. The cocktail had a similar sweet/vegetal balance that was hard to characterize but fit quite nicely with the salad.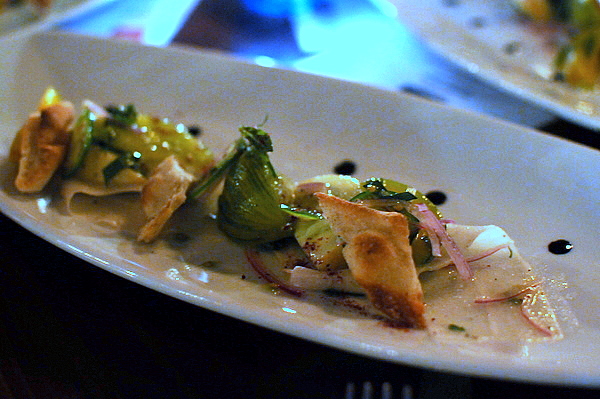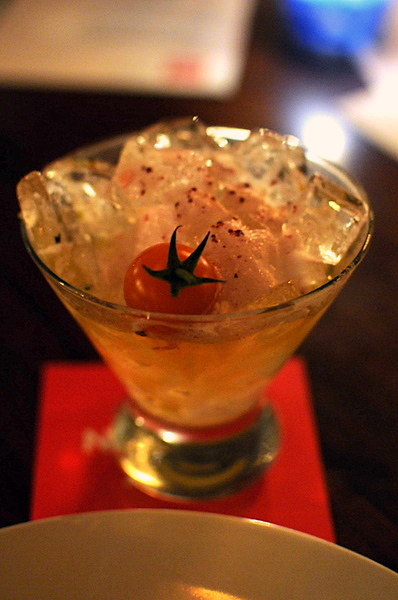 02: Octopus - padrón peppers, avocado, green chile paste
shishito gimret - aviation gin, shishito peppers, cucumber, lime
This was an absolutely superb preparation of octopus, exceedingly tender and loaded with briny sweetness and an overarching char. The padrón peppers and chile paste were key, giving the dish a wonderful acidity and spice much like a chile verde. I'm a fanatic of cucumber in my alcohol but I thought the "gimret" could have done without it which would have let the shishito peppers come through more clearly. Still a great cocktail but as it was the drink was more of a cucumber gimlet than anything else.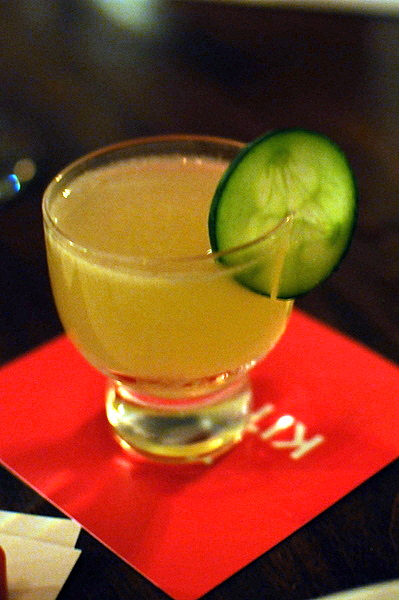 03: White Eggplant - turmeric sambal, tabbouleh
the bitter end - old grand dad bourbon, cynar, ginger syrup, amaranth, endive
One thing that really impressed me about this meal was the fact it made food I don't normally enjoy taste quite delicious, eggplant being a prime example. The eggplant itself had a smoky heft to it which was balanced with the gamy tang of the goat cheese, a subdued yet enjoyable combination. The cocktail opened smoky and sweet on the attack but the finish showed off the bitter end for which the drink was so aptly named.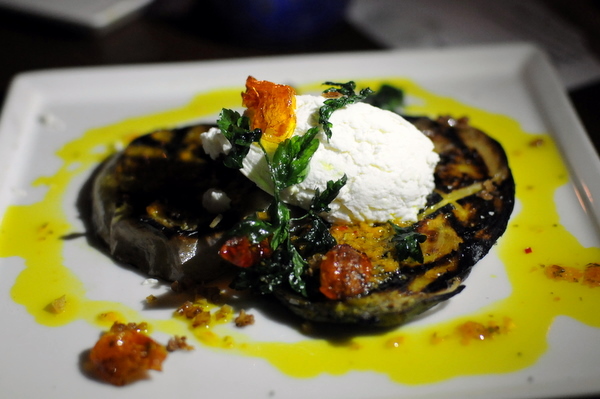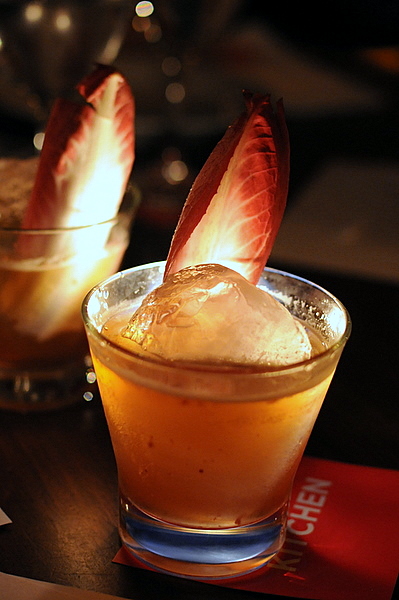 04: Mackerel - anaheim peppers, walnut, pomegranate
who's got the herb - campari, aperol, peach, sage, lime
Mackerel can be daunting for those who are intimidated by its fishy flavor profile, The walnuts were key here taking some of the edge off the fish. The characteristic mackerel oiliness is still there, just tempered, which allows the anaheim peppers and pomegranate to feature more prominently. The paired cocktail is equally well-balanced with the sugary peach countering the aromatic elements of the campari, aperol, and sage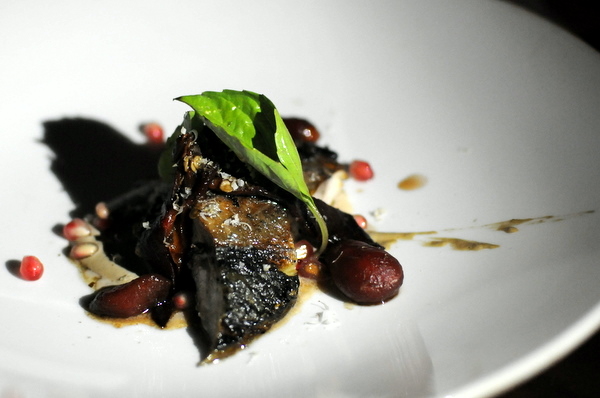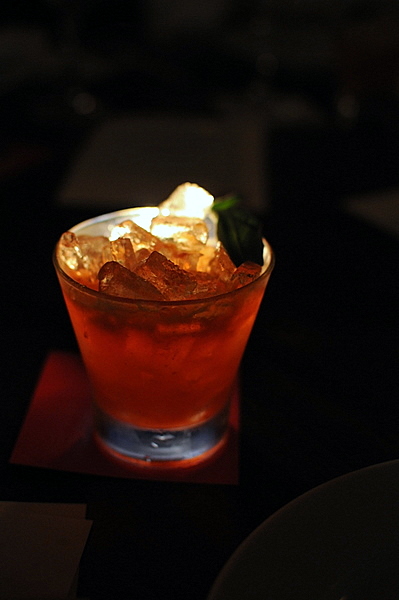 05: Skirt Steak - mechouia, strained yogurt
the jalisco heata la minute summer-berry coulis, garden fresh jalepeno, sino blanco tequila
Chef Smith again shows his flair and control over flavor with this course. The steak itself is grilled rare giving it a rough char on the exterior with deliciously soft interior and wonderfully beefy sapor. To this he adds a delightfully tangy yogurt which immediately counters the weight of the beef and a smoky mechouia which provides a bitter punctuation to the finish. The jalisco heat reminded me of The Bazaar's Jalé Berry, the brightly saccharine berry coulis was evenly matched with a verdant spice from the jalepeno.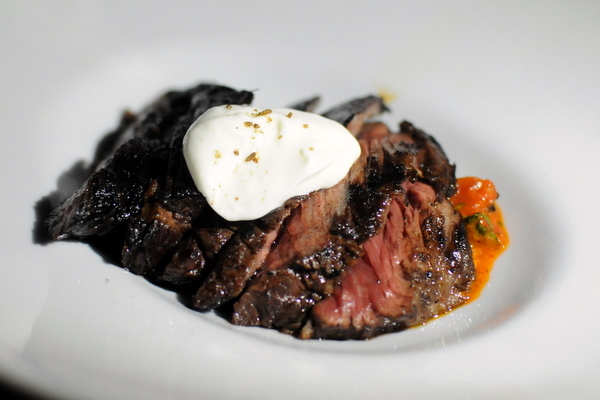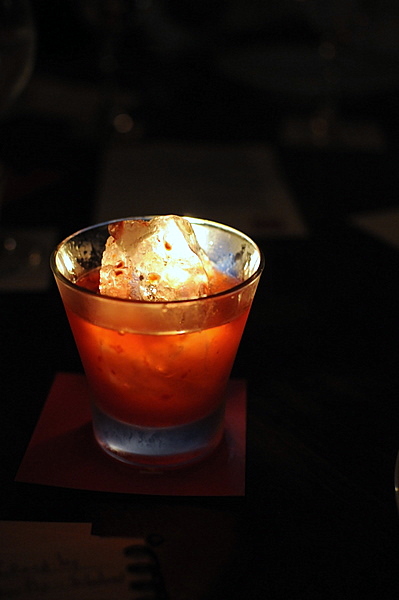 06: Colorado Lamb Sirloin "Harira"
from a'awlean's with lovage - old overhold rye, lovage syrup, peychaud's citrus, absinthe
The last course featured an unabashedly gamy lamb aptly paired with an earthy rustic side made from the key components of Harira, a traditional Moroccan soup. The cocktail was equally surprising, though it looked like a slug of scotch or something equally harsh, the flavor was remarkably smooth and soft, with a light herbal sweetness to it.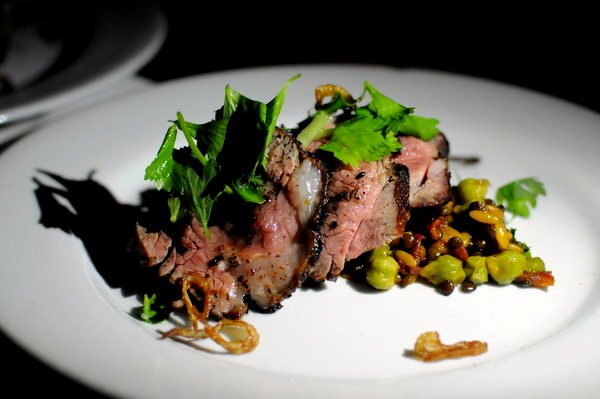 07: Dessert - chef's selection
After a such a superb set of savories, dessert almost felt like an afterthought. By creating six items that use ingredients featured prominently in Mediterranean desserts, it felt like the chef sacrificed complexity in favor of a broader scope.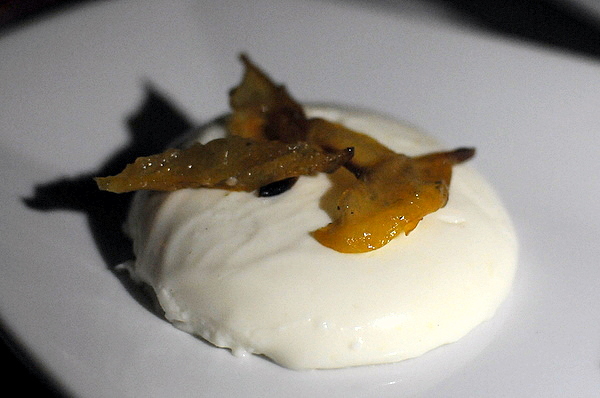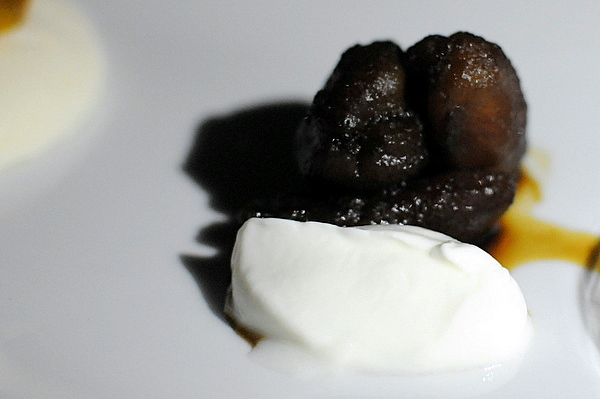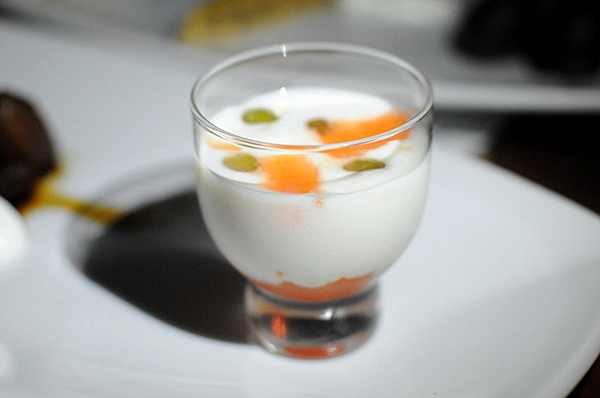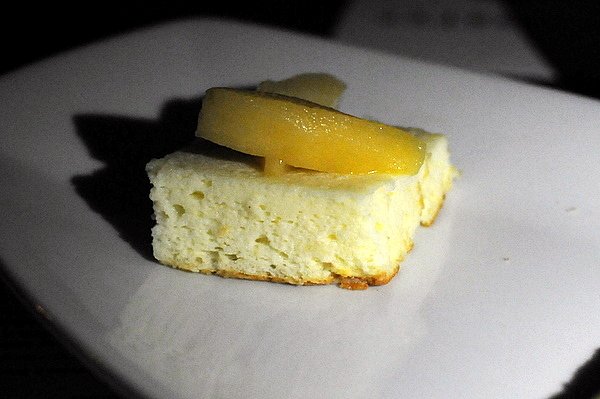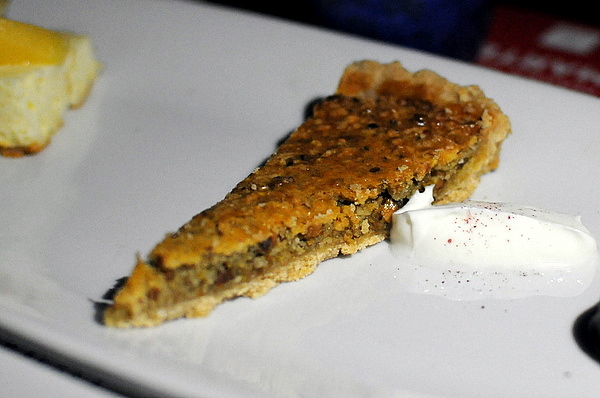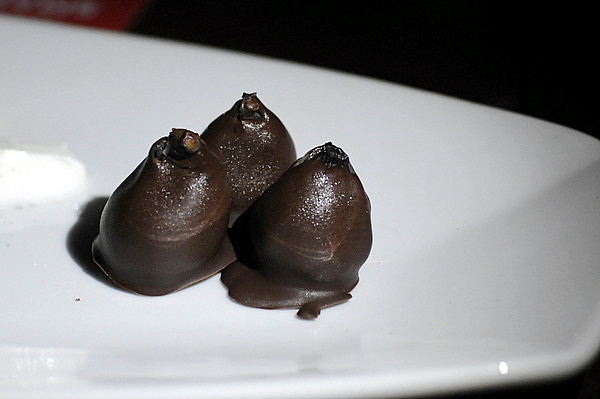 I've never been a huge fan of Mediterranian food, so I was all the more impressed by Chef Smith's food incorporating sweet, savory, and sour elements into a seamless cohesive whole. It seems I'll be revisiting Church and State sooner than I expected.