9575 W Pico Blvd
Los Angeles, CA 90035
(310) 277-0133

The old adage "necessity is the mother of invention," certainly applies to Chef Thi Tran (aka. Kitchen Ninja). After being laid off from her old job Thi started cooking out of her home for friends who would donate $5 to cover costs. Her pan-Asian comfort food quickly gathered a following outside the initial circle of close friends. Eventually she ran afoul of the Health Department but by then Starry Kitchen was ready to shed its underground roots. Since moving out into the open, Starry Kitchen has continued to enjoy immense success; flying in the face of conventional wisdom that says good home cooking doesn't translate to good restaurant cooking.

Considering Starry Kitchen is already open I was surprised to see them on the list for Test Kitchen but at the same time happy for the opportunity to sample a range of Thi's cooking.

01: SK Vietnamese Chicken Salad ("Goi") - Red & Green Cabbage, Sliced Banana Blossom, Anise Basil, Rau Ram/Laksa Leaves, Shredded Chicken
The meal started off on a light note. The mix of pickled and fresh vegetables was complimented with basil and rau ram giving the salad a distinctly aromatic piquancy.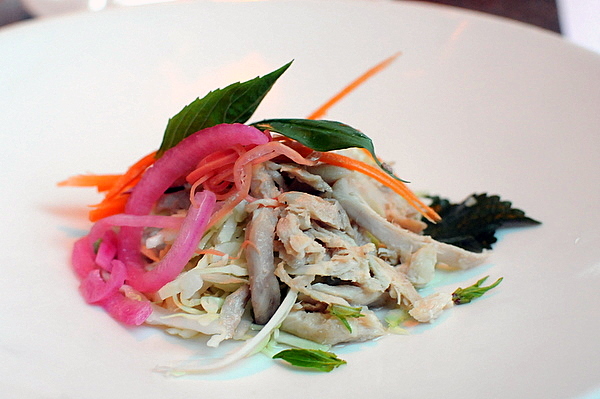 02: Pandan Chicken - Pandan Leaf, Shallots, Lemongrass, Young Ginger
Next up was one of my favorite courses. The pandan leaves exuded a soothing vanilla like scent. Unwrapping the leaves left our hands coated with a thick layer of oil. Despite that, the chicken itself was remarkably light, the texture was incredibly tender and supple while the soft pandan aroma was joined by slightly vegetal notes from the lemongrass and ginger.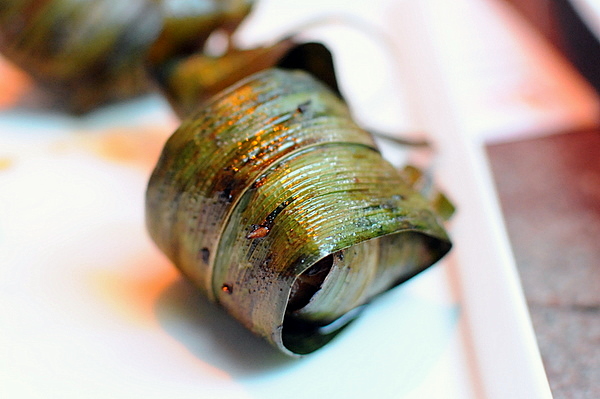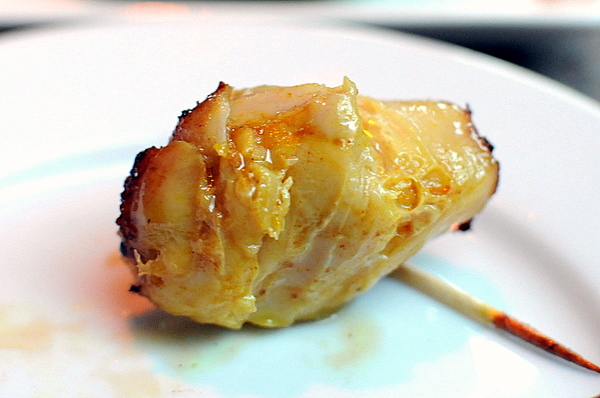 03: Chicken Wings (& Pineapple)... Two Ways - Pineapple Beer Chicken Wing Soup- Everything in the Name & Fermented Bean Curd, watercress | Malaysian Pineapple Coconut Chicken Wings- Fresh Pineapple, Coconut Milk, Bay Leaves, Red Bell Pepper & Habanero
The next course featured two diametrically opposed presentations of chicken and pineapple. First up was a lovely summer soup, sweet and savory on the attack with a lingering heat that builds over the course of the bowl. The chicken and pineapple are suitably subdued making it easy to enjoy the dish as a whole. On the other side of the plate were two chicken wing drummettes covered in a thick sauce of coconut milk, much bolder sweetness paired with an equally intense burn from the habanero slivers.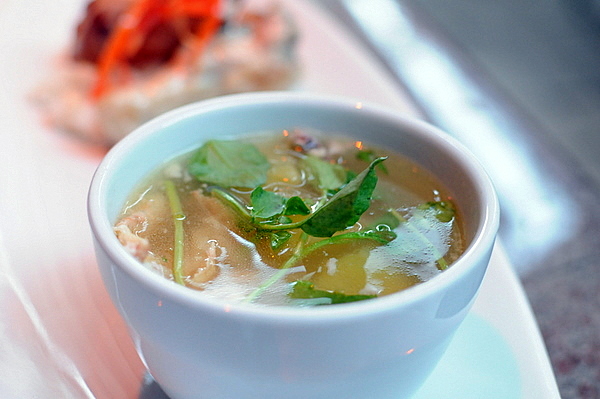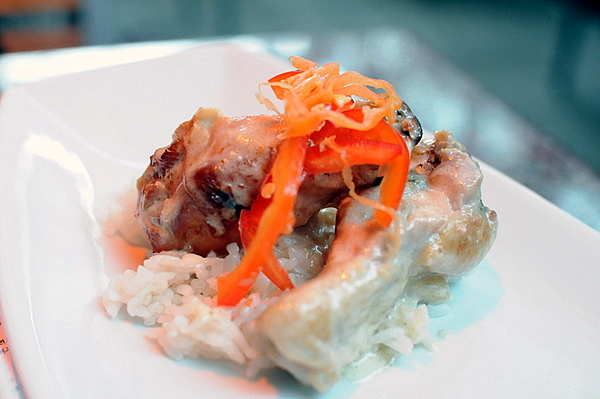 04: Curry Crab - Curry, Onions, Thai Chili w/ Garlic... & Love
This was probably my most anticipated course and it did not disappoint. The crab itself was incredibly sweet while judicious use of crab butter in the curry tempers the heat with the potent brine of crab roe.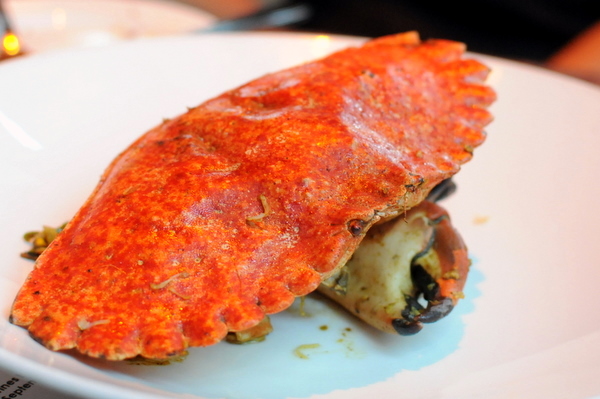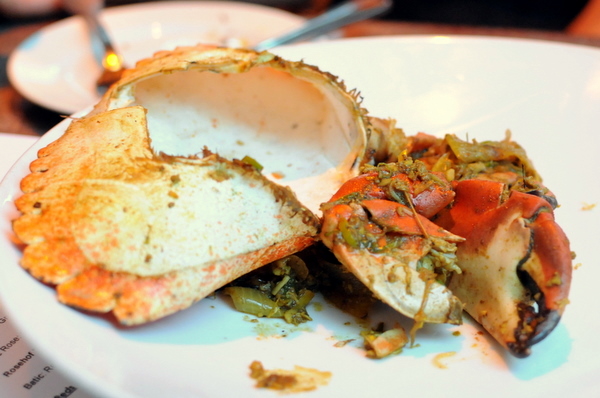 At this point, the kitchen got severely backed up and it would be more than a half hour until our next course. The change in lighting conditions should give some indication of the amount of time that passed bewteen courses 4 and 5.

05: Cold Kimchi Soup - KIMCHI!!
Not too overwhelming but exuding the classic pungent essence of kimchi, an inventive palate cleanser that would have been more effective had it been served promptly.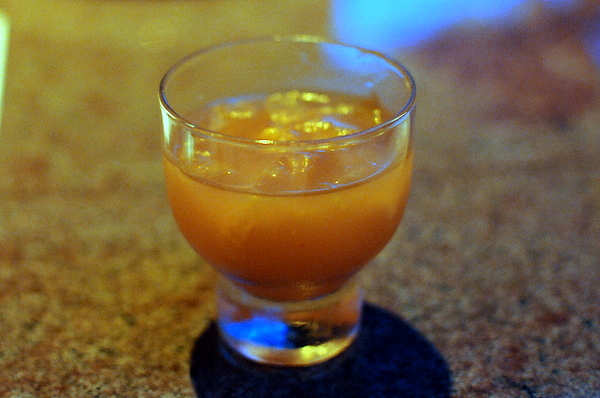 Crispy Tofu Balls (aka "Game Changer #2") - Marinated Ground Tofu, Corn, Buttermilk & Naturally (YUP!) Green Glutinous Rice
I got this based on the recommendation of a friend and it was certainly not without its charms. The texture of the fried glutinous rice and dense core of ground tofu and corn is unique, like a rough and sticky chicken nugget. But being made up primarily of starch the ball itself lacked much flavor. The spicy mayo topping added the requisite creaminess and flavor but there simply wasn't enough on each ball. I talked to Wes and Evelina who had it before and they agreed but they also noted previously the kitchen was more generous with the sauce.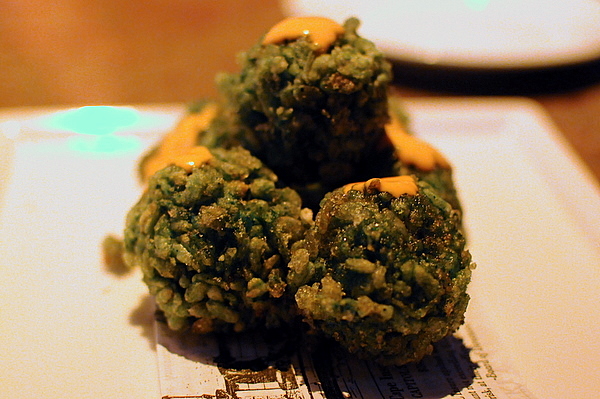 06: Carmelized Claypot Catfish & Pork Belly - Catfish, Pork Belly, Fish Sauce, Fresh Young Coconut Juice, Shallots
Looking at this course I was struck by a sense of imbalance. The claypot is mostly filled with a dark broth that tasted strongly of mirin and vinegar that screams to be poured over a big bowl of rice. Sadly the fish and pork belly were completely overshadowed by the stock.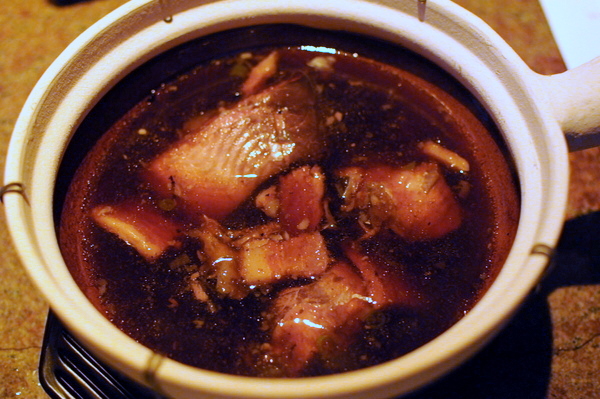 07: Satay Noodles - Minced Dried Shrimp, Lemongrass, Flat Rice Noodles & Thin Sliced Short-Rib Wagyu Beef
Rounding out the savories was a bowl of satay noodles. As with the tofu balls this course was completely bland. I had hoped the nearly raw slices of wagyu would provide a rich lift but I could hardly taste the meat. When the tomatoes and raw cucumber are the most flavorful things in the bowl something is amiss.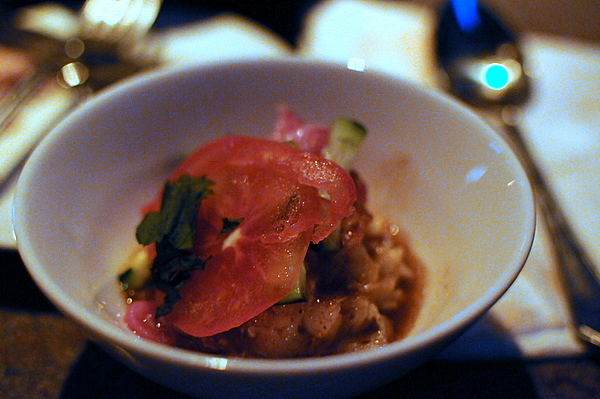 08: Dessert - Young Banana Tapioca in Caramel Coconut Milk
This dessert had an East meets West feel to it. The tapioca reminded me of Chinese xi mi lu but the caramel coconut milk had a disconcerting savoriness that overwhelmed the tapioca especially when taken with the banana.



Dinner really felt like two distinct meals. Initially food was coming at a good pace, flavors were spot on and enjoyable. The second half of the meal the kitchen started to struggle and the quality of the food suffered for it. Given that the Kitchen Ninja and her crew only had one day in the kitchen, some misses are to be expected and forgiven. Regardless, the zeal that Thi and Nguyen bring to the restaurant is infectious, making it easy to have a good time even if the food wasn't all spot on.