8479 Melrose Avenue
West Hollywood, CA 90069
(323) 782-1104

The Ibaraki Benefit dinner at Breadbar was nothing short of stellar, with six of LA's most accomplished chefs each turning in a performance demonstrating exactly why they are held in such high regard. The event was organized by Noriyuki Sugie, a native of the stricken Ibaraki Prefecture in Japan. David Myers, who participated in the first dinner, opted to host a second event at his restaurant Comme Ca featuring many of LA's younger star chefs. With a lineup including Michael Voltaggio, Roy Choi, Jordan Kahn, Jon Shook, and Vinny Dotolo, I fully expect the food to be more avant-garde and even a bit anti-establishment this time around.

Canapes by Kuniko Yagi
The meal started off with a cocktail reception and endless platters of small bites by Chef Kuniko Yagi. Among the snacks were delicious izakaya-style shrimp balls with nori, a tarte flambé, pork belly wrapped in shiso, and a beef tartare (not pictured). Many of the dishes had a distinctly Japanese feel and after the meal Kuniko mentioned she particularly enjoyed making the canapes as she so rarely gets to cook this style of food.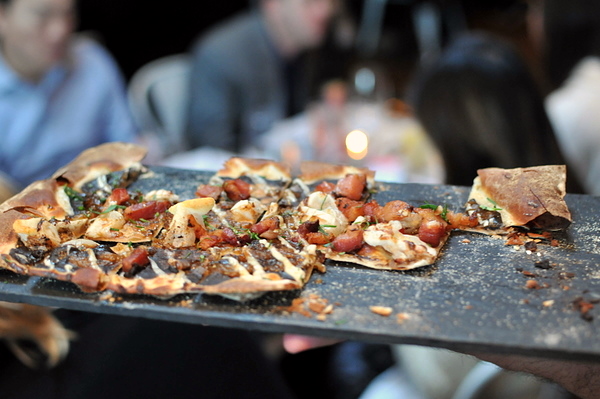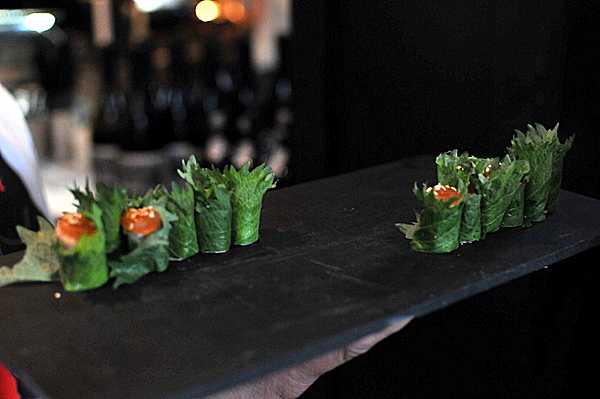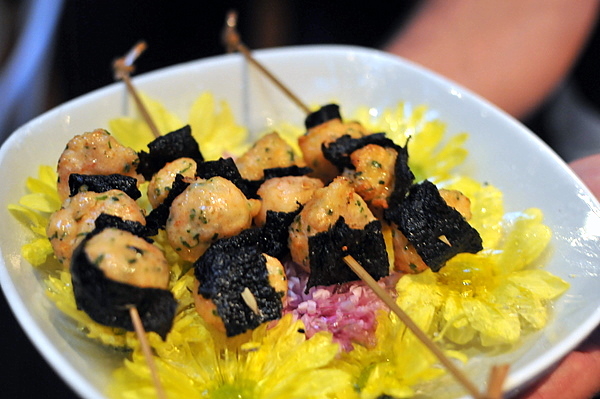 Pisco Punch - Pisco Portón, Pineapple, Lemon, Lime, Star Anise, Vanilla Bean
Pisco generally makes for an easy drinking cocktail, and the generous application of fruit gave the drink a flavor reminiscent of tropical sweet tarts while the vanilla bean and anise added a savory creamy essence.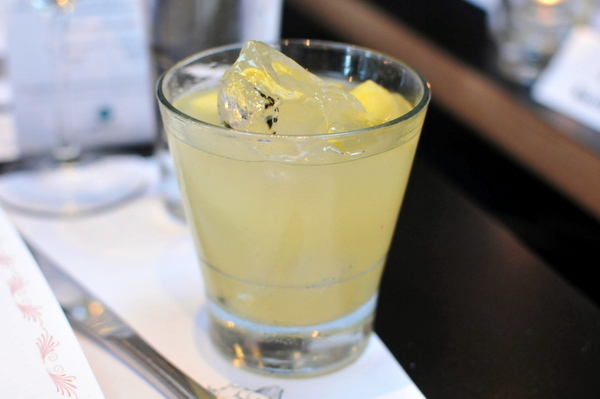 Sublimation - Karlsson's Gold Potato Vodka, Lillet Blanc, Benadictine
This was the hardest cocktail of the night with a distinctly medicinal profile, but despite being made up entirely of alcohol the golden elixir went down smooth almost like a hard ginger ale.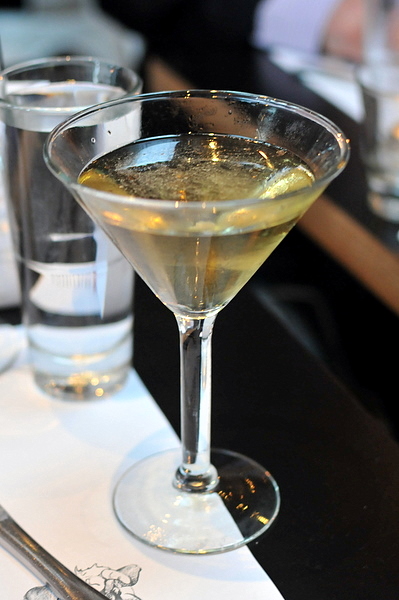 Chef Kuniko Yagi: Amuse at the Table - Miso Peanuts & Lotus with Green Powder
In addition to the canapes, Chef Yagi presented each diner with a trio of snacks in an origami container that she created. The miso peanuts in rice paper was probably the most distinctive, though I found the deeply earthy flavor a bit overwhelming. The lotus root was reminiscent of a potato chip with a straighforward saltiness that proved quite addictive. Still my favorite was the cracker of puffed grain, the flavor alternating between Japanese rice cracker and buttered popcorn. I'll take a whole bowl please and some beer.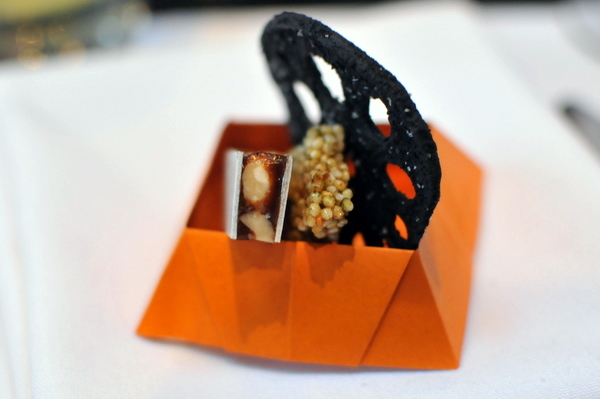 Chef David Myers: Kelp Cured Fluke - spicy grapefruit
Jean Philippe N.V. Brut, Savoie, France
Fluke tends to be a very clean and mild fish, the pink translucent flesh absorbed the bitter earthy brine of the kelp. I quite enjoyed the dish despite its markedly floral astringency; the forcefulness of the kelp keeping the attention on the fish.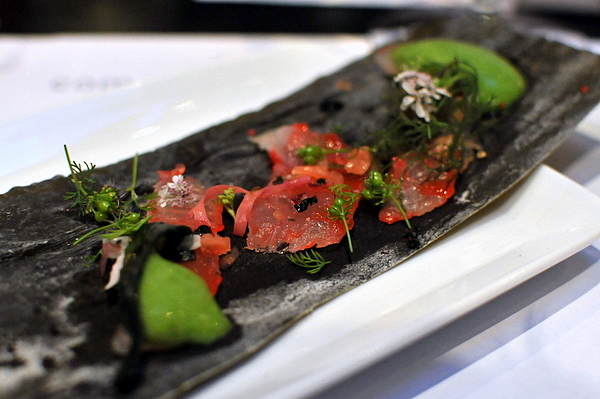 Lemonade - Chamomile-Infused Tequila, Combier, Cocchi Americano, Lemon, Honey
This was definitely a step up from a Mike's Hard Lemonade. The medicinal woody tequila is tempered by the lively sweet sour tang of the Combier, fruit, and honey.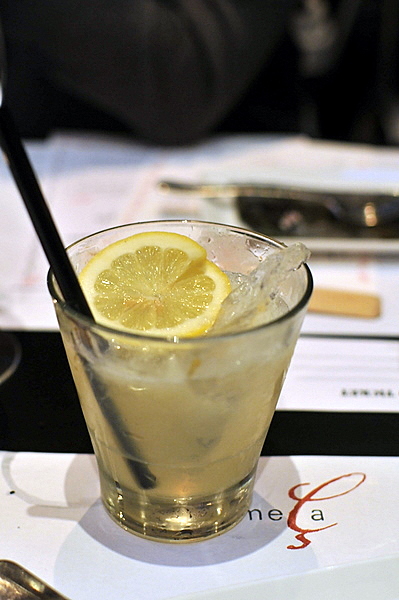 Waterloo Garden - Rhubarb-Infused Beefeater Gin, Campari, Lemon, Watermelon, Sage
This was probably my favorite cocktail of the night, the lush sweetness of the watermelon gives way to an herbaceous Cynar-like bitterness on the finish.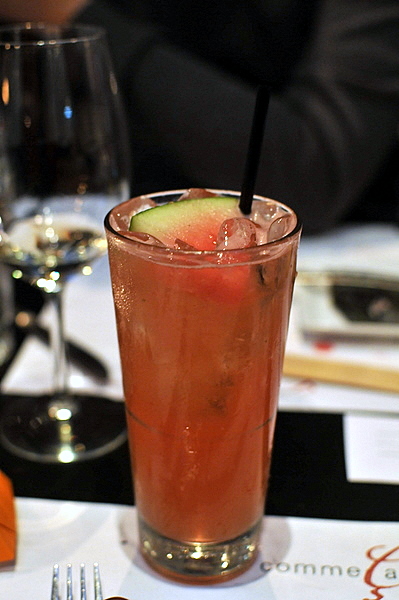 Chef Noriyuki Sugie: Caesar Salad Soup - pumpernickel, aged lard
Domain de Vedilhan Viognier, Vin de Pays D'Oc, Narobonne, France, 2010
Though the soup is described as a deconstructed Caesar salad, the flavor is more like a Chinese "Gaotang" because of its umami-tinged hammy flavor profile. The aged lard had a flavor remiscent of lap chong while the bread developed a malty sweetness in conjunction with the soup. Chef Sugie might have cheated a bit rehashing a soup he made at Sashi and part of his amuse from Monday, but when it works this well who really cares.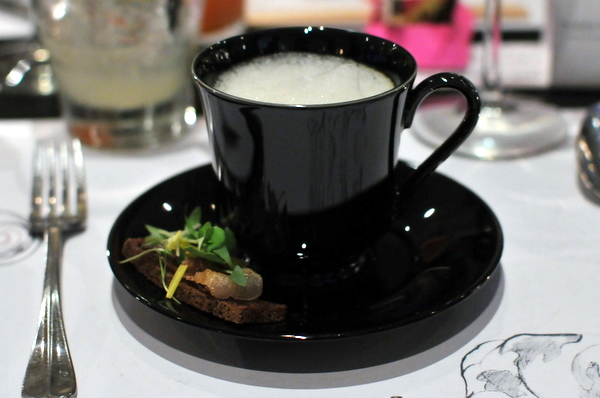 Chef Jon Shook & Vinny Dotolo: Ling Cod - pho fumet, herbs, lime, bok choi
Vivier Rosé of Pinot Noir, Sonoma Coast, California, 2010
This course was heavily based on one from the Two Dudes' new restaurant Son of a Gun. Imagine an immaculately steamed piece of fish sitting in a bowl of pho composed of the freshest ingredients. The soothing hearty flavor of the pho is absorbed by the flaky succulent white fish while the raw vegetables add contrast and verve. A unique take on a classic comfort food, a bit lighter on the cinnamon and it would have been perfect.



Chef Roy Choi: Cracklin' Beer Can Chicken - kimchi, century egg, salsa roja, salsa verde
Boont Amber Ale, Anderson Valley Brewing Company
The chefs all managed to stay quite faithful to their styles and for Chef Choi that means "Modern Picnic." This course was a small preview of the food he serves at A Frame, a chicken stuffed with a beer can then roasted to crispy skinned perfection. The flavor was fairly typical but the bird had a distinctive moistness that I appreciated. The two dipping sauces were both delicious with the roja being a touch earthier and spicier and the verde having a bit more acidity. The kimchi was a pleasant diversion between bites of greasy chicken. Though I enjoyed the egg, it felt somewhat out of place with the rest of the food.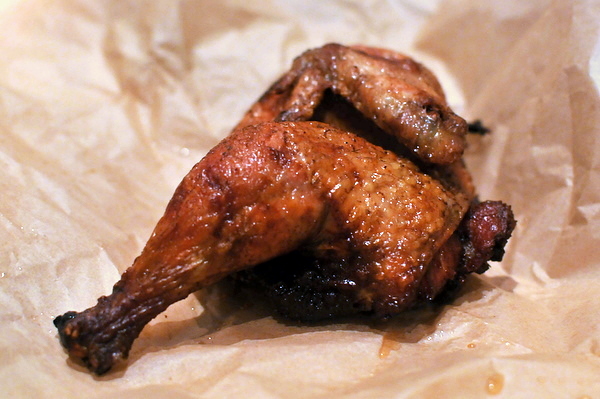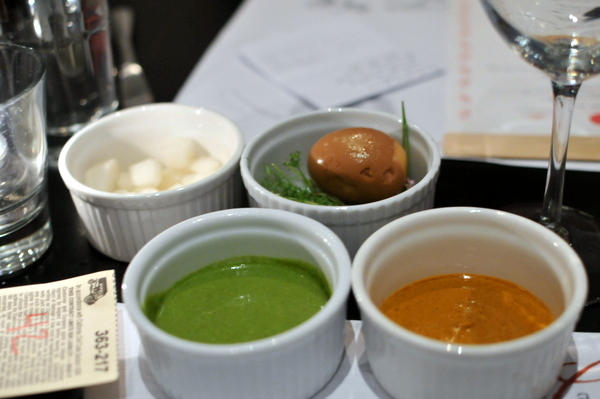 Chef Michael Voltaggio: Veal Cheek - anchovy-potato, parsley root, lemon ashes
Vivier Pinot Noir, Willamette Valley, Oregon, 2009
I was initially ambivalent about his choice as I often find veal dry and utterly without flavor. Chef, I'm sorry I doubted you. The veal cheeks were the most tender I've ever had and infused with a concentrated sapor this can only be described as the ideal veal. Both the wickedly salty anchovy-potato and bitter parsley root paired nicely but it was the lemon ash with its graham cracker like sweetness that caught my attention both for its unique flavor and for how well it paired with the veal.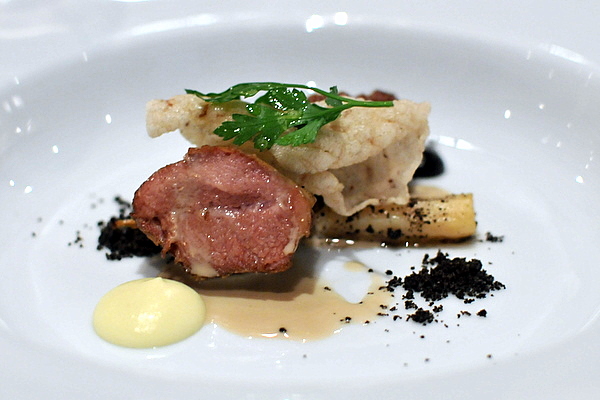 Chef Jordan Kahn: "Abstract Calligraphy" - kazuya akimoto
Kopke 10 yr Tawny, Portugal
Inspired by the artwork that it shares a name with the dessert looked like a chaotic jumble but came together beautifully on the palate. The two dominant flavors, black sesame and white chocolate reminded me his famous White Chocolate Cube. But it wouldn't be a Jordan Kahn dessert without a few twists, this time in the form of a savory counterpoint courtesy of a black malt cracker. Though I would have liked to see some of Kahn's savory courses, his desserts are always a treat and consistently the best in the city.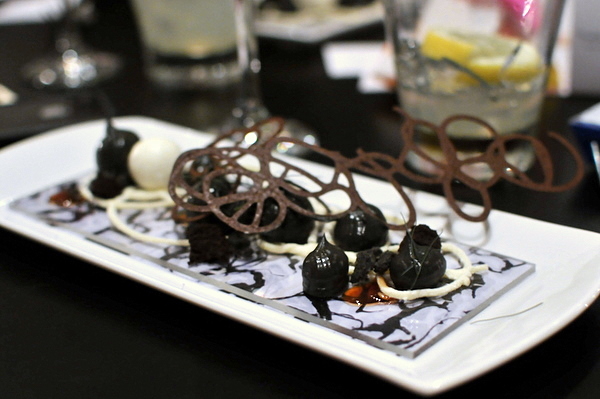 The second Ibaraki dinner lived up to my expectations, though with such a strong lineup of chefs I shouldn't have expected anything less. For the most part, the chefs played to their strengths and doing so for a worthy caused seemed to bring out the best in them.