1739 Pearl Street
Boulder, CO 80302
(303) 442-7233

Normally when I think of a restaurant that starts with L'atelier, I expect the next three words to be "de Joël Robuchon." But in Boulder, L'Atelier is home to Chef Radek Cerny. The Czech-born chef has been a fixture in the Denver/Boulder area since the late '80s. Cerny studied at the Czech Cook's school before coming to Nashville to pursue a career in Bluegrass music. Eventually he returned to cooking, and began a culinary journey that took him through Vail, Chicago, New York and finally France where he worked under Roger Verge at Moulin de Mougins and Paul Bocuse at his legendary L'Auberge du Pont de Collonges.

Taking what he learned under these two masters of French cuisine, Cerny returned to Colorado and opened a string of restaurants starting with The European Cafe in 1998. Since then, Chef Cerny's career has been a mixed bag at best, flush with his early success he opened several more restaurants all of which have since closed. Arguably the most famous of his restaurants was Papillon in Denver's Cherry Creek which he ran for seven years. In 2003 Radek returned to Boulder to open L'atelier and apart from a brief bistro expansion Cerny has contented himself with this single restaurant since then.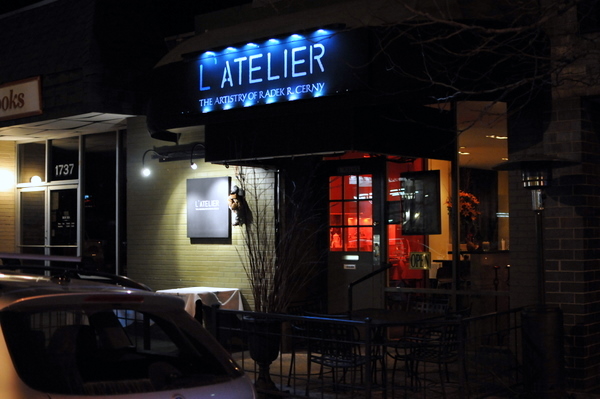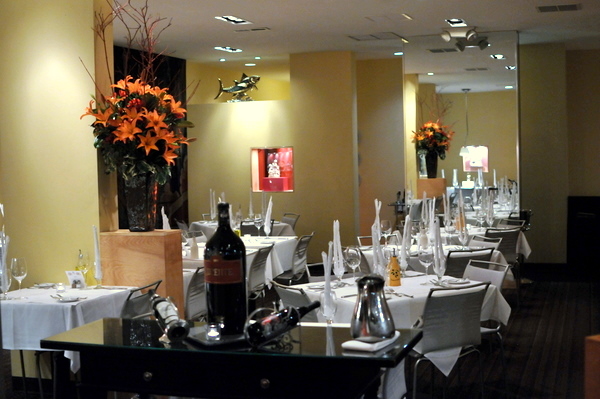 01: Tuna Tartare - Capers, Red Onion
The meal started off on a high note. The tuna was seasoned with sesame oil and soy giving it a distinctly Asian flavor while the capers and onions gave the tartare a feel similar to traditional steak tartare. The freshly fried potato chips were a nice change from the traditional toast points, salinity aside, the chips had a lighter crunch better suited to the lighter body of the fish.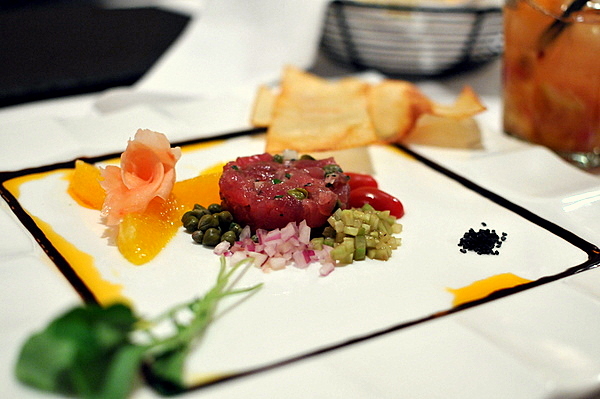 02: Lobster Ravioli - Beurre Blanc, Infused Oils
Two raviolis seems a bit light for a course but at least the raviolis were well made. The filling was a lusty rich mixture of butter and lobster and the surrounding pasta was perfectly cooked. Unfortunately the oils weren't infused with much of anything; an intriguing idea but execution fell a bit short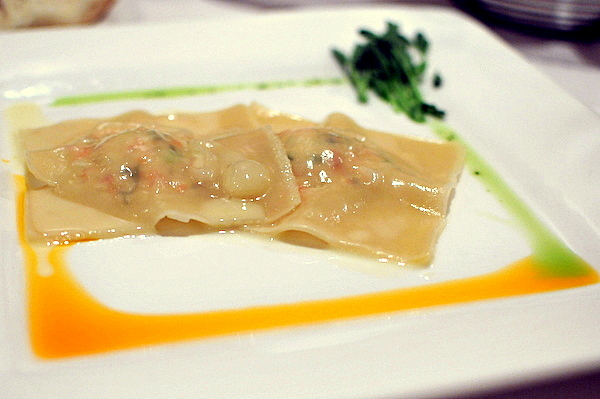 03: Fra'Mani Salami - Picholine Olives, Capers, Onion Jam
Fra'Mani is an artisinal Salumi maker in Berkeley California. The meat was subtly smoky with a piquancy that paired nicely with the tangy onion jam. Though the salami was enjoyable I would have preferred some variety.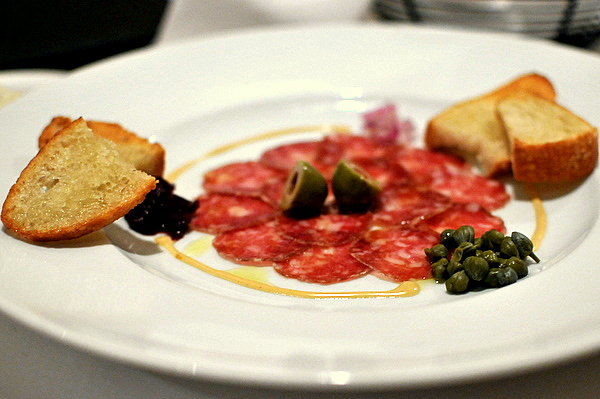 Supplement: Hazel Dell Mushroom Risotto - Chevre & Paremesan, Truffle Essence
I've made a point to try risotto at every opportunity in Denver but and I've been consistently disappointed. Not that any of the preparations was bad, but aside from Frasca, they've been pretty pedestrian. L'atelier keeps that going with a fairly basic earthy richness. The risotto's only point of distinction was the powerful bitter contrast of the greens.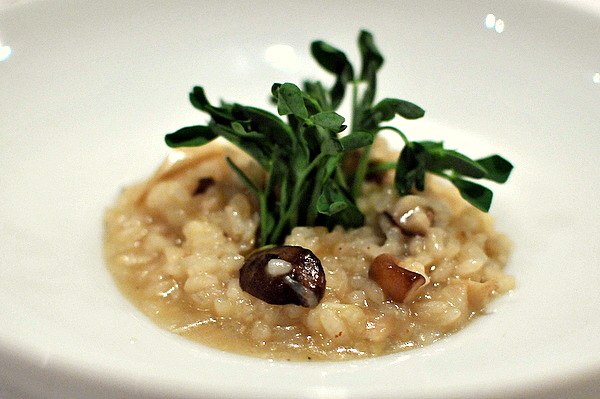 04: Bouchot Mussels - Lobster Tomato Broth, Garlic, Fine Herbs
The broth was fairly blunt, the tomato and garlic were readily apparent but the more nuanced flavors of the lobster and herbs. The mussels were somewhat inconsistent mix of firm and mealy, though given some mussel courses I've had this was actually better than I expected.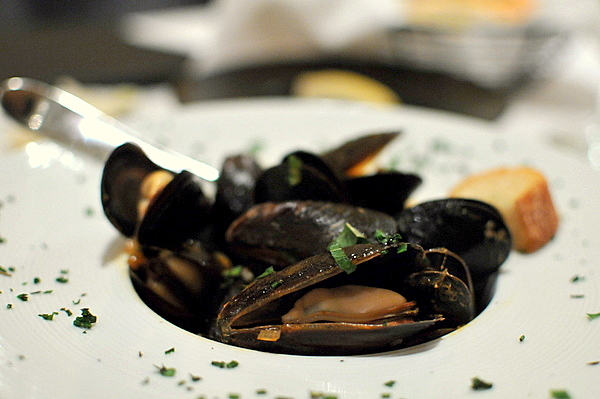 05: Heirloom Tomtoes & Buffalo Mozzarella - Wild Field Greens, Extra Virgin Olive Oil, Aged Balsamic
The salad is reminiscent of a caprese, but the slight variations make all the difference in the world. Dense mild cheese and equally monolithic bland tomatoes left me craving spice, acid, or fat for emphasis. I actually wish the course was a quarter of the size because I was getting quite full by this point so eating this much was actually quite a chore.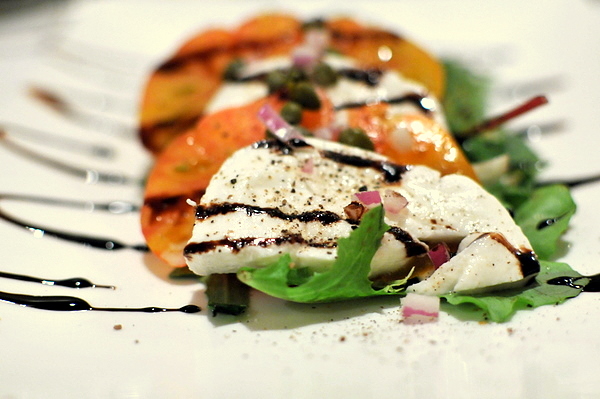 Intermezzo: Lemon Sorbet - Basil
The exhilarating acidity of the sorbet was just what I needed at this point. The bracing chill, tart citrus and refreshing basil were head of the main course.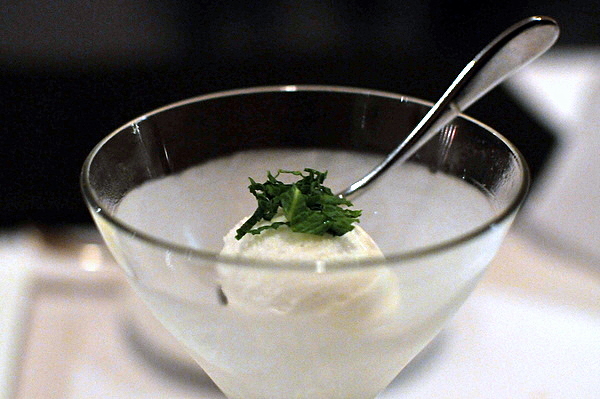 06: Horseradish & Dijon Crusted Lamb - Potato Pearls, Pan Jus
The last savory was the restaurant's signature dish. The lamb is expertly prepared and comes with classic compliments of horseradish and mustard. The asparagus and potato are conventional red meat sides that feel somewhat trite despite being quite good.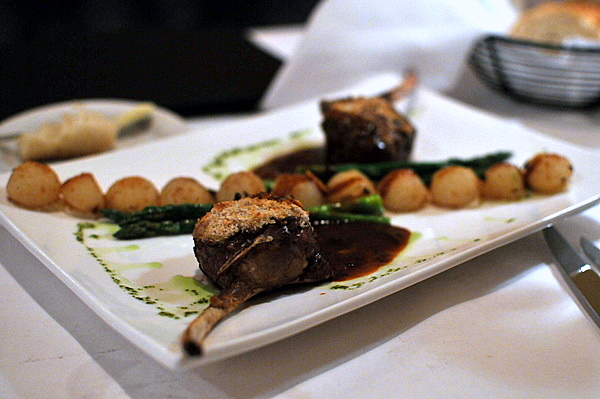 07: Lemon Cheesecake - Baked in-house with Fruit Sorbet
The cheesecake was immensely sweet and creamy, texturally more like a panna cotta than a classic cheesecake. The ripe raspberry added a sweet jammy tang that both augmented and contrasted with the cheesecake.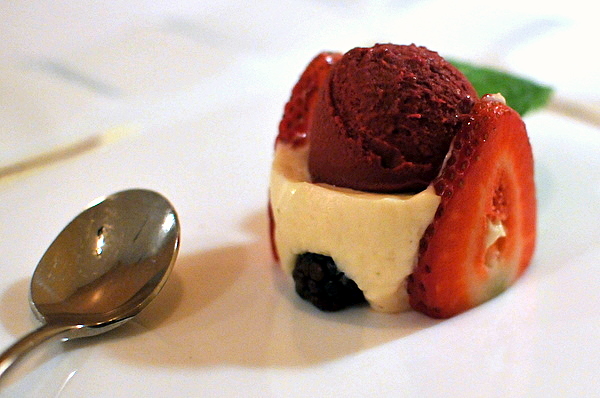 08: Cheese - Morbier, Fourme d'Ambert
It felt a bit strange having the cheese after dessert but apparently that's par for the course at L'atelier. Though a bit abbreviated I didn't mind the lack of variety as I was bursting full by this point. Though I've had both cheeses before, I thought the Fourme d' Ambert (a cow's milk blue and France's oldest blue cheese) was particularly enjoyable; rich with just the right balance of savory blue essence.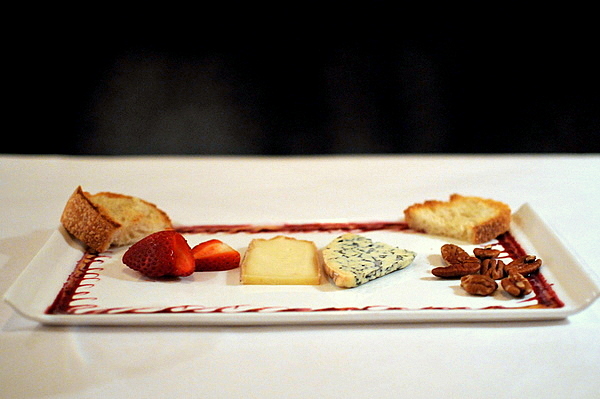 It comes as no surprise that the food at L'atelier is faithful to the nouvelle cuisine approach to cooking pioneered by Cerny's mentor, Bocuse. The one knock on L'atelier is that a lot of the food feels like it was lifted straight out of a cookbook; course after course at L'atelier left me thinking "Yeah so," while the food was enjoyable but left me craving complexity. That being said, Cerny and his crew execute those recipes with grace and precision, resulting very classic compositions and flavor profiles.