5955 Melrose Ave
Los Angeles, CA 90038
(323) 460-4170

Michael Cimarusti seems to be the king of collaborative dinners in LA, be it the 5x5, Bocuse d'Or or Ibaraki benefit dinner. This time around, Cimarusti is hosting Hiro Urasawa, Ludovic Lefebvre, and Ricardo Zarate and the meal is not for charity but the first in a series of dinners to celebrate the release of Opinionated About Dining, a restaurant guide by old school blogger Steve Plotnicki. Though none of LA's restaurants earned 100 points, Urasawa (#7) and Providence (#28) do the city proud. Ludo with his ephemeral popup, LudoBites also earned a nod as a highly recommended restaurant. Though the price tag of $195 felt a bit high, the lure of Urasawa's name on the menu was more than enough to overcome my reluctance.

Amuse: mojito gelee and screwdriver bubble
True to form, Providence opened the meal with a pair of welcome cocktail candies. The icy mojito was at once refreshing and lively while the screwdriver bubble was juicy sweet.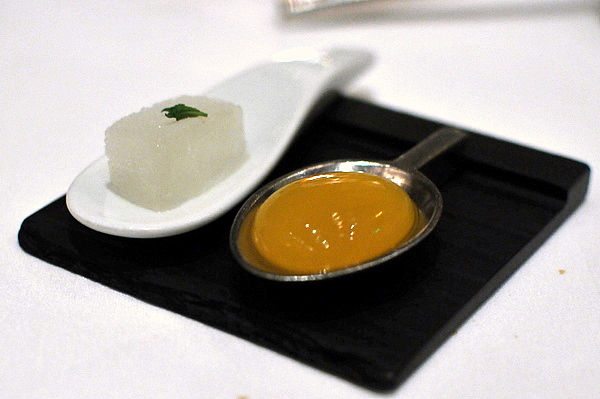 Canape: abalone - with white miso, grilled over japanese charcoal
This was absolutely delicious, perhaps the single best piece of abalone I've ever had. The aroma of wood is immediately apparent and continues on the palate with a pervasive lingering smokiness.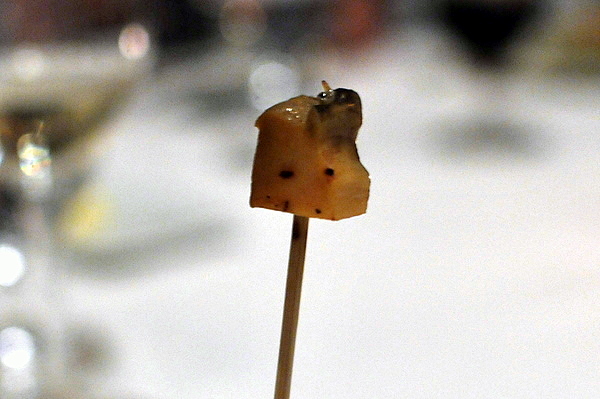 Canape: japanese sword squid and spanish chorizo
Again the flavor of the grill is immediately apparent, giving the squid the strength to stand up to the salty tang of the chorizo.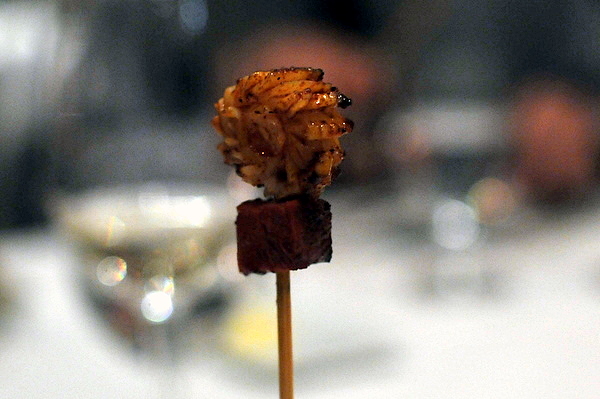 01: seabass tiradito - aji amarillo sauce, sweet potato puree [ricardo zarate]
txakolina, xarmant arabako 2010
The slight sear gave the fish an elegant tenderness while the mild flavor lent itself well to the spicy tang of the aji amarillo. Though I'm not normally a fan of sweet potato, I thought the cool sweetness provided relief from the sting of the sauce.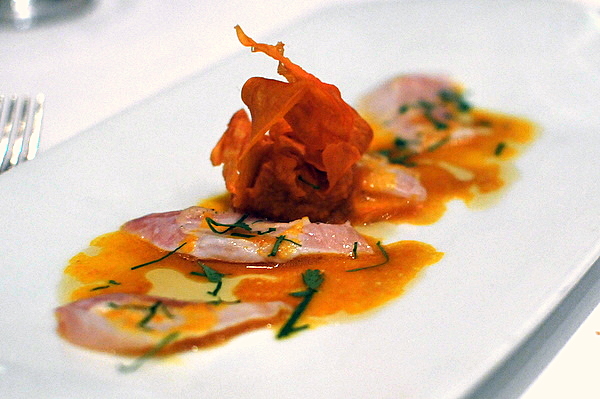 02: hokkaido scallop and monkfish liver - caviar, pickled turnip, wasabi, shiso, miyga
red snapper and half-cooked botan ebi wrapped in seaweed - marinated radish, shiso, moyoga, and plum sauce [hiro urasawa]
junmai ginjo, hakkaisan
The snapper roll was actually a late addition to the meal. Though the fish and shrimp are a bit masked by the sauce, I enjoyed multifaceted crunch and the savory sweet interplay highlighted by overtones of nori; if only all sushi rolls were like this. Just a sublimely balanced dish, the troika of scallop, ankimo, and caviar combine into a symphony of sweet, unctuous and savory notes that compliment each other wonderfully. A garnish of pickled vegetables was provided as a palate cleanser of sorts between bites.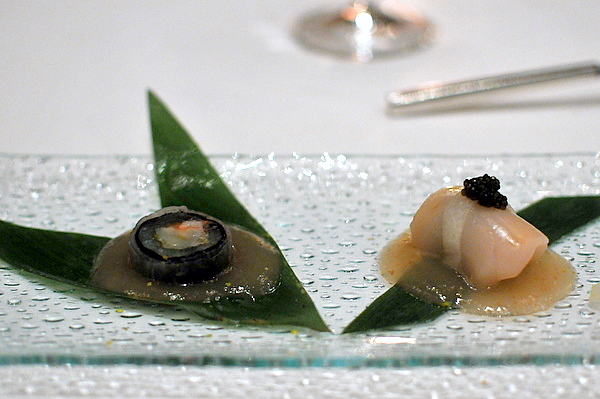 03: anticuchos of santa barbara spot prawns - with yuzu koshu [ricardo zarate]
grüner veltliner, obere steigen, markus huber 2009
Though I was underwhelmed by initial experiences with SB Spot Prawns, I have come to appreciate their delicate flavor and supple texture. This proved to be one of my favorite courses of the night. The minimalist presentation allows sweet briny shellfish to come through unadulterated but for a beautiful accented the tangy marinade which is further heightened by the punch of the yuzu koshu.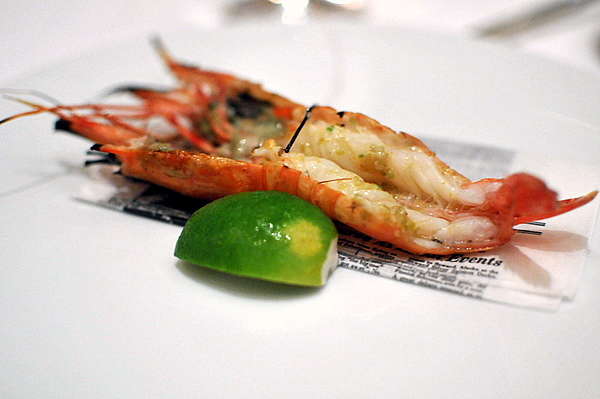 04: santa barbara sea urchin - champagne beurre blanc, fines herbs [michael cimarusti]
crémant de bourgogne blanc de blanc, domaine parigot & richard m.v.
Cimarusti's last uni course was easily one of the best things I've eaten all year and though this didn't reach such lofty heights it was still probably the best course of the evening. The butter sauce gives the dish a rich almost cheesy base infused with the livery brine of the uni. The base is a dense semi-cooked egg yolk while the croutons add just the right amount of textural contrast.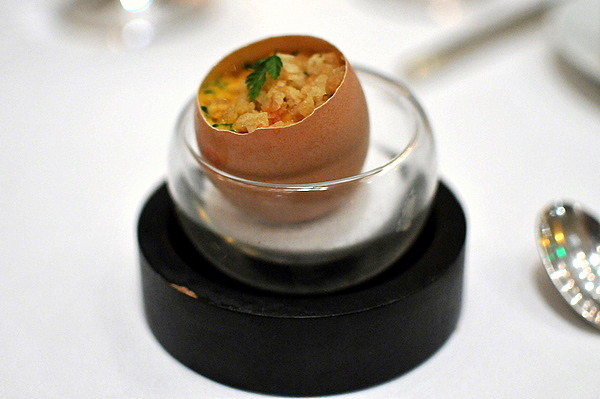 05: chawan wushi - summer truffles and ikura [hiro urasawa]
champagne, taittinger brut, cuvée prestige m.v.
I liked the concept of pairing egg custard with truffles, a Japanese take on the classic egg and truffle pairing. Though the custard itself is flawless, unfortunately the fragrance of the truffles ended up lost in the mix. The resultant flavor was a slightly fishy sweetness that reminded me of the dried anchovy snack I used to eat as a kid.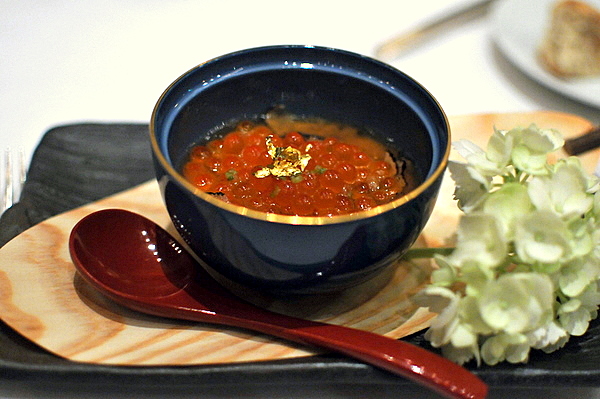 06: japanese freshwater eel - soba, soy milk [michael cimarusti]
riesling spätlese mosel, erben von beulwitz, kaseler nies'chen "alte reben" 2007
Cimarusti's second dish provides a very unique presentation of soba almost like toasted grains of buckwheat. The eel itself had a surprisingly salty skin that was countered by the classic eel sauce. The heavy flavors would have been overwhelming were it not for the slices of daikon.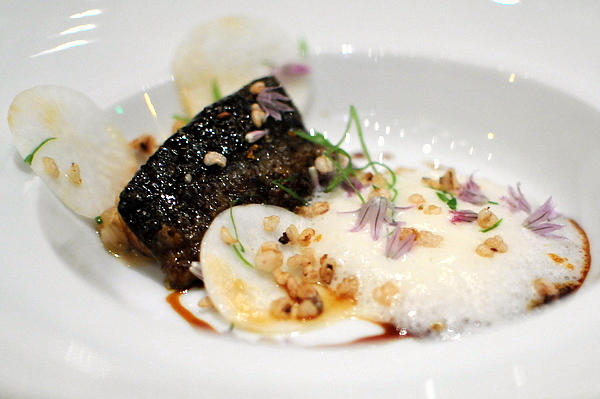 07: lobster vaudovan - [ludovic lefebvre]
chardonnay, ettore germano 2009
I had some doubts about this course but they turned out to be completely unfounded. Ludo masterfully tempers the dark bitter vadouvan with an infusion of ripe citrus. The lobster is perfectly cook and its brine-tinged sweetness is still apparent through the sauce. Simply beautiful execution all around, the dish is rounded out with perfectly cooked carrots and bok choi as well as plump supple udon.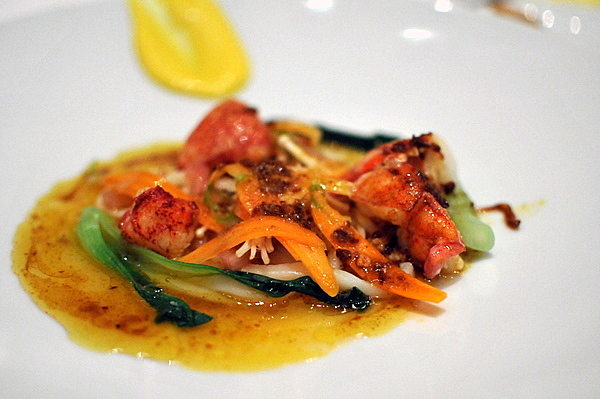 08: crème fraiche panna cotta - with alverta president caviar [ludovic lefebvre]
rivesaltes, rancio, grand guilhem m.v.
Long one of Ludo's signatures, the creme caramel and caviar remains a masterpiece of savory sweet ingenuity, a testament to how two equally intense and disparate flavors can meld into a single harmonious whole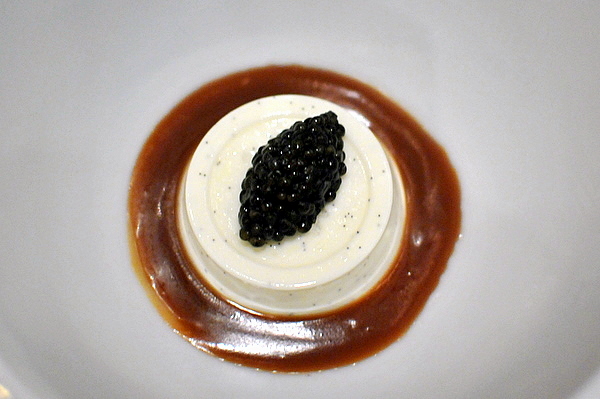 09: mochi cake - blackberry and litchi, coconut-kaffir sorbet [adrian vasquez and 'the ladies of the pastry']
sainte-croix-du-mont, château la rame
Adrian's influence is immediately apparent in the composition and presentation of this dish. The blackberries look absolutely luscious but it is the mochi cake, that dominates this dish. Not the most flavorful component on the plate but its savory sweet griddle cake like flavor and dense "Q" texture are simply wonderful, just like mom makes at home.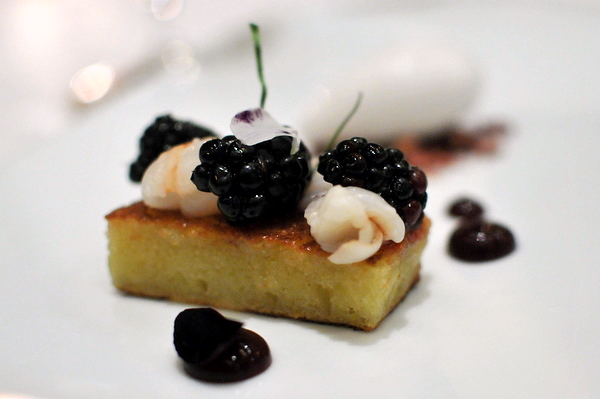 With such impressive chefs it's hard to imagine this meal going awry but it can happen especially at these one off events. This turned out to be one of the smoother events, with guests being seated fairly promptly and the food coming out at a decent clip. More importantly the creativity that was on display was truly noteworthy, from start to finish a very well designed and well executed meal. Though I was initially a bit taken aback by the price Steve put together an event that justified the cost. I'm looking forward to his next event in LA.