228 Avenue I
Redondo Beach, CA 90277
(310) 540-8028

After going on tour and bringing his pop-up concept to cities around the country, Chef Ludovic Lefebvre finally returns home. With this series of dinners Ludo has been trying something new and incorporating the local food culture into his menu. For his return home he chose Casa Pulido, a local Mexican restaurant not too far from his South Bay home. Seats for this one-night event were in high demand with people calling 100+ times with no success. I finally got a seat from a friend who was repaying me for a Totoraku invite. Thanks Diana!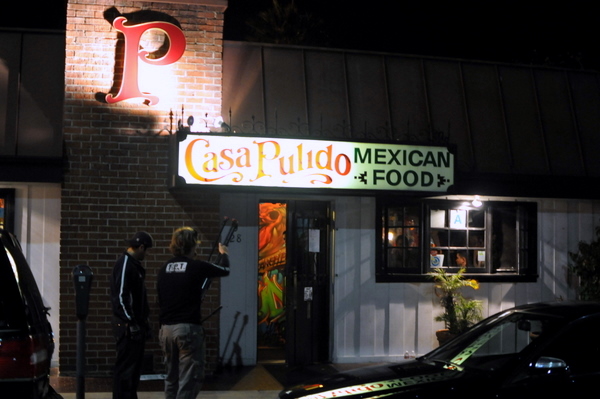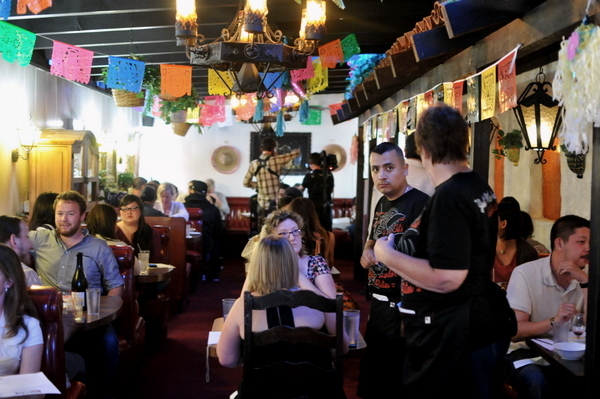 "Salsa-Rita" - Salsa, Tomato Water, Lime, Cilantro, REAL Reposado Tequila, Sugar Chile Rim
After waiting for about thirty minutes my party decided to order some drinks to pass the time. The "Salsa-rita" had the tart tomato smack and spice of a salsa tinged with a light alcoholic burn. This turned out to be the perfect drink as the savoriness helped to calm the rumbling in my stomach, now if it only came with a tortilla chip straw.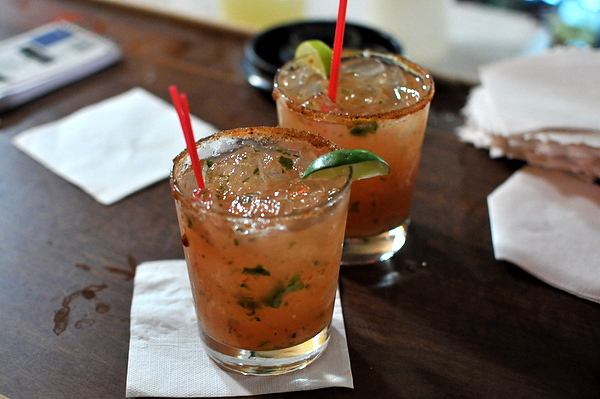 Running a kitchen in the best of times can be tricky and the ephemeral nature of pop-up restaurants means that the staff will be working with an all new menu and even Ludo, who has done more than his fair share, struggles on opening night Though I came fully expecting to wait, around the one hour mark my patience began to wear thin. A visit to the kitchen and a glimpse of a thoroughly flustered Ludo helped calm me down and once we were seated the meal proceeded with admirable alacrity.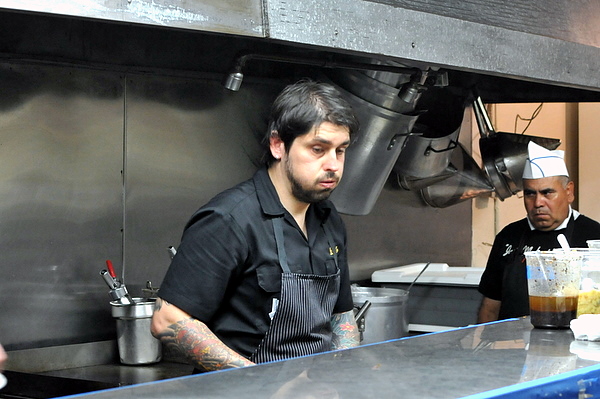 Brocamole & Chips
Only ludo would take broccoli and make a dip out of it. Creamy and smooth, the flavor was very faithful to a handmade guacamole with just a hint of vegetal bitterness to mark the broccoli's presence.



Ceviche, Cucumber Water, Purslane
When I think of ceviche I expect something unabashedly tart and spicy, this was neither. Though both flavors were present, they felt subdued. Instead the clean refreshing flavor of the cucumber water stood out most obviously.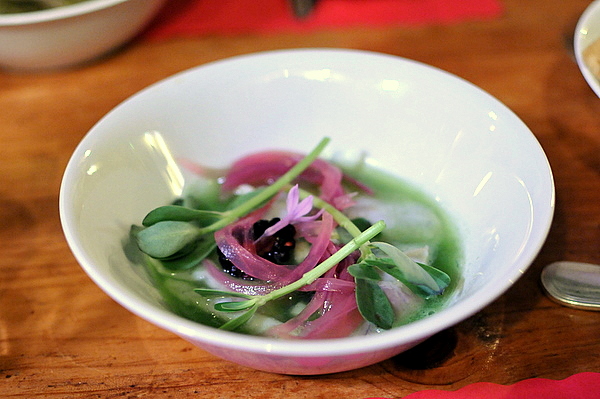 Chilled Red Tomato Soup, Carrot, Smoked Fish
Ludo chilled soups are simply a wonder to behold and this was no different. Initially reminiscent of his wondrous chorizo soup of 2.0, the soup proved to be far more nuanced, perhaps not as sublimely delicious but far more nuanced and complex. The base was reminiscent of a gazpacho while the smoked fish added an incredibly woody salty contrast to the thick chilled broth. The addition of pea sprouts was nothing less than a stroke of genius, each strand packed a potent grassy counterpoint to the weight of the soup and fish.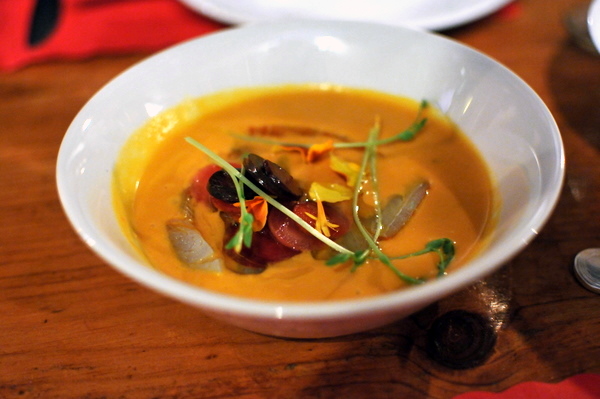 Crispy Octopus, Smokey Chipotle, Piquillos Pepper, Polenta
There was quite a bit of anticipation for this course. Though this wasn't Ludo's most tender preparation of octopus the flavor was arguably the best. Reminiscent of dried cuttlefish, the decidedly fishy flavor played well against the rustic richness of the piquillo puree and chipotle.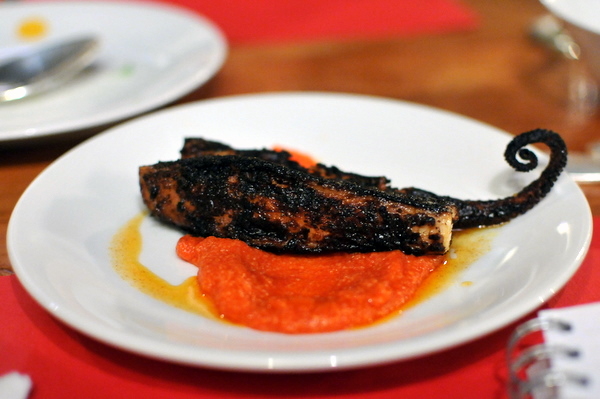 Monterey Squid, Chorizo, Banana, Honey Clementine
Though the squid provides a snappy textural contrast to the chorizo base, its flavor gets lost under the weight of the chorizo. Though the squid does nothing against the meaty smokiness, the melange of pine nuts and raisins adds a vivacious sweetness to the dish.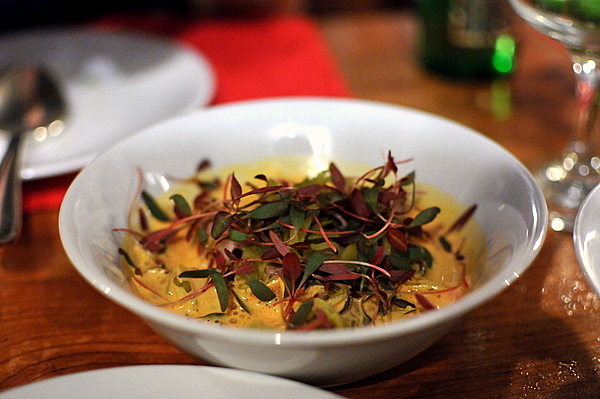 Brandade Tacos, Dandelion, Creamy Extra Virgin Olive Oil
According to Krissy, this course was inspired by Chronic Taco's Potato Taco, but done with salted cod. The filling is a satisfyingly salty starchy mix of potato and cod. The weight of the duo is deftly countered by a sublime bitterness from the dandelion greens. The balance and creativity in this course made it one of the evening's strongest.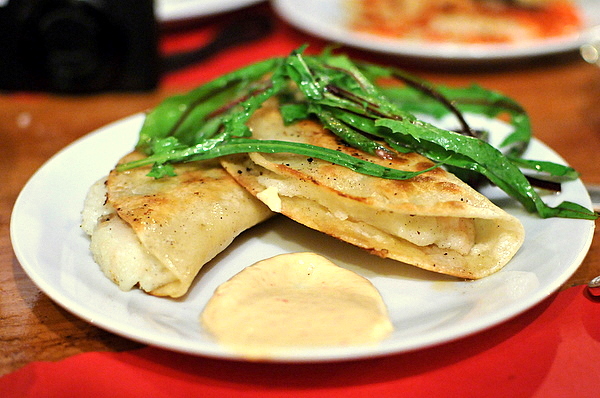 Foie Gras Quesadilla, Crispy Cabbage, Juniper Berry Oil
This was the one course our table was most anticipating. The quesadilla comes filled with chunks of lush unctuous duck liver and a layer of cheese that gives the dish an appreciable tang. The juniper berry oil was an interesting addition, its aromatics completely at odds with the brute force of the liver.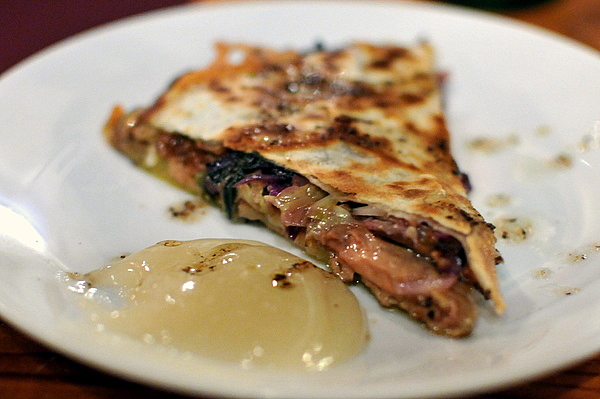 Roasted-Poached Beef in Lard, Squid Ink Risotto, Lemon Confit, Dried Mole
Like his soups, Ludo's beef courses are some of his strongest. While the meat was immensely tender and flavorful, I was hoping for the squid ink risotto to play a larger role in the dish. Instead it was the earthy "dirt" of crumbled mole that dominated on the palate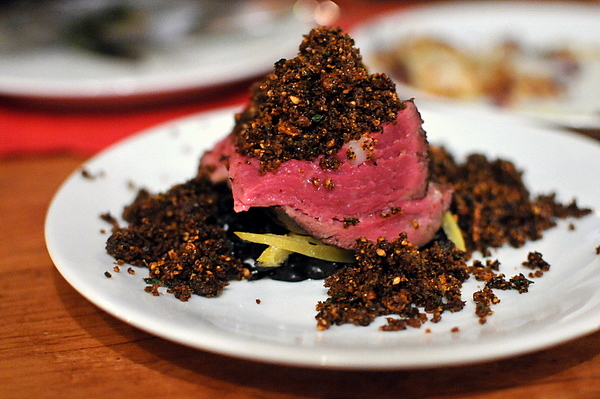 Ancho Chili Pepper Chocolate Brownie, Caramel Leche, Red Beets & Rhubarb
Even before our first course arrived, I was looking forward to this dessert. When it finally came the flavors were more restrained than I was expecting. Still I enjoyed the sweet attack of the caramel leche, the mid-palate of lingering dark chocolate, and the gentle burn on the finish.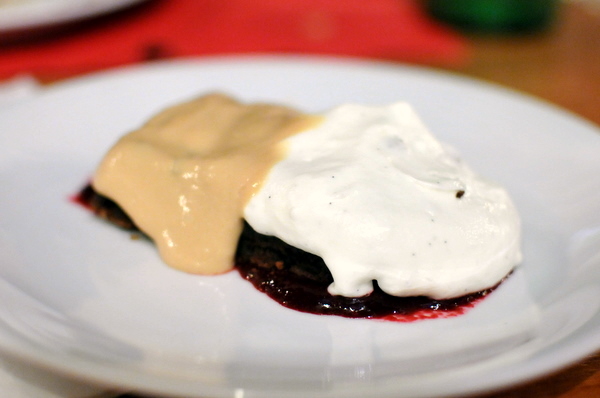 Guacamole Sorbet, Catalan Cream, Fruit Salsa, Tequila
A couple members of my party, myself included, groaned to see the guacamole sorbet make a return on the menu. The flavor this time was noticeably tangier though still somewhat disconcerting. The fruit salsa had an odd flavor reminiscent of bubblegum. While the guacamole was better than last time, on the whole, this dish seemed to be all over the place.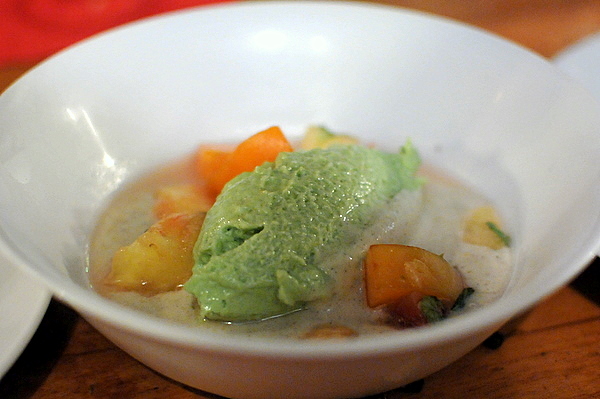 Ludo tends to incorporate a disparate mix of international elements into his food but never before has he concentrated so heavily on a single region. While this wasn't the most polished LudoBites experience, it was nice to see him venturing out from his typical style. Hopefully he will incorporate some of what he's done with LudoBites America into his upcoming 7.0 in August.