13019 Rosecrans Ave, Ste 105
Norwalk, CA 90650
(562) 921-2124

After visiting Lotus of Siam I learned that Saipin Chutima used to own a restaurant in Norwalk called Renu Nakorn which she sold to her friend when she made the move to Vegas. Both restaurants specialize in Northern Thai cooking and with my visit to Lotus still fresh in my memory, I thought it would be a good time to visit Renu Nakorn and see how it compared.

Located in a nondescript strip mall, there isn't anything in the decor that suggests this is anything but your typical neighborhood Thai restaurant. Indeed the menu features the typical slew of Curries, Pad Thai, and even Chop Suey, but those in the know will ignore all the chaff and focus on the Northern Thai options and Renu Nakorn Specials.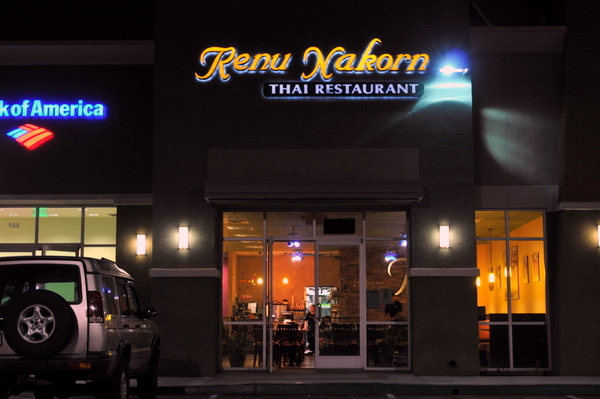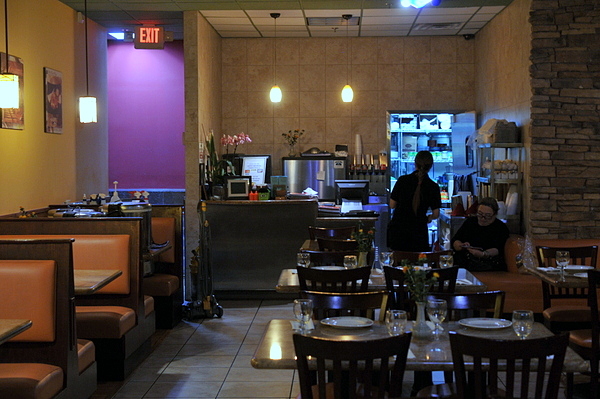 2010 Philipps-Eckstein Graacher-Himmelreich Riesling Kabinett (Mosel)
The Philipps-Eckstein proved to be an ideal pairing. Classic Riesling notes of citrus, stone fruit and honey are present but what really drives this wine is an electric acidity giving it a snappy pungency well suited for the food.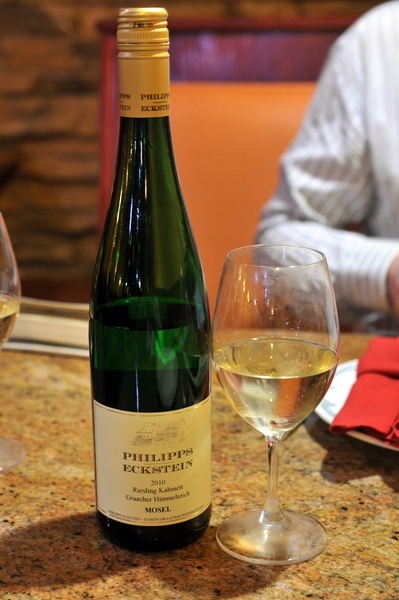 NAM-PRIK-NOOM (Green chili dip) - Roasted green chili, garlic, onion and tomato pounded in mortar. One of the most popular dip of Northern Thailand, eaten with sticky rice, fried pork skin and fresh vegetable (Medium hot and up)
Nam Prik refers to any number of chili-based dipping sauces used in Thai cuisine. This was a textbook presentation of the a fiery Northern Thai version. Built around fleshy roasted green chilies, this dish has plenty of heat but I also detected a subtle umami funk from the fish sauce that had me craving more. Despite the dip's blistering kick I couldn't stop slathering the stuff over the fresh vegetables.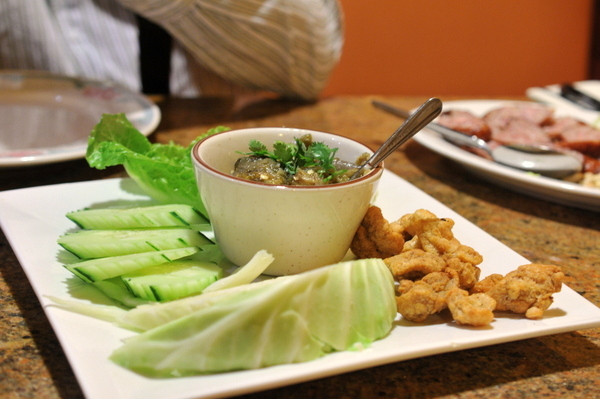 NAM KAO TOD - minced Issan sausage mixed with green onion, fresh chili, ginger, peanuts, crispy rice, and lime juice
This was our favorite dish at Lotus so I was curious to see how this one would compare. Despite having all the flavors I recall from last time, the overall effect felt a bit muted and less well balanced than Lotus'. The toasty savor of the rice dominates while the pungency of the sausage is much reduced. In all fairness I did eat this while my mouth was still aflame from the chili dip.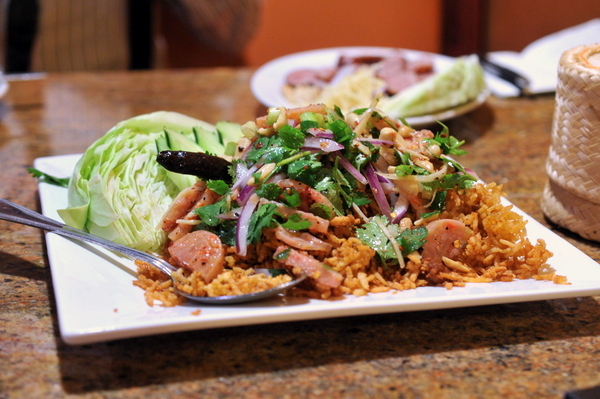 RENU NAKORN SAUSAGE - Grilled sour rice sausage, served with fresh chili, ginger & peanut
We originally wanted to go with the Sai Oua but the restaurant was sold out. This was a more balanced sausage than the Sai Oua we had at Lotus, plenty of sour porky goodness but with barely any heat to it. The onion ginger and cabbage add a bit of crunch and astringency but aren't strictly necessary.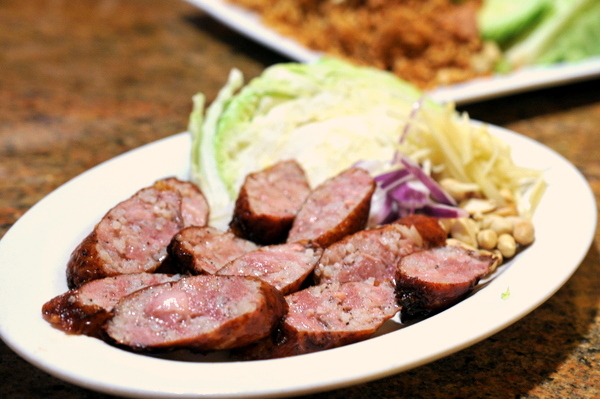 NORTHERN LARB - A completely difference from the Is-san larb in taste, this Northern style larb (ground pork) is cooked with Northern Thai spices and no lime juice. Garnish with fresh herb and vegetable
With dish after dish of sour spicy and funky flavors the straightforward porcine savor of the larb was a bit boring. On my second bite I noticed an herb-y spice that grew more intense with each bite. Not quite as challenging as some of the other courses, this would be a safe introduction to Northern Thai cuisine.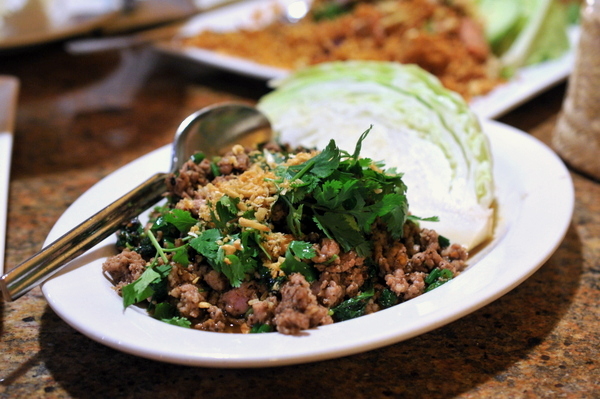 KOI SOY - Minced beef with Thai herb, fresh chili, rice powder, served raw or medium
The flavors this time were much more complex with a bright citrus tang on the attack and a satisfying toastiness from the rice powder in conjunction with the herbaceous spice. In the second head to head match up Renu Nakorn comes out on top though at Lotus I specifically requested a higher spice level which could account for the imbalance.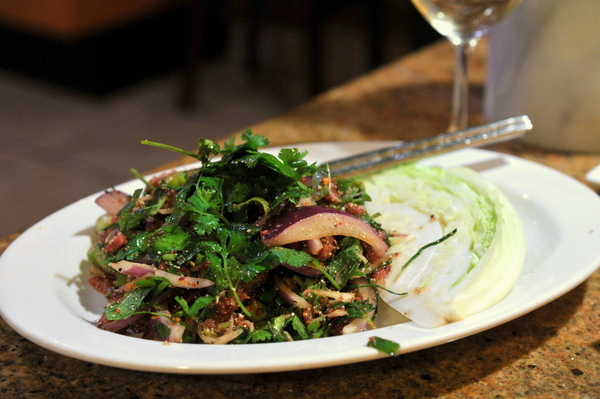 Beer - by Adrian Vasquez
Kevin received this as a gift from former Providence pastry chef Adrian Vasquez, apparently the 4 on the bottle marks this as his fourth attempt at brewing beer. Despite its ghetto appearance, the beer was superb with a thick foamy head and spice tinged ripe fruits it reminded me of a very well crafted Belgian. I wouldn't hesitate to buy a bottle of this if it Vasquez ever decides to mass produce it.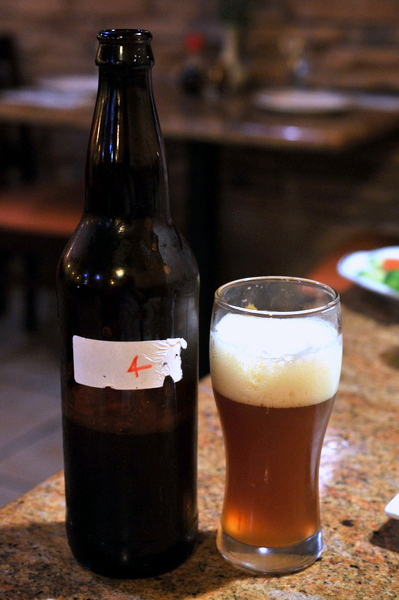 NUA YUM KATIEM - Charbroiled spicy beef topped with fresh garlic and spicy sauce
This dish sounded good on paper but the execution left much to be desired. The thinly sliced beef was cooked through but lacked any trace of inherent flavor or char and the raw garlic was far too blunt for my liking. The one saving grace was the the accompanying sauce and its satisfying slow growing burn.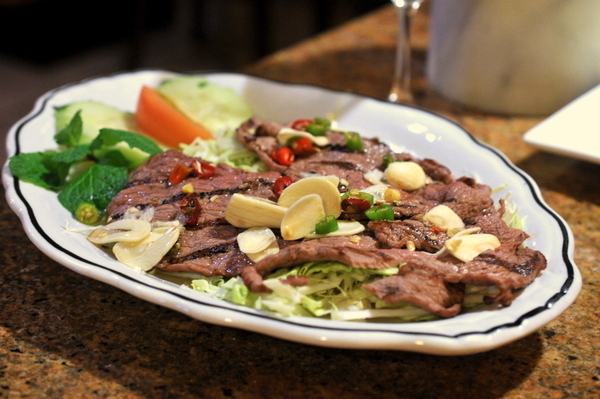 Despite an admittedly small sample set, the only clear difference that I could discern was that the food tasted markedly spicier at Renu Nakorn. It is possible that Lotus with its nationwide recognition has to calibrate the food for a wider audience where Renu Nakorn doesn't labor under such restrictions. Factoring in things like the extensive wine selection and wider menu, Lotus of Siam is the superior restaurant, but Renu Nakorn holds its own admirably when it comes to the Northern-style dishes.