2121 East 7th Place
Los Angeles, CA 90021

When Test Kitchen first opened in 2010 it took the popup concept and turned it on its head. Rather than chefs occupying other restaurants temporarily, the restaurant had no regular chef and imported a steady stream of chefs who wanted to preview menus for their upcoming restaurants. Something about the idea resonated with me and I ended up going to 16 of their events. The restaurant's 2012 incarnation is housed in Bestia, Ori Menashe's rustic Italian restaurant set to open later this month. This time around, only Manzke's turn at the pass really interested me.

For those who haven't heard, Chef Walter Manzke is opening Republique, his bistronomy concept, in the space that formerly housed Campanille. I first crossed paths with Manzke at Bastide and was shocked by his sudden departure in 2008. From then I caught up with him at both Church & State and Milo & Olive. Though it took longer than expected, its not surprising that Manzke is opening his own place; he is simply too talented of a chef to be constrained by the structures of someone else's vision.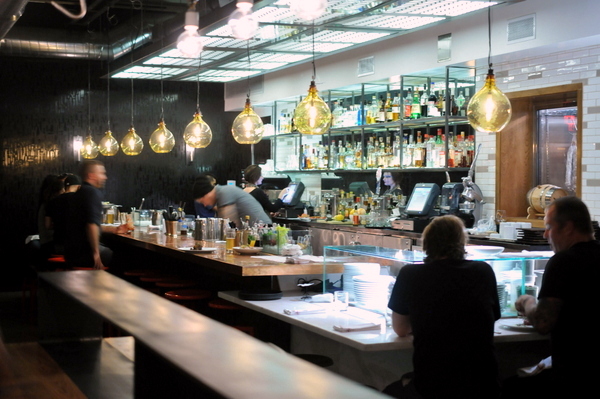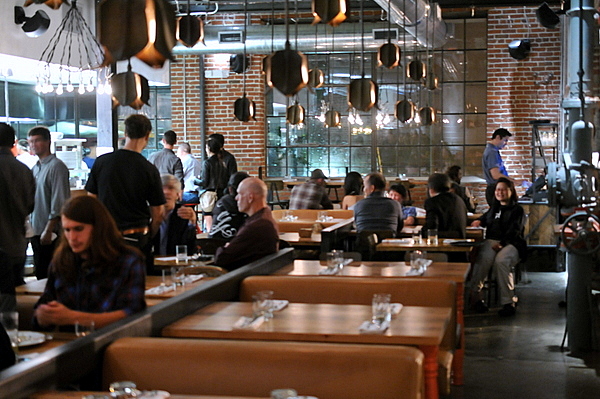 West End Girl - buffalo trace bourbon, manzanilla sherry, grenadine, lemon juice, green apple-sherry foam, cinnamon
Once Bitter, Twice Shy - french vermouth, cocchi torino, barolo chinato, grapefruit, lime
Braces & Waistcoats - applejack brandy, jelinek fernet, spiced meyer lemon syrup, star anise tincture, meyer lemon juice
The West End Girl is a surprisingly boozy broad thanks to the combination of bourbon and sherry which contrasted nicely with the soothing thickness of the foam as well as the tangy crunch of the pomegranate. The Once Bitter certainly lived up to its name with an astringent grapefruit flavor. The braces was arguably the most complex with layers of licorice and fruit that seemed to ebb and flow with each sip.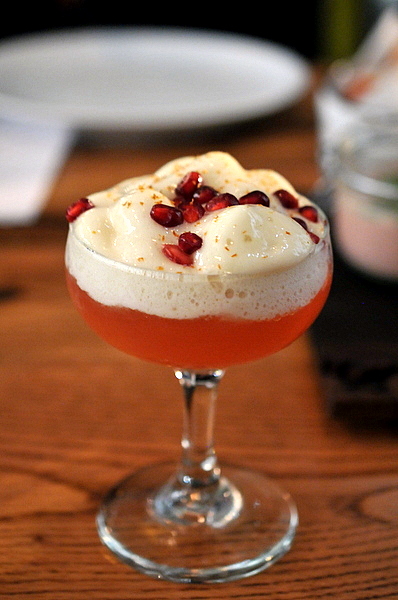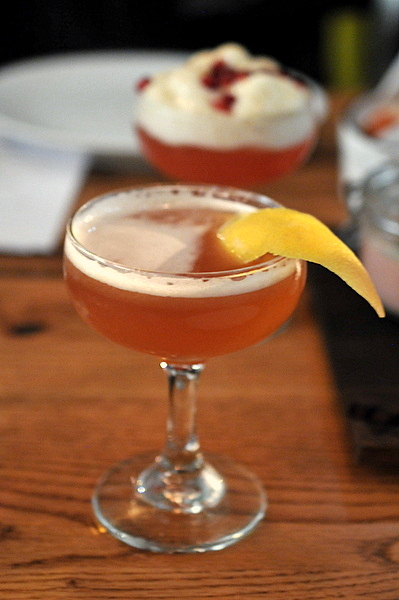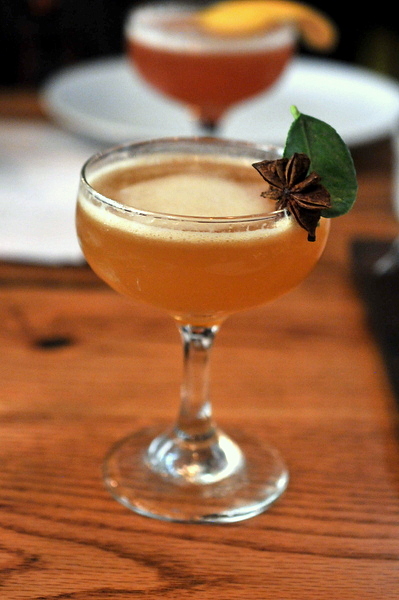 Jar of Duck Liver Mousse - guava mustard, baguette
No this isn't a clever way to get around the foie gras ban. Personally I can't recall the last time I had unfattened duck liver, but the texture and flavor is remarkably like chicken liver though perhaps a touch creamier. The bitter rustic toast provided a natural base while the fruity mustard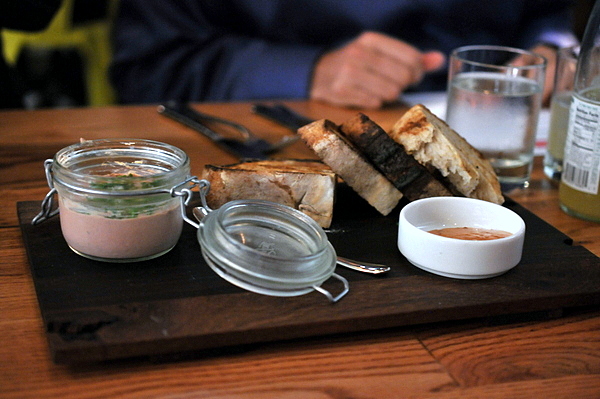 Manchego Beignets - pimentón
I could have devoured the whole serving of this on my own. The delicate fritters are filled with a gooey semi-molten cheese whose profound ritzy flavor reminded me of a deep fried gougere.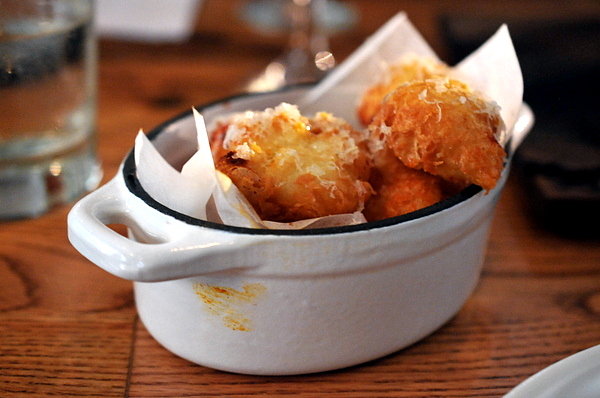 Kumamoto Oysters
Whats not to like about a fresh Kumamoto. These oysters exude luxury with the creamy texture. The accompanying sauce was a lovely herb driven play on the classic mignonette.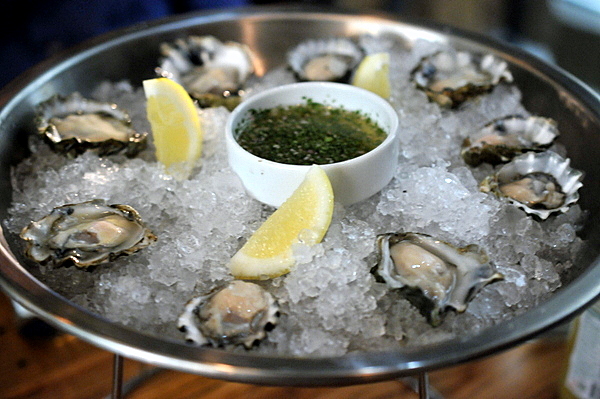 Pig's Ear Nachos
This was my favorite dish of the night and perhaps the best nachos that I've ever had. Headlining the dish are the ears have a gooey crunch and slightly funky porcine savor and the chips which exude a pronounced smack of toasted corn. The sauce and chilis provide an acidic heat to balance the weight of the ears while the runny egg envelops and ties the whole dish together.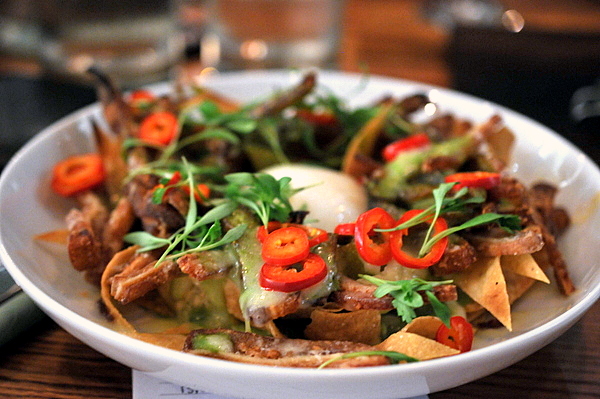 Toast - sea urchin, yuzu
Uni, Yuzu, Toast. Not much to this dish but with such fresh uni further artifice is not just unneeded its unwelcome. The rich brine of the uni is ever so subtly shaded by the floral citrus from the yuzu, always a match made in heaven.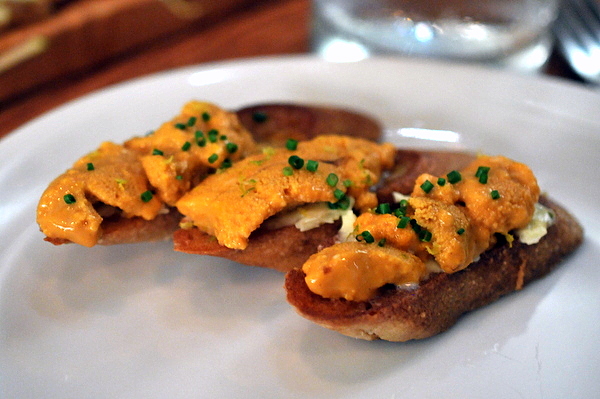 Onion Tart - bacon, fuji apple, boudin noir
On its own the combination of caramelized onions and bacon is tasty but a bit safe. The boudin noir with its slight pungency is the wrinkle that gives this dish depth and audacity.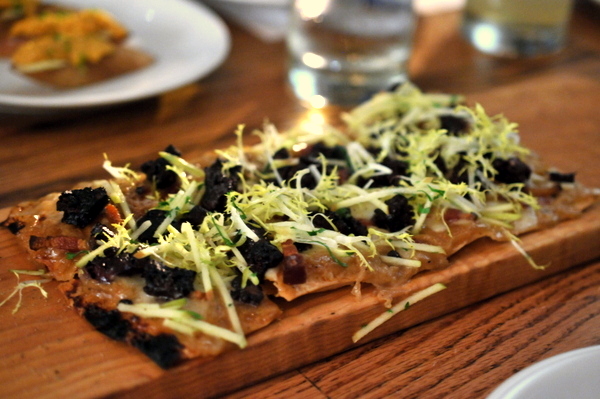 Wild Arugula Salad - avocado, pomegranate, pistachio, chili-lime vinaigrette
Built around a core of crisp colorful vegetables the salad also features a creamy and bright avocado puree, fruity tropical sweetness, and subtle Southeast Asian herbaceousness. Its not often when the salad course is the most complex dish on the menu, but the way the disparate flavors and textures work in harmony is absolutely stunning. In fact the Hamachi is reduced to a supporting element, providing a flesy textural contrast to the salad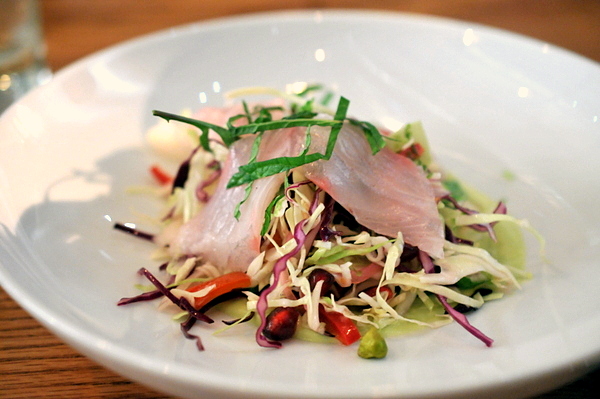 Pimmin' Ain't Easy - english harbor rum, pimm's no. 1, chanterelle-infused angostura bitters, salt
Island Girls Just Wanna Have Fun - dominican rum, velvet falernum, yellow chartreuse, celery, lemon, ginger, serrano, chilies
Pimmin' may not be easy but drinking it sure was. The combination of rum and pimm's formed a delightfully fruity mixture and though I thought the chanterelle and salt might make this drink overly savory their flavors were very well restrained. I was expecting the Island Girls to be something fruity and light, but instead it was more like a celery-driven Bloody Mary.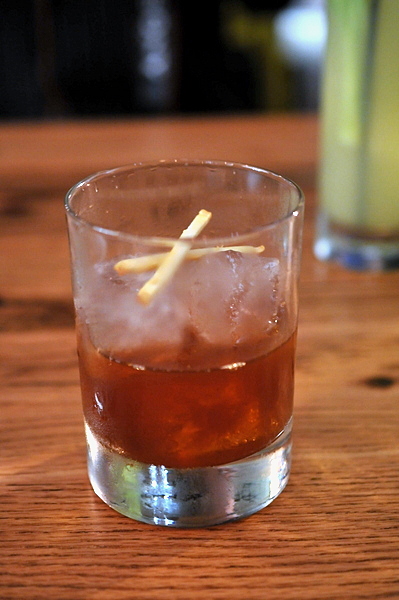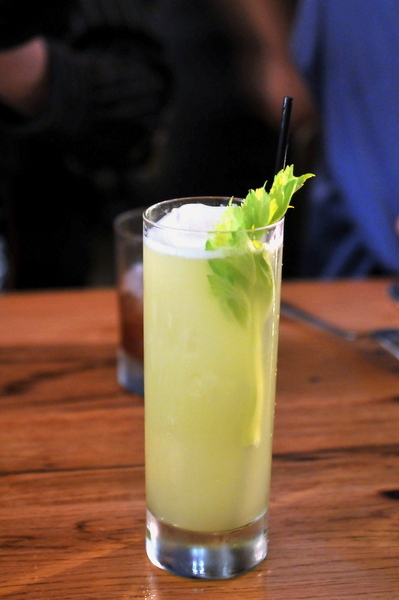 Wood Oven Roasted Atlantic Lobster - garlic, scallion, mantou bread
Though I was looking forward to this dish, it was probably the weakest of the night for me. The lobster is overflowing with briney flavor but the texture felt a bit soft and at times even mealy. My favorite part of this dish was the deep fried mantou, which reminded me of a dense savory doughnut.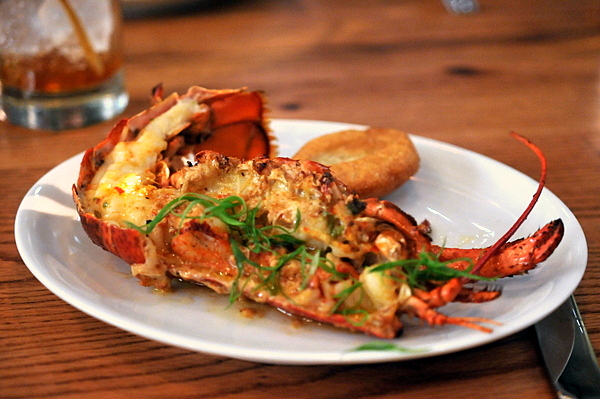 2009 Alberto Tedeschi Spungola Bellaria Emilia IGT
Our waiter recommended this Italian white describing it as whiskey-colored with the structure of a red. Almost a Sherry-like oxidation there with hints of orange blossom, green apple and mineral with contrasting nutty tones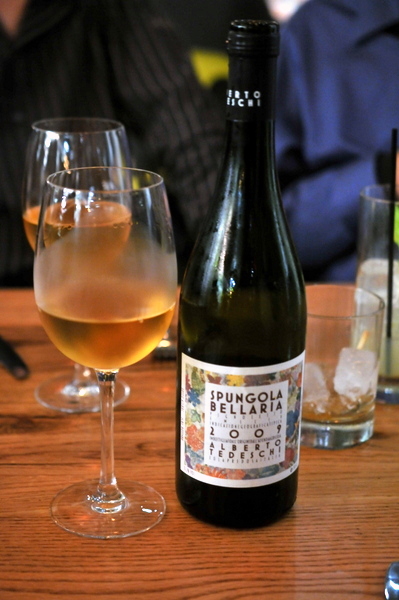 Grass Fed Beef Rib Eye - baby savory spinach, chanterelle mushrooms
Our final savory was a grass-fed rib eye. The meat has a leaner feel than corn fed beef as well as a hint of grassy astringency though that could be the result of one of the accompanying elements. The dense uniform texture of the steak reminded me of a prime rib, though the mushrooms and red wine sauce were more classic steak accompaniments. Aside from being a touch sweet, this was a pretty good capstone to the savories but nothing like the sublime beef at Manzke's last TK.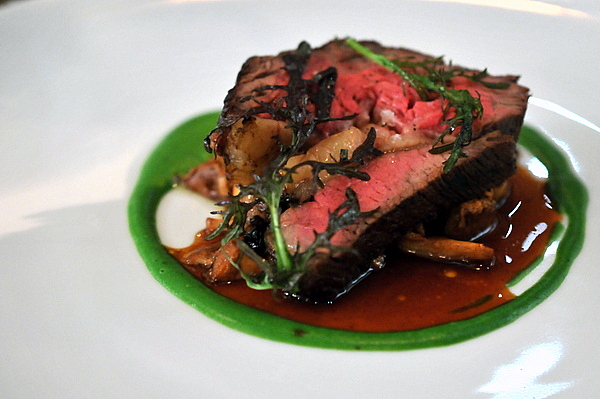 Pudwell berries - mascarpone sabayon
Lush and jammy the fresh berries are a fitting homage to the summer so recently passed.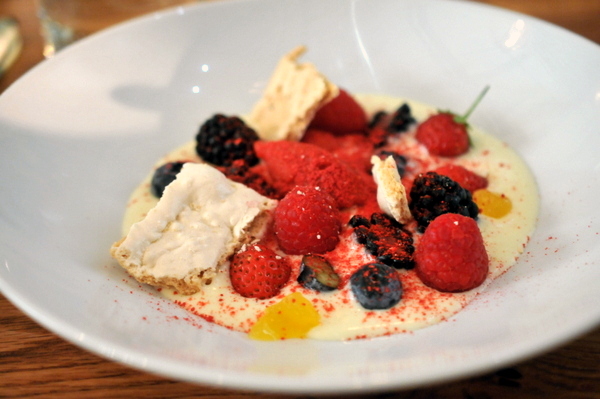 After a lengthy hiatus, its nice to see Manzke doing his own thing in the kitchen. Though the food was solid all around, aside from the salad, the bar bites outshone the meal proper. Personally I think this bodes well for Republique as the humbler, shared plates seem more suited to the convivial bistronomy setting.