5955 Melrose Avenue
Los Angeles, CA 90038
(323) 460-4170

My first visit to Providence back in 2007 was one of my earliest fine dining experiences. Since then I've had a fairly checkered relationship with the restaurant but my most recent trip to Providence left me wishing that I'd gone with the 16-course chef's menu so when Kevin suggested we get a group together to tackle the 16-course chef's menu I quickly jumped on the opportunity.

greyhound
Though spherifications may not carry the same panache they once did the greyhound's racing grapefruit tang was a fun way to start the meal.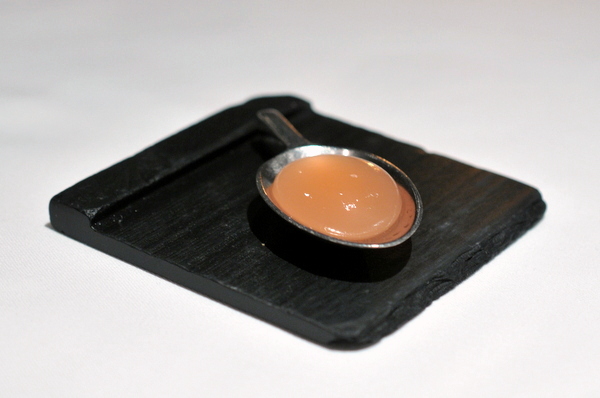 scallop nasturtium
crémant d'alsace, hubert meyer m.v.
This bite may not look like much, but filled with a raw scallop tartare and puffed rice; this delicate leaf packs quite the punch both savory and vegetal.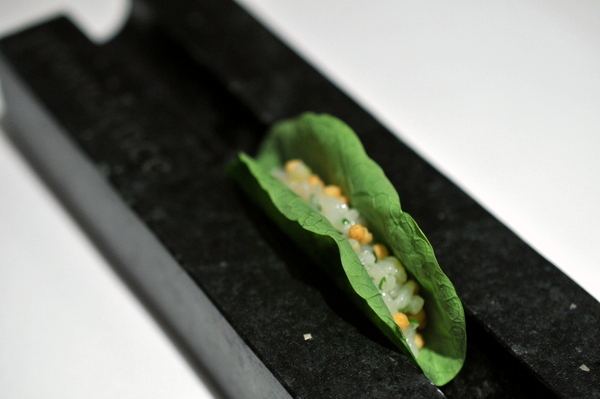 squid and chorizo
abalone and miso
crémant d'alsace, hubert meyer m.v.
The skewers have been part of the canapes for a couple of years now. Grilled over binchotan charcoal these tasty bites carry a powerful smoky savor but that's where their similarity ends. The squid and chorizo is brashly salty while the abalone has a simple purity of flavor.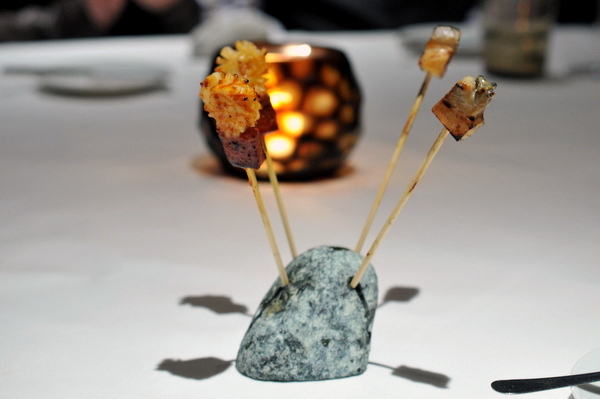 uni canapé
crémant d'alsace, hubert meyer m.v.
A relatively new addition to the lineup the sweet salinity of the fresh uni is augmented by a sliver of luxurious black truffle. Paired with the savor and rough crunch of the buttered Focaccia the canapé was reminiscent of a deep fried uni.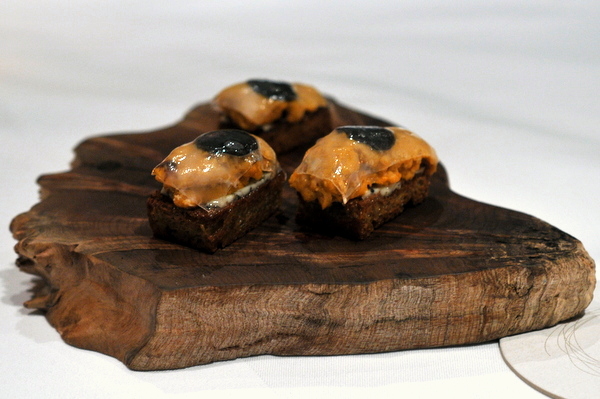 grilled kumamoto oyster - american caviar, smoked butter
crémant d'alsace, hubert meyer m.v.
Our final amuse paired oysters with a generous dollop of caviar. The oysters were presented still cooking on a hot stone grill. The butter provided a richness that tempered the Kumamoto's minerality but left the salinity of the duo intact.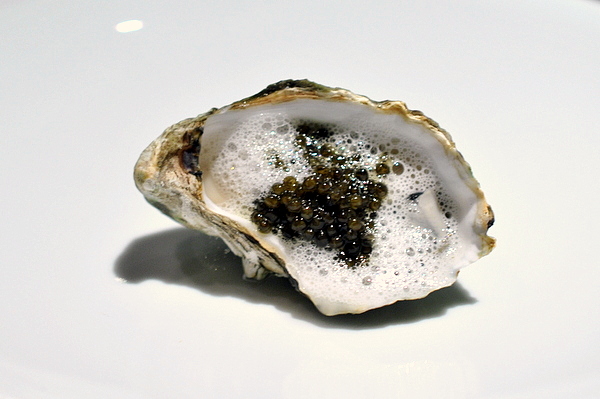 goma saba - cucumber, spring onion, nantes carrot, coriander seed, young ginger
moschofilero, tselepos 2011
Mackerel can be one of the tougher fishes to appreciate thanks to it's intensely fishy flavor. Soaked in a pickling brine, Cimarusti's preparation deftly tempers the oiliness while adding a marvelous tangy nuance. Likewise the vegetables add a further layer of moderation and textural contrast.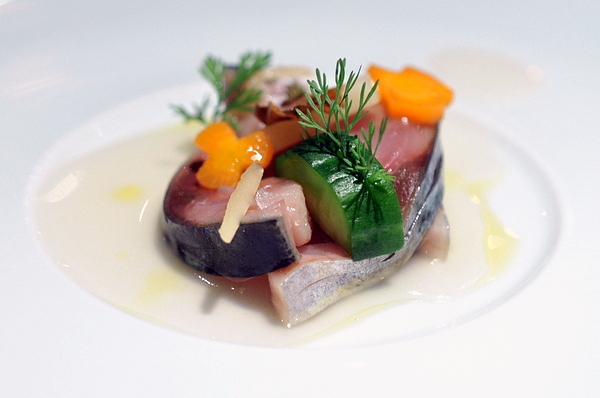 soy milk panna cotta - uni, geoduck, ikura, flowers and herbs
junmai dai ginjyo, kanchiku
I first had this course at the Ibaraki Benefit Dinner and it still ranks as one of the best things that I've ever eaten. Providence's regular menu features a version that uses crème fraîche panna cotta that I found a bit heavy handed but for this dinner we requested the original. The panna cotta acts like a creamy subdued soy sauce which dovetails seamlessly with the pristine seafood.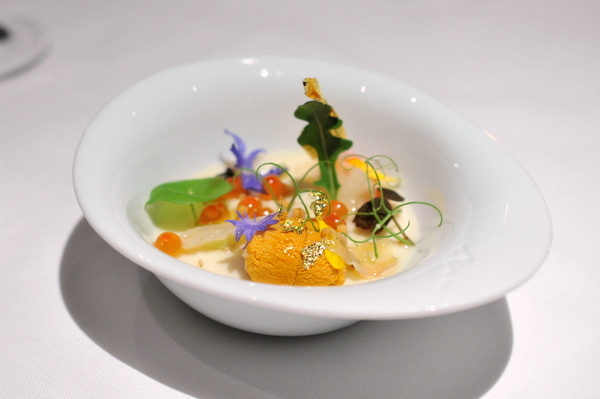 spot prawn - hot rock, yuzu
sauvignon blanc, craggy range 2011
Providence's spot prawns have come a long way since the unbalanced salt baked preparation that I first had in 2008. The prawns were seared tableside then finished with the zing of fresh yuzu to highlight the shrimp's natural salinity. The head and roe are a bit more direct, similar in the meat but with less citrus to act as a check on the salty-sweetness.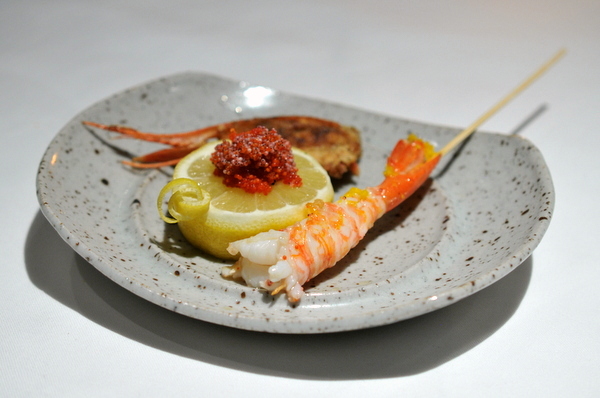 there's one born every minute - cabacerra ham, octopus, manila clam
chardonnay, "golden slope" liquid farm 2011
Not so sure about the name but I absolutely loved everything else about this dish. The fatty savor of the Cabacerra ham is deftly balanced by a countervailing herbaceousness from the celery leaf. The octopus provides a nice snappy contrast to the al dente rice as well as a subtle oceany undertone.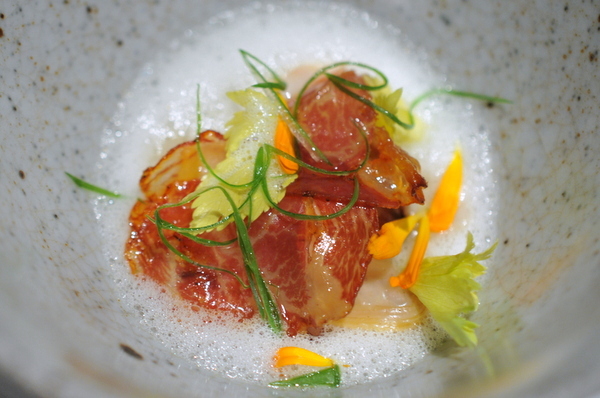 live scallops - lemon and salted butter
macon chardonnay, clos de la crochette, les héritiers du comte lafon 2008
Another minimalist course, the classic accompaniments of lemon and butter work brilliantly; highlighting the saline sweetness of the scallops. A quick char provides a light sear on the exterior as well as a satisfying savor but leaves the jellied texture of the ultra-fresh scallop intact.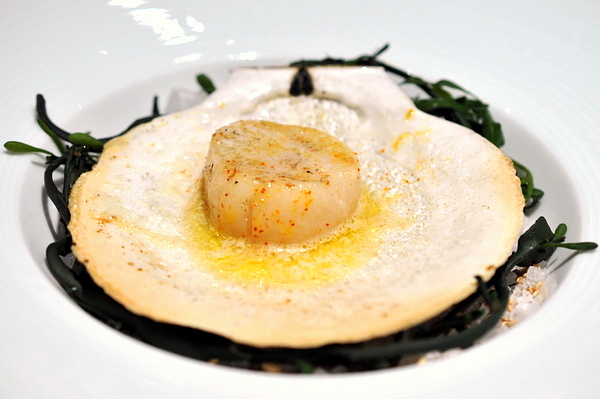 turbot - peas, black truffle, fumet
trousseau, le clousot, michel gahier 2011
The whole turbot stuffed with truffles drew some much deserved oohs and aahs from the table but in my opinion, the peas with thier aggressively taut snappiness and fiercely vegetal flavor embellished with the luxurious musk of the shaved truffle actually overshadowed the fish, .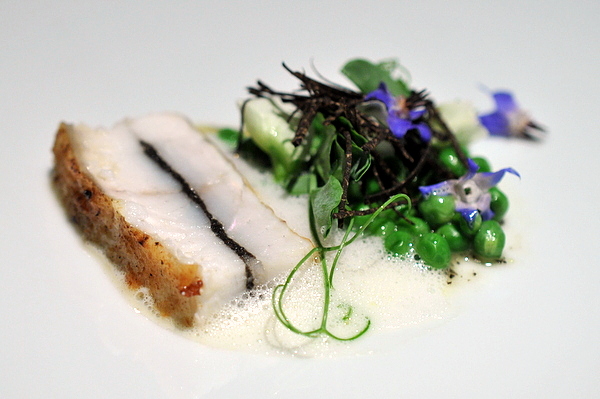 japanese wagyu beef - crushed butterball potatoes, baby carrots, spring onion, charred onion vinaigrette
cabernet sauvignon, heitz cellars 2007
I have to say that Providence has some of the most consistent high-quality Wagyu that I've ever had. The meat is chock full of oily goodness but never feels overly heavy. Though I enjoyed the toasty savor of the bread, I thought the meat was easily good enough to stand on its own.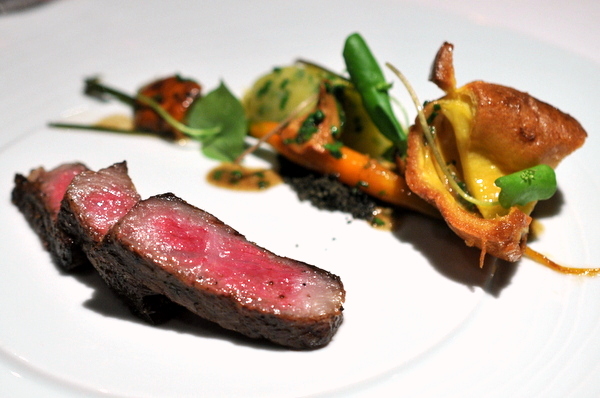 cheese selection
madeira verdelho, "historic series" rare wine co. m.v.
The cheeses were selected by the staff who went with a relatively safe quartet, though with a party of 15 that was probably the smart choice.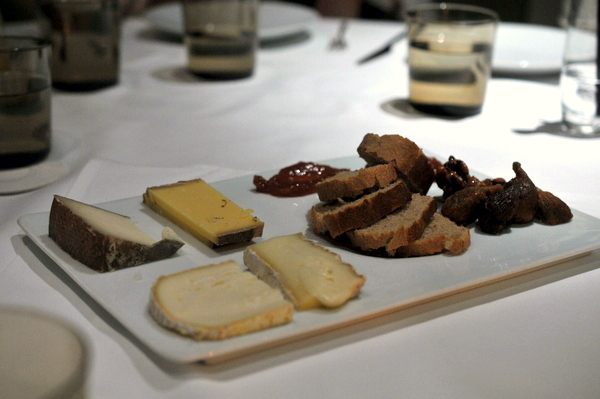 tangerine - kalamansi, avocado yogurt, white chocolate feuilletine
This was easily the most interesting of our three desserts. The dainty quinelle of tangarine sorbet packs an intense tang while the avocado gives the dish an ever so slight nutty savor.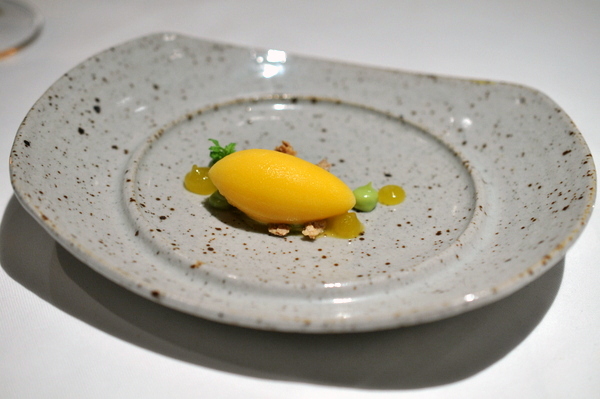 crème fraîche, sablé breton - almond financier, chestnut jam, vanilla mousse
moscatel málaga, "victoria #2" jorge ordoñez & co 2008
More than one person was wondering where the rest of the dish was. Interesting presentation aside this dessert had was a bit one-dimensional with a simple sweetness that reminded me of cupcake frosting.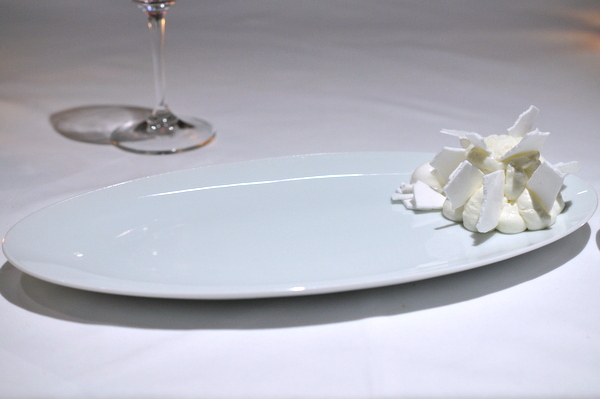 caramélia mousse - manjari cream, milk ice cream, cocoa nib dentelle
amoroso sherry, el maestro sierra
Blending chocolate, caramel, and milk this dish didn't take many chances but its hard to argue with the classic combination of flavors.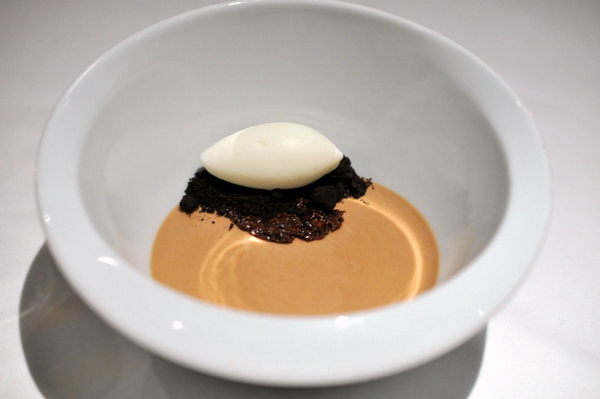 petit fours
No meal at Providence would be complete without their classic troika of mignardises: pate de fruit, caramel, and macaron.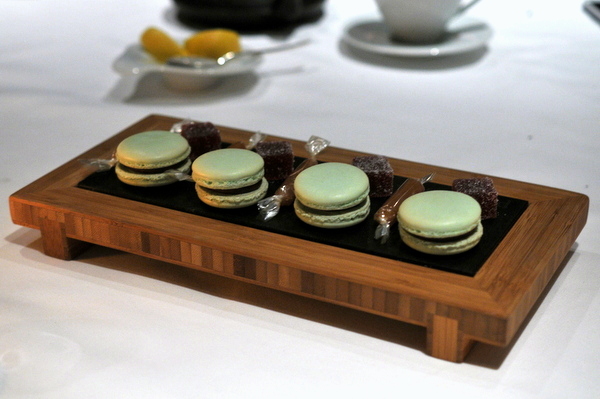 Simply put this is some of the best work I've seen from Cimarusti. With a number of the courses he seemed to take a less is more approach pairing a piece of pristine seafood with thoughtfully selected accompaniments that enhanced and celebrated the main ingredient. More importantly, the elaborate courses like the risotto demonstrated a high level of complexity and balance and a finesse that was occasionally lacking from some of my earlier meals here.