5955 Melrose Ave
Los Angeles, CA 90038
(323) 460-4170

This is my review from my first trip to Providence. I thought it fitting to repost it and contrast the experience with my return visit. I'd like to think my picture taking skills have come a long way since then.

I wanted to go to this restaurant ever since I saw the tasting menu and have been pushing my foodie buddies to go. Finally, one of my friends decided to try this restaurant with a date. That provided the impetus for the rest of my group to go.

Not thinking ahead we made a reservation 3 days in advance. As a result we ended up with a 9:30 reservation. Wanting to order the tasting menu, imagine my horror when I saw the web site state the tasting menu was only served until 8:30. Fortunately, when I called the hostess said the tasting menu is offered until 9:30 and if we wanted to order it than we better be on time.

Taking that advice to heart we arrived 30 minutes early. Taking a seat at the bar, one of my companions and I enjoyed a couple drinks before dinner. This would prove to be a mistake coupled with the 8 half-glasses of wine that accompany the 9-course meal.

Our waiter was superb, providing detailed information on each course without a hint of pretension or obsequiousness. In fact he often lightened up the meal with wry quips or other moments of levity. When I asked to keep the menu he didn't bat an eye (I even got to keep the protective binder) and when I asked to have it signed he promptly took it to the kitchen. It was a surprise when he returned and said he'd do us one better and bring the chef out to speak with us at the end of the meal.

After we ordered the tasting menu we were given an amuse bouche thus starting the 3-hour affair that is the Providence Market Menu.

Let me apologize in advance for the image quality. My ineptitude as a photographer coupled with the harsh lighting conditions

Shrimp Ceviche - Parmesan crisp
This came as a gift from the chef. Underneath the crisp is some lightly cocked shrimp with a refreshing citrus flavor. I quite enjoyed this for its simple acidic flavor coupled with the saltiness of the crisp. Also the contrasting textures played together superbly. Out of curiosity I asked if the chef had other amuses, and the waiter mentioned there was also crab and lobster ceviche. I was very happy with the shrimp and would have liked to try all three.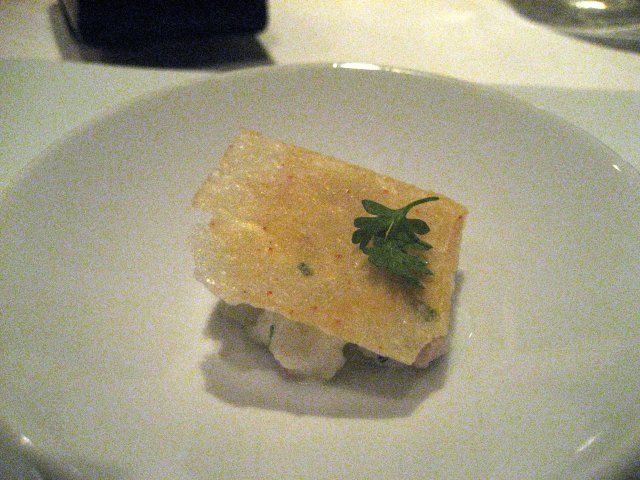 Pea Soup - applewood smoked bacon foam
This accompanied the previous dish as the second gift from the chef. I was less impressed with this course. The pea soup was creamy and slightly sweet and the bacon foam was salty. Looking back the conflicting flavors sort of worked but both were too blunt. I feel some subtlety or nuanced flavors would have made this dish better.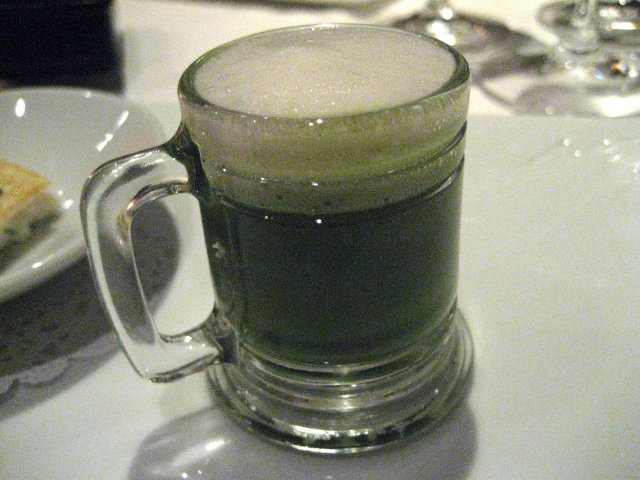 Kanpachi and Big Eye Tuna Sashimi - white soy, cucumber, shiso leaf, yuzu lime
Vinho Verde, Neblina 2006
The first course was sashimi. I enjoyed the white soy flavor but felt the cucumber that disrupted or masked the natural flavor of the fish. I also liked the yuzu an addition I tend to find more at high-end Japanese restaurants. In terms of texture I thought the kanpachi quite crisp and fresh. The tuna was soft and very lean. I thought the wine was an excellent choice, bringing to mind green fruits and mineral. The wine had a slightly green cast to the color and whisper of effervecence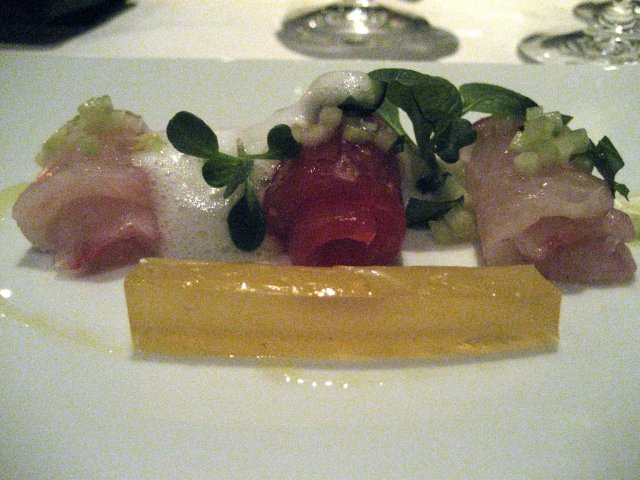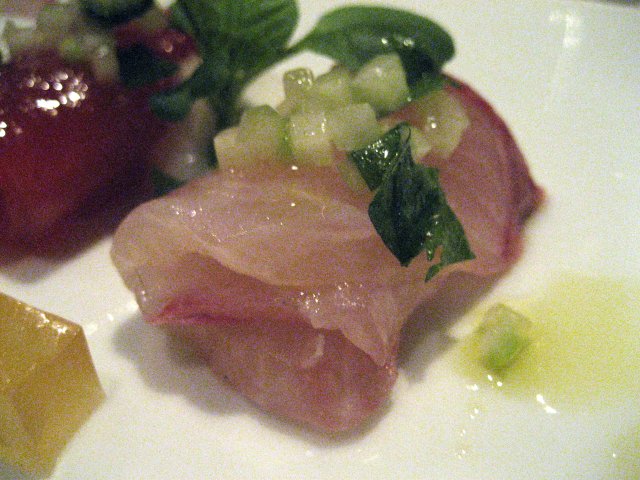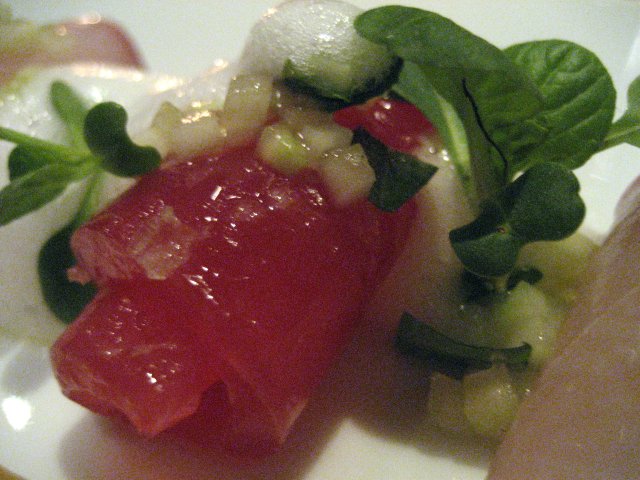 Uni Sabayon - served in an eggshell, black truffle, vermouth, brioche soldiers Hakkaisan, junmai ginjyo
Next we got an eggshell filled with liquid topped with shaved truffle, served in a nice metal stand, with brioche soldiers (basically glorified toast strips). The liquid is sabayon basically beaten egg yolks mixed with vermouth simmered until it thickens and foams. At the bottom were a few bits of uni. One thing my companions are sensitive about is the strong flavor of uni. The sabayon mutes the natural flavor of the uni and leaves just the sweetness. I did not enjoy this sake, I thought it was very astringent and had a slight flavor like herbal medicine that I wasn't fond of and that struck a discordant note with the luxurious richness of the dish.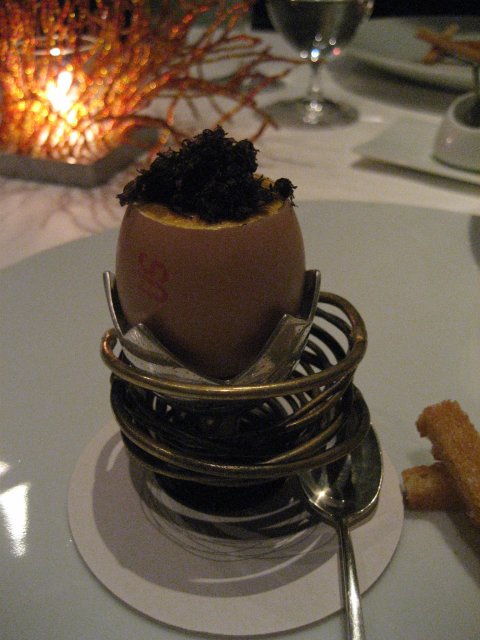 Maine Lobster - yellow beets, American caviar, tarragon
Reisling-Kabinett, Maximin Grunhauser 2005
My sincerest apologies, but I swear under that sheet of yellow is lobster. The quality of the lobster, as with all the seafood, is truly wonderful. For me lobster is one of those dishes that can be served with minimal accompaniment, however I quite liked the pairing of fishy caviar and sweet beets. This was the best wine of the night for me and I have made every effort to track some down. The nose is loaded with fruits and the flavor is sweet, but not too heavy.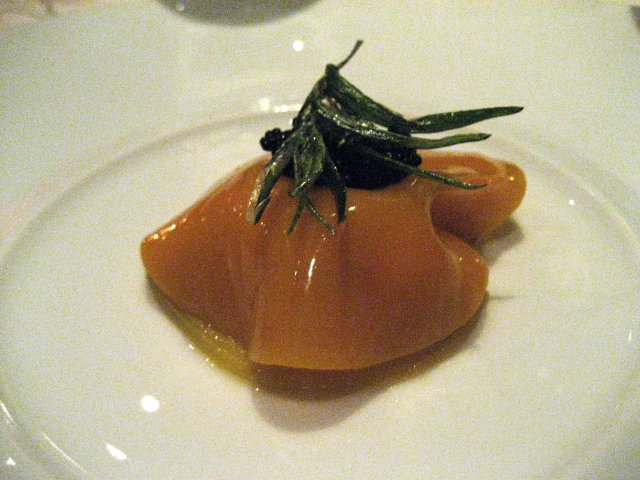 Nancy's Hand Harvested Diver Scallops - big island heart of palm, spinach, crispy bacon, pistachios
Crozse Hermitage, Delas 2003
Every time I have tried Nancy's scallops the quality cannot be denied. However I remember some experiences where the meat was tough and overcooked, I am happy to say this was not the case. Now bacon wrapped scallops seems almost tawdry or cliche, but there is a reason the combination exists. My compliments to the chef. The scallops had the sweet flavor and delicate texture that seems so hard to get right.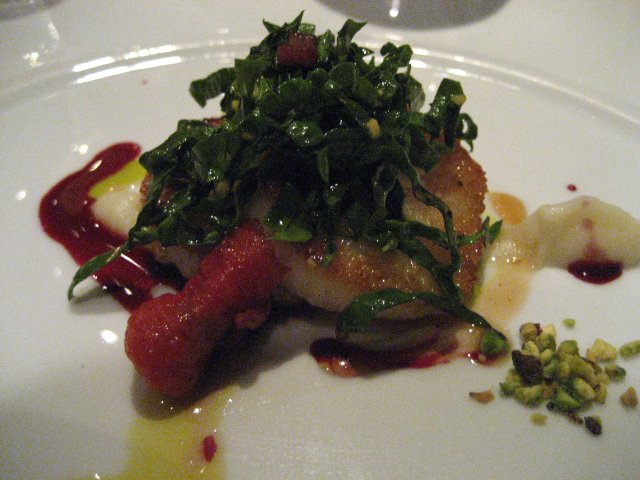 Turbot - flowering broccoli carrot/vadouvan butter, weiser farms purple haze carrots
Nebbiolo, Martin& Weyrich 2002
Actually on the menu this was supposed to be John Dory, but they ran out since too many people ordered the tasting menu. Instead we got Turbot. From the moment I saw this dish I thought the fish might be a bit tough. I was pleased to learn the meat was indeed firm but not dry. The fish also had its own subtle flavor that went well with the light vegetables paired with it.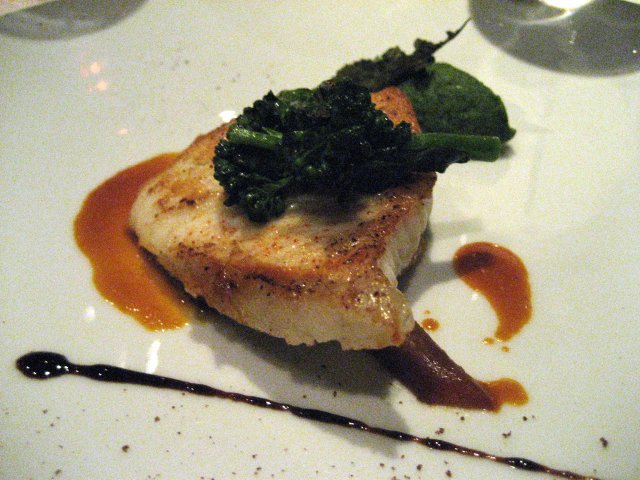 King Salmon (British Columbia) - butternut squash, shimeji mushrooms, romanesco, black truffle essence
Schales, Dornfelder 2004
The last dish of the evening is a beautiful piece of king salmon. with fried skin topped with squash and shimeji mushrooms swimming in black truffle essence. As I have harped over and over, the fish quality is without peer. The skin is light and crunchy filling the palette with a smoky distinctly salmon flavor. I loved the softness of the fish. For me the still raw-inside is the best way to enjoy salmon. The buttery sauce coupled with a very meaty piece of fish to provide a very heavy satisfying finale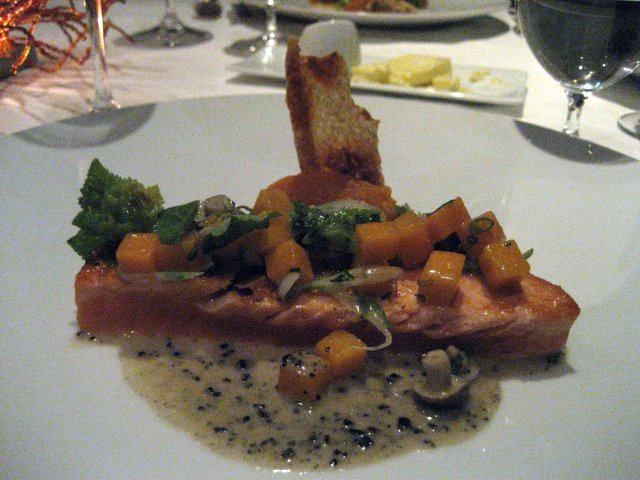 Market Cheeses
Montefalco Rosso, Arnaldo Caprai 2003
We were presented with three cheeses and told to eat from mildest to strongest (sheep, goat, cow). Now not being a big fan of cheese this was quite a challenge for me. The sheep's was relatively mild even for me and I was able to eat it fairly easily. The goats was a bit stronger but also palatable with a touch of marmalade or bread. The cows was the most difficult to finish given the drier consistency and stronger flavor. Although for the record I have since had cheeses where the mildest puts the cows milk to shame. I enjoyed the wine paired with the cheeses very much. A concentrated nose of fruits especially cherry and plum, the wine was both fruity and spicy on the palette.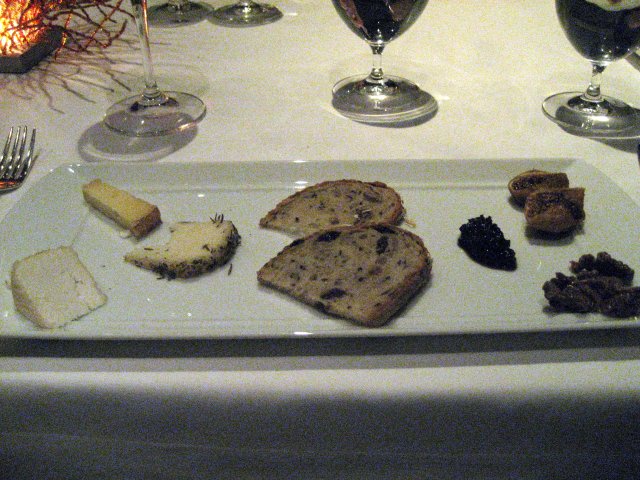 Kalamansi Soda - vanilla mango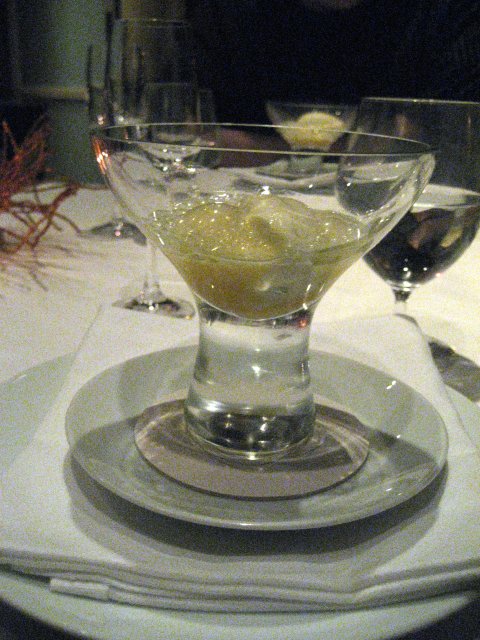 I really liked this, kind of a science experiment, The cup contained a dollop of vanilla ice cream and the server added mango soda from this odd can. Sadly mine didn't foam up correctly, but still the flavor was quite good. Chocolate Creameaux - lemon curd, marshmallow, graham
Banyuls, Domaine Pietri-Geraud 2000
I really liked the variety of textures and flavors: light airy marshmallow, grainy graham, tart creamy lemon curd, and bold thick chocolate.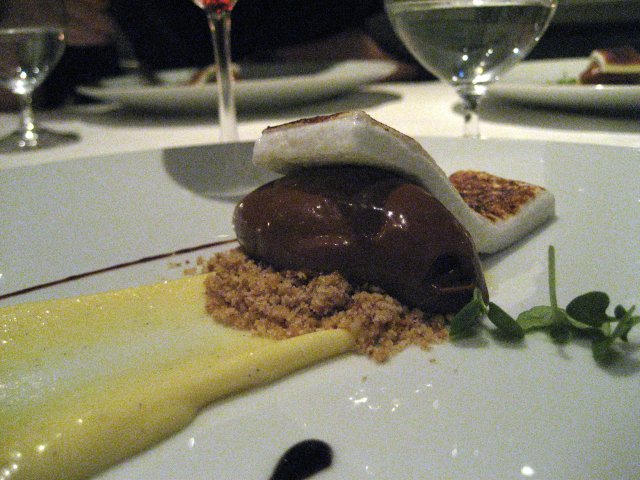 Petits FoursThe waiter asked if we were full and everyone answered no. So after taking our coffee and tea orders, he brought out a nice big tray of petits fours: raspberry jelly, dark chocolate filled with something that now escapes me, and housemade caramel. I liked the soft salty/buttery caramel and the thick tart raspberry jelly.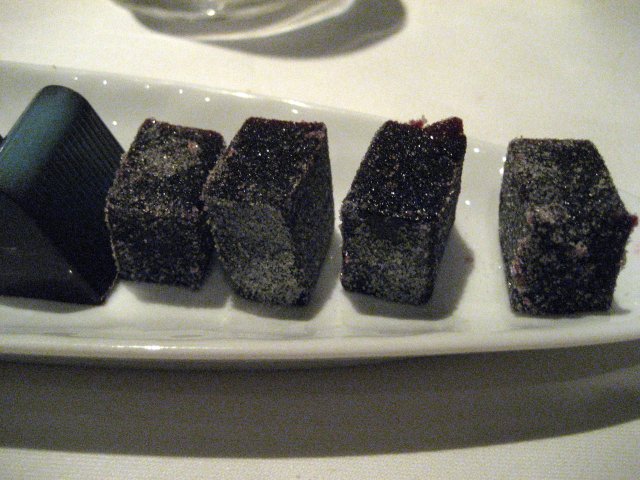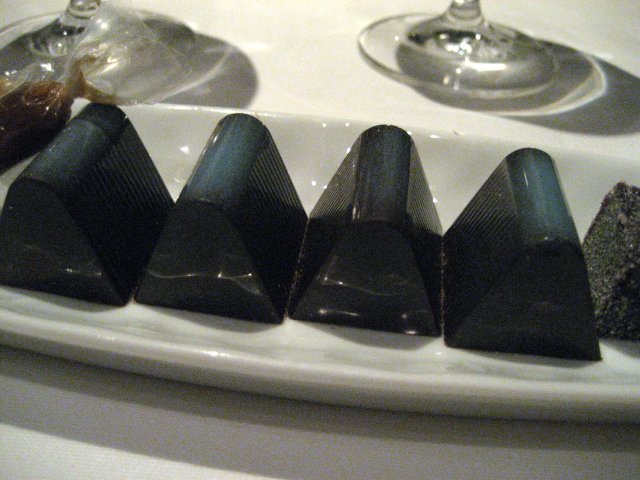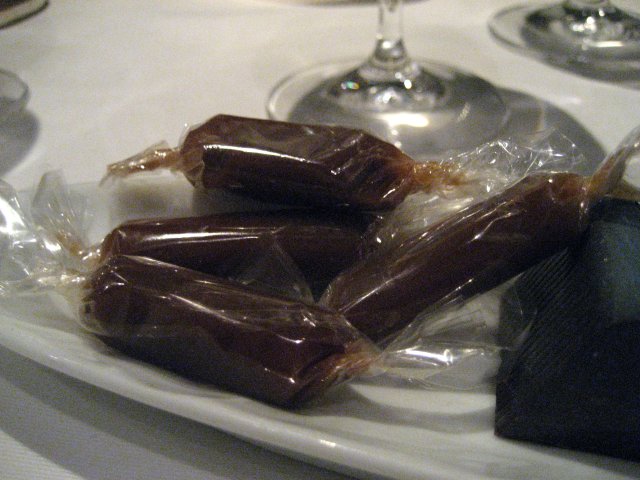 White Chocolate Lollipop - orange ginger filling Another surprise. The waiter quipped the restaurant doesnt like to see anyone go home hungry. Standing in shot glasses filled with sugar are the famous white chocolate lollipops. Our waiter advised we eat these carefully in one bite. This turned out to be sage advice as crushing the chocolate outside releases a burst of orange ginger filling. The refreshing taste of orange with the bite of ginger floods the mouth and the aromas climb up the nose creating an intense flavor. The white chocolate adds sweetness to balance the more acidic orange.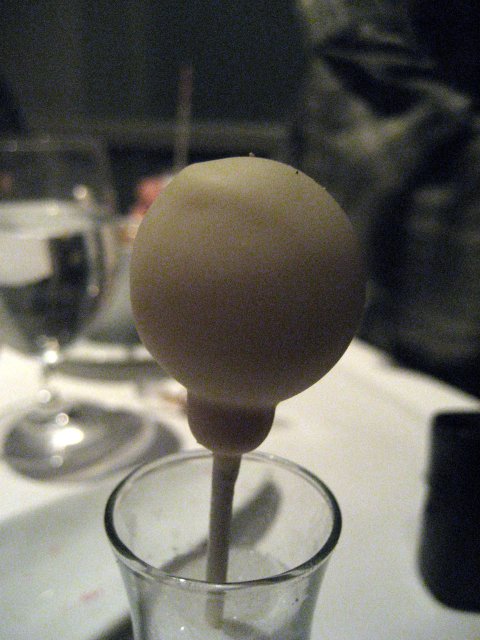 As you might have noticed aside from the cheese and desserts, the star of the show is seafood. Not too surprising given that Chef Cimarusti used to work at the Water Grill. I wasn't so enamored of Water Grill. Although the oysters are probably the best I ever had. Happily though I nitpicked on the food here, I actually enjoyed it very much.

Fair warning, the wine pours are quite generous verging on 3/4ths of a glass rather than halves. Added to pre-dinner cocktails this can be quite a bit to drink. I was certainly nicely tipsy at the end; thankfully I wasn't driving.

I thoroughly enjoyed my experience at Providence although I wonder how much being tipsy has to do with that. One strong indicator is whether I would go back or not given there are at least a dozen other places I want to try. One member of my dining group recently told me about an unlisted 20-course menu at Providence. Had I known about it earlier I would have gotten it on my first trip. However hearing about it now, is that sufficient inducement to entice me back? Time will tell.