3115 Pico Blvd
Santa Monica, CA 90405
(310) 829-4313

After talking about it for many months, my friends and I finally paid a visit to Valentino. Although I am ashamed to do so, I must admit this is a first for me. For some unfathomable reason, the group of foodies I dine with have never been to a high-end Italian restaurant. Perhaps all those frozen dinners during our college years soured our perception of what fine Italian cuisine really is. Naturally we went with the tasting menu and wine pairing to get the full dining experience. I am happy to report not once did the words spaghetti, meatballs, or tomato sauce appear on the menu.

The restaurant is located in a small enclosed space with it's own private valet area. I am embarrassed to admit our car was easily the worst in the lot.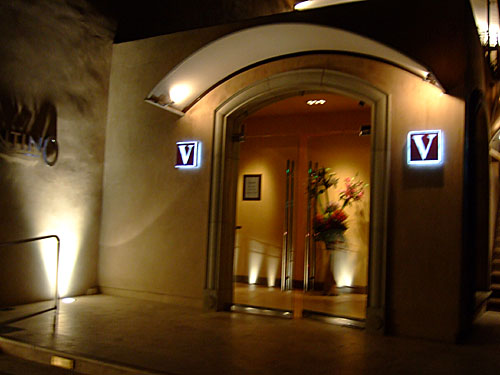 Being an Italian restaurant I went with a traditional Italian aperitif , a Negroni. My friend went with his standby Mojito. I have to say they make em strong here. The mojito definitely needed more lime and sugar and I think the Negroni just isn't my style of drink.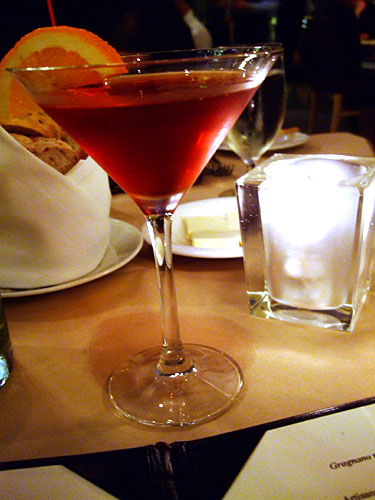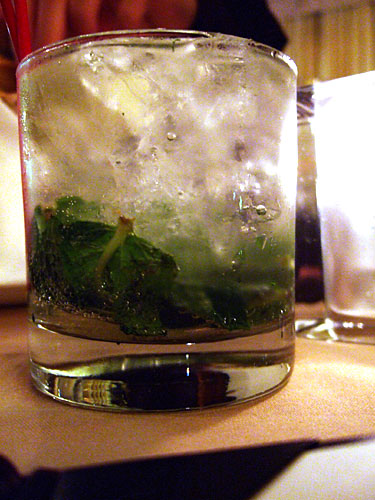 01: Lo Stuzzichino - Chef's Palate Teaser
The amuse was a tuna tartare with olive oil. With raw fish I feel the natural fish oil is an integral part of the tasting experience, as a result I like my raw fish prepared as simply as possible. I thought the olive oil overpowered the fish making for a fairly nondescript flavor.



02: Aragosta, Pomodori e Burrata - Lobster, Organic Tomato, Fresh Burrata, Basil Oil Salad
Delicious! Each ingredient was enjoyable on its own, the lobster was wonderfully cooked sweet and fresh, the Burrata smooth and rich, the tomato and basil oil added their own fresh garden notes. This is definitely a case where the whole is greater than the sum of the parts. Taken together the ingredients had a complex interplay that was a joy to experience.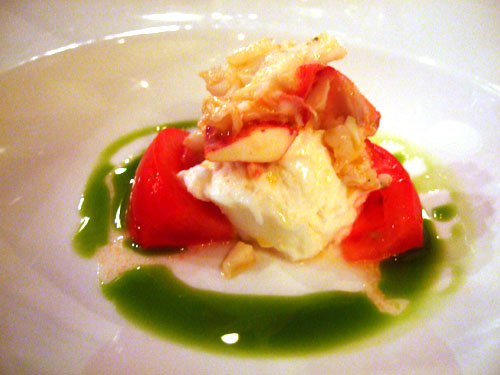 03: Salmone del Baltico, Casseruola di Finocchi e Salsa di Tartufo - Sautéed Baltic Salmon, Fennel and Hazelnut Casseruola, Truffle Sauce
I have mixed feelings about this dish. Taken in isolation the fish is excellent, well cooked with an intense helping of the characteristic salmon flavor. On the other hand I felt the truffle sauce was too mild. I would have appreciated an intense truffle to rival the salmon. Although I did enjoy the aromatic flavor of the fennel and the hazelnut added a nice firmness to the dish.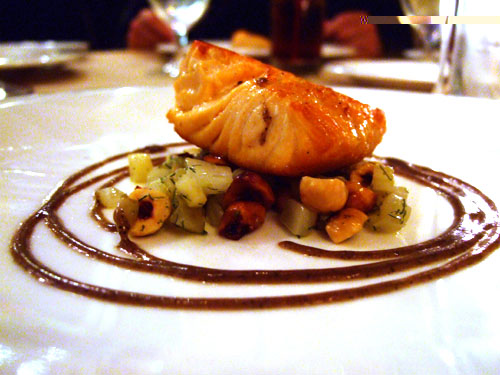 04: Pappardelle di Cumino, Salsa di Coda alla Vaccinara - Home-made Cumin Pappardelle, Oxtail Ragu
This was my first experience with pappardelle and I thought the texture a bit to dense for my tastes. I did however enjoy the flavor of the dish especially the richness of the oxtail.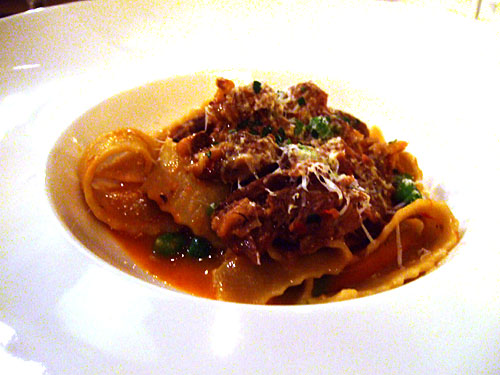 Supplement: Risotto ai Funghi - Risotto with mushrooms, asparagus, and Prosciutto
We felt the tasting menu was a bit light so we ordered a serving of the special, mushroom risotto. This was a very good preparation of risotto. The rice was just a hint too grainy but still very good and the richness of the mushroom was heightened by the accompaniments. This was easily the best of the three risottos we tried this evening.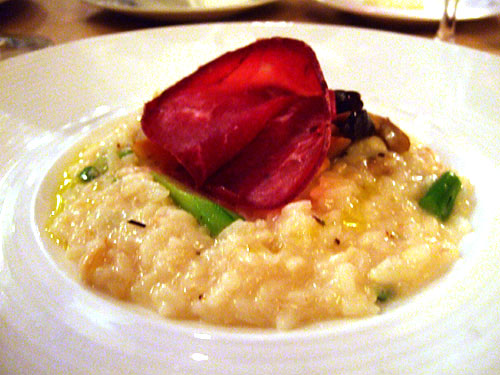 At this point we decided to order two more courses, both risottos. We weren't quite full and there was only one more savory course left, however had we known how big the next course was going to be we might not have added anything else.

05: Costine di Manzo - Braised Beef Short Ribs, Shaved Black Truffle, Cauliflower and Carrot Tart, Brussel Sprouts and Italian Kale
An excellent braised beef, unlike so many others the natural flavor of the meat is accented, not dominated by the sauce. The Brussels sprouts added a bitterness that kept the dish from being too heavy. I don't really know what the cauliflower and carrot tart was about, spongy and heavy the tart added nothing but mass to an already overly large dish.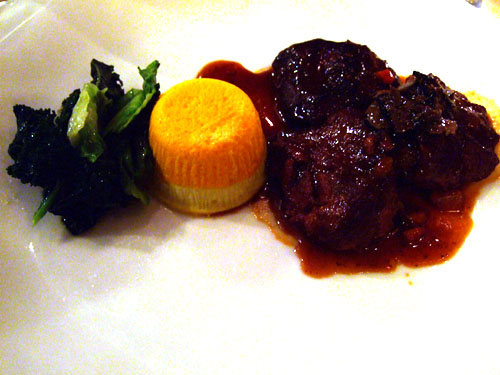 Supplement: Risotto Verde all'Ortolana - Fresh Spinach Sauce and Farmer's Market Vegetables
The first of two risottos was a vegetable risotto. In general, I tend to shy away from vegetarian dishes, but I enjoyed this one immensely. The rice texture was very good, the light fresh flavors of the vegetables and a mouth-puckering tartness went together beautifully.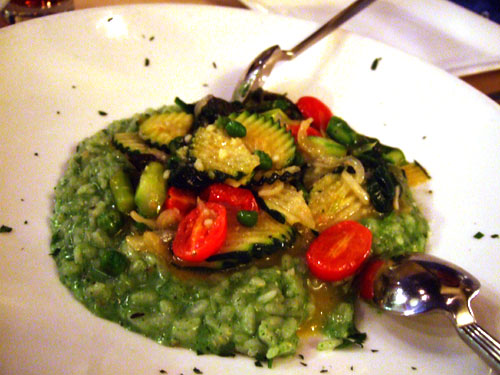 Supplement: Risotto Nero e Aragosta - Squid Ink Risotto with Maine Lobster and Cherry Tomatoes
This was as much a visual experience as it was a culinary one. It almost looked as if the rice was coated in oil, not a single speck of white showed through the thick covering of squid ink. The ink added a flavor I can't quite identify, slightly oceany, slightly earthy, I don't know what it was but it works.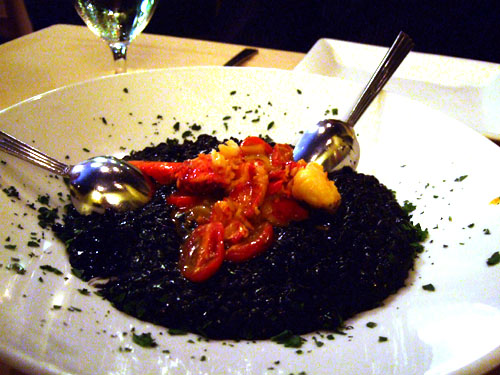 06: I Formaggi - Selection of Artisinal Cheese Traditional Condiments
Two fairly firm and mild cheeses. I tend to enjoy my cheese a bit softer than these two although they were fairly easy to eat given their mild flavors.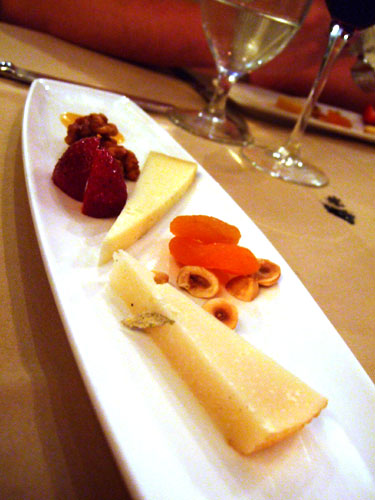 07: Piccola Dolcezza - Dark chocolate sorbet with Amaretto cookies
A wonderful pre-dessert, although much heavier than the fruity palate cleansers I am used to. The chocolate sorbet was soft smooth and bitter. The Amaretto cookies added a nice crunch and a hint of alcohol which went very well with the chocolate.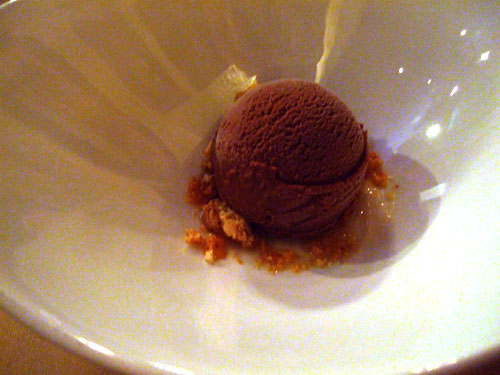 08: Il Dolce - Granny Smith Zuppetta, Cinnamon Pannacotta
I was actually a bit disappointed with the pannacotta beacuse it was a bit too heavy for me. I would have preferred a lighter flavor and texture. The sauce was a nice contrast with the hint of cinnamon in the pannacotta.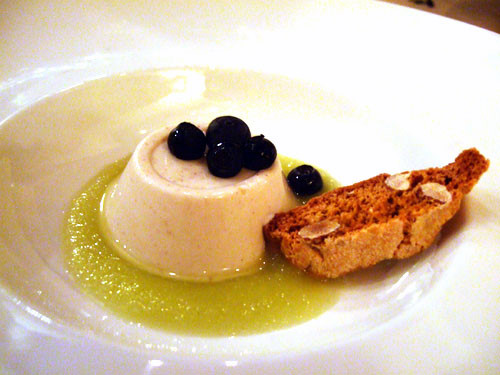 In general, I think the flavors and textures associated with Italian food aren't as suited to my tastes as some other cuisines. Still, I was pleased with my first foray into Italian fine dining and am looking forward to many such meals in the future.