2523 Market Ave
Cleveland, OH 44113
(216) 241-4243

My first night in Cleveland I finally made it out to Flying Fig. Widely regarded as one of Cleveland's top restaurants, somehow the menu never appealed to me. Maybe because many of the dishes seemed to focus on shudder... vegetables. Flying Fig prides itself on working with local farms to secure fresh ingredients and it really shows. The vegetables with many of the dishes were just as strong or even better than the main part of the dish.

The restaurant is probably one of the trendiest I have been to in Cleveland. Walking past the bar leads to a dimly lit dining area with the center dominated by a raised dais with 2 tables. We were lucky enough to secure one of these tables. In the back corner is a small window into the kitchen. Just enough to see what is going on but not large enough for the sounds from the kitchen to bleed into the dining room. This is a blessing because the restaurant was loud enough already.

The restaurant does not have a tasting menu listed and I forgot to ask if they offered one. However given the small plates theme, it seems reasonable a party could enjoy quite a few courses even without a tasting menu. We opted for a more traditional meal: appetizers, main course, and desserts.

Goat Cheese Stuffed Mission Figs - Wrapped in Spicy La Quercia Prosciutto, Port Syrup
What else would you get at a restaurant called Flying Figs, but the figs. I was a bit hesitant about this dish but my girlfriend got it so I tried one. The cheese and figs are surprisingly mild with a number of nuances on the basic sweet and tart flavors. The prosciutto and port syrup are far more powerful but still blend very nicely with the fig and cheese.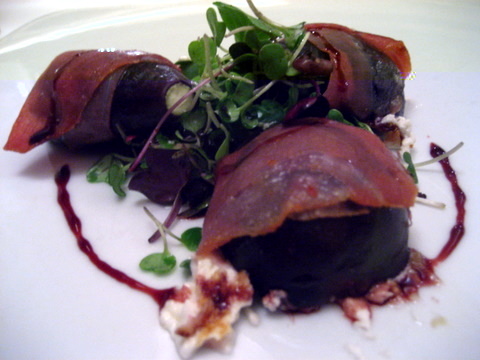 Braised Pork Belly - Blackberry and Habanero Goat Cheese, Herb Crostini, Sauteed Greens
Pork belly seems to be gaining popularity at restaurants in recent months, this is the third time I had the dish in a month and a half. I love the combination of crispy skin resting atop layers of fat and lean meat. What set this apart from other preparations is the absence of sauce. I actually prefer this preparation, a little bit of anise to give it some sweetness, but most of the focus is on the abundance of flavor and texture found in the pork belly itself. The blackberry and habanero goat cheese was also phenomenal, a well balanced blend of creamy sweetness and fruity tartness with a subtle heat. The sautéed greens were brilliant as well, nicely seasoned with salt, they had a delightful crunch and mild bitterness that went very well with the belly.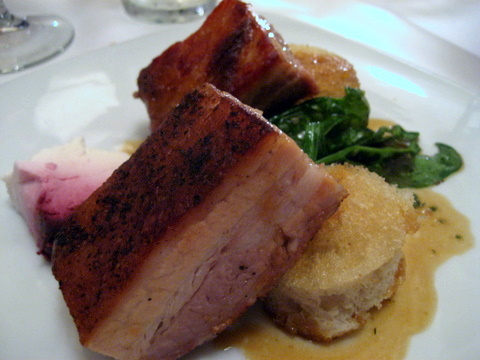 Seared Scallops - Spring Vegetable Risotto, La Quercia Prosciutto, Pea Shoot Salad
My girlfriend ordered this specifically for the risotto, which was quite good especially with the pea shoot salad. Reminded me very much of the asparagus risotto at Ramsay in LA, although much less cheesy. The scallops were nicely prepared although a lot of them had sand which I found extremely unpleasant.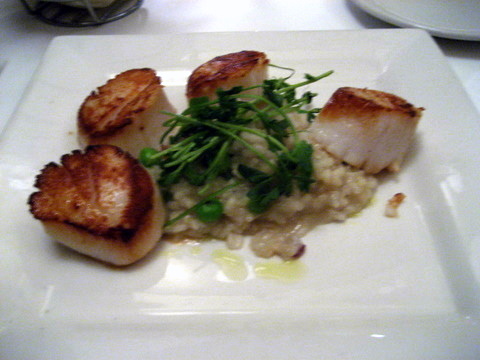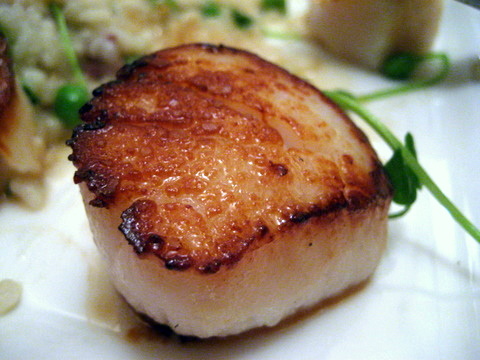 Grilled Short Ribs - Horseradish Potato Purée, Haricot Vert, Pilsner Reduction
I was quite impressed with the short ribs. The sauce used was thinner than I would normally expect for a short rib, which I actually prefer since I would rather taste the richness of the beef. The pilsner reduction added a nice hoppy flavor to the dish. Although I am loathe to admit it, for me far and away the haricot vert was the best part of the course. The beans were fresh with a wonderfully refreshing snap. Again lightly flavored, with the seasoning accenting the natural sweetness of the beans.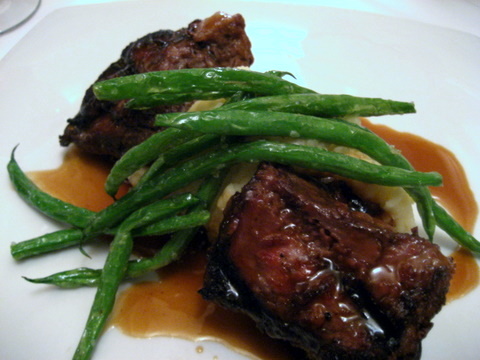 Fig & Thyme Jam Crisp - Lemon Ice Cream
After much soul searching my girlfriend settled on this dessert. She likened it to a gussied up Fig Newton. I don't remember too much about it but I do recall liking the buttery crisp.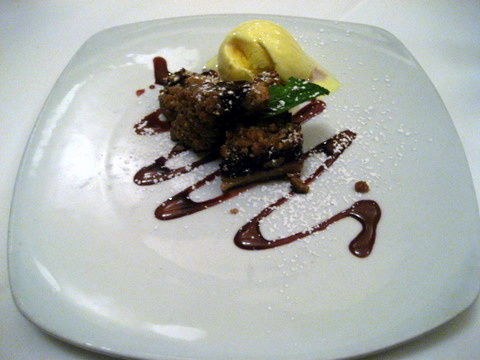 Black Pepper Cornbread - Strawberries, Strawberry Jam, Whipped Cream
My girlfriend was originally going to order this because it was the special so I got it for her to try instead. The black pepper was totally lost in this dish, I couldn't taste nor feel the characteristic tingling I associate with pepper anywhere in here. The strawberries were fresh and the jam intensely flavorful, so much so that it totally overpowered the milder cornbread.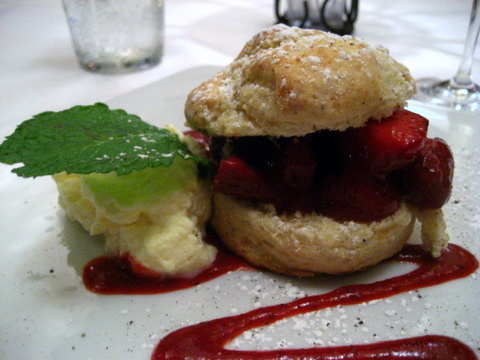 Overall I was extremely impressed with the food at Flying Fig especially the fresh produce. I freely acknowledge a bias for meat, and I was pleasantly surprised at just how enjoyable fresh vegetables could be. I could definitely detect a much wider range of flavor and texture in the fresh vegetables compared to what I normally eat. The food here is not particularly fancy or complex; instead the focus is on taking fresh ingredients and producing simple dishes that are a joy to eat. Without a doubt the best restaurant I have been to in Cleveland.