1020 N San Vicente Blvd
West Hollywood, CA 90069
(310) 358-7788

This was my first experience with a restaurant opening and it was totally different from what I expected for a restaurant of this caliber. It turned out this was actually a soft opening, no Ramsay, no Hell's Kitchen winner, and almost no diners. I was a bit surprised at this last part as I have never worked so hard to secure a reservation. I called the restaurant at least a dozen times pleading my case before finally getting a reservation for 8:30, this was at 6:30 the same day mind you.

The restaurant is located in the London West Hollywood hotel. The hotel itself is fairly nice, dimly lit, lots of black and white marble. The restaurant is located in an out of the way corner of the hotel. The restaurant is dark and trendy, almost lounge-like with plush sofas and chandeliers. I could definitely see this place as a trendy place to have a drink and hang out.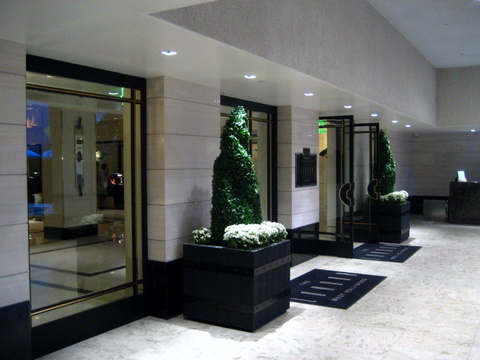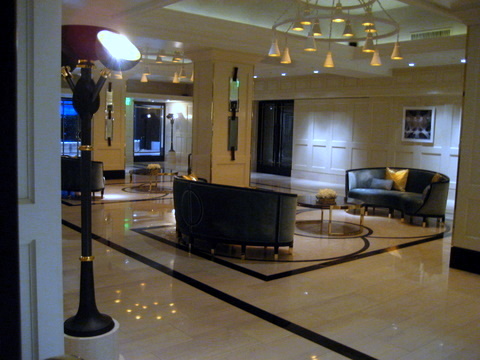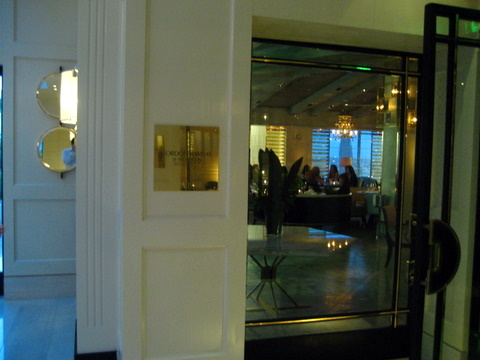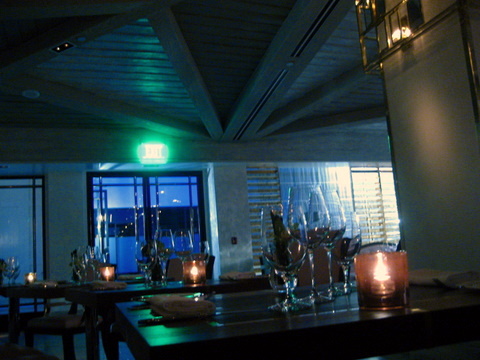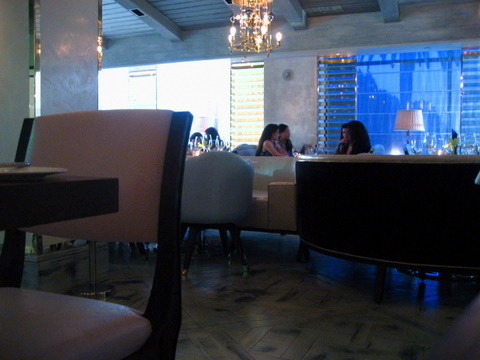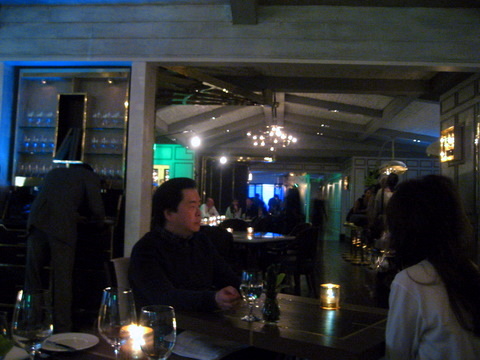 My friend and I each started the evening with a cocktail. Surprisingly he could not get his signature Mojito since the bar was out of mint, so he settled for a Cuba Libre. I went with a cucumber martini made with Square One Cucumber Vodka (hey maybe this cucumber thing will catch on). The drink had an intense cucumber nose, but on the palate the fresh cucumber ended up being overpowered by the alcoholic burn. We of course did a wine pairing with our tasting menu, and the sommelier was kind enough to add pairings for each of our supplemental courses as well.

The menu is a departure from the food at his other eponymous restaurants. Both of those serve more traditional French fare while the food here is contemporary European with strong Asian/Californian influences. Our server mentioned there is even a sushi menu available at the bar.

The online menu suggests selecting 4-5 courses to share between two people and our waiter suggested 3-4 per person. In the end, my friend and I ate a total of 20 courses, 6 each from the tasting menu and 8 supplemental courses and weren't even completely full. We should have ordered one of everything on the menu given that the tasting menu is derived from courses on the regular menu.

Bread - White Baguette
Perhaps I have been spoiled, but one type of bread seems awfully sparse. We were offered two small baguettes, slightly warm with some rich, heavily salted butter. Both my friend and I felt the bread and butter reminded us of popcorn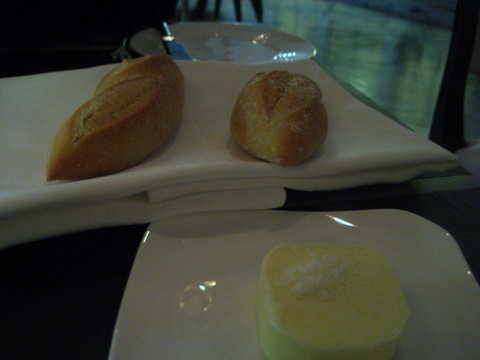 01 Pacific yellow fin tuna with pickled daikon, crab beignets, sesame soy dressing
Junmai Ginjo Sake, Yuki No Bosha
A good first course, the fish was fresh with the classic light tuna flavor paired with sides that worked well with the fish. The pickled daikon went very well lending a tart crunch to the fish. The sake was extremely fruity and sweet, far more than any I have had in the past.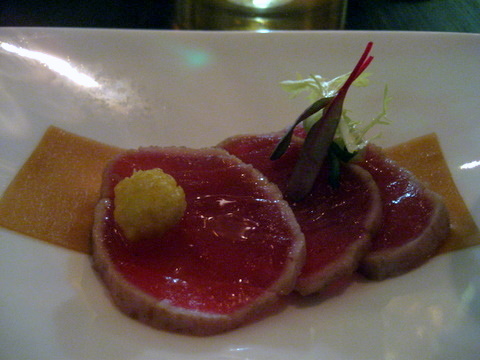 Supplement: Apple-cured duck breast and crispy tongue, foie gras with amaranth
Riesling, Hugel et Fils, Alsace, France, 2005
Basically a plate of all things duck. The tongue was fried and reminiscent of fried goose tongues at Chinese restaurant, simple flavor and a nice resistant texture. The foie gras was solid and the grain added a nice texture and flavor. The breast was solid but forgettable. I thought the wine was dry and crisp, though a bit one-dimensional.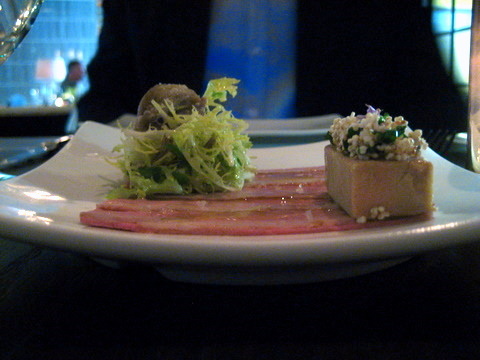 Supplement: Wild asparagus risotto with chive flowers
Pinot Gris, Lemelson Tikka's Run, Willamette Valley, Oregon, 2006
An intensely flavorful risotto, with liberal helpings of Mascarpone and Parmasean cheeses. A bit heavier than I like, the dish did work well with the fresh asparagus and chive flowers.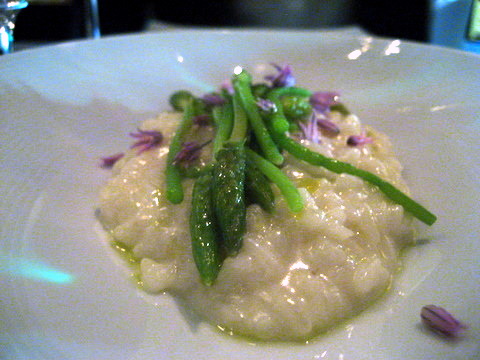 Supplement: Swordfish carpaccio with heart of palm, grapefruit and yuzu vinaigrette
Sauvignon Blanc, Bernardus, Monterey, California, 2006
This was my first experience with raw swordfish and I was looking forward to it. I enjoy grilled swordfish for its distinctive flavor and rich almost veal-like texture. This was a complete disappointment, the flavor of the fish was overpowered byt the citrus and the delicate soft texture lost amid the crunchy heart of palm. The wine had a similar nose, with lots of grapefruit fairly refreshing.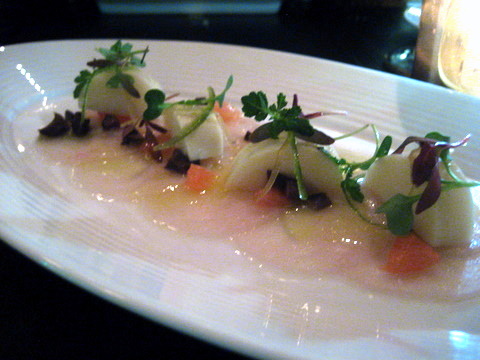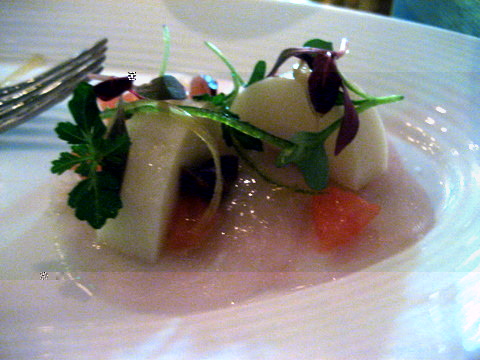 02: Burrata mozzarella with heirloom tomatoes, cape gooseberries, basil pesto
Bourgogne Blanc, Remoissenet Père et Fils, France, 2006
This was the third time I have had Burrata and tomatoes in a month, solid but nothing memorable. The wine was far more approachable than most from the region.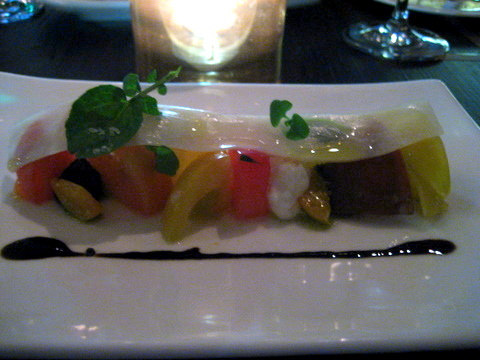 Supplement: Cassoulet of seafood, king prawn tortellini and garbanzo beans
Vouvray, Domaine des Aubuisières, France, 2007
This dish had a mix of seafood, lobster, squid, clam, scallop, and geoduck. All of the seafood was very good, although there was something.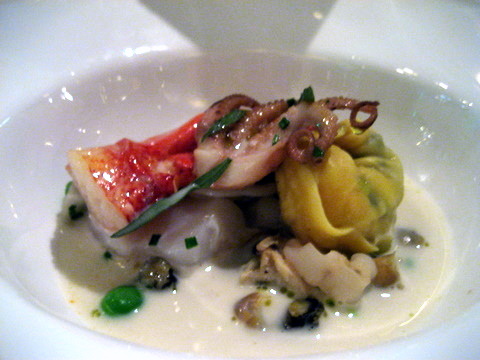 03: Hand-dived sea scallops, cauliflower purée and sherry vinegar reduction
Pinot Noir, Laetitia, Arroyo Grande Valley, California, 2006
The scallops were fresh and meaty, pairing went very well with the creamy light flavor of the cauliflower purée. The use of a red wine was a bit surprising but the scallops had enough flavor that the combination sort of worked.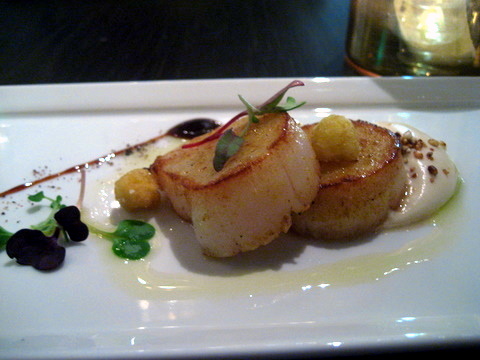 Supplement: Smoked pork belly with roasted Scottish langoustine, celeriac and apple
Columella, Sadie Family, Swartland, South Africa, 2003
I liked both the pork belly and the langoustine separately. The pork had a soft fatty texture and a sweet richness while the langoustine was crispy with a delicate flavor.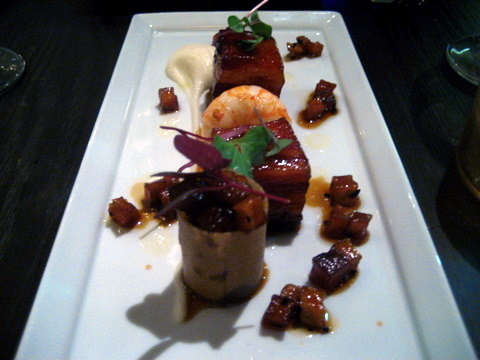 Supplement: Monkfish with crispy chicken skin, lemon thyme consommé
Barbera d'Alba, Giacomo Brezza & Figli, Piedmont, Italy, 2005
The monkfish had a very nice texture, firm and meaty almost like chicken. The fish itself was mild in flavor but the skin had a richness that compensated well. The consommé was a bit more tart than I like contrasting sharply with the flavor of the skin.



04a: Pan-fried Arctic char with orzo, pickled Japanese mushrooms and dashi
Brut, Argyle, Willamette Valley, Oregon, 2002
Probably my favorite of the night. The fish was tender and flavorful and the skin was nicely fried. The mushrooms and dashi added a savory flavor that accented the natural flavors of the fish. I also liked the use of a sparkling wine here, very approachable, with some sweetness and a crisp apple nose.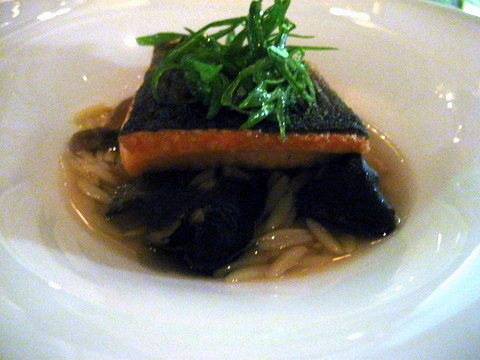 04b: Beef filet and Kobe short rib, cipollini onion, baby beets
Claret, Newton, Napa Valley, California, 2005
I thought the short rib was the stronger of the two, cooked well but a bit oversauced. The filet was a bit more well done than I like and like the short rib, overpowered by the sauce. The wine was a red blend that ended up being a bit lighter than i expected with bright red fruit.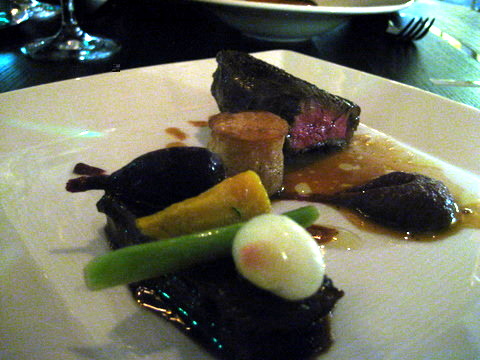 05: Confit Meyer lemon and basil gelée, sablé Breton and olive oil gelato
Interesting but I could have done with a bit more intensity of the flavors.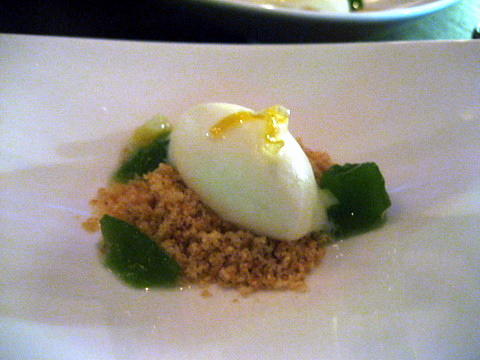 Supplement: Cheese plate
The cheeses were Petit Marcel, a blue cheese, and Gruyere. The blue was very mild as far as blue cheeses go, one of my better experiences with the stuff.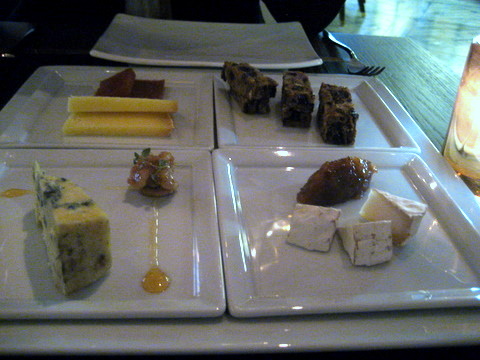 06: Pineapple soufflé with Thai curry ice cream, toasted coconut
Sauternes, Château Roûmieu-Lacoste "Cuvée Leon", France, 2003
Sounds pretty Asian to me, curry, coconut, and pineapple. I thought this dessert was pretty good, although not as good as a similar dessert I had at Melissé. The wine had aromas of pineapple and a hint of apricot, like many of the others fairly simple but a decent pairing with the dessert.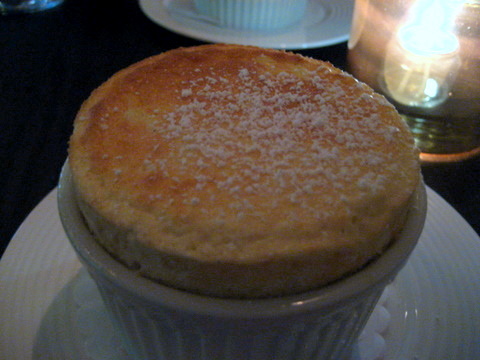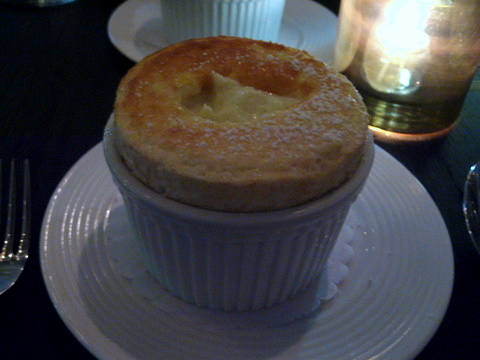 Supplement: Crème Fraîche panna cotta with strawberry gelée, acacia honey and thyme crumble
A fairly weak panna cotta, not enough flavor, totally dominated by the geleé.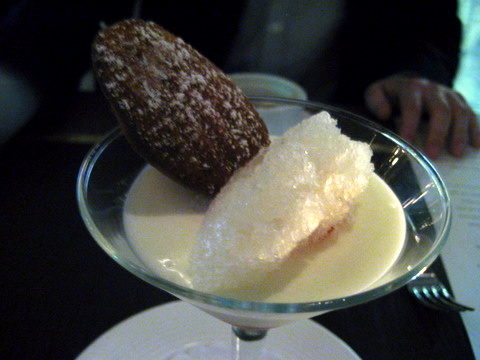 I think there is a perception that Southern Californians aren't as serious about their food as New Yorkers or Europeans(compare the wine lists if you don't believe me) and Ramsay tried to leverage that in creating his new restaurant, opting for style over substance. Knowing Ramsay's other two flagship restaurants have 5 Michelin stars between them, I was expecting more at the LA outpost. Overall, I thought the food here was good, but certainly not worthy of a Michelin star nor the name Gordon Ramsay.