Run by chef/owner Jason Quinn, the aptly named Playground feels almost like a test kitchen for Quinn and his team whose experimental approach towards cooking manifests in an ever-changing ingredient-driven menu that draws from a wide swath of culinary traditions. At the same time Quinn is invariably constrained by the needs of running a 120-seat restaurant which brings us to his newest concept: IO(invite-only). The intimate 17-seat omakase bar provides a space for Quinn et al to create without constraints, a true playground for their passion.

Utilizing a ticket system a la Grant Achatz's Next Restaurant, diners are charged at the time of booking. In some respects IO's policy is even stricter since the seats are non-transferable unless the recipient is also on the invite list and a beverage pairing is automatically included in the price.

Some might say the invitation-only policy smacks of elitism or pretentiousness but Jason sees it as beneficial to all parties involved. Quinn and his team put a great deal of effort into their food and screening potential guests ensures they are able to share it with the people they believe will enjoy it most. For those who are interested, getting invited isn't that difficult: simply visit the restaurant, be adventurous, and don't be a dick.

WATER & LEMON
Our welcoming cocktail was cleverly disguised as a garnish for the water. The lemon drop had a light boozy bitterness mixed with an appealing citrus sweetness that reminded me of a jello shot.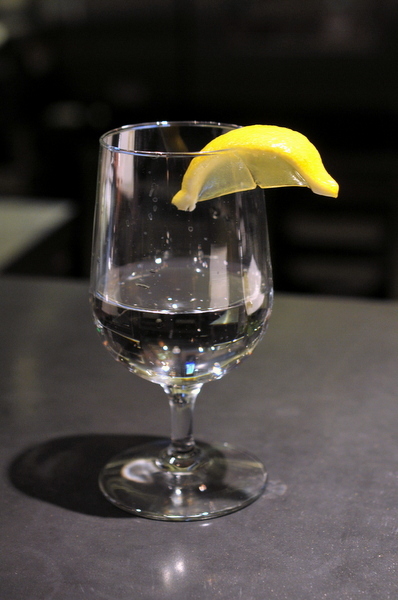 PASSION FRUIT WELCOME - vanilla custard
Along with the cocktail, waiting for us upon our arrival was a spoonful of fresh passion fruit, the tart tropical fragrance and sharp crunch of the seeds whetting our appetites for the tastes to come while the vanilla takes some of the harshness off the fruit.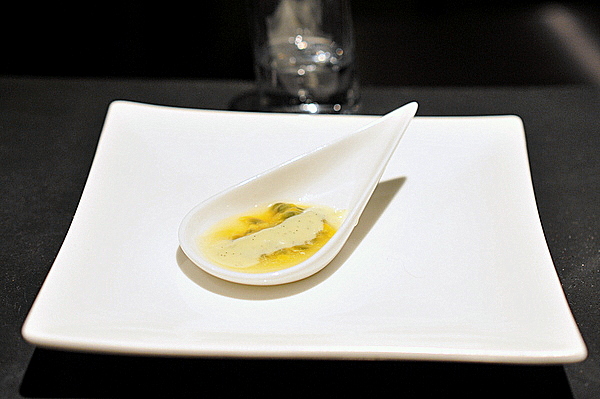 NITRO JAPANESE BABY PEACH CAIPIRINHA
The Nitro Caipirinha plays out much as one would expect bracingly fresh and tart with a smooth sorbet-like creaminess though I think that it would have been better served in a bowl with a spoon. The frozen peach below starts out a bit subdued but yields a growing candied sweetness as it warms up.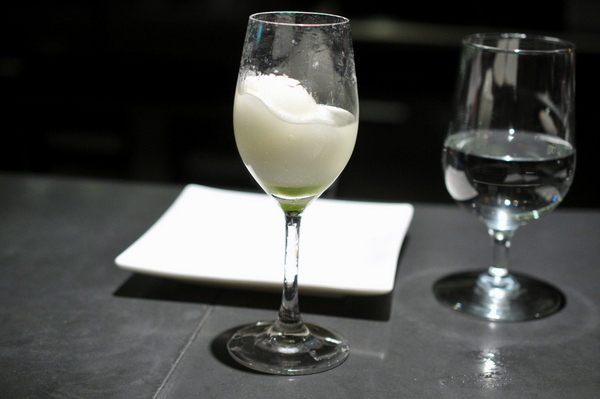 BLOODY OYSTER - beet juice fed kushii, beet mignonette, horseradish tapioca, fresh lemon
While prepping this course, Quinn confided that he wasn't much a fan of oysters until recently. With this preparation the IO team kept the oysters alive right up until service, even feeding the bivalves a salt mixture stained with red beet juice giving oyster a vivid red coloring. The mouthful exhibited a sharp pickled zest that overwhelmed the natural salinity of the oyster.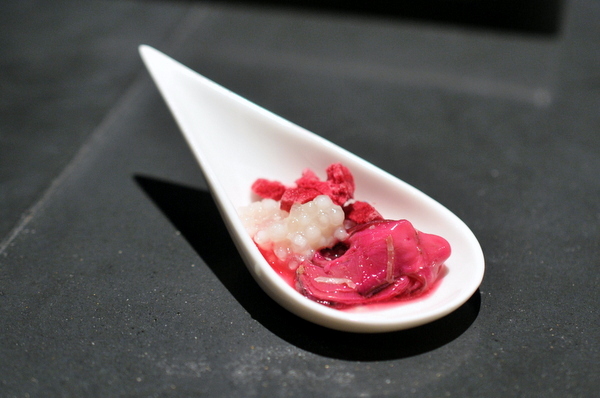 JIDORI OYSTER - a tribute to Uncle Lou
Contrasting with the true oyster we have a fried chicken oyster covered in a tart vinegar sauce made famous by Uncle Lou's in Memphis Tennessee. The first time I tried this I found it overly harsh but this time around the vinegar seemed to heighten the natural savor of the bird and I began to see just what Quinn finds so appealing about the recipe.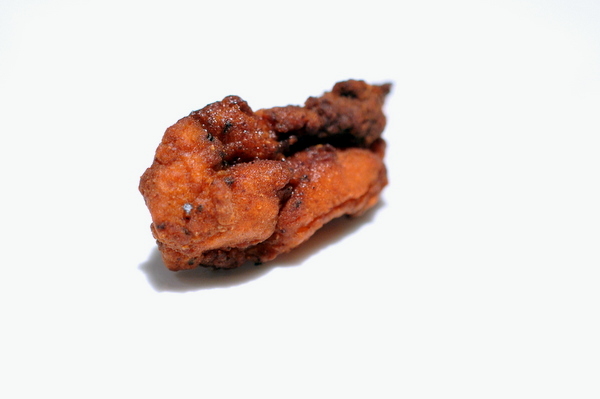 JASON'S FAVORITE INGREDIENT - paletta iberico de bellota
Playground regulars know well Quinn's love for Iberico de Bellotta. The menu frequently features the meat in a myriad of forms though for my money its hard to beat the rich fatty mouthfeel and porcine savor of the ham.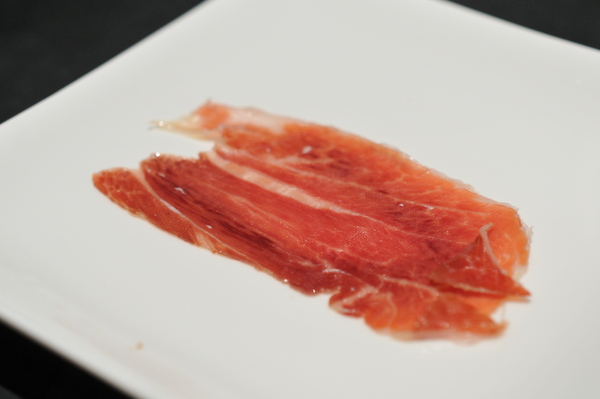 CHAMPAGNE & CAVIAR - rio frio caviar
LARMANDIER-BERNIER TRADITION PREMIER CRU CHAMPAGNE
One of Jason's partners in crime, Ryan Carson made a fan out of me with this single bite at Anqi. This version uses Rio Frio caviar, a sustainably farmed Beluga sturgeon caviar from Spain, that Quinn called the best caviar money can buy and after tasting it I'm inclined to agree. I missed the effervescence of the white chocolate fizzy, but I thought this was a purer expression of the classic luxury combination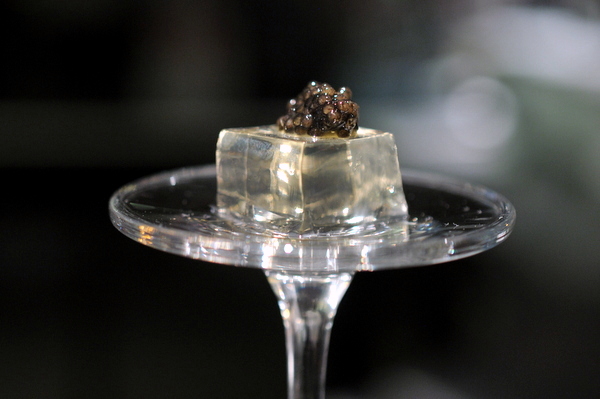 CANARY ISLAND OCTOPUS CEVICHE - golden truffle sauce, red onion, tortilla
Tangy, spicy, and with an herby backbone the octopus ceviche came wrapped in a toasty tortilla giving the dish a slight Southwestern edge.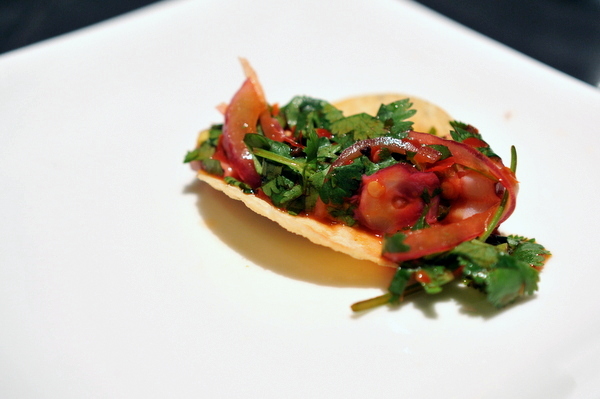 LIVE GEODUCK CLAM - Yuzu Kocho
YUKI NO BOSHA "CABIN IN THE SNOW" JUNMAI GINJO SAKE
Watching Jason break down the geoduck drew more than a little laughter but the prize was well worth it. Each sliver of the clam is brimming with salinity as well as a buttery richness contrasted with the tangy spice of the yuzu kocho.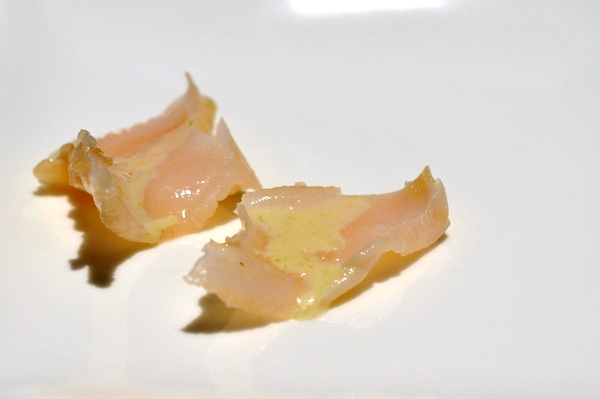 LIVE SCALLOP - olive oil, lemon, beautiful soy, wasabi
YUKI NO BOSHA "CABIN IN THE SNOW" JUNMAI GINJO SAKE
Continuing on our journey of raw seafood, we have pristine live scallop all sweet and snappy as you please. The classic compliments of soy and wasabi are paired with unconventional ones olive oil and lemon.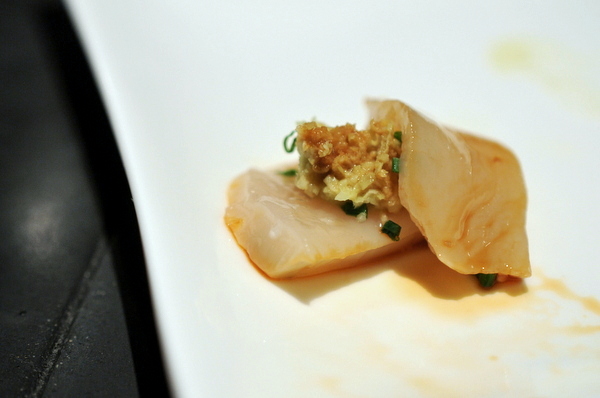 JICAMA WRAPPED LIVE SEA URCHIN - toasted coconut, macadamia, avo mousse, compressed cucumber
YUKI NO BOSHA "CABIN IN THE SNOW" JUNMAI GINJO SAKE
Third up was a fresh uni wrapped in a thick slice of jicama. The combination of coconut and macadamia gives the dish a heavy nutty sweetness but the salinity of the uni adds a hint of brine on the finish.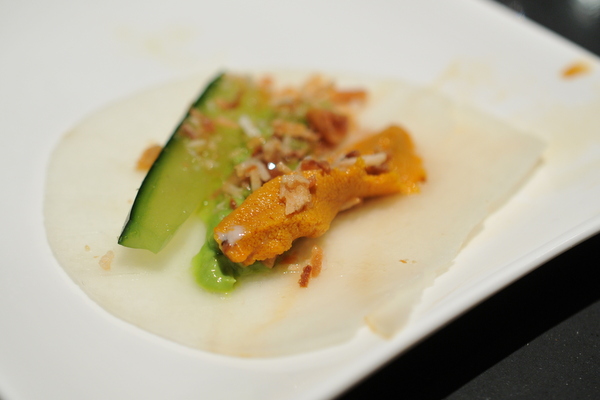 KANPACHI - pickled ginger, lime, fish sauce, jalapeño, masago
YUKI NO BOSHA "CABIN IN THE SNOW" JUNMAI GINJO SAKE
Rounding out the sashimi was a beautifully dense kampachi topped with bits of puffed rice which added a delightful savor to the fish. The ginger and chili provided some fire though the masago and fish sauce were a bit lost on me.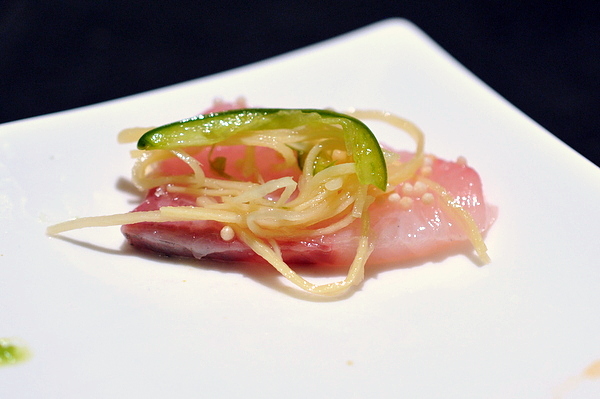 FRIED GEODUCK BELLY - lemon-caper-shallot aioli
DUCATO/DRIE FONTEINEN BEERSEL MATTINA
Never one to waste good produce, Quinn had the remaining Geoduck fried up and served. The golden morsels had a crisp exterior and surprisingly yielding interior redolent of Filet o Fish especially when taken with the aioli.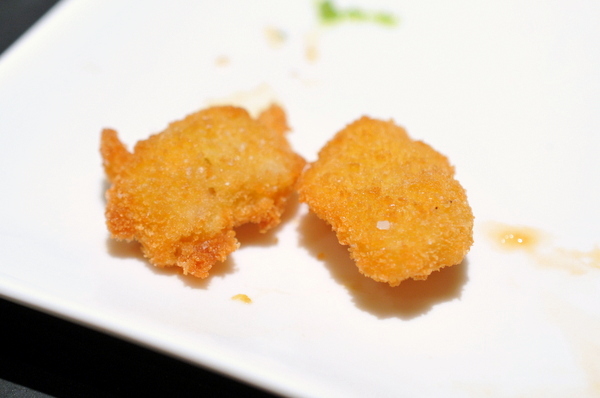 500 DEGREE SHRIMP COCKTAIL - lime, horseradish, tomato
DUCATO/DRIE FONTEINEN BEERSEL MATTINA
Simply put some of the most beautiful live spot prawns that I'd seen in awhile, these even came stuffed with copious amounts of roe. The salt crust can be a bit tricky when it comes to seasoning though the even temperature gives the prawns a delightful duality of texture. As good as the meat was the head was even better at buttery sweet with a salty offaly twang.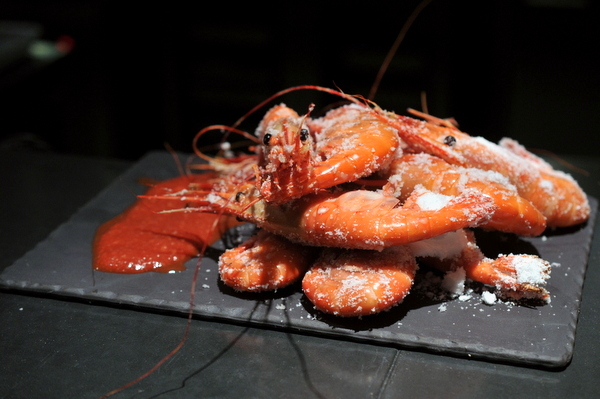 DOUBLE DOUBLE - fuck you
DUCATO/DRIE FONTEINEN BEERSEL MATTINA
The riff on In-n-Out's famous burger was another of Ryan Carson's contributions to the meal. Beneath the crisp pickle and dehydrated tomato the "burger" is smothered an a faithful rendition of the chain's thousand island dressing; a fun little dish that deftly captures the irreverent nature of the Playground staff.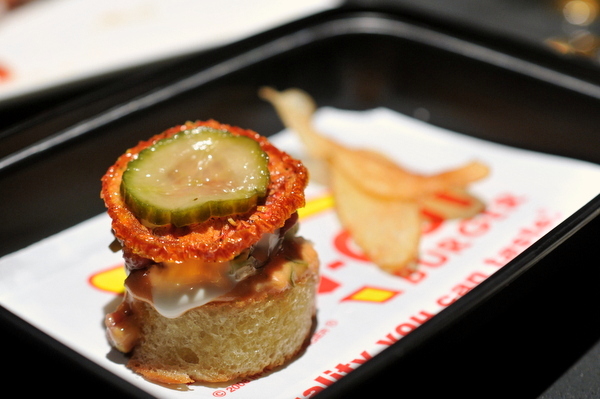 OTOKOMAE & O TORO ACTING ITALIAN - o toro prosciutto, fancy olive oil, 25 year balsamic
DUCATO/DRIE FONTEINEN BEERSEL MATTINA
An unconventional play on Prosciutto and Mozzarella, the o-toro has a unabashedly smoky fish-oil tinged salinity that recalls the flavor of prosciutto while still distinguishing itself as something else entirely. Quinn mentioned the tofu had a texture similar to mozzarella and a tendency to absorb flavors around it in this case the olive oil and balsamic.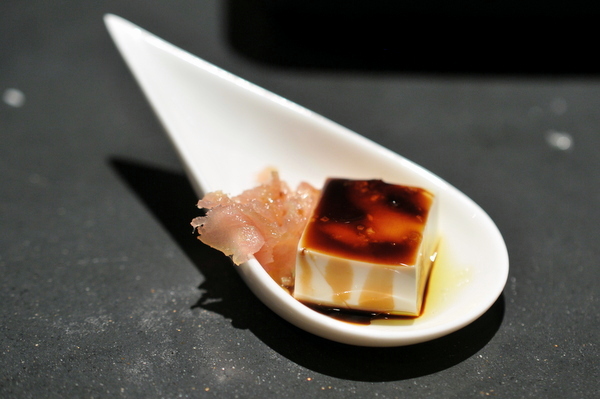 BONE MARROW SFORMATO - iberico de bellota chorizo marmalade, tyler's sourdough mini boules, truffle salt
DUCATO/DRIE FONTEINEN BEERSEL MATTINA
I wouldn't say Jason is normally known for his restraint but he actually showed some with this course. The custard has an unctuousness to it to be sure, but even on its own the flavor isn't overwhelming. The bright twang of the marmalade and heavy rustic bread further restrain the dish.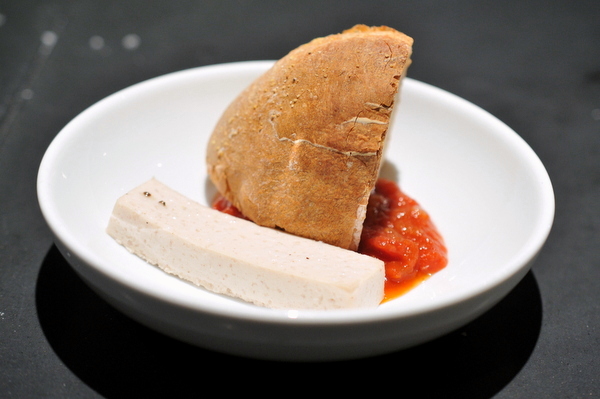 FORBIDDEN STEAM BUN - foie gras torchon, apricot hoisin, sugar crunch
MIKKELLER FUNKY E SAUTERNES BARREL EDITION
No Playground dinner would be complete without a gift of foie gras. The bun and hoisin are classic accompaniments to Peking duck and the isomalt crisp deftly simulates the crunch of the duck skin that would normally be sandwiched in the bun. Fittingly though the foie gras is the star here with an even creamy texture and luxurious richness. I especially appreciated the fact that the dish didn't rely solely on fruit despite being a sweet preparation of foie gras.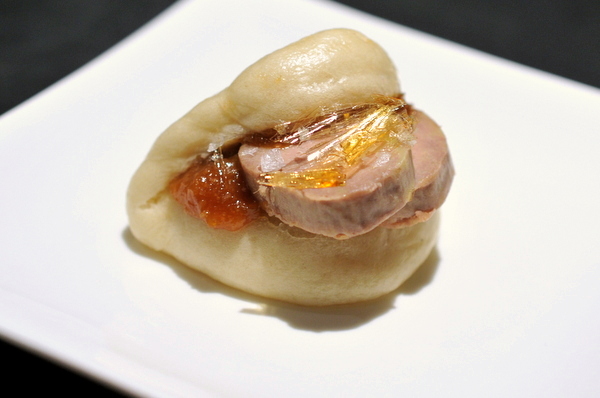 JIDORI CHICKEN LIVER MOUSSE - iberico de bellota bacon, port shallots, frisée, garlic croutons
MIKKELLER FUNKY E SAUTERNES BARREL EDITION
Surprisingly our first "salad" course one of my favorite dishes of the night beating out even the foie gras thanks to its intricate balance. The chicken liver is definitely more rustic and offal-y, but the frisée has an almost magical quality to it cutting right through the liver and bacon without being overly bitter or astringent.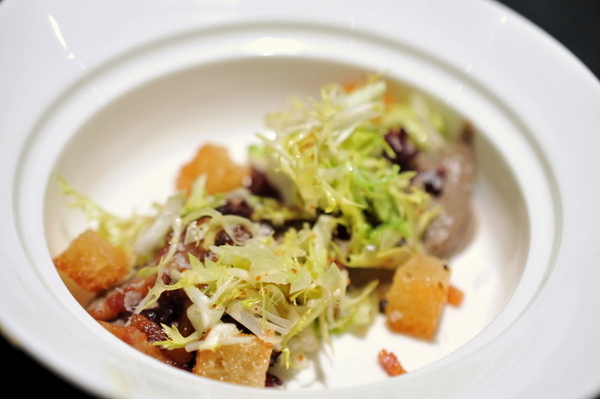 ROMESCO ROMANESCO - red walnuts, sultanas, capers
2011 BIRICHINO MALVASIA BIANCA
Never a fan of cauliflower I was surprised by how well this dish worked. The romesco gives the vegetables a smoky substance and almost meaty character while the accompaniments layered the right nuances of sweetness and acidity.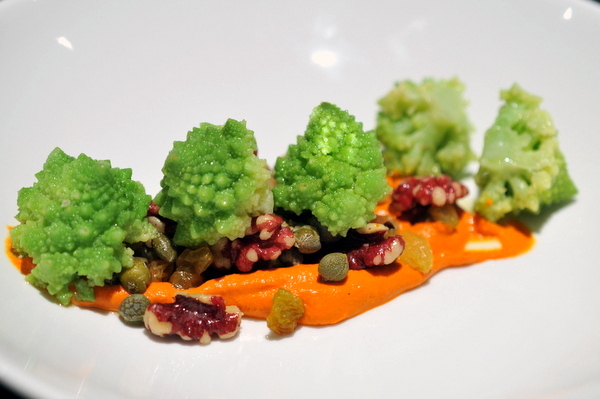 FROST KISSED ARTICHOKE CARPACCIO - kalamata olive, calabrian chile gummies, crispy parmesan, charred scallion-artichoke purée, meyer lemon
2011 BIRICHINO MALVASIA BIANCA
Jason explained that when artichokes freeze their exterior rots, concentrating the flavor within, almost like a dry aging. Despite not being a huge fan of artichoke or olives, I found the flavors here very thoughtfully laid out.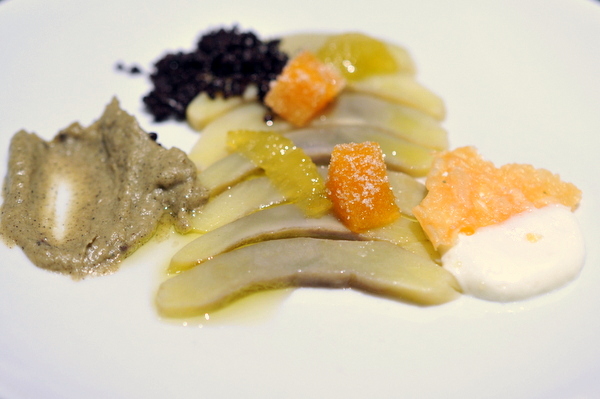 WHOLE SPANISH TURBOT A LA PLANCHA - perfect blumenthals, mojo verde
2011 BIRICHINO MALVASIA BIANCA
This was easily one of the best courses of the night. The fish is cooked just a hair less than typical preparations leaving it still slightly raw but substantially moister. The racing herbaceous verve of the mojo verde adds a sense of energy to the fish while the delectable blumenthals give the gossamer fish some heft.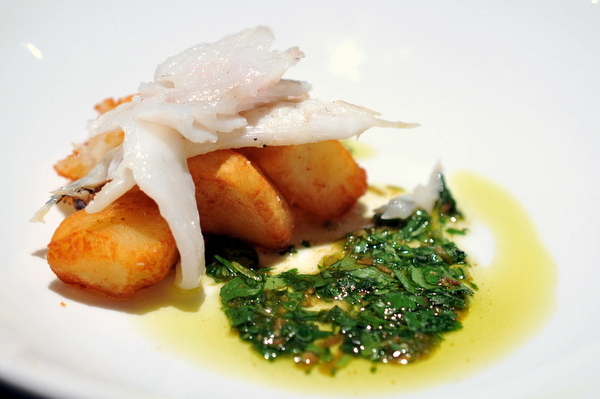 VERY WILD MUSHROOM RISOTTO - hedgehog, baby kings, abalone, yellow foot, black trumpet, persimmon
2010 PUZELAT-BONNHOMME "IN COT WE TRUST" MALBEC
This dish deftly exemplifies the possibilities when cooking for 17 instead of 100. Traditional restaurant risotto is mostly cooked during prep then finished when ordered, but this pot was made from scratch at the start of the meal. The risotto itself was perhaps a touch undercooked for my liking, though there was not much to dislike about the earthy perfume of the various mushrooms that accompanied the rice.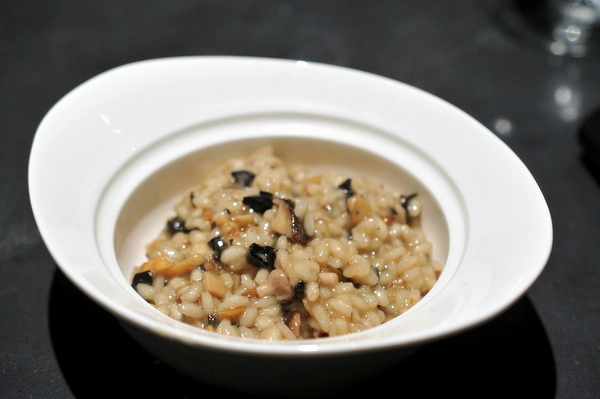 LAMB PORTERHOUSE ROLL - hatch chile, cumin, fancy cut baby veg, lime butter
2010 PUZELAT-BONNHOMME "IN COT WE TRUST" MALBEC
Moving onto the meat courses we started with a lovely lamb porterhouse. The meat was soft but not quite fork tender with a with a heady rusticity especially apparent in the thin rim of charred fat on the edges.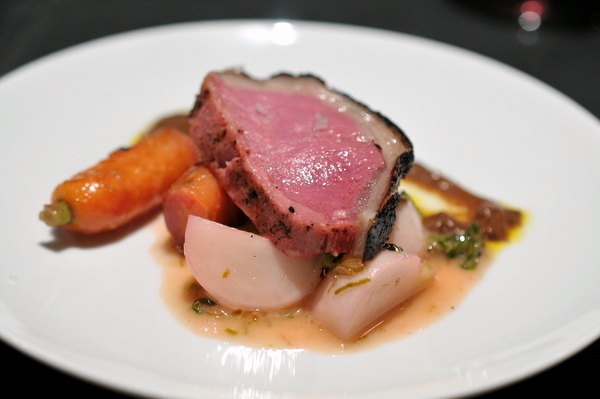 A5+ KOBE BEEF NEW YORK STRIP LOIN - kobe fat-parmesan yorkshire pudding
2010 ERIC TEXIER, ST. JULIEN EN ST. ALBAN SYRAH
This was one of the few times that I've had true Kobe beef and Jason was quick to explain that nothing less than true Kobe would do not even Japanese Wagyu from other prefectures like Kagoshima or Mie. Biting though the meat is an almost sensual experience, not just because of the flavor but for the silky nuanced texture as well. Simple buttery and airy, the Yorkshire pudding was quite tasty but almost an afterthought when paired with the sublime beef.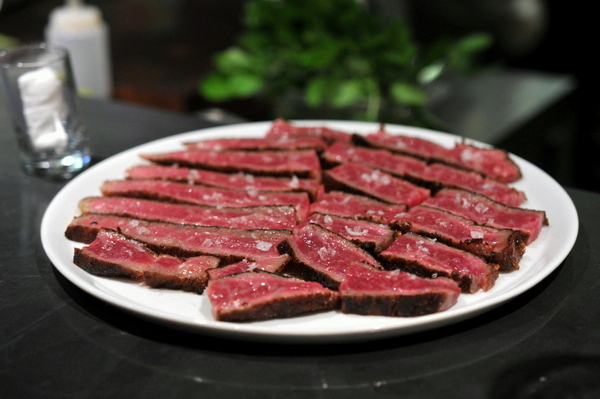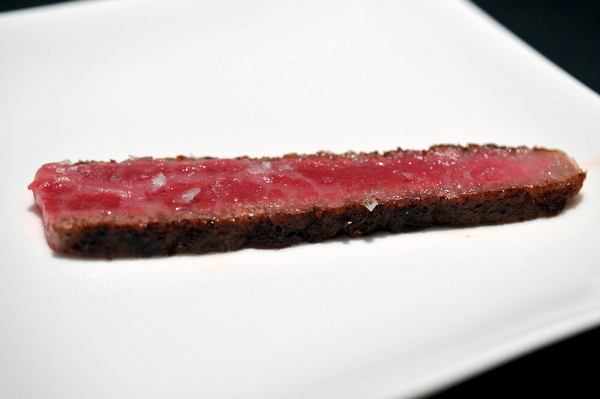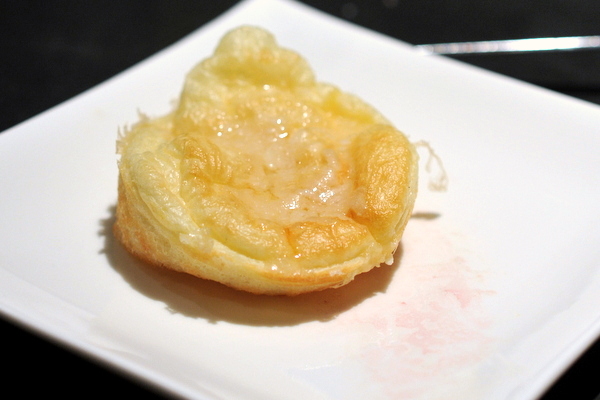 FINCA PASCUELETE QUESO DE TORTA SINCE 1232 - blackberries stewed with black pepper, 3 day el bulli pistachios, toast
I had Finca the first time I was here and I thought it rivaled some of my favorite triple creams. Luxuriously fatty, the cheese felt a bit more subdued this time around, working in conjunction with the accompaniments rather than dominating them.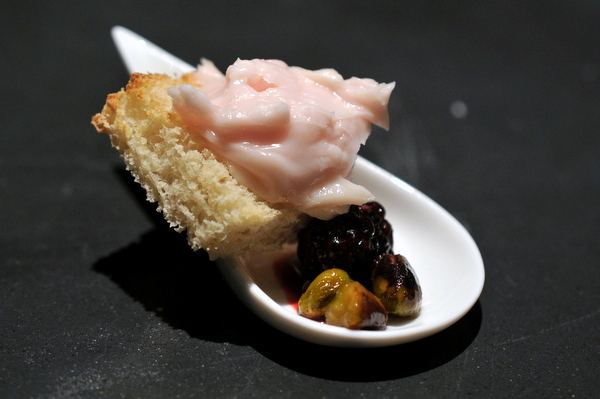 CUCUMBER LIME BLAST
Our palate cleanser certainly lived up to its name with a burst of vegetal citrus freshness.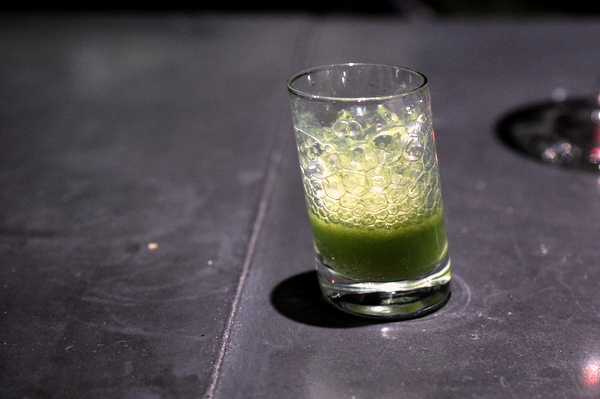 SUMO TANGERINE - olive oil ice cream
Sumos are a relatively new breed of tangerine designed to be large, easy to peel and consistent in flavor. The fruit was indeed quite tart and refreshing though perhaps a bit intense for the delicate floral flavors of the olive oil ice cream.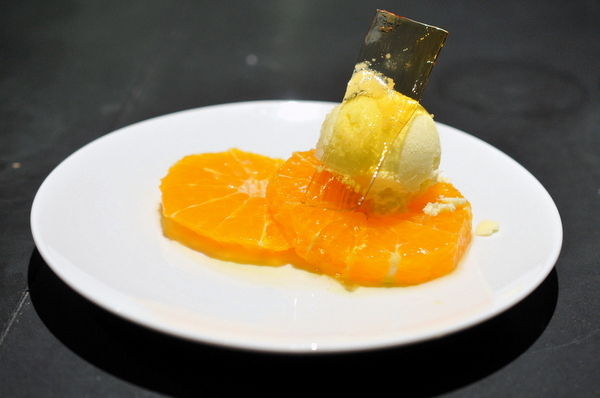 LIME CURD - blueberries, graham, mouth sex
SIETE LEGUAS ANEJO TEQUILA
Our second true dessert consisted of a briskly tart lime curd topped with a graham cracker crumble, dense sweet California Giant Blueberries, and a cream that can only be the unfortunately named mouth sex. The Siete Leguas was a nice sipping tequila woody and complex but with a bit of burn to it as well.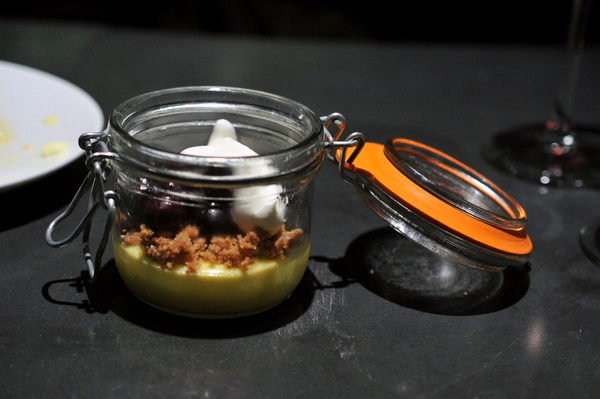 CHOCOLATE PISTACHIO TERRINE - nitro-dome, chocolate mousse, feullitine
MAGIC JUICE
This was my favorite dessert of the night, rich chocolatey and nutty with a resonant sugary crunch. The dome added a needed creaminess that helped balance the weight of the terrine and mousse. With most of the party full to bursting, Rhett poured each of us a small dose of Fernet Branca the bitter digestif helped ease our pain almost immediately. I'm going to have to start taking a bottle with me whenever I go out to eat.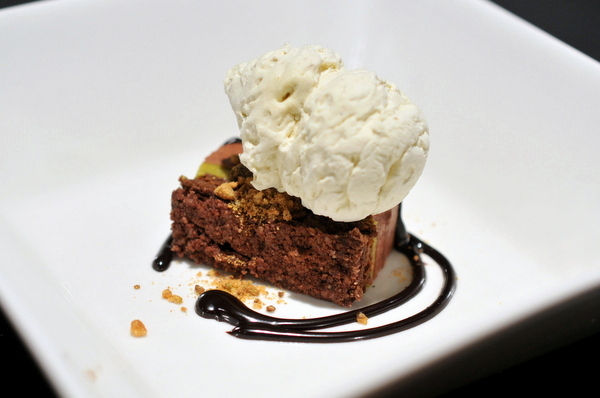 I was thrilled by my first meal at Playground and Quinn has certainly upped his game with 2.0. The food retains the same playful whimsy but feels far more spectacular and sophisticated. I came to IO with high expectations and the meal didn't disappoint, part intimate dinner party part culinary exploration, IO redefines dinner theater and is without a doubt the finest dining experience in Orange County.