1487 S Pearl St
Denver, CO 80210
(303) 777-0826

Good sushi in a landlocked state? Don't laugh, it does exist and has been around for a surprisingly long time. Opened by brothers Toshi and Yasu Kizaki, Sushi Den has been going strong since 1985, doing anywhere between 300 and 600 covers a night. Den has long been considered the area's top spot for sushi, a reputation built with the help of an unsung hero: their youngest brother Koichi, who is responsible for sourcing their fish from the Fukuoka fish market on Kyushu Island. Not content to rest on their laurels the brothers have sought out new ventures, opening Izakaya Den in 2007 and the Den Farm in 2010 to provide their restaurants with fresh locally-grown vegetables year round

I visited the restaurant during my pre-blogging days back in 2007 and was quite satisfied with my experience. Finding myself in Denver for business I thought it was time to revisit Sushi Den to see if it remained Denver's best for sushi or if competitors like Sushi Sasa had finally caught up. One of my coworkers decided to join me and despite being a Monday night we had to wait over 20 minutes for two spots at the bar to open up.

Sunomono
As soon as we sat down, our itamae presented us each with a serving of pickled cucumbers and though I enjoyed the acidic bite the marinade was a touch salty.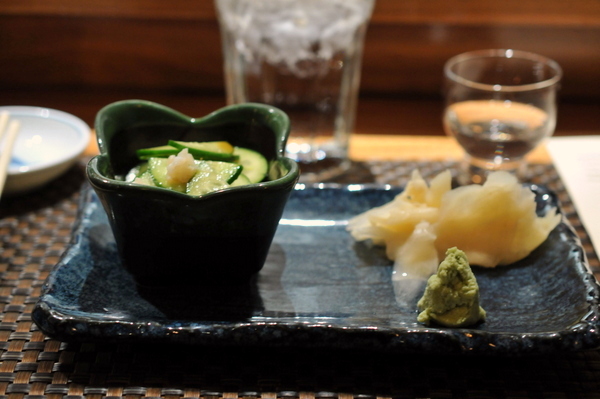 Fresh Wasabi Bincho
I've only had raw albacore on a handful of occasions and the fish is always exceedingly tender to the point of having an almost watery consistency. Fortunately the fresh wasabi provided more than ample distraction from the bland texture of the fish.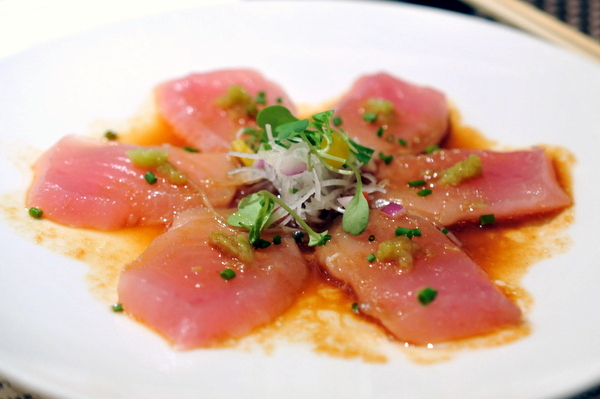 Nanbanzuke - with Pompano (Butterfish)
Nanbanzuke or "Southern Barbarian Pickle" is a culinary technique where fish is first fried then marinated in vinegar. The fish felt a bit stringy but the flavor was quite nice with the marinade's citrus levity countering the fish's inherent oiliness.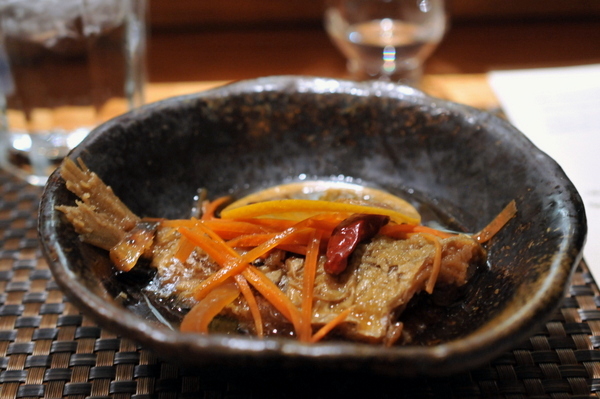 Ankimo Two Ways
The duet of ankomo consisted the classic steamed preparation with scallions, momiji oroshi, and ponzu as well as a smoked variety with white miso and caviar. The smoked ankimo was the clear winner here with a creamier texture and lovely salty-sweet contrast from the sauce and roe.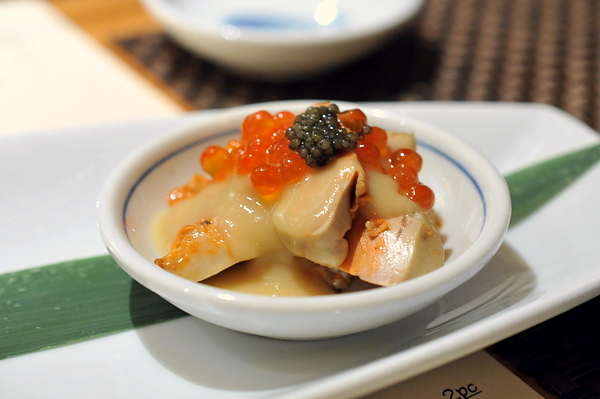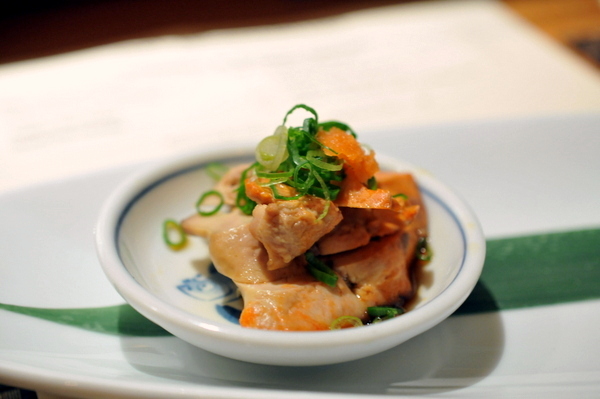 Kaki - Oysters from Fanny Bay
I believe these were Kusshis given their deep cup depth, compressed dense texture, and sweet flavor. Served in classic Japanese fashion the acidity of the ponzu paradoxically amplifies the bivalve's inherent sweetness.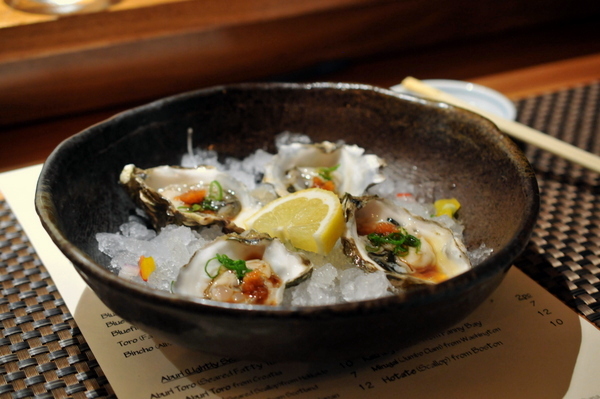 Spicy Tuna Spring Roll
While I'd never order spicy tuna on my own far be it from me to refuse the chef. The spicy tuna itself is nothing to write home about but the rest of the dish makes the fish better. Along with crunchy tempura bits the fish is mixed with basil, mint, and cilantro providing a Southeast Asian flourish to the dish while the rice paper adds a slightly gummy toothsomeness in place of the more typical sushi rice. The sushi purist in me feels guilty for liking these but they were just so damn tasty.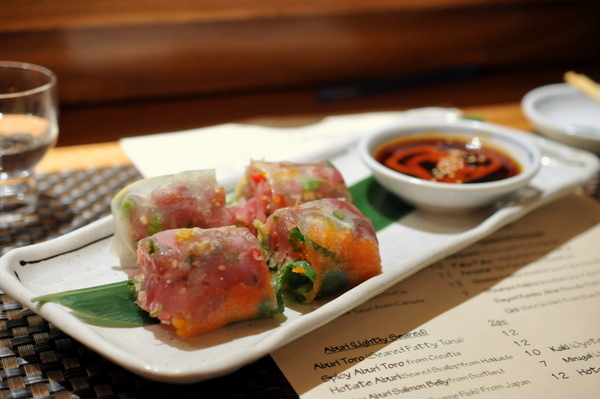 Maguro - Bluefin from Spain with Blue Cheese and Caviar
This is my second time having blue cheese at a sushi restaurant in as many meals and the combination remains just as effective. The small dab of blue along with the handful of caviar pearls provides a cogent combination of pungent sweetness and salinity that seasoned the fish beautifully.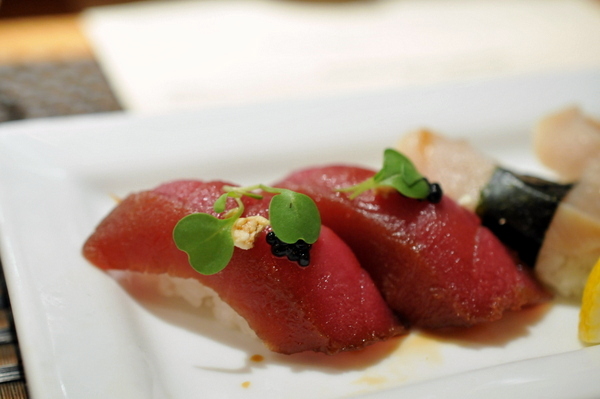 Mirugai - Geoduck from Washington
The geoduck was served in rather substantial pieces that highlighted the clam's natural salinity. While I enjoyed the dense muscular texture and salty-sweet flavor my companion found this piece a bit disconcerting.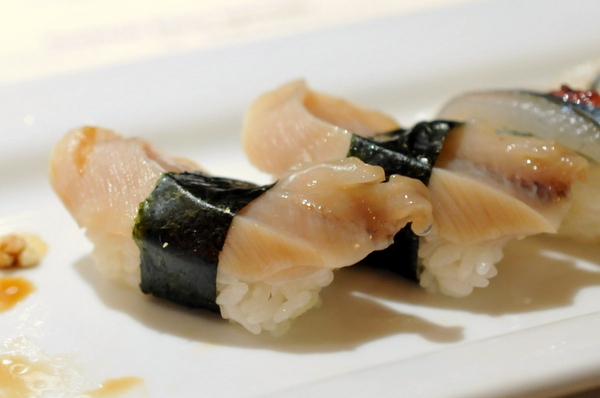 Sayuri Konbu Jime - Needlefish from Japan with Shiso & Sour Plum
This was the most refined and nuanced piece of the night. The kelp serves to impart a light but deep-seated savor to the inherently mild Sayuri while simultaneously drawing out some of the moisture and giving the fish a firmer texture. The accompaniment of shiso adds an elegant touch of freshness while the sour plum provides a contrasting electric tang.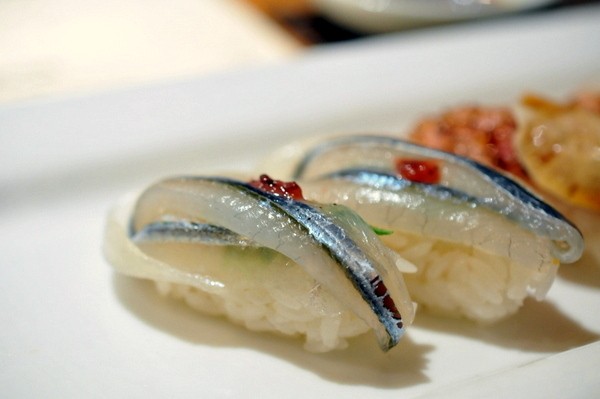 Akamutsu Aburi - Seared Gnome Fish from Japan
I've only had akamutsu on a two prior occasions and both times the fish's high fat content gave it a uniquely even consistency. The heavy sear imparts a meaty smack to the fish and the rendered exterior takes on a jellied sticky texture almost like congealed fat that I found absolutely delicious.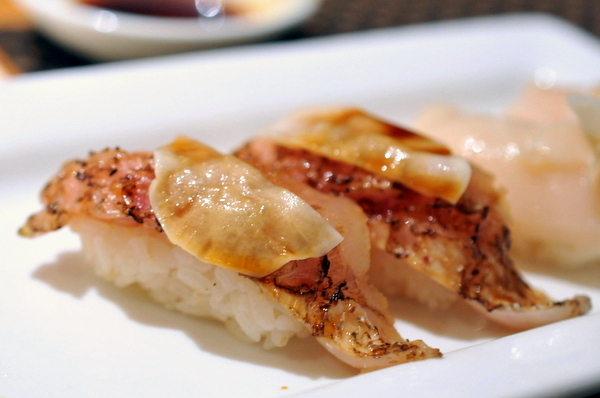 Hotate - Scallop from Boston
This was a everything one would expect from a scallop, soft and brimming with sweetness. I appreciated the inclusion of some of the "foot" or adductor muscle of the scallop which added a crunchy textural contrast to the otherwise tender meatiness of the scallop.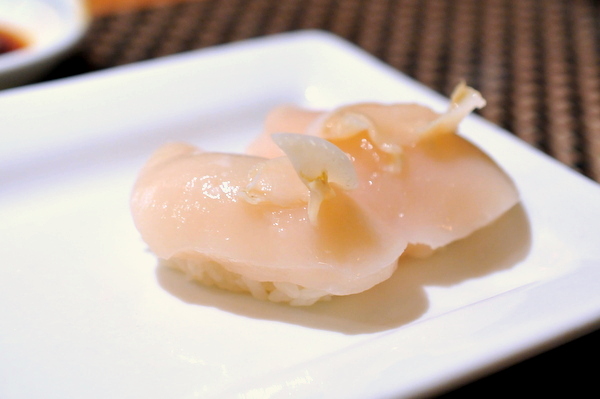 Aburi Toro - Seared Fatty Tuna from Croatia
At this point the chef asked if we wanted anything else and I wasn't about to leave without trying some of their toro. I opted for the seared variety and wasn't disappointed. The fish has the abundant oily texture and flavor of good toro augmented by a hint of warmth and lively smoky savor.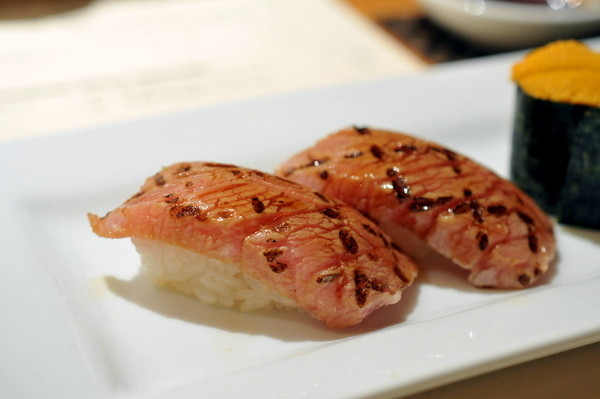 Uni - Sea Urchin from San Diego
My companion who is something of a sushi novice was a good sport about the meal, trying everything without hesitation so I decided to test him with some uni. Our itamae assured me the uni was excellent and he wasn't kidding, the beautiful yellow-orange color, a perfectly creamy consistency and a soaring sweet flavor all signs of a first-rate urchin.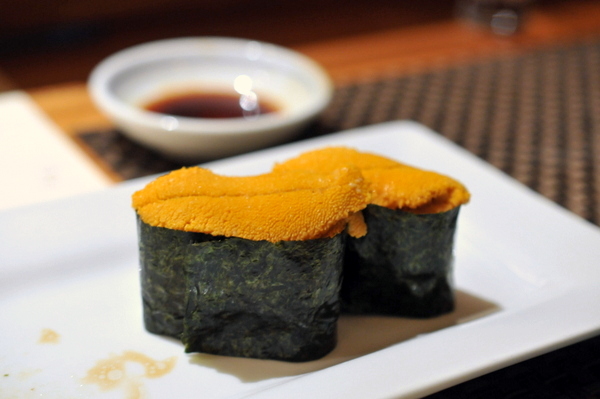 Pineapple Upside Down Cake - Lychee Ice Cream, Caramel Sauce
Dessert proved to be just as strong as the savories. With an expressive blend of fresh pineapple and buttery cake, the dessert reminded me of Taiwanese Pineapple Cakes (fong li su) but writ large. The caramel adds an endearing sugary sweetness while the lychee ice cream provides a nice chilling contrast to the warm cake.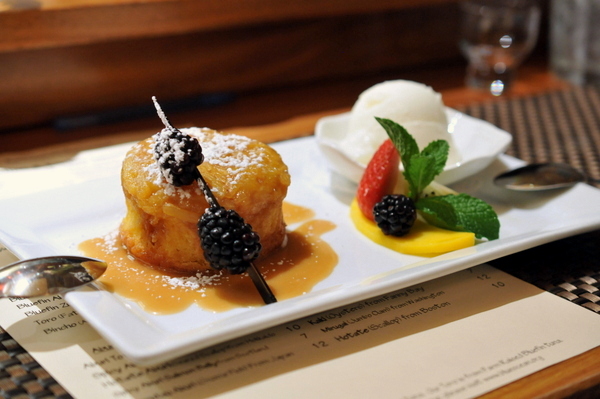 I'm pleased to see Sushi Den is still going strong. The fish quality and selection falls a bit short of the best places that I've been to and the menu caters to a more Westernized palate than mine, but the meal was still very enjoyable. The food doesn't have the European flair that Sasa's does, but when it comes to sushi, Den is still the best bet in Denver.